Hey y'all! I am hiring three new partner wedding officiants for our team to start this fall. Partner wedding officiants officiate weddings when I am unavailable or double booked. Depending on the season, and their availability, partner officiants can marry 2-10 couples per month.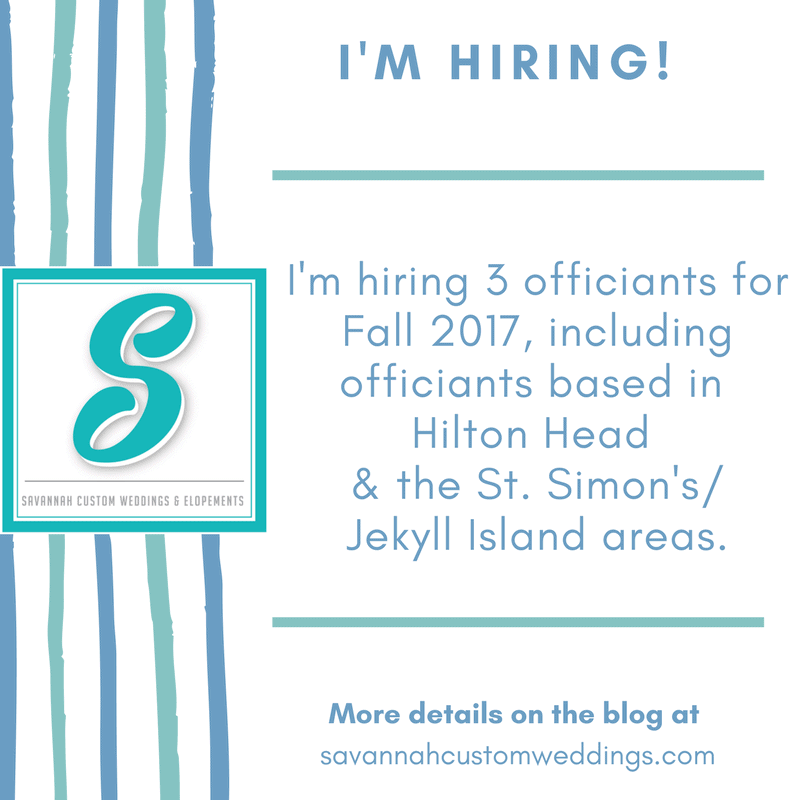 I am looking for one officiant based in Savannah and two officiants based in Hilton Head and the St. Simon's and Jekyll Island areas, respectively. Because we are so booked in Savannah and Tybee, we usually have to turn down all requests for those coastal areas and I would love to change that.
Here is a brief overview of how the Partner Officiant process works.. Partner Officiants conduct wedding ceremonies written by me. Partner Officiants usually only communicate with their clients a few weeks before the wedding, those some clients may want a pre-hire consultation via Skype or FaceTime.
If you would like to apply, please send an email and resume or link to your LinkedIn profile at tracy [at] oppsproject [dot] com. Qualified applicants only, please.
Responsibilities:
Officiate pre-written wedding ceremonies and Signing Services as assigned
Provide high level of customer service to all clients with enthusiasm
Keep information about weddings and clients confidential
Dress appropriately for the occasion (generally cocktail or formal business wear for women, suit for men)
Be prompt for all events and arrive before the scheduled time
Respond to emails from clients and Slack notifications from our team members promptly.
Qualifications:
Significant experience with public speaking or performing
Experience working with difficult people and unique situations
Experience as an independent contractor who organizes his or her own work and has been responsible to customers
Ease with mobile technology and apps (our job is very mobile and we use a lot of technology)
Flexible schedule on Tuesdays, Thursdays, and weekends
Belief in the concept of a modern marriage
Belief that ALL people deserve to be married, regardless of their sexual orientation
Belief that weddings can be joyful and fun while recognizing the importance and responsibility of the event
Comfort with performing ceremonies that are both non-denominational and non-religious
Partner officiants must have reliable transportation to get to weddings.
Compensation:
Partner Officiants are contractors and paid a flat fee per gig or rehearsal. They will be issued a 1099 at the end of the year. Payment is monthly by invoice.
Hiring Process:
If interested in becoming a Partner officiant, please send a resume and cover letter by September 1st to tracy [at] oppsproject [dot] com. Interviews will happen on a rolling basis. Finalists will be asked to conduct a mock wedding ceremony in front of the Fountain at Forsyth Park. If the opportunity arises, you can also watch me officiate a wedding after being interviewed.
Please note: I am looking to bring in a person that I can work with long-term and is a part of my organization, not someone I can simply refer weddings to when I am booked. If you are looking to market yourself as an independent wedding officiant in the future, or currently have a website or Facebook page marketing yourself as an officiant, this is not the position for you.
I look forward to your referrals and applications!