COVID-19 UPDATE
We hate what COVID-19 has brought to our world, especially for our couples who should be focused on nothing else but the love that they have for each other.
During this time, here are our booking guidelines for NEW clients. We change these frequently as new information comes in about COVID in our area.
We are booking outdoor ceremonies with a limit of 50 guests. This number will increase if Governor Kemp increases the number of people allowed to gather without social distance via his executive orders.
If you are planning an unpermitted wedding in one of our parks or squares, we are only taking ceremonies with a limit of 15 guests.
If you are booking a package with over 6 guests and you want to celebrate at a restaurant after your wedding or elopement, please note that you may need to book a private room due to restaurant safety protocols.
---
Let us help you with your Savannah wedding or elopement!
Hey there! We really want to hear from you with any questions you have about Savannah Custom Weddings & Elopements and help you book your service with us.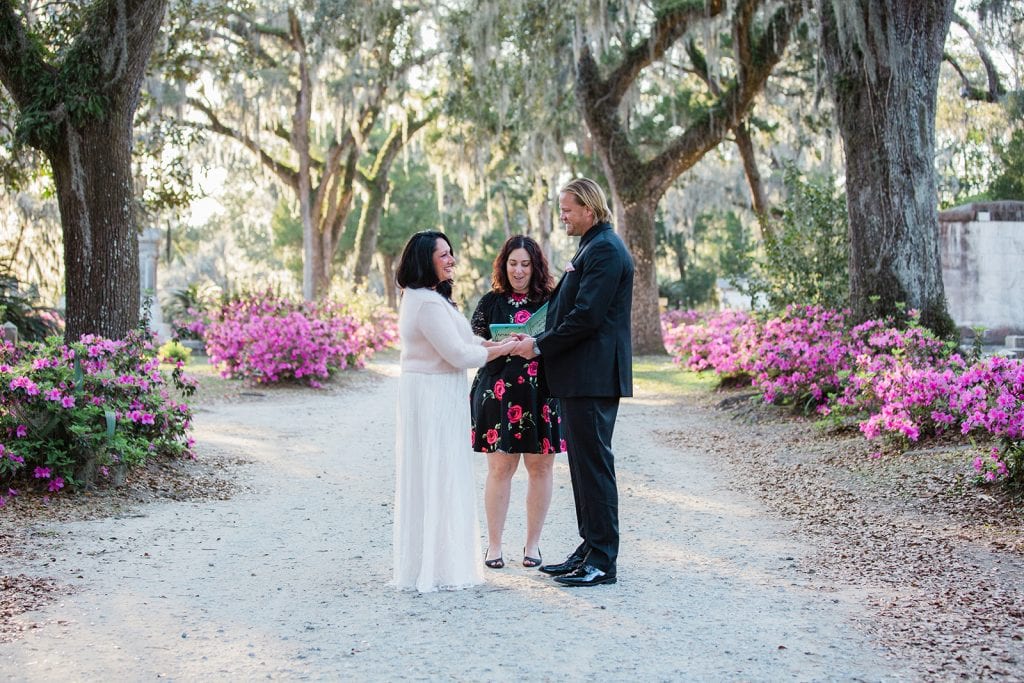 ---
Before completing the contact form, I encourage you to review my Ceremony Package options.
If you are inquiring about booking a Simple Signing Service, please text us after reading this page.
---
The fastest way to get in touch with me is this email form, but here are a few other ways to contact me, too.
Phone: (912) 226-4097 COVID-19 made us a remote office and we only accept incoming text messages at this time. We are always on text and usually reply pretty fast! We can always send you a link to schedule a call if we definitely need to talk on the phone to help you make your plans.
Direct Email (Your message will be seen faster if you complete the form instead.)
Mailing Address: contact us via email for address
Our General Manager Jennifer answers all of our initial inquiries, including those that go to my email address. She will identify herself and sign the email with her name.
Fill out this contact form with your question, request or feedback and someone will get back to you as soon as possible.
Thank you!