It is very easy to get a marriage license in Chatham County, GA.
There is no waiting period and if y'all are coming to Savannah or Tybee Island for your elopement or destination wedding, you can get married the same day your license is issued.
All of the official requirements are listed on the Chatham County Probate Court's website, but here is a summary.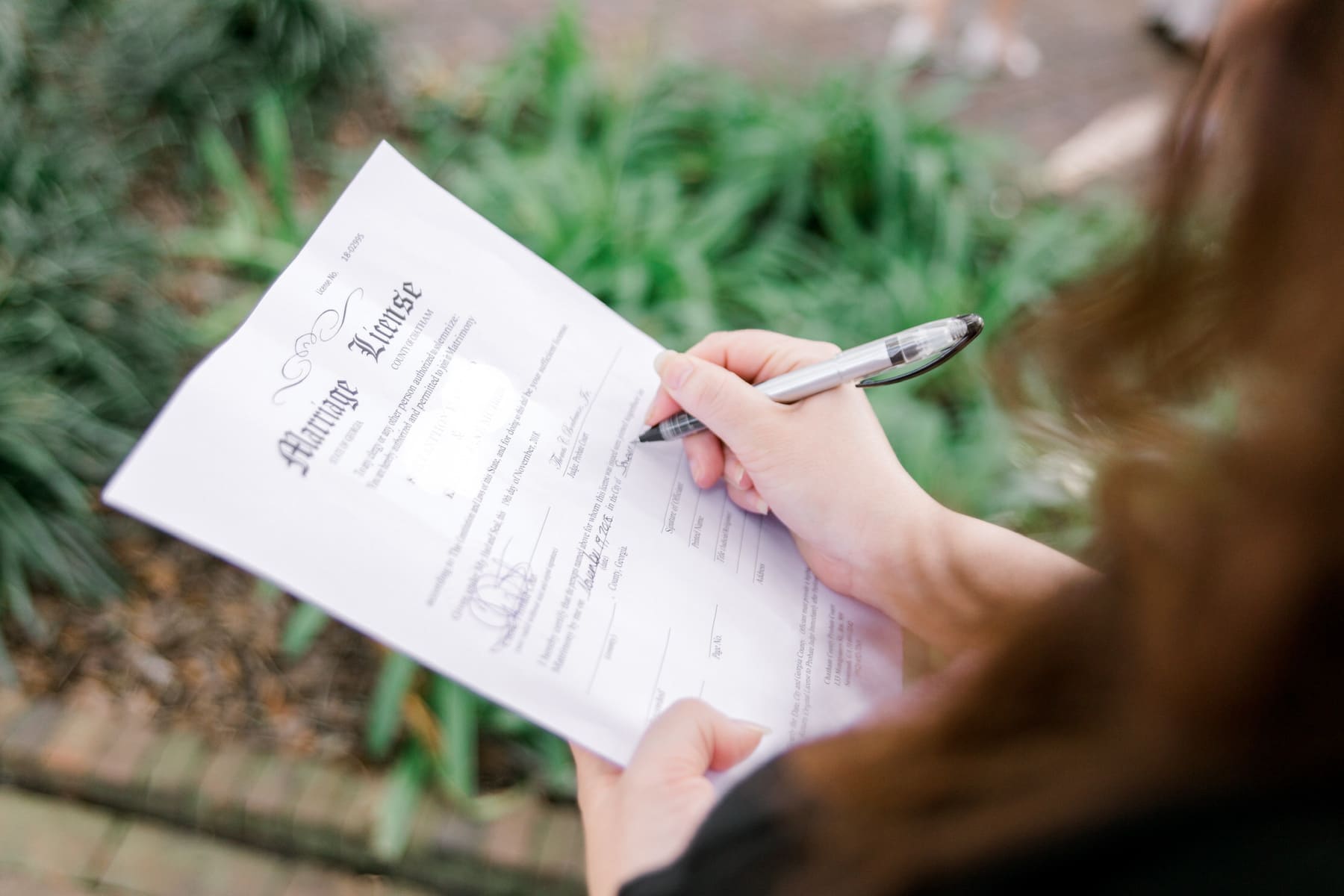 General Rules
You must be at least 18 years of age to apply for a marriage certificate without parental consent.

If either applicant is a resident of Georgia, the license can be issued in any county.

If neither is a resident of Georgia, the license must be issued in the county in which the marriage ceremony is to be performed.
Paperwork
Both applicants must appear at the same time and present a "positive" I.D. Examples of positive I.D.s include a driver's license, a certified copy of a birth certificate, a military I.D., a passport, or a state I.D. card.
If either applicant has been divorced, you must bring a certified copy of your most recent Judgment and Decree with the Judge's signature on the order when applying for your marriage license.
Fee & Payment
The fee for a marriage license is $66.

You will need the

exact

amount in cash, money order or cashier's check, or you can pay by credit card with an additional convenience fee. You can receive a discount for participating in an approved premarital education program.
When & Where
You must apply in person at the Chatham County Probate Court. It is located at 133 Montgomery St., Room 509, Savannah, GA. 31401, and is open Monday-Friday from 8AM to 4:30PM, excluding holidays. Due to staffing, they may change their hours occasionally so check their website before making plans.
Additional Questions
You can call the Chatham County Probate Court directly at (912) 652-7264, option 2 with additional questions.
Application
You can download a PDF of the application and the application supplement, which is used for reporting purposes directly from the Chatham County Probate Court site. In addition to your personal information, you'll also need to provide the following:
Last name you will use after marriage (if you are undecided or wish to change your name at a later date, you can use other channels to legally do so)
Father & mother's full name, birthplace (city and state), and current address, as well as your mother's maiden name
Filing Your License
You will file your completed license signed by your officiant with the Chatham County Probate Court in person or via mail using a self-addressed stamped envelope. The court will send you back your official marriage certificate. I can also file your paperwork for you if you are purchasing a Ceremony Only or Ceremony + Photography Package..
South Carolina
The State of South Carolina has a 24 hour waiting period for licenses, meaning you must plan ahead before making your travel arrangements. If you plan a Saturday wedding, you must apply for your marriage license on Thursday and pick it up on Friday, for example. More detailed information can be found from the Beaufort County probate court.
You can also use US Marriage Laws to find links to county marriage license rules and application processes across the country.
Once you develop a plan to get your paperwork squared away, check out my officiating packages!