Thanks for your interest in our Simple Signing Service!
Our Simple Signing Service allows you to meet the minimum requirements necessary to get married in the state of Georgia. It is a great option for people who need to be legally married would like to skip the ceremonial elements of a wedding at this time.
We began offering the the Simple Signing Service in 2014 because the Chatham County Courthouse does not provide dedicated employees to officiate weddings at the courthouse. Couples can schedule an appointment directly with a judge, but only with considerable advance notice. You'll also be scheduled between other civil or criminal cases which is not exactly romantic.
Simple Signing Services are held at The Savannah Cozy Chapel, located at 2421 Waters Avenue, between Maupas and 41st Streets. Signing Services are scheduled by appointment only.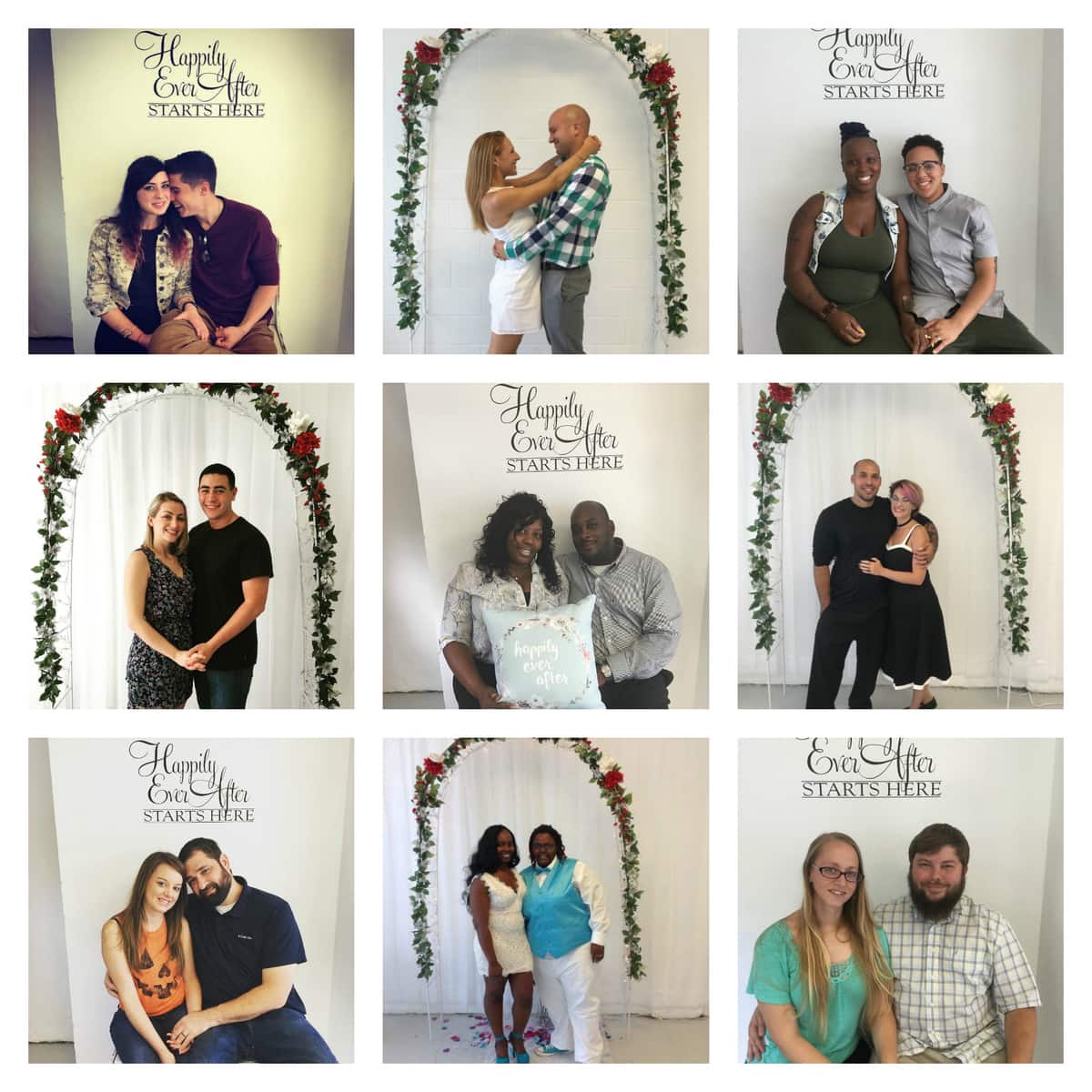 ---
There are five parts to the Simple Signing Service.
We'll sit around our conference table together to take care of Georgia's legal marriage requirements.
1. Conversation. As officiants, it's our job to make sure that both people getting married understand the seriousness of the commitment they are making to each other, that no party is under duress, and the couple is not attempting to commit fraud. To ensure that, your officiant will ask you a few questions about your relationship, why you're choosing to get married today, and similar types of questions. It is meant to be a casual conversation among the three of us.
We do ask that you be as honest as possible with us. Please don't be nervous! We are not here to judge your relationship, but help and ensure that you are both making a great decision together. This part of the Simple Signing Service should be fun as you think back to how you first met and fell in love.
2. Declaration. We will ask each of you to affirm that you want to marry the other person as you both understand it legally, emotionally, spiritually and otherwise. This is your "vow."
You do not need to have rings, but you can bring them if you'd like to exchange them. Please let us know before we start the Simple Signing Service.
3. Pronouncement. We need to "pronounce" that you are now a married couple, which means that we will say out loud that we declare you are now married and use your names, even though it is just the three of us.
You may kiss if you wish. We encourage it!
4. Signing. We'll sign your license and give it back to you. You can bring it in person back to the courthouse if you'd like for your certified copy to be issued right away. You can also mail it back with a self-addressed stamped envelope so the court can mail you a copy back in three to six weeks.
5. Celebration (optional). While not necessary, we highly encourage you to take time to celebrate after the Simple Signing Service. You may have been together for a long time, but this will be your wedding anniversary for the rest of your life and it's important to mark its occasion!
---
And here are the five guidelines to read before you book a Simple Signing Service.
We've established these guidelines after conducting 600+ Simple Signing Services. They help me make sure that you get the best experience possible when you make your commitment to each other.
1. Marriage License. You must have a valid marriage license. If you do not live in Georgia, it must be issued by Chatham County. If you have a marriage license issued by another Georgia county, at least one person getting married must be a permanent resident of the State of Georgia. You can learn more about marriage licenses and how to obtain one.
2. Guests. You can bring up to four guests to a Signing Service. Just remember that since we'll be sitting around our conference table talking, there is not much for a guest to watch or participate in, unlike a ceremony.
3. Scheduling. We do not schedule Simple Signing Services more than three weeks in advance. The Simple Signing Service is for people who want to or need to marry quickly. If you are looking to schedule something further out, look at our Tracy's Choice option on our Ceremony Package page.
4. Booking. Clients book Simple Signing Services directly via our online calendar, which we'll send to you if you fill out the form below. We generally have appointments from 10:00 AM to 4:30PM every weekday, with extended evening hours on Wednesdays, Thursdays and Fridays. We also have limited Saturday appointments available. We do not accept walk-ins.
5. Payment. The cost of the Simple Signing Service is $125 for a weekday appointment and $150 for a weekend appointment. Clients must pay online when you book and the payment is non-refundable. There are no discounts for this service.
Couples who book a Simple Signing Service are eligible for a 10% discount on future officiating services.
Because of how Simple Signing Services are scheduled, your officiant will be assigned after booking. You can read more about our officiant team and the specific officiant you are assigned. All of our officiants are amazing people and compassionate professionals.
And just a reminder, if your vision for getting married does not meet the requirements of the Simple Signing Service, please to look at my basic ceremony option, Tracy's Choice, on our ceremony package page.
---
Schedule your Simple Signing Service!
If you have reviewed this information and are sure that you want to schedule a Simple Signing Service, please complete the following form and we will send you a link to our calendar so you can schedule an appointment. Once you schedule an appointment, you will be sent a link to pay in advance. Your appointment will not be confirmed until we receive payment.
If you are requesting an appointment within 24 hours, you can text your request. (If it is more than 24 hours, we'll redirect you to schedule online).
We can't wait to work with you!