Meet the Savannah Custom Weddings & Elopements Team!
Just like your marriage is a partnership, so is our business. We couldn't do this work without our team of Partner Officiants who make our weddings wonderful experiences. We're also proud to have a team of trusted Partner Photographers who will capture the joy of your day so you can remember it for decades to come.
Collectively, we're a team of powerful women with life experiences spanning entrepreneurship, motherhood, and artistry who believe in our shared mission to marry all the people in a way that's fun, inclusive, and focused on you!
---
Our Officiants & Central Team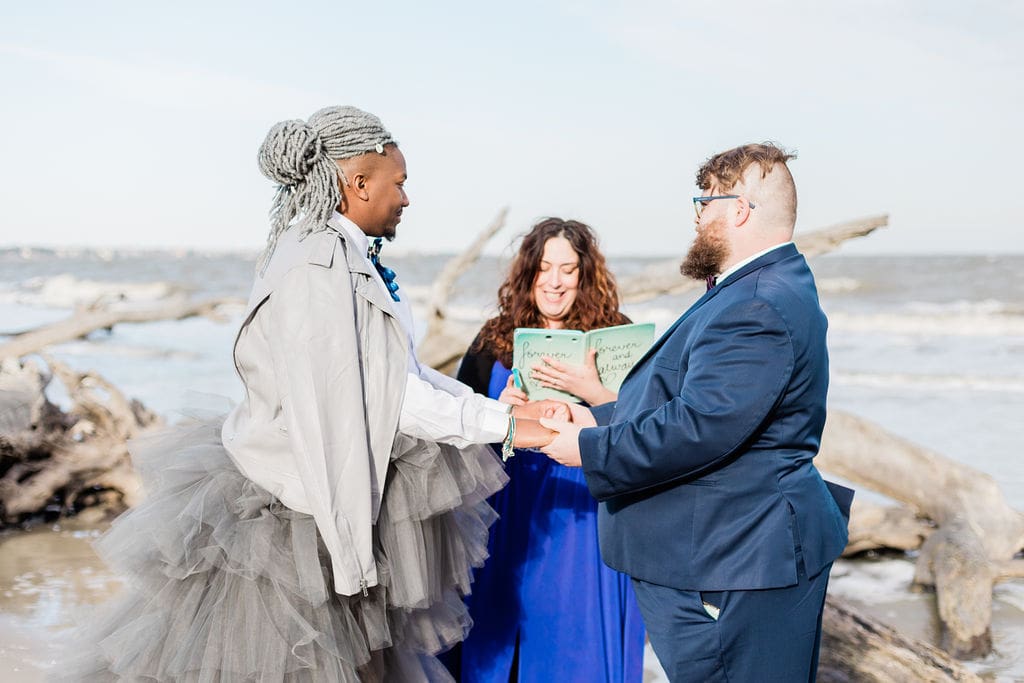 Tracy Brisson
Founder, Owner and Officiant | Atlanta, GA
The Savannah Custom Weddings & Elopements story begins with Tracy, who founded the business in August 2014 after she couldn't find an elopement officiant that she loved for her own wedding. She built the business to be everything she was looking for: inclusive of a diverse array of couples, flexible to accommodate busy professionals, and customized to reflect each unique personality.
After officiating 15 weddings in just five months, and building bedrock relationships with other Savannah wedding vendors, Tracy grew the company to a full team that marries hundreds of couples each year and shares her values about love. In 2021, Tracy moved to Atlanta, GA, for her family and to expand her business interests.
You can read an extended bio for Tracy here.

Buffy Nelson
Operations & Brand Director and Officiant | Savannah, GA
Buffy is one of our longest-serving team members, having joined the team in 2016 to help Tracy as she went on maternity leave. Though she spent most of her career in real estate and public relations, Buffy quickly learned that she was a natural wedding officiant and loves the job just as much today, hundreds of ceremonies later.
In 2022, she was promoted to Brand & Operations Director and manages much of the day to day of the company. With her leadership, the company continues to thrive and make a stronger name for itself as client-focused, flexible, and inclusive.

Alexandra Gonsor
Senior Partner Officiant & Ceremony Creator | Hilton Head Island, SC | Savannah, GA
We've known Alexandra for years as one of Hilton Head Island's top wedding officiants and a top referrer of Savannah Custom Weddings & Elopements. So, when we expanded into South Carolina in 2021, Alexandra was our first call to join the team. She is a gifted writer and creates many of our custom ceremony scripts.

April Hayes
Senior Partner Officiant | Savannah, GA
April is a natural fit for our team, being a Reiki Master, yoga teacher, and the owner of Her Earth Florals, where she designs florals for events (including elopements & weddings). She joined us in 2017 and is known for her caring nature and excellent stage presence — a credit to her performing arts MFA from SCAD.

Regina Morgan
Partner Officiant | Savannah, GA
Regina has a unique perspective on the Savannah Custom Weddings & Elopements team as the mother of one of our former brides. Her experience going through this process from both sides, on top of her spot-on maternal instincts and organized nature, make her a wonderful fit for our team.

JinHi Rand
Partner Officiant | Savannah, GA
As a performer and the former owner of The Muse Arts Warehouse in Savannah, JinHi is a perfect addition to our amazing group of officiants. As a Partner Officiant, she conducts our Simple Signing Services for some of our most vulnerable clients. She is a survivor of a rare cancer and understands how integral love is to our lives.

Shannon Vaughn
Scheduling and Client Support Manager
Shannon has been with our team since 2017 and is in charge of all of our scheduling and client support and keeps us organized. We couldn't do this work without her help!
---
Partner Photographers

Bronston Photography
Partner Photographer | Savannah, GA
Bronston Photography has an impeccable reputation in Savannah for their elopement and wedding photography. Their owner, Tori, has a down-to-earth style that will make any couple at ease in front of the camera, and her skill extends to her entire team.
Kenzie Morgan Photography
Partner Photographer | Savannah, GA
Kenzie Hamby of Kenzie Morgan Photography is not only a talented wedding photographer, but a fun, creative spirit who you'll love having around on your wedding day. She is ready to take you on an photography adventure during your elopement or intimate wedding!
5DPhotography
Partner Photographer | Savannah, GA
Lisa Davis and her team at 5D Photography …
---
We can't wait to welcome you to our family!