UPDATE: This position was filled as of November 5, 2018. Thanks to all who applied!
Hey y'all-
I am very sad to report that our current Scheduling Manager & Client Concierge, Shannon, is leaving us in a few months for Japan where her family will be stationed for the foreseeable future. We are devastated to be losing her from our team, but excited for her new adventure.
But that means we need to find a new Scheduling Manager & Client Concierge and we have big shoes to fill. Please help us with our search!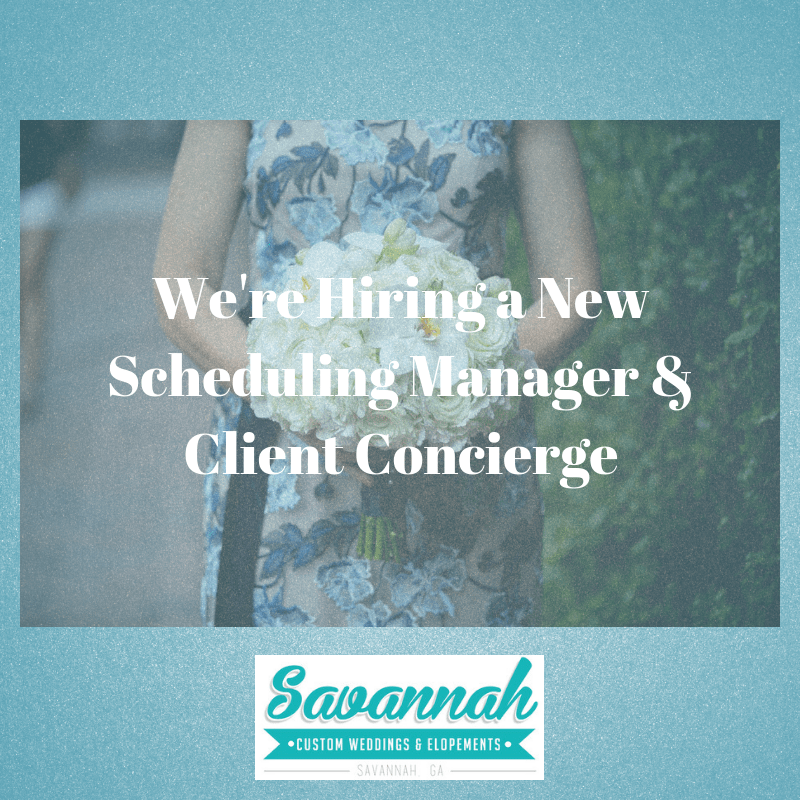 Job Overview
The Savannah Custom Weddings & Elopements Scheduling Manager & Client Concierge is responsible for three categories of responsibilities for our business:
(1) qualifying leads who want to work with our business for their elopement or wedding and contact us via our online form, or by email or phone, and then following up and scheduling them, if appropriate,
(2) working with select clients to organize related vendor services (hair and makeup, flowers, restaurant reservations, etc.) for their wedding or elopement and helping the client book them, and
(3) managing our marketing assets, including photos and ceremony documents.
The Scheduling Manager & Client Concierge has intimate contact with our clients and his or her work is essential in helping our business maintain our 150+ 5 star rating online.
Responsibilities
Under the direction of the owner, this critical team member will …
Manage Our Officiant & Photographer Schedule for Client Booking
Answer leads, using templates and company knowledge, and qualify them for our services via our customer relationship management system, 17Hats
Review Google calendars of officiants and photographers to schedule services appropriately and message them as needed
Send booking forms to qualified leads
Follow-up on needed documents, like questionnaires and booking forms, from clients
Provide Client Concierge Services to Select Clients
Analyze client questionnaires and organize follow-up calls with clients around their requests
Contact appropriate vendors to obtain quotes or make reservations on behalf of clients
Maintain excellent relationships with all of our vendors
Monitor progress for each client's project and conduct follow-ups with client or vendor as needed
Keep the business's customer relationship management system up-to-date for every client
Manage our Marketing Assets
Review photo galleries of all of our elopements and weddings and select and organize photos to allow us to easily market our business across online platforms
Conduct a fine edit of select ceremony documents after they have been performed
Related tasks may be assigned.
Hours & Pay
The Scheduling Manager & Client Concierge will be an employee of the owner, not a contractor, and be paid $17 an hour. This employee works approximately 10-15 hours per week, with the busiest times in the spring and fall. Scheduling management work, including answering voicemails, must be done twice a day, in the morning and late afternoon/evening.
Additional Client Concierge work can be scheduled on a weekly basis, based on your schedule and the volume of clients, but all calls, texts and emails must be answered within 12 hours.
This is a remote position. If the final candidate is located in Savannah, there may be opportunities for in-person work at weddings, but not required or guaranteed.
We ask that the final candidate we choose commits to our business for at least one year.
Qualifications
Minimum:
Highly organized with excellent communication skills
Experience with using mobile applications for work
Experience in customer service
Experience working with difficult people and unique situations
Values promptness and establishing relationships with vendors
Owns a computer with access to high speed internet and a dedicated place to conduct work
Preferred:
Experience with self-employment or working for a small business
Familiarity with Savannah geography and tourism
Finally, our Scheduling Manager & Client Concierge must also believe in and share our company's values about our work.
We believe that modern marriage ceremonies, in both language and action, are the perfect way for couples to express their unique commitment to each other.
ALL love is beautiful and there is no wrong way to be married.
We fiercely defend the right of same-sex couples to marry in our state and country.
Every wedding celebration, whether small and intimate, or grand and bold, deserves the same level of attention and love from their vendors.
We provide solutions to every client's question and focus on successful outcomes, positivity, organization, and responsiveness in our work. We never say "I don't know."
We value the expertise of our internal partners and team members, and work with people who share our values in both thought and practice.
We take great pride in showcasing diverse forms of love and championing the beauty of elopements and intimate weddings to audiences across the globe.

Application Process
Interested applicants should send a resume or link to a LinkedIn profile via email to tracy [at] savannahcustomweddings [dot] com and tell us why you want to be our Scheduling Manager & Client Concierge AND why you would be great at it. Interviews will take place on a rolling basis and we hope to hire someone by mid-October for training with our team. Only fully-qualified applicants will be interviewed. We recommend all applicants view our Facebook Live video with Shannon about her experience with the position.
We look forward to your application!