My name is Tracy Brisson and I'm a wedding officiant in Savannah, GA.
Here's a little about me and what brought me to my work as a wedding officiant in Savannah, GA.
I moved to Savannah from Brooklyn, NY in 2012 as part of a larger goal to lead a more meaningful life filled with joy (I even gave a TEDx talk about it!). Despite the fact that I had a great career and friends in New York City, I wanted more out of life. So I decided to take a big risk, change up my career, and move to Savannah, a place I'd visited many times.
Not only did I fall in love with this city, but with an amazing man who became my husband in early 2014. We were married in Troup Square in a personalized ceremony that met our personal and budgetary needs. You can read more about my experience planning my own wedding here. In July 2016, we had a baby boy, Alex.
I am certified to conduct weddings through the Universal Life Church and am recognized as a clergy member. As an officiant, my job is to facilitate a wedding that reflects your faith, not mine. About half of the ceremonies I have performed have been 100% secular. Most Georgia non-religious ceremonies are performed by a clergy member because our state constitution does not allow anyone else to oversee a marriage except for judges and most of them choose not to be involved in weddings.
In 2014, I fell into wedding officiating and ceremony writing by accident, but have found I love working with couples and enjoy my role in helping launch happy marriages more than I ever imagined.
I believe there is nothing wrong with making offbeat decisions or taking big risks to achieve what you want in life and that includes having a wedding day that reflects your uniqueness. And that's just one reason why I want to work with you.
---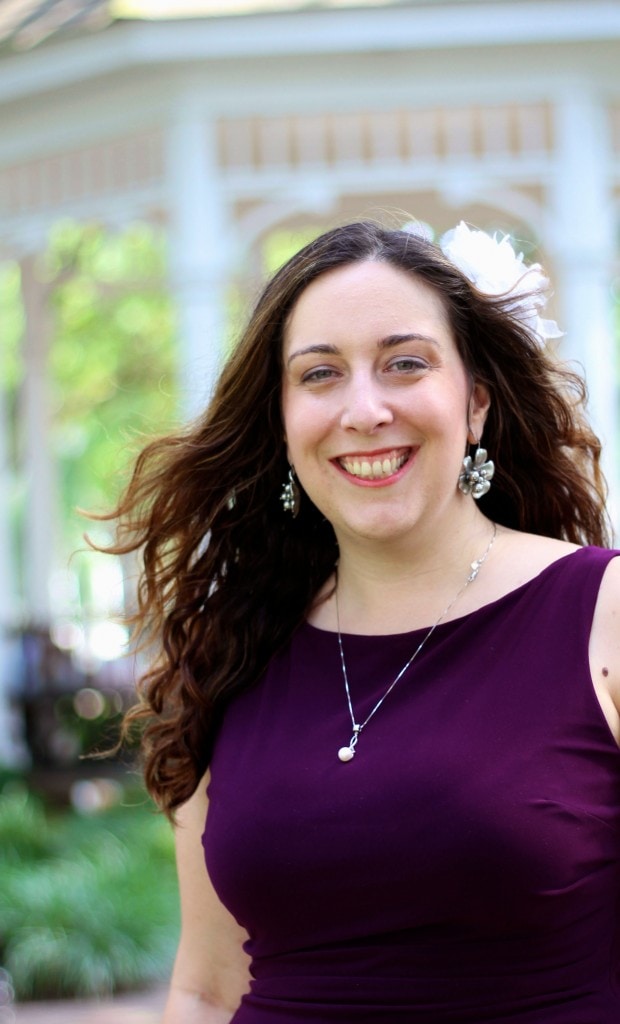 Here is even more about me and my background. 
When I am not wedding-officiating, I'm roving around Savannah with my husband, son, friends or my dog Forrest, or taking my car Vivian to one of the amazing beaches on the Georgia and South Carolina coasts. I'm also enjoying being a first-time mom and learning new ways to make my son giggle. In the community, I co-lead a women's leadership group called WomenWILL Savannah.
You'll also sometimes find me writing professionally or working with clients as part of my career coaching, talent development and recruitment training company, The Opportunities Project, though weddings take up most of my time these days. I have learned much from being a small business owner since 2010, using writing skills I honed through publishing a bestselling resume book, and working with hundreds of people who have made life-changing moves to achieve their career goals. My experiences as a writer, certified coach, and public speaker will help me work with you to create an amazing ceremony, and also provide great and efficient service to you as a client. Having married 600+ couples since 2014 also helps!
You can read more about me and my various projects on my personal website. Please contact me if there are any questions I can answer!
---
I also work with partner officiants who I have trained.
As my wedding business has grown, I cannot work with all of the couples who request my services so I have added partner officiants who can work with you when I am unavailable. You can read more about them here.