Here is Part 2 of my review of locations to be married in Savannah! Check for Part 1 on Orleans, Chatham, Johnson & Reynolds squares, and Morrell Park.
Part 2 includes pictures from weddings I performed during 2015 in Columbia, Troup, Whitefield, Crawford and Lafayette squares.
Unless otherwise noted, the professional photographs are from It's Megan Jones Photography. The collages are made of pictures I took with my phone and posted on Instagram. Reference material on how to have your wedding or elopement in a historic square Savannah is at the end of the post.
Columbia Square
Columbia Square was one of my favorite places to marry couples in 2015. Its fountain is pretty, there is a lot of space, and it has relatively little foot traffic. You will have the occasional trolley drive by with riders who will applaud you!
Kristin & Fabian, April 2015
Rachel & Deven, June 2015
I performed my 101st wedding of my career in Columbia Square!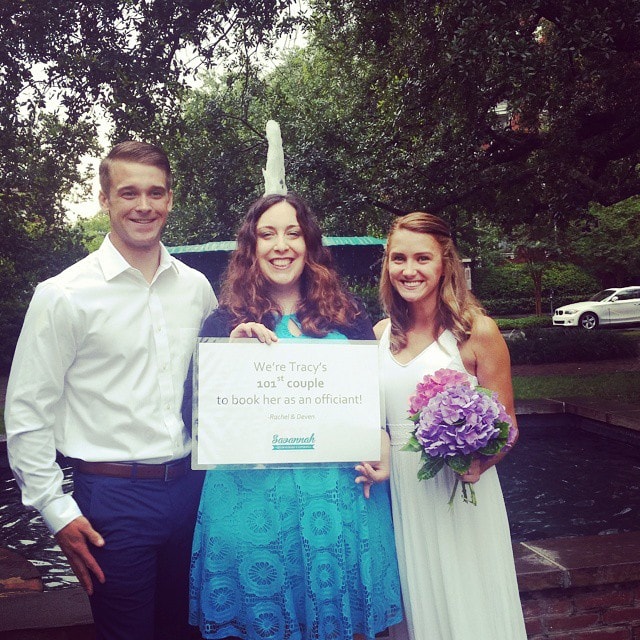 Stacie & James, October 2015
Stacie's family drove up early from Jacksonville to surprise her at her Halloween Day elopement.
Michelle & Joe, October 2015
My third Halloween 2015 wedding was also in Columbia Square and a themed wedding where I dressed up as Wonder Woman and joined Michelle and Joe in wedded matrimony by the Lasso of Truth. It was so much fun! Joe's daughter Maria wrote her own vows to her new stepmom and while it was fun, there was barely a dry eye in the house.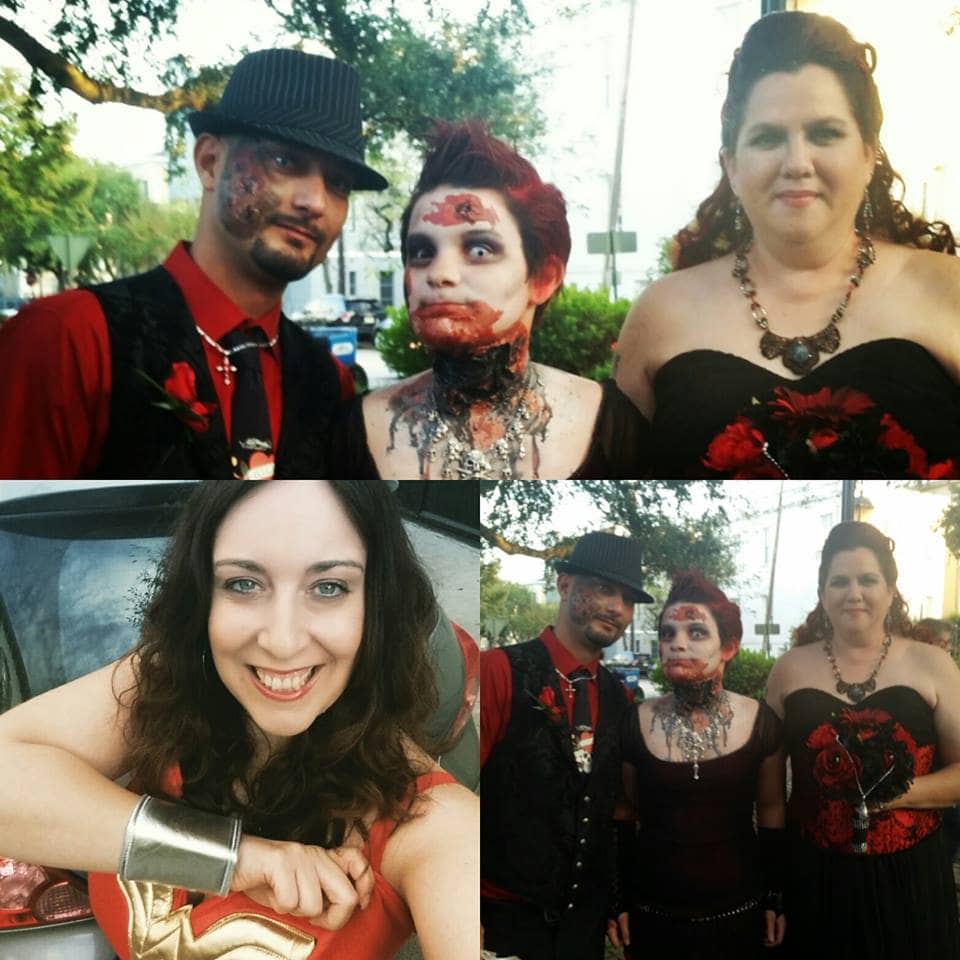 Troup Square
I am biased because Troup Square is where I was married. I think it is perfect because of its circle and its quiet feel.
Olga & Alexander, July 2015
Olga & Aleksander did not get married in Troup Square, but they took pictures there as part of their Savannah Elopement Experience newlywed walk. You'll see more of them in other posts as they visited lots of squares.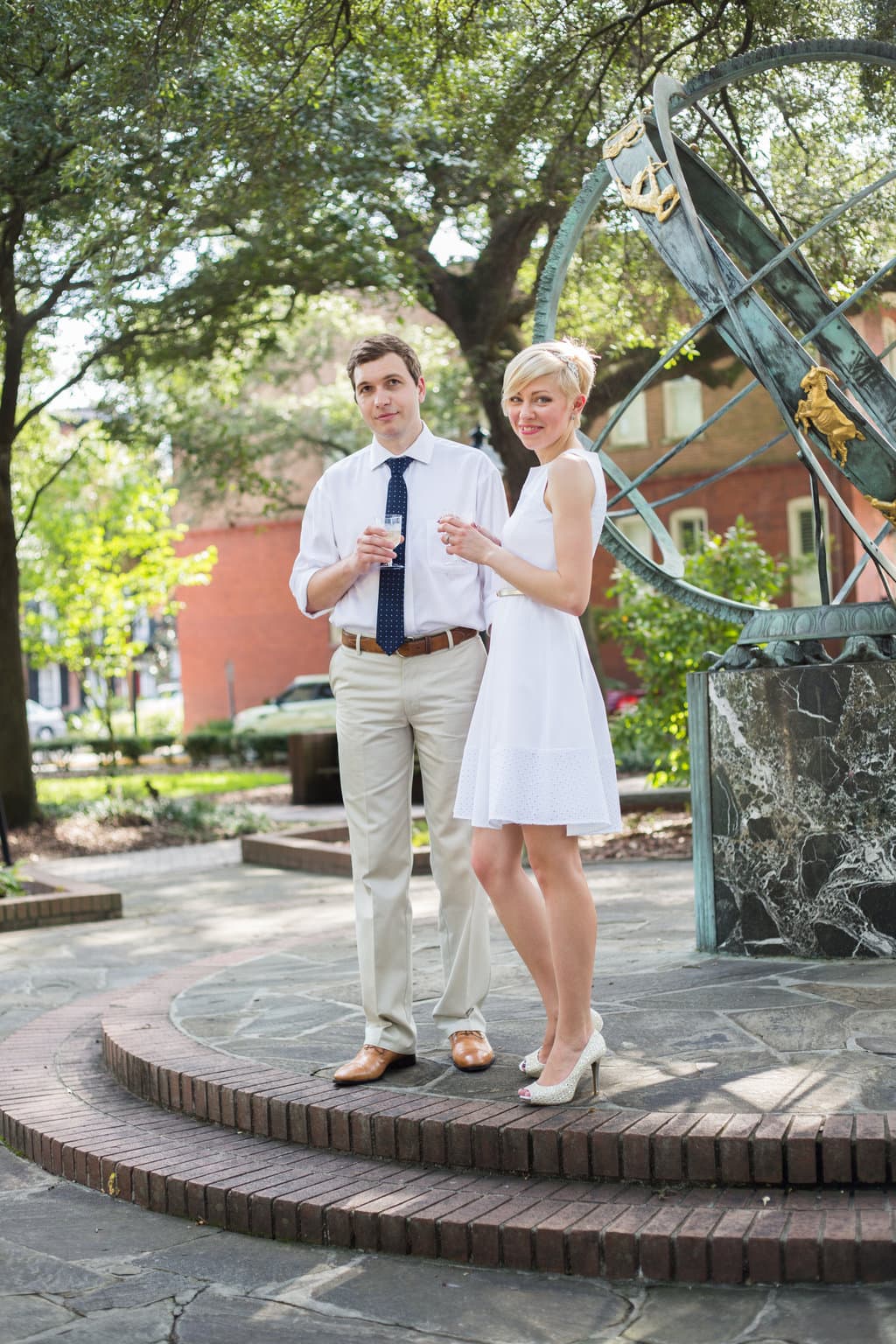 Luis & Angela, July 2015
Luis & Angela were married in Troup with their children and grandchildren present.

Whitefield Square
Whitefield is a very popular square for weddings and elopements because of its gazebo. The only drawback is that it does attract a number of visitors and the benches are often full. However, it is a beautiful setting for weddings and great for cloudy and rainy days.
Kimberly & Chuck, June 2015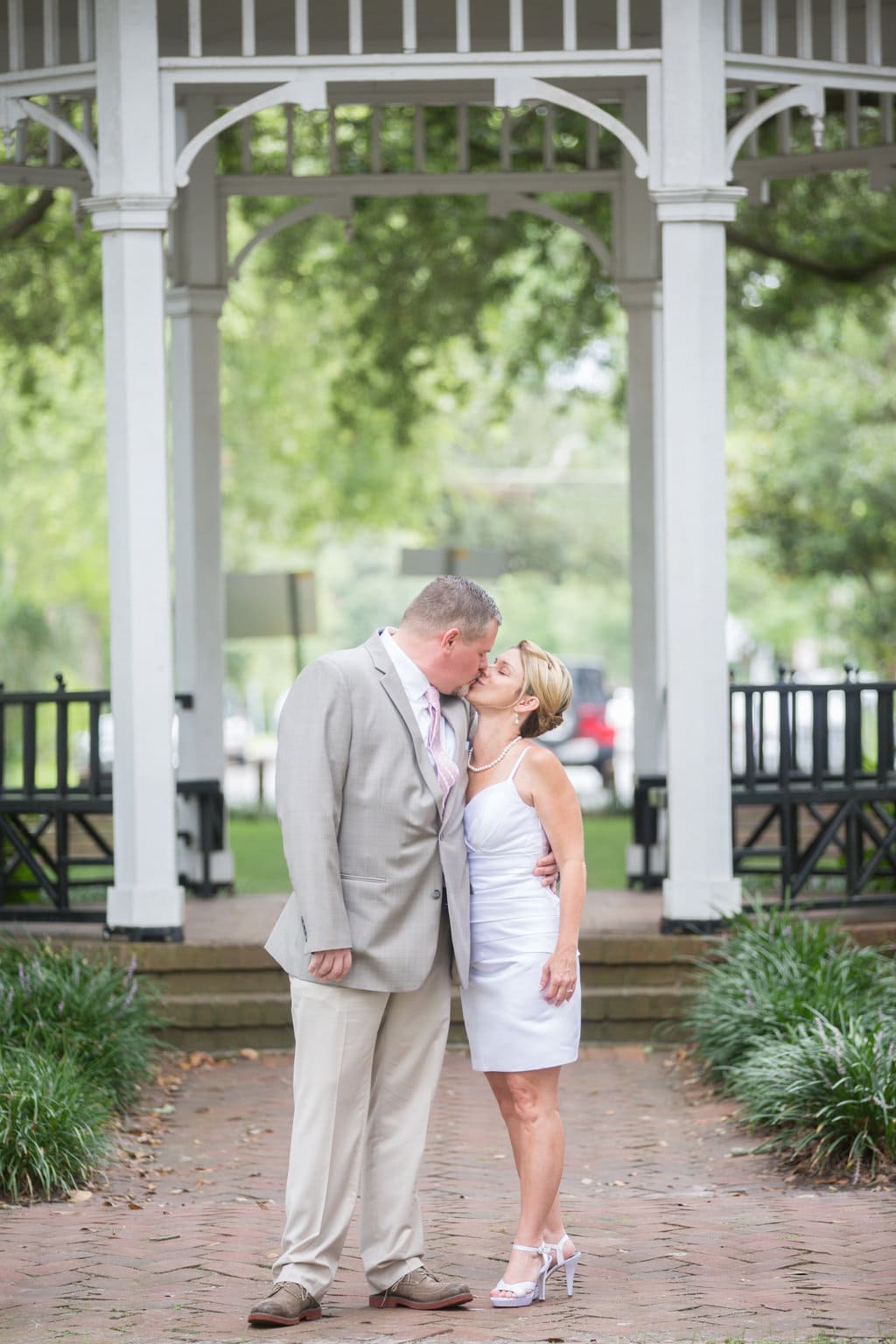 Olga & Alexander, July 2015
Here is another square we visited as part of Olga and Alexander's Savannah Elopement Experience newlywed walk.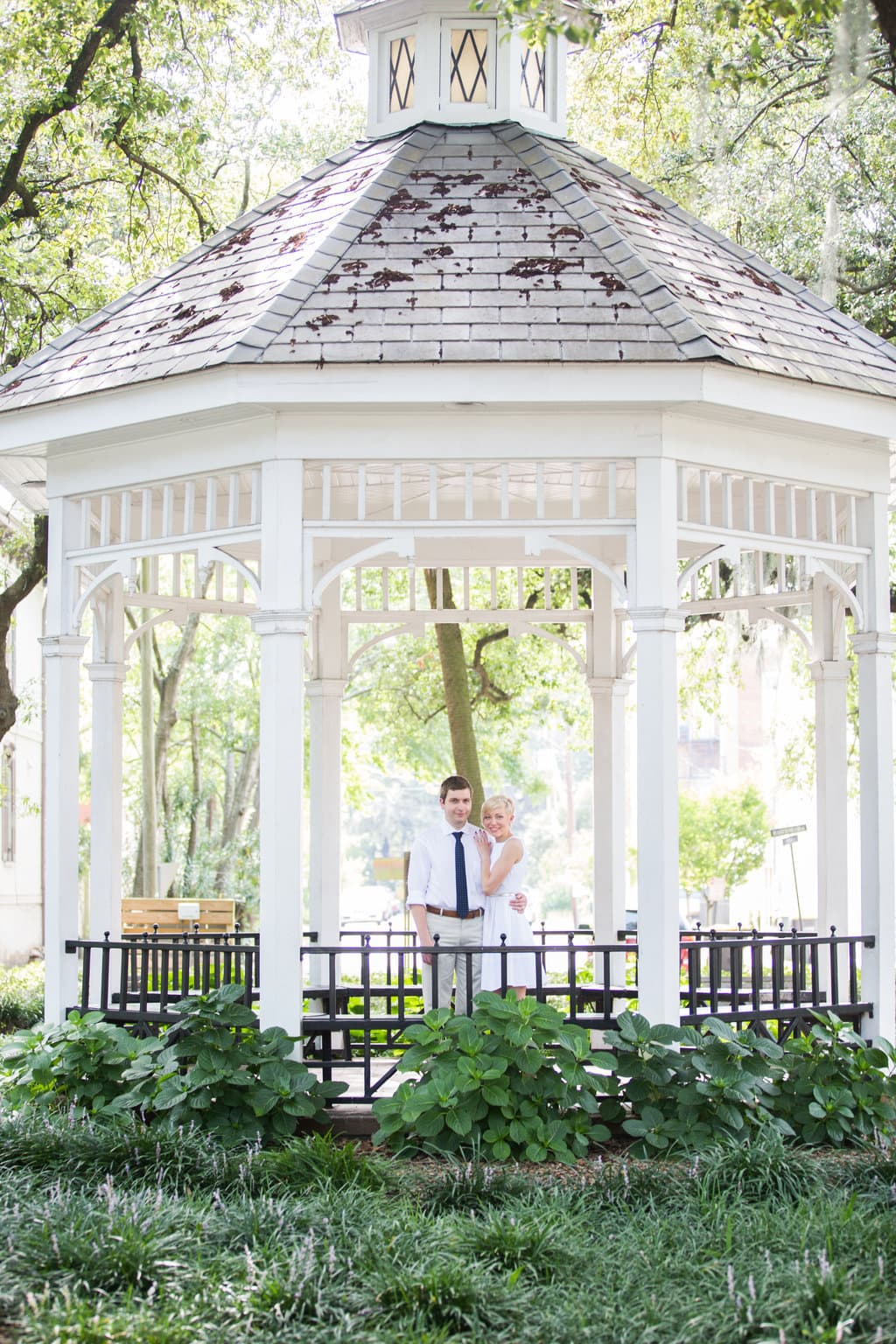 Whitney & David, June 2015
Whitney & David's sons served as witnesses for their sweet elopement.

Crawford Square
Crawford Square also has a gazebo and has some beautiful blooming trees that make it perfect for pictures. It also features a popular basketball court, so depending on the time of day, it may not always be the best place for an elopement.
Kristen & Fabian, April 2016
As you saw previously, this couple was married in Columbia Square, but they took pictures under the gazebo, trees, and Spanish moss as part of their Savannah Elopement Experience.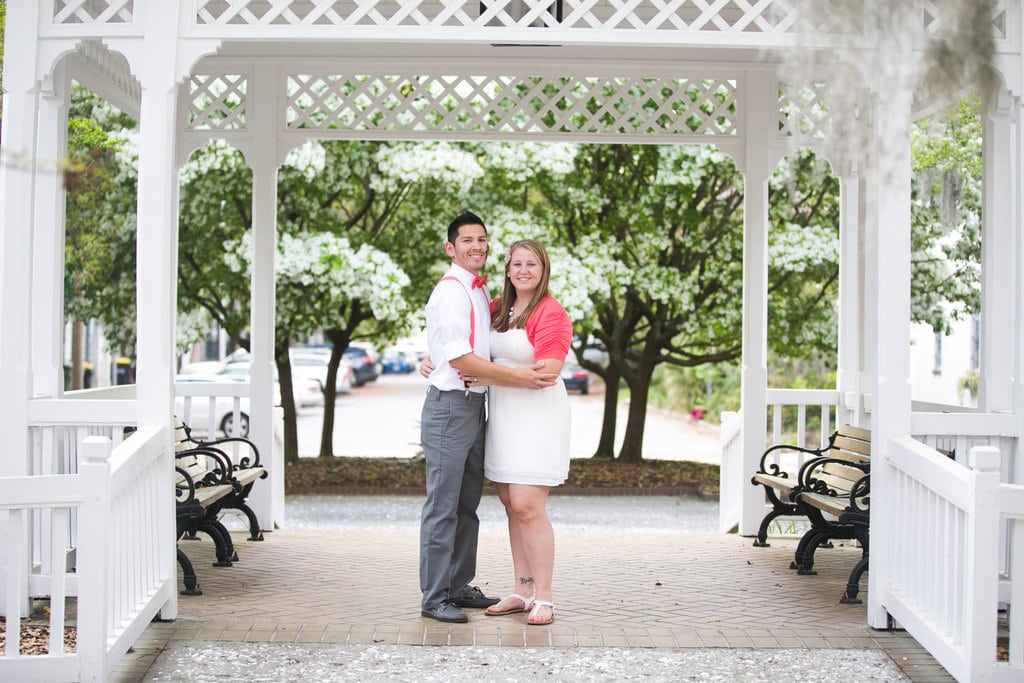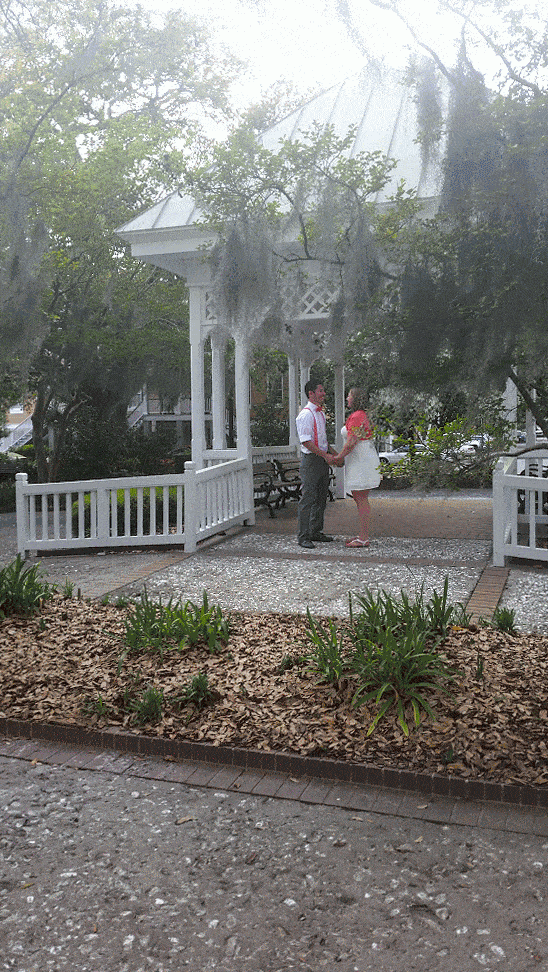 Christian & MaLisa, July 2015
Christian and Malissa's wedding party (and me!) posed for this fun picture in one of the corners of Crawford Square.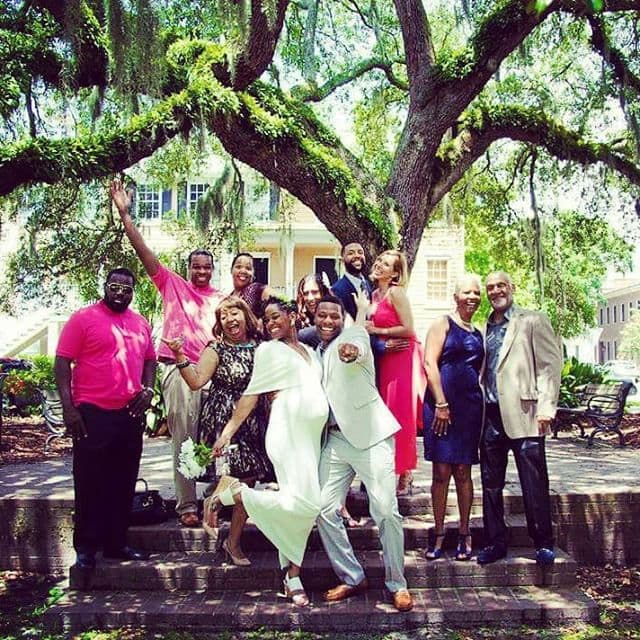 Lafayette Square
Lafayette is a popular square to be married in. It has a gorgeous fountain, has beautiful trees, and is right by the Cathedral of St. John the Baptist which is a great background for pictures, too. The drawback to this square is that the space around the fountain is very small and there is not a lot of room for guests. You will be up close and personal with your officiant! Because of St. John's, it also has a bit of foot traffic.
Lauren & Shane, December 2015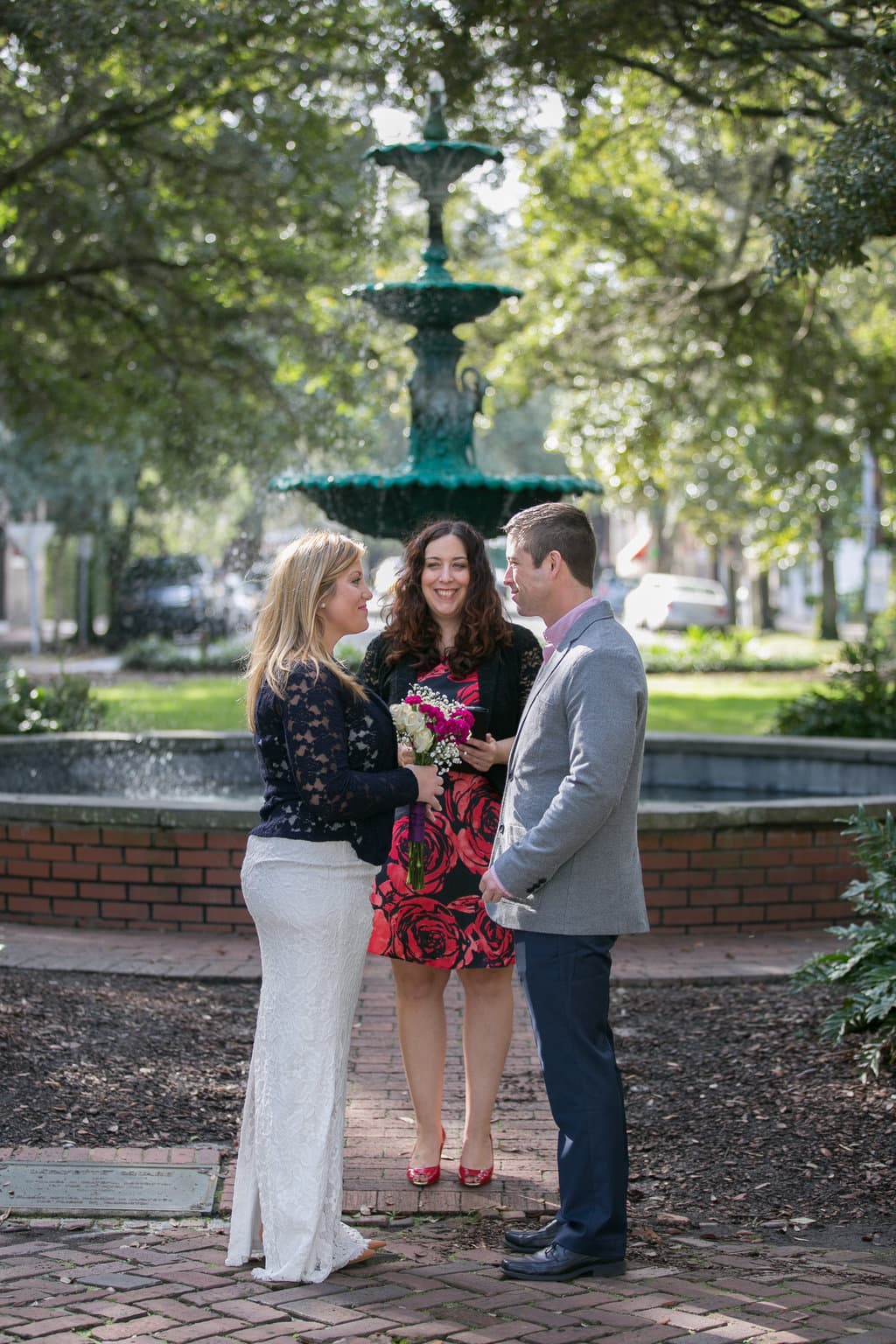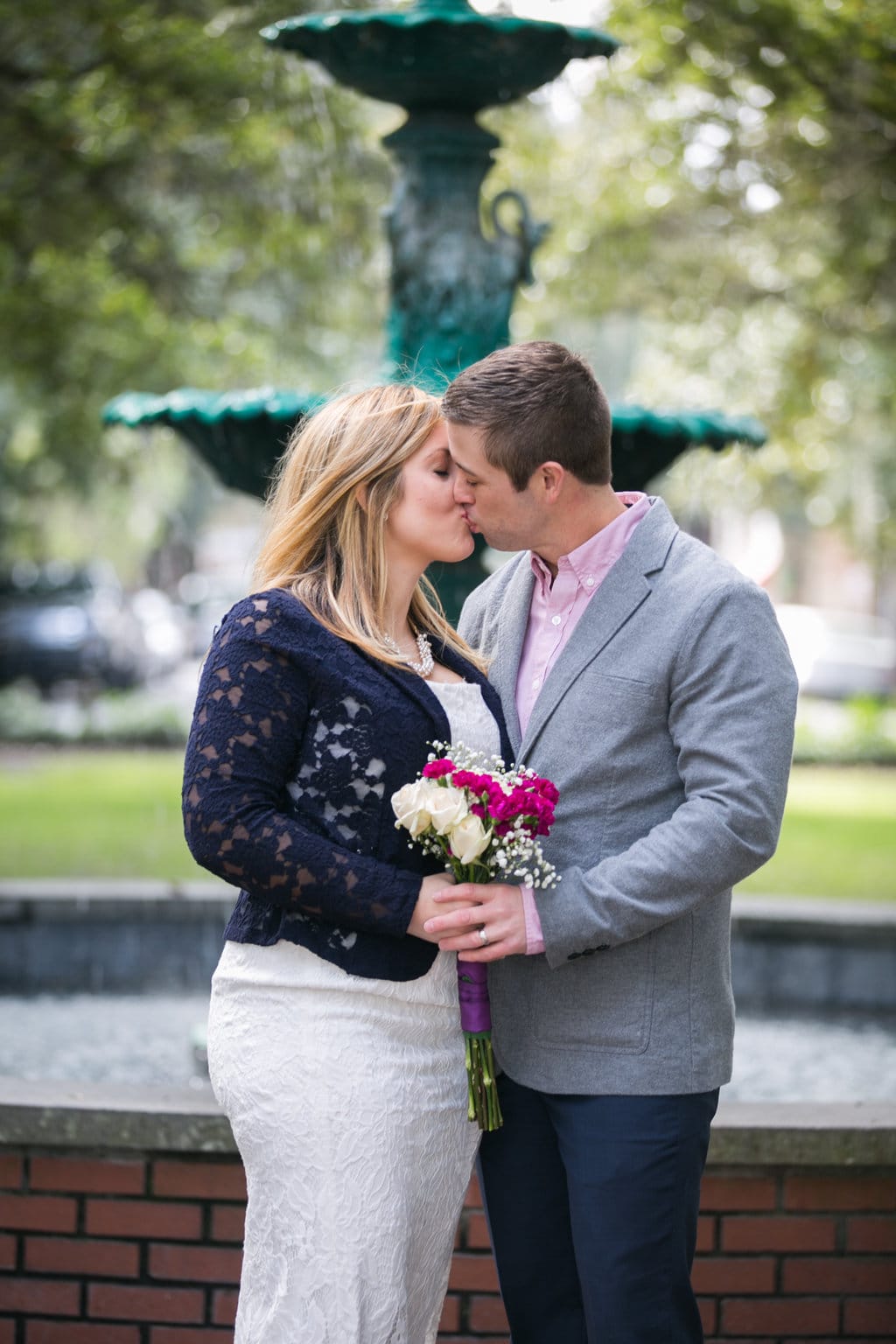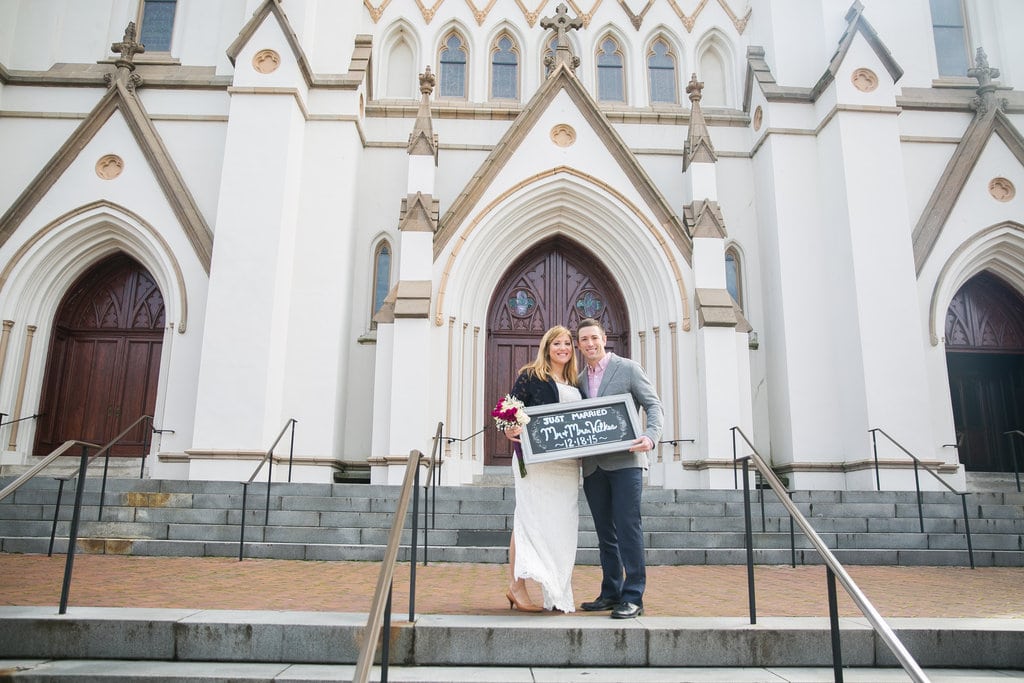 Chip & Jonas, November 2015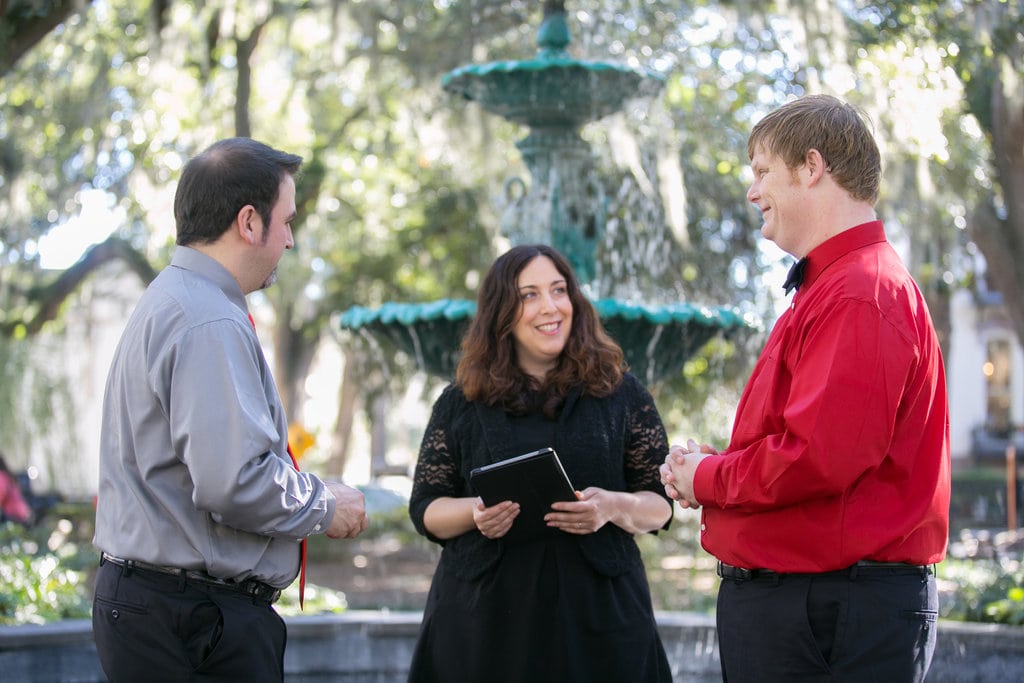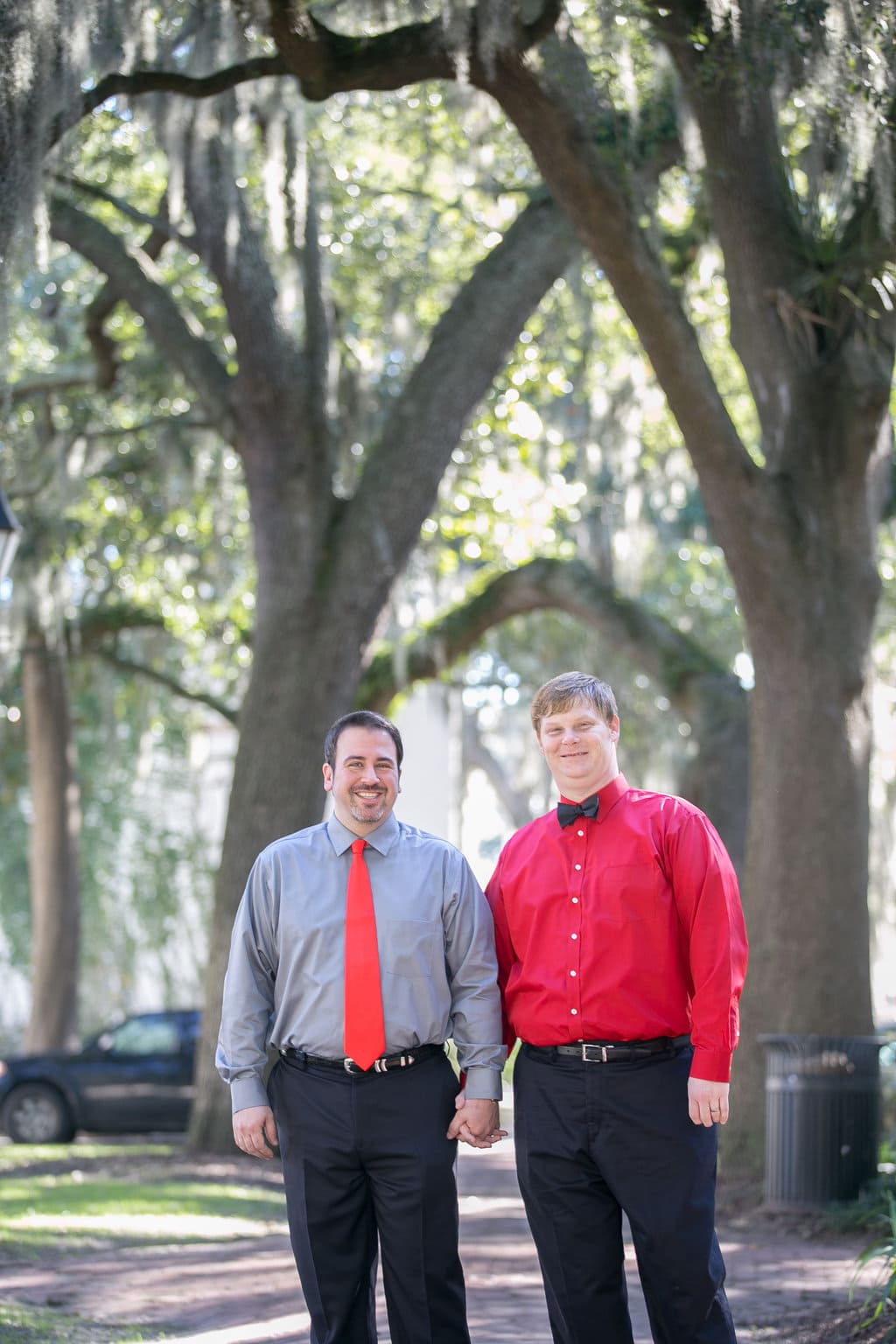 These couples took pictures in Lafayette Square as part of their Savannah Elopement Experience.
Olga & Alexander, July 2015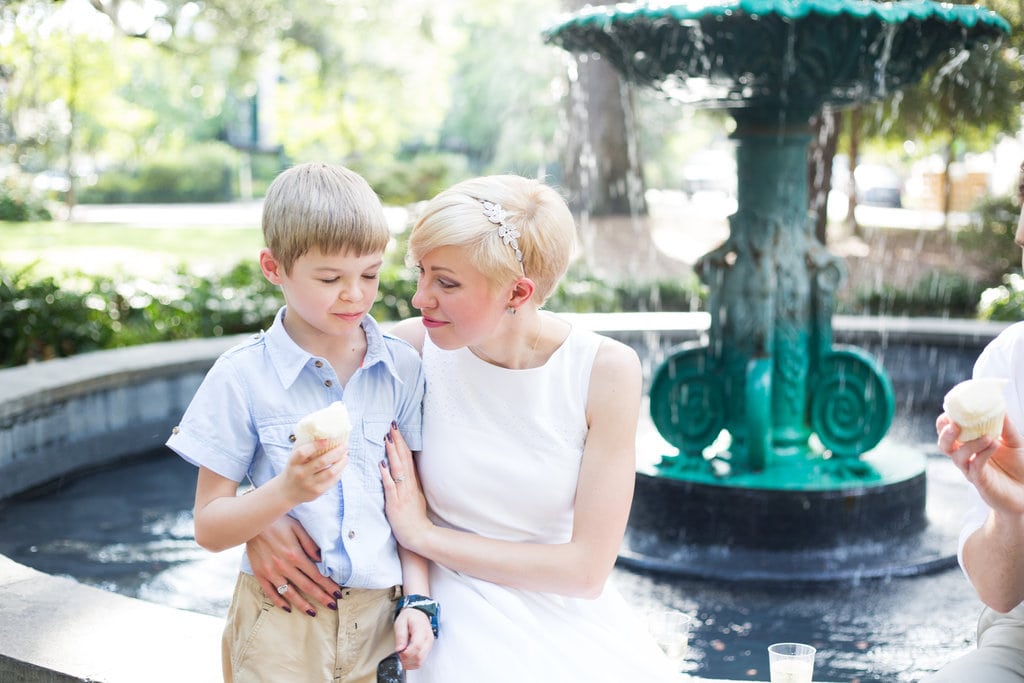 Jill & Gary, March 2015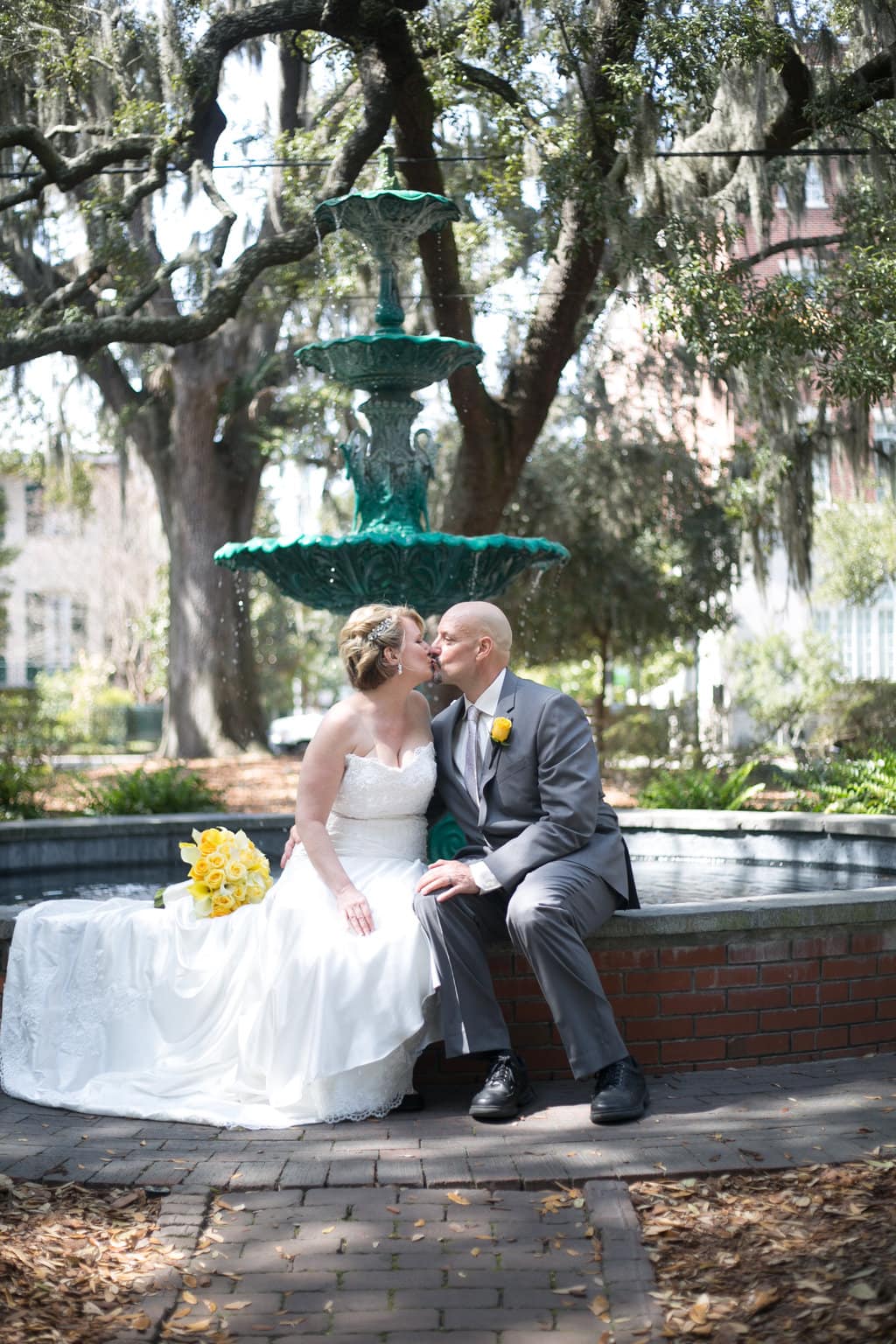 Lindsey & Ryan, New Year's Day 2016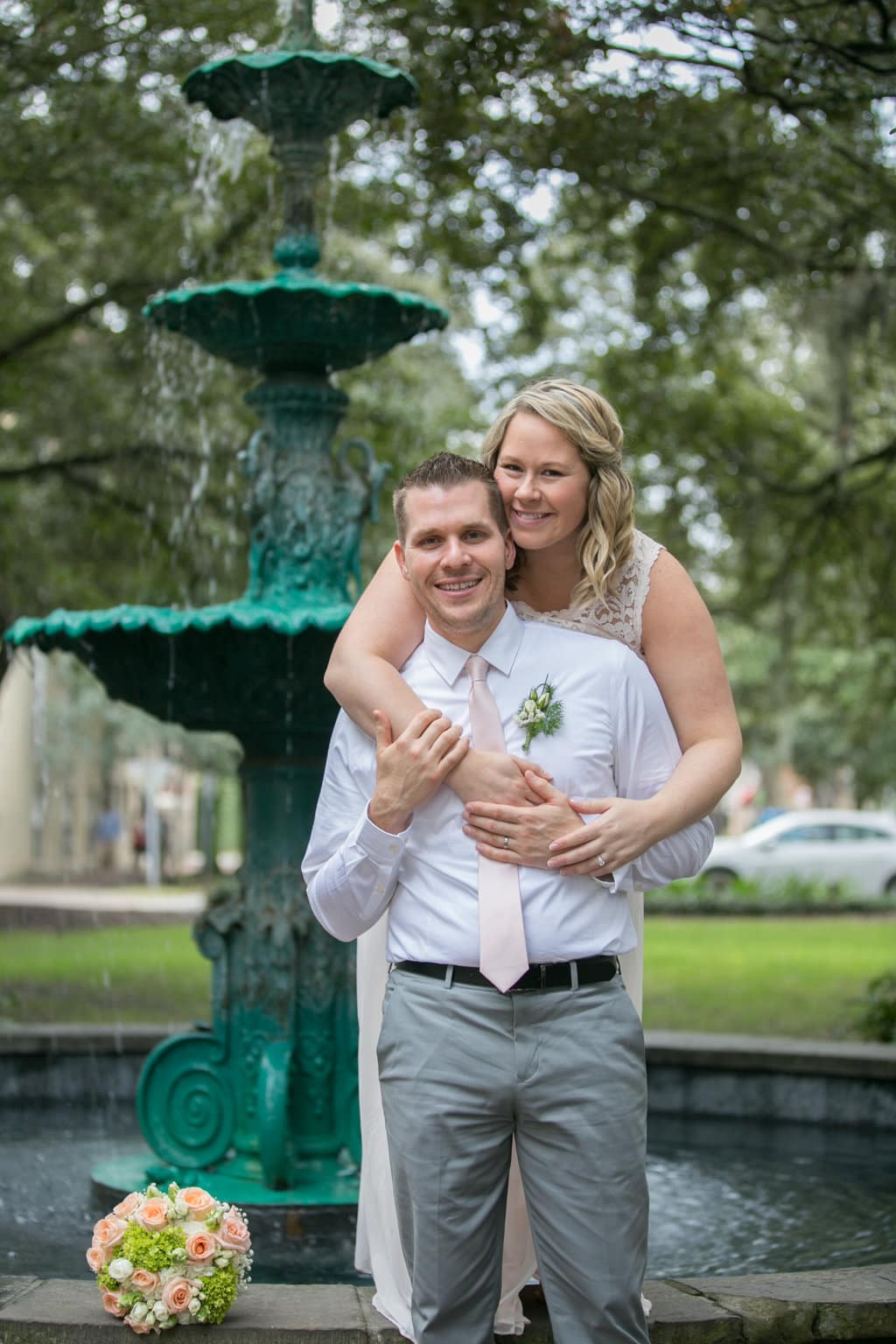 Sara & Rhett, April 2015
How to Have Your Wedding & Elopement In a Savannah Square
The City of Savannah's regulations require you to reserve a square for an "exclusive event," which means that other people cannot enjoy the square or watch you while you are being married. If it is just the two of you, you do not need a permit as long as you stay out of people's way and are okay with the occasional tourist onlooker. If you have a handful of guests (16 or fewer) and your ceremony is on a weekday, you can likely also use one of the larger unpopulated squares if you are respectful of other people, you keep the pathways clear, and your ceremony is short and standing-only.
If you are planning a ceremony with guests, you need to reserve your square or park with the City of Savannah via the Leisure Services Bureau. The cost ranges from $300-$600, depending on when your wedding is and whether you are a Savannah resident. We can obtain the resident rate for our Intimate Destination Wedding Clients.
Here are links to a map of the squares and information about each square's history.
Stay tuned for Part Three with a review of Monterey & Madison squares and Forsyth Park!