I married 228 couples in 2015 across dozens of locations in Savannah and other locations in Georgia & South Carolina. It was a joy to get to know so many couples as they created their families!
One of the most frequent questions I am asked by potential clients is where you should have your wedding in Savannah, GA. I thought a photo review of the weddings and elopements I performed last year would be a great way to answer that question. I am most frequently asked about our 22 historic squares so let's begin with those. In this post, I'll show you pictures from Orleans, Chatham, Johnson, & Reynolds squares, and Morrell Park.
Unless otherwise noted, the professional photographs are from It's Megan Jones Photography. The collages are made of pictures I took with my phone and posted on Instagram. Reference material on how to have your wedding or elopement in a historic Savannah square is at the end of the post.
Orleans Square
Orleans Square is one of my favorites for elopements and small weddings. The fountain is bright, the trees are gorgeous and there is little tourist foot traffic.
Bettina & Michael, June 2015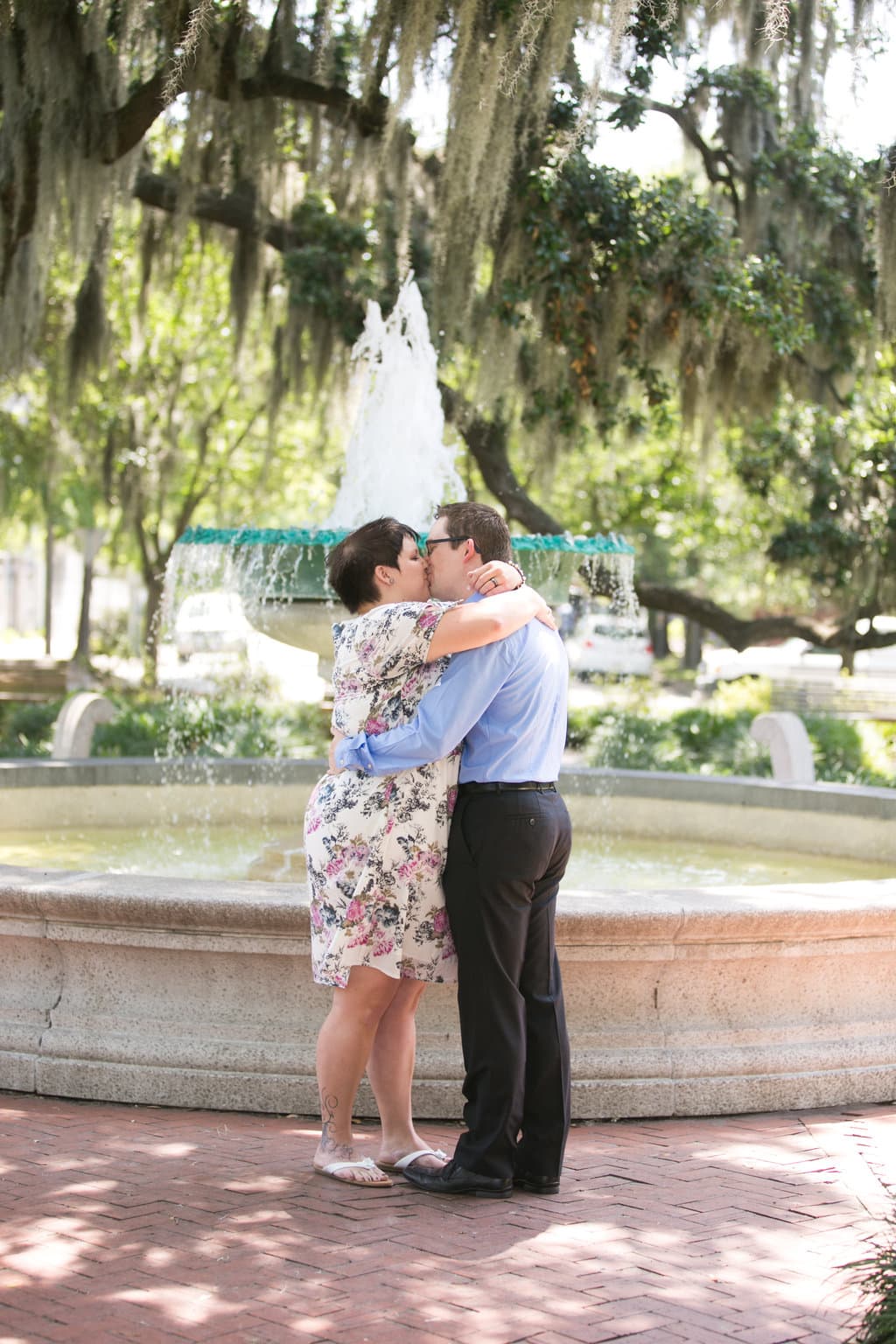 Ian & Kurt, December 2015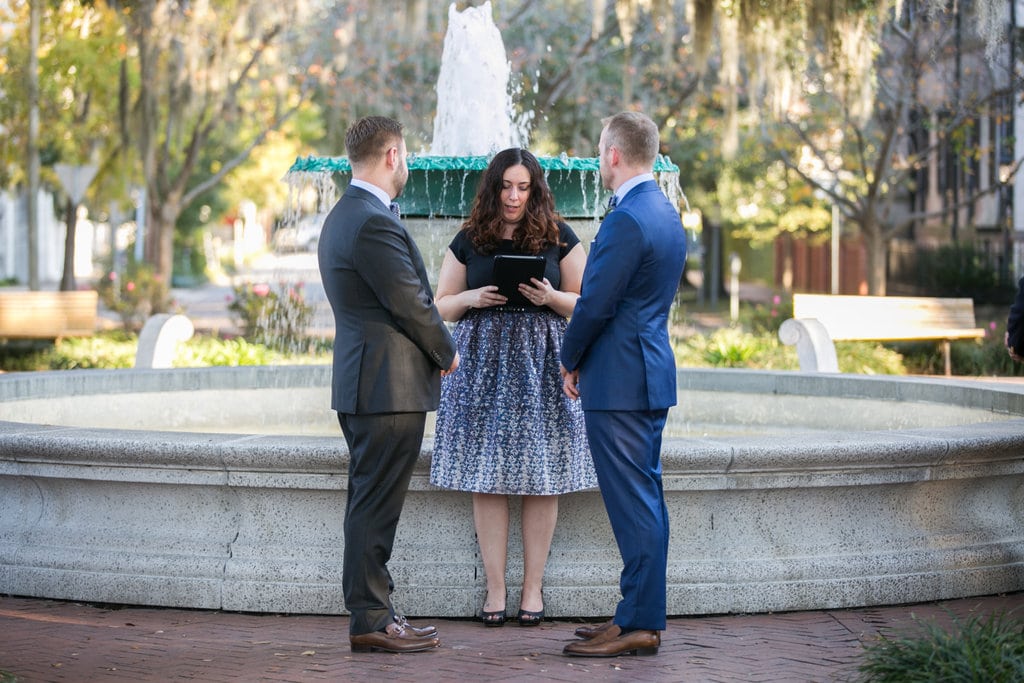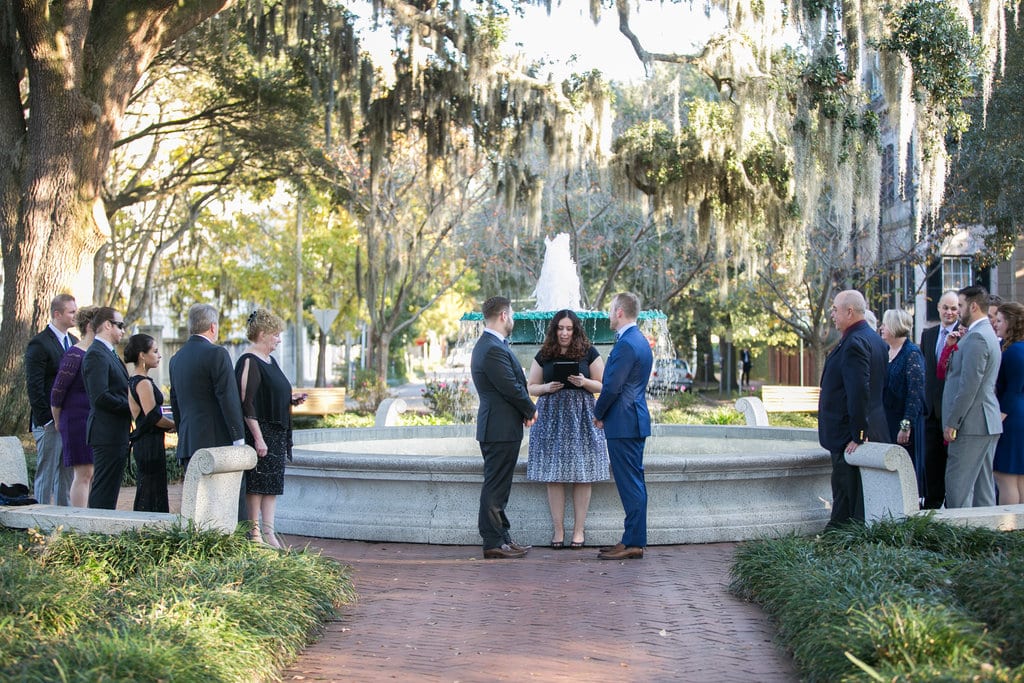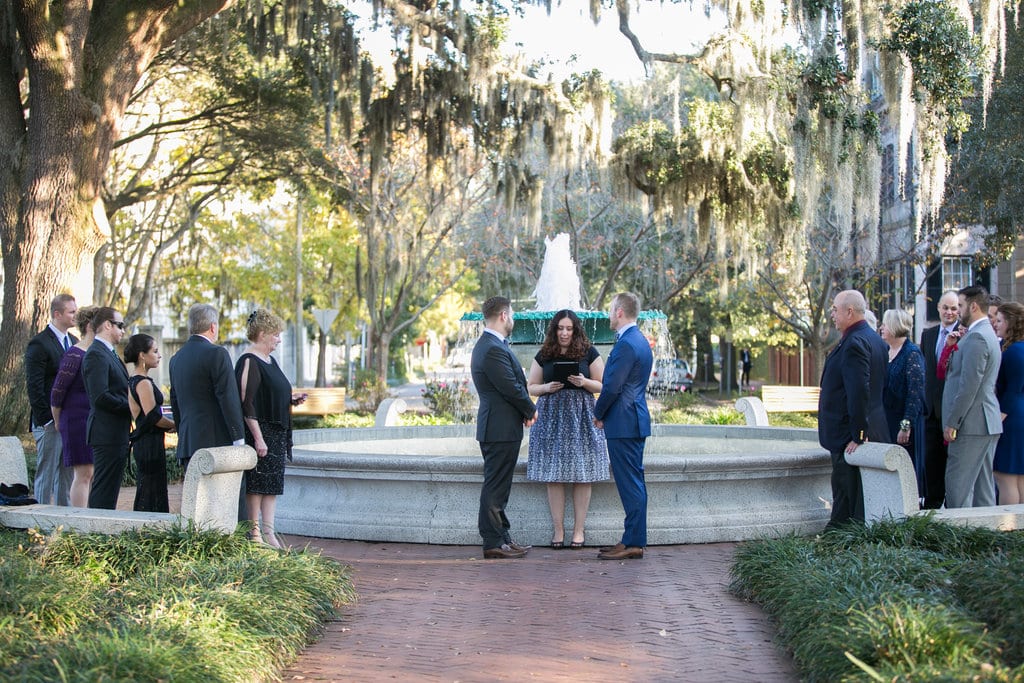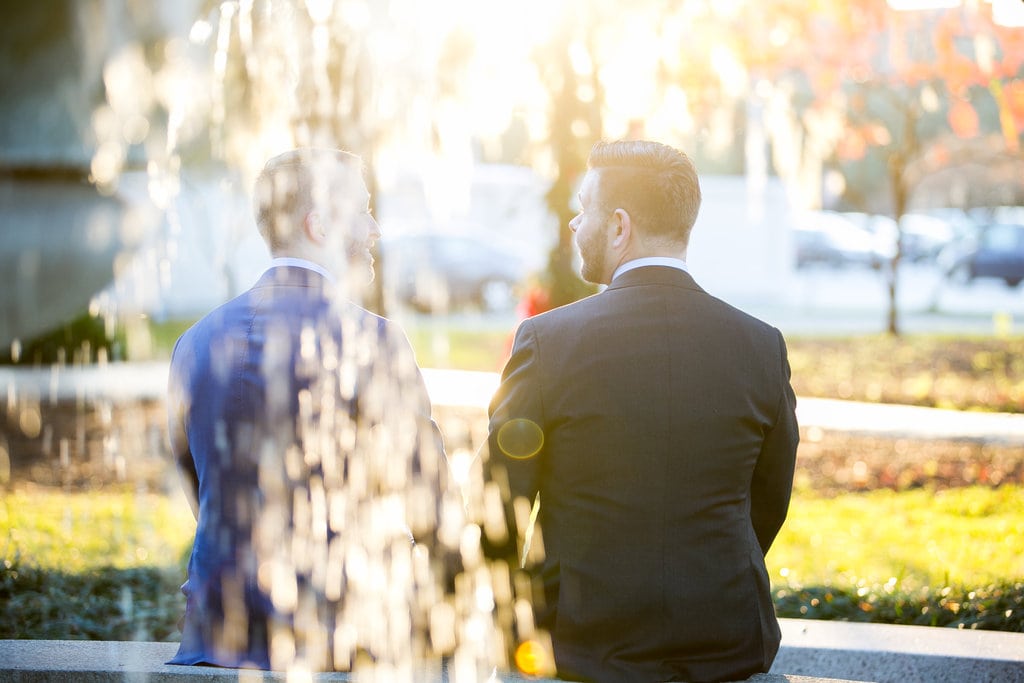 Chatham Square
Chatham Square is lush with trees and green space and in a very quiet spot in the city.
Emily & Josh, September 2015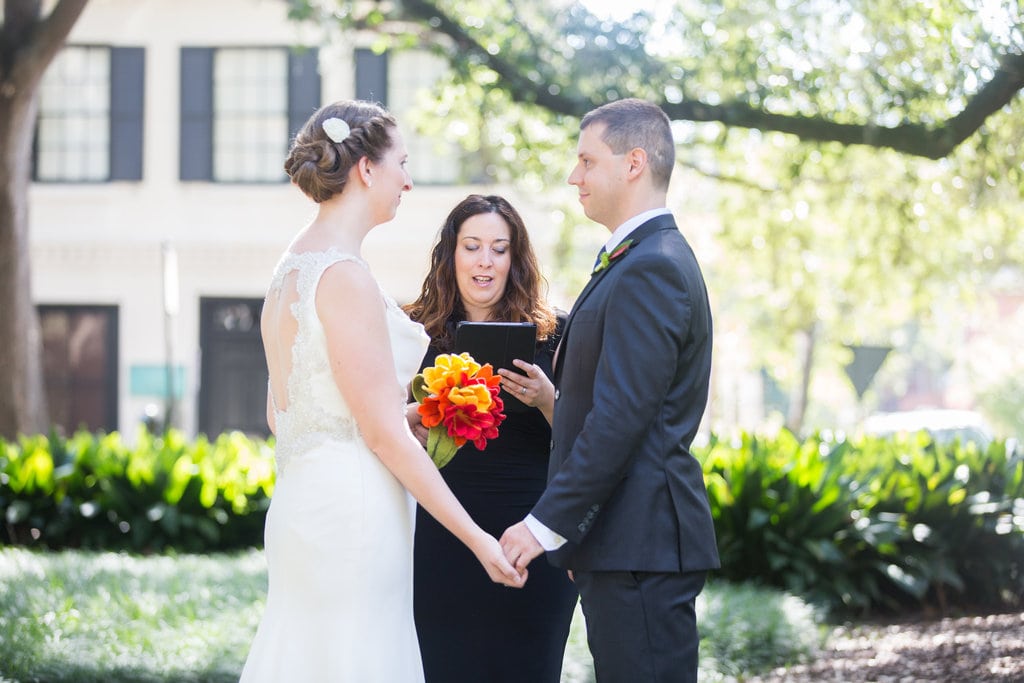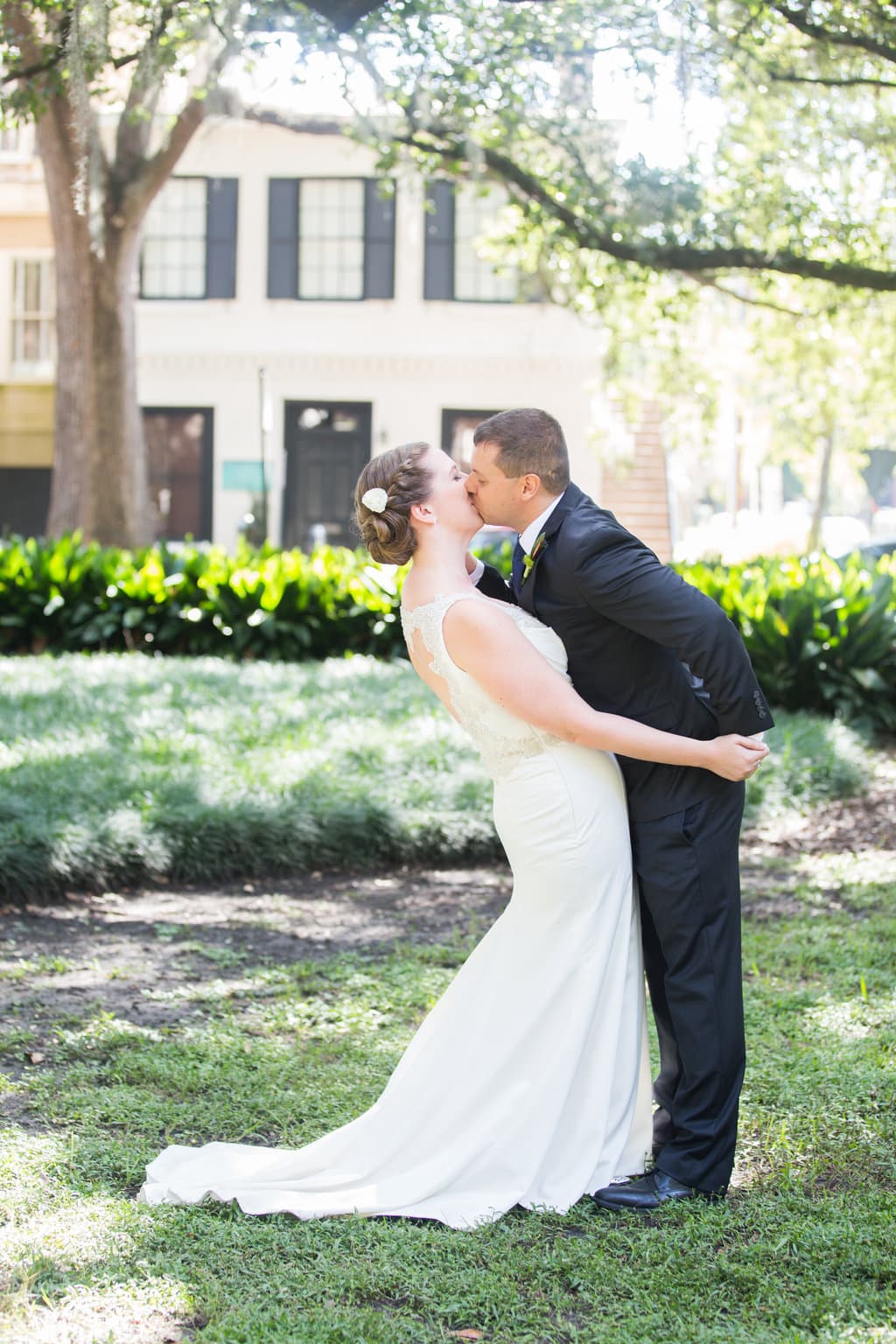 Sara & Jason, August 2015
Sara & Jason had their ceremony in the courtyard at their bed and breakfast, put took pictures for their Popup Elopement Package in Chatham Square.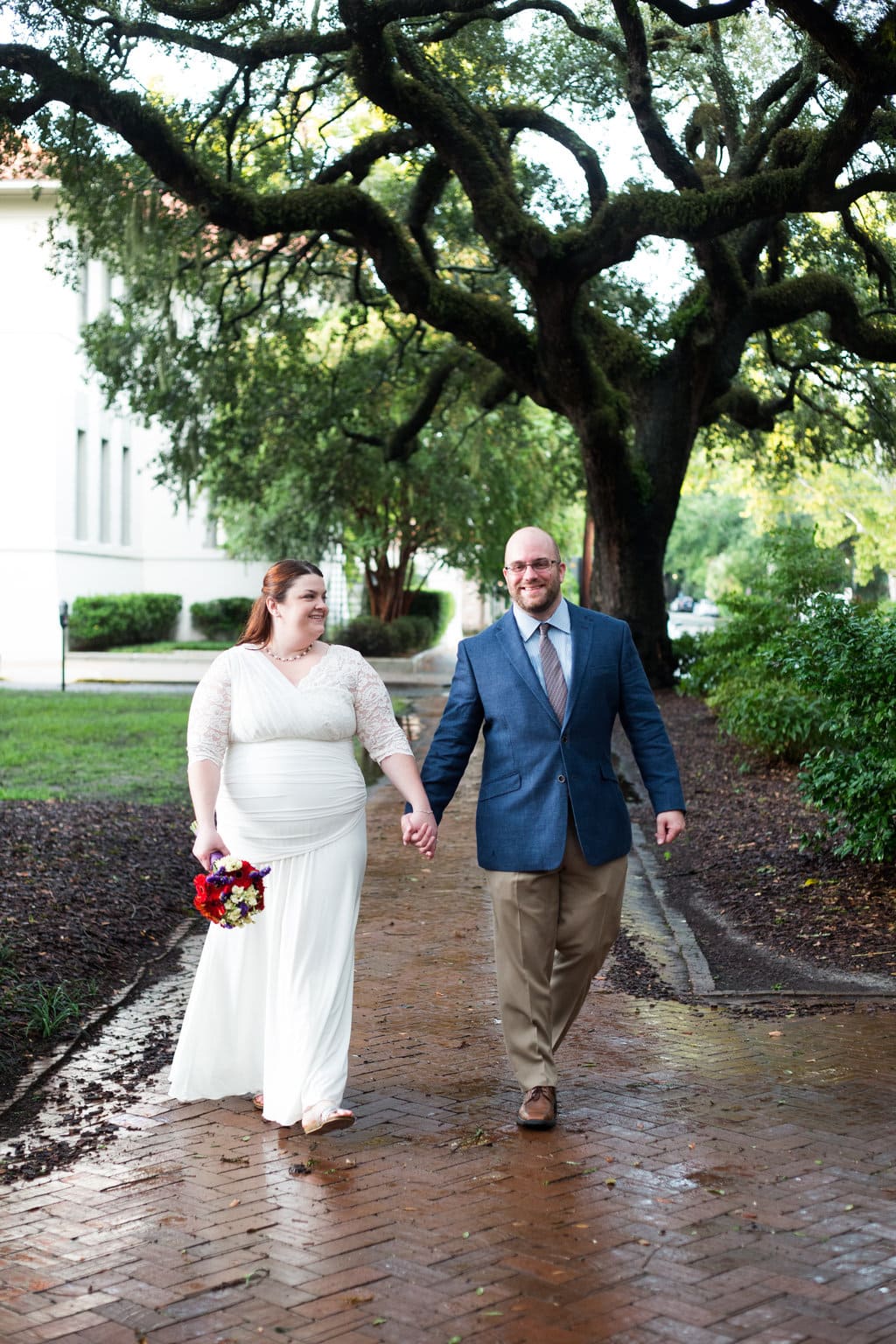 Lindsey & Ryan, January 2016
Chatham Square is not always blooming with flowers, but the warm weather on New Year's Day provided some colorful flowers for Lindsey & Ryan's ceremony.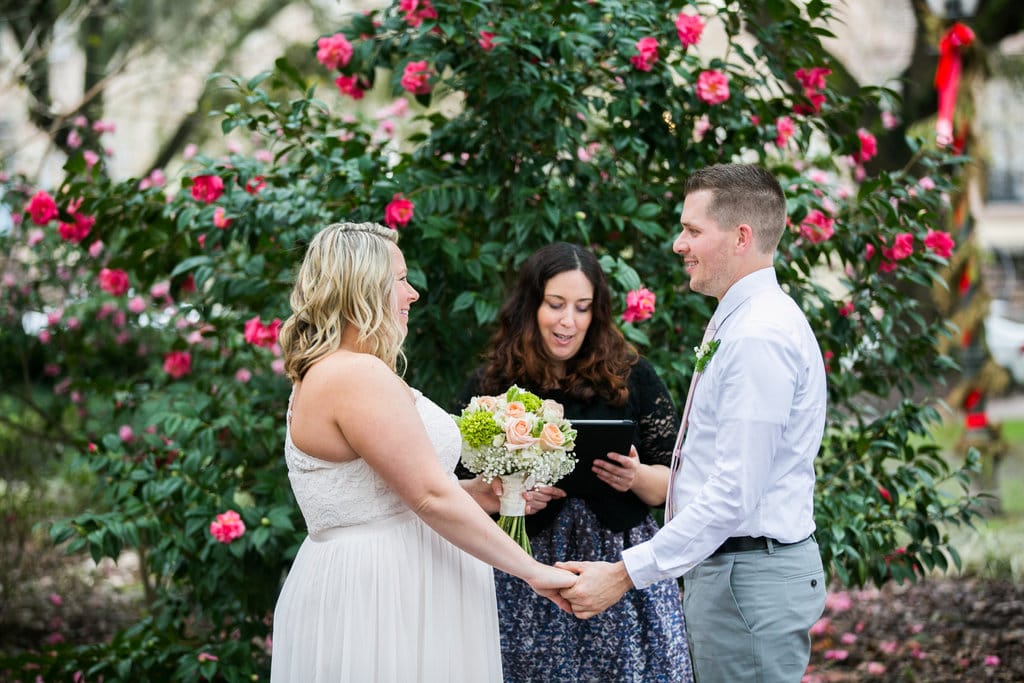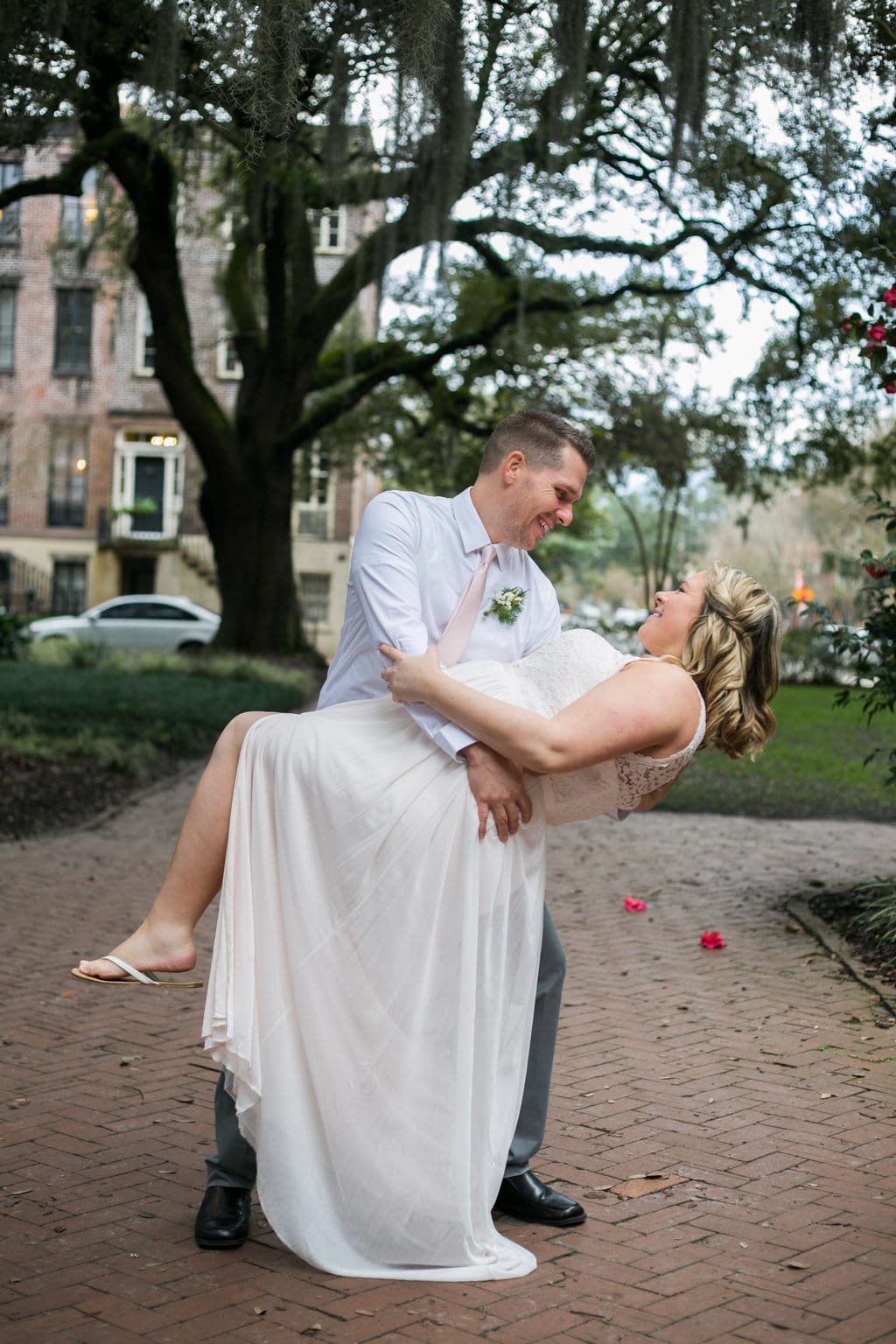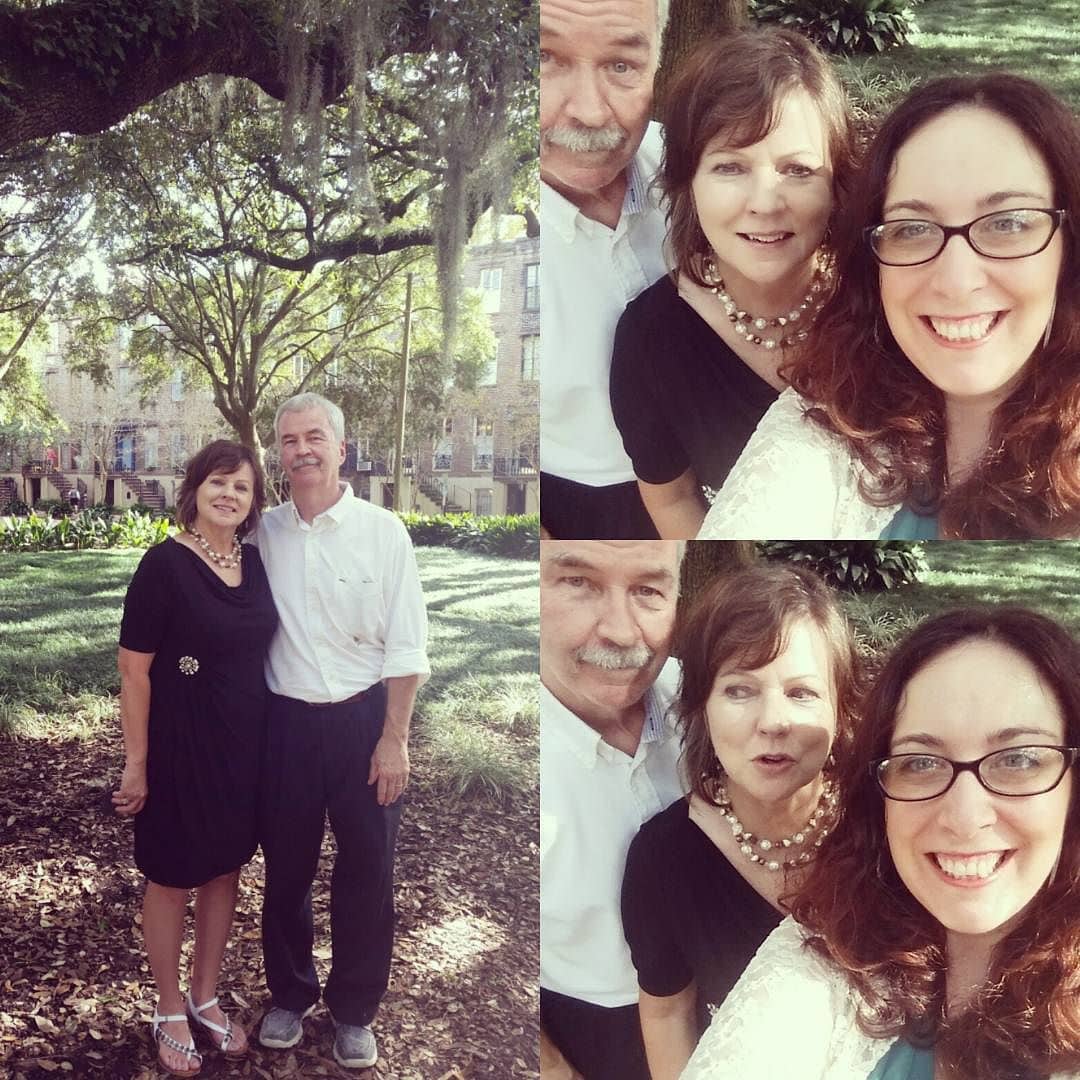 Johnson Square
Johnson Square has two beautiful fountains. One drawback is that it is in one of the most popular parts of the downtown area so it can be crowded. It is also across from City Hall where you can take a fun shot like this couple did.
Jackie & Dan, May 2015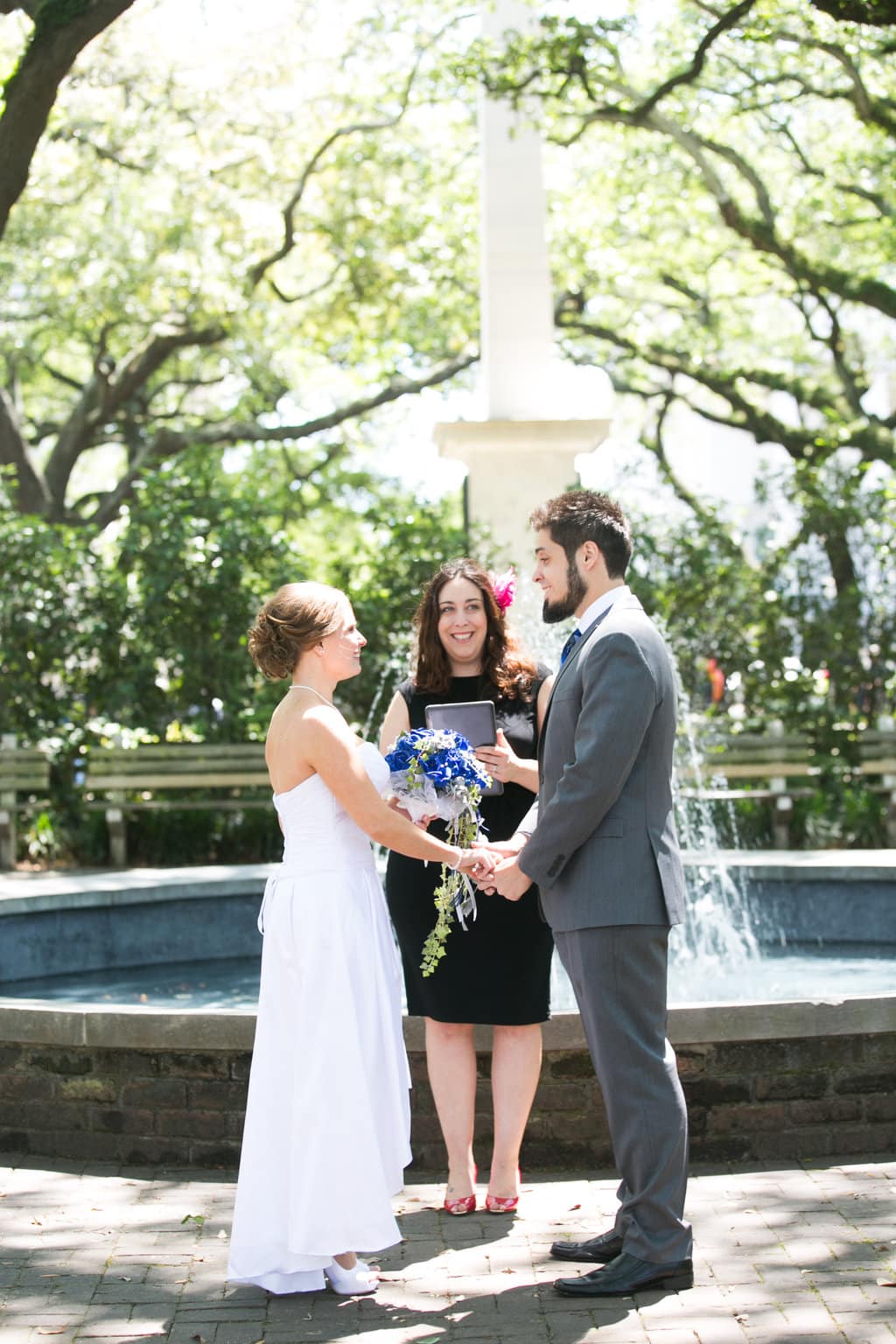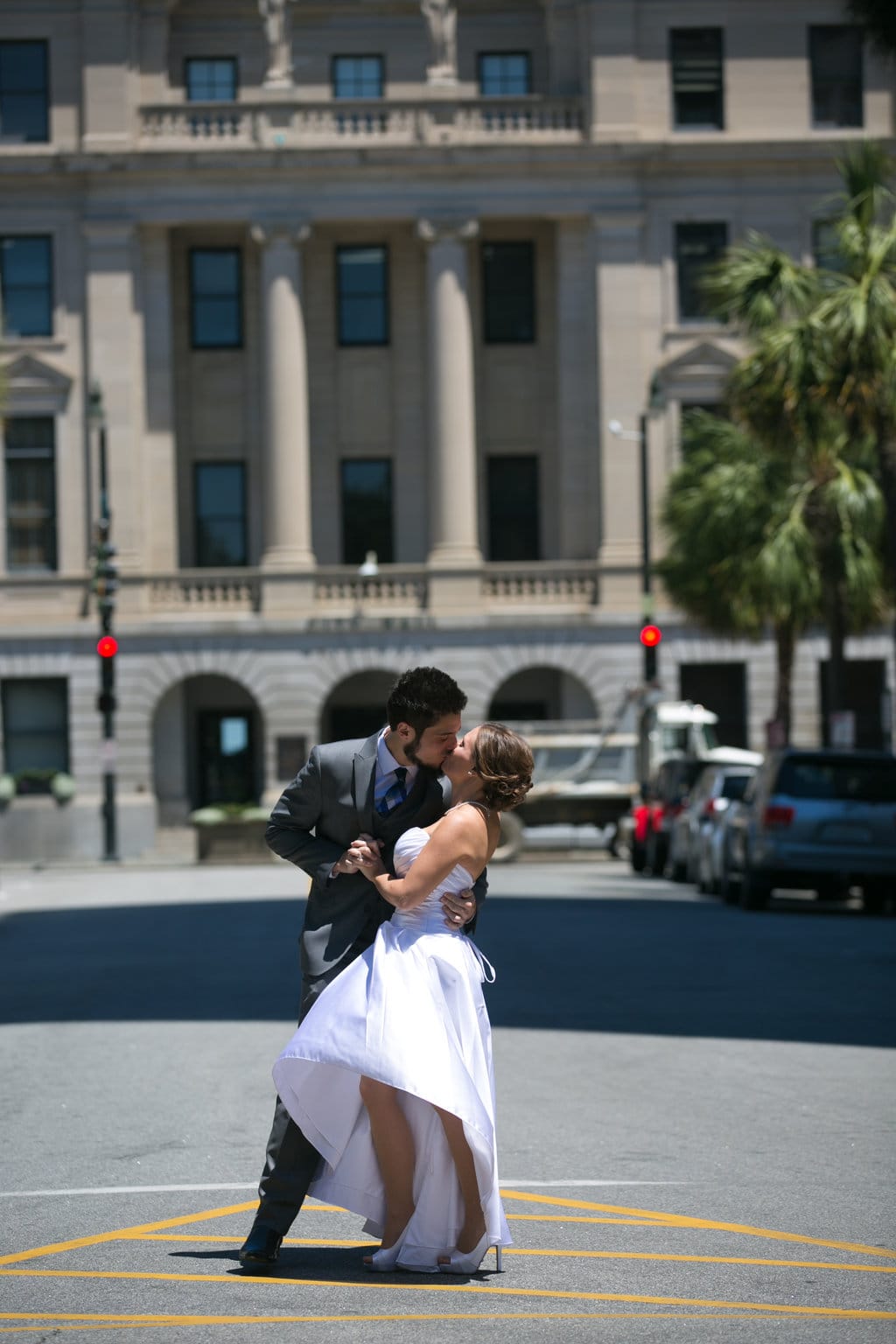 Reynolds Square
Reynolds Square has an open area in the middle of the square as well as some green trees around the borders. It is a busy square, but right outside the Olde Pink House, one of the most romantic places to dine and celebrate your marriage.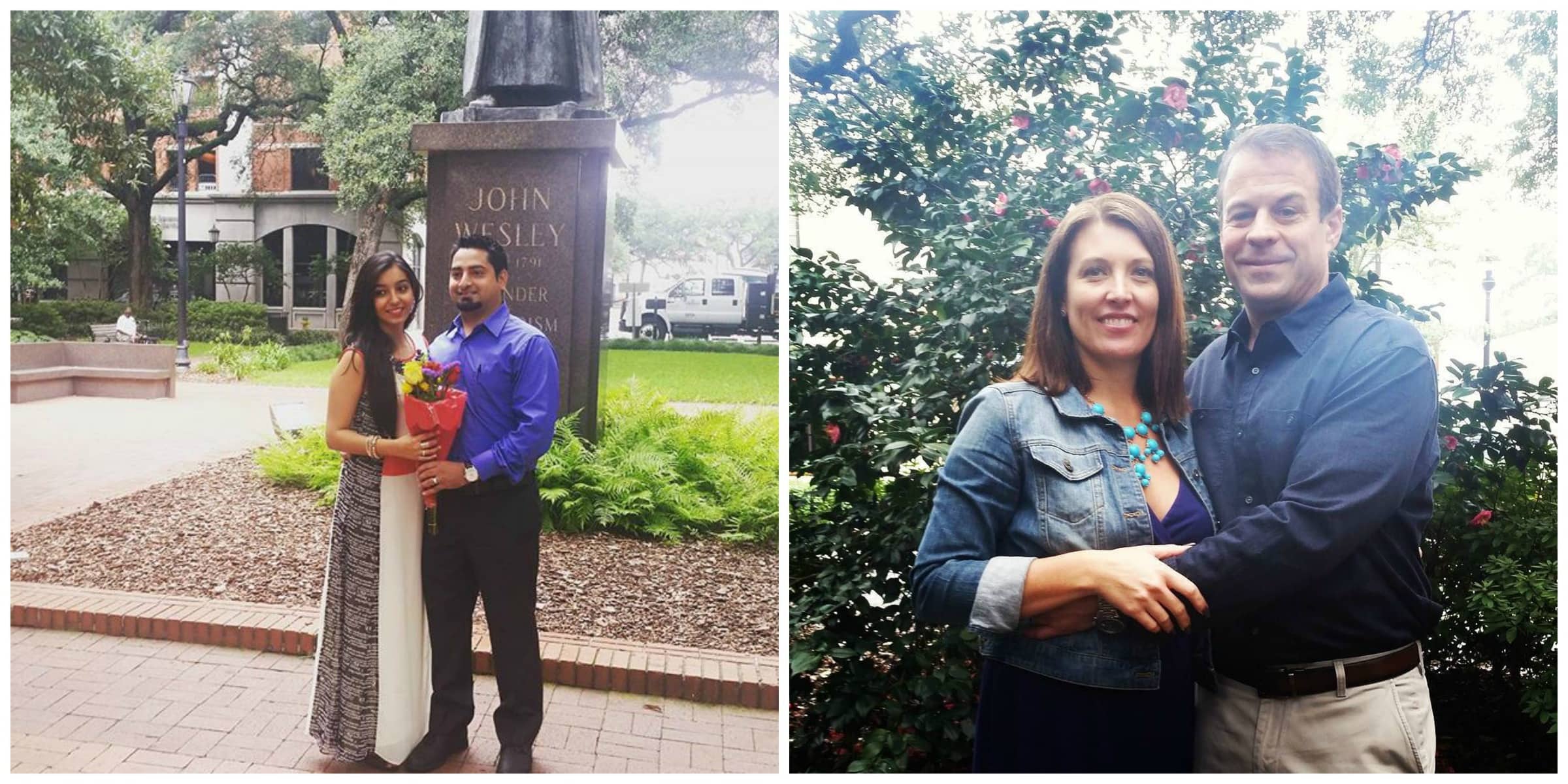 Morrell Park
Morrell Park is one of my favorite, but least requested places to get married. It is a park right on River Street with a great view of the river and ships passing by. It also has Savannah's famous Waving Girl statue.
Gail & Joseph, May 2015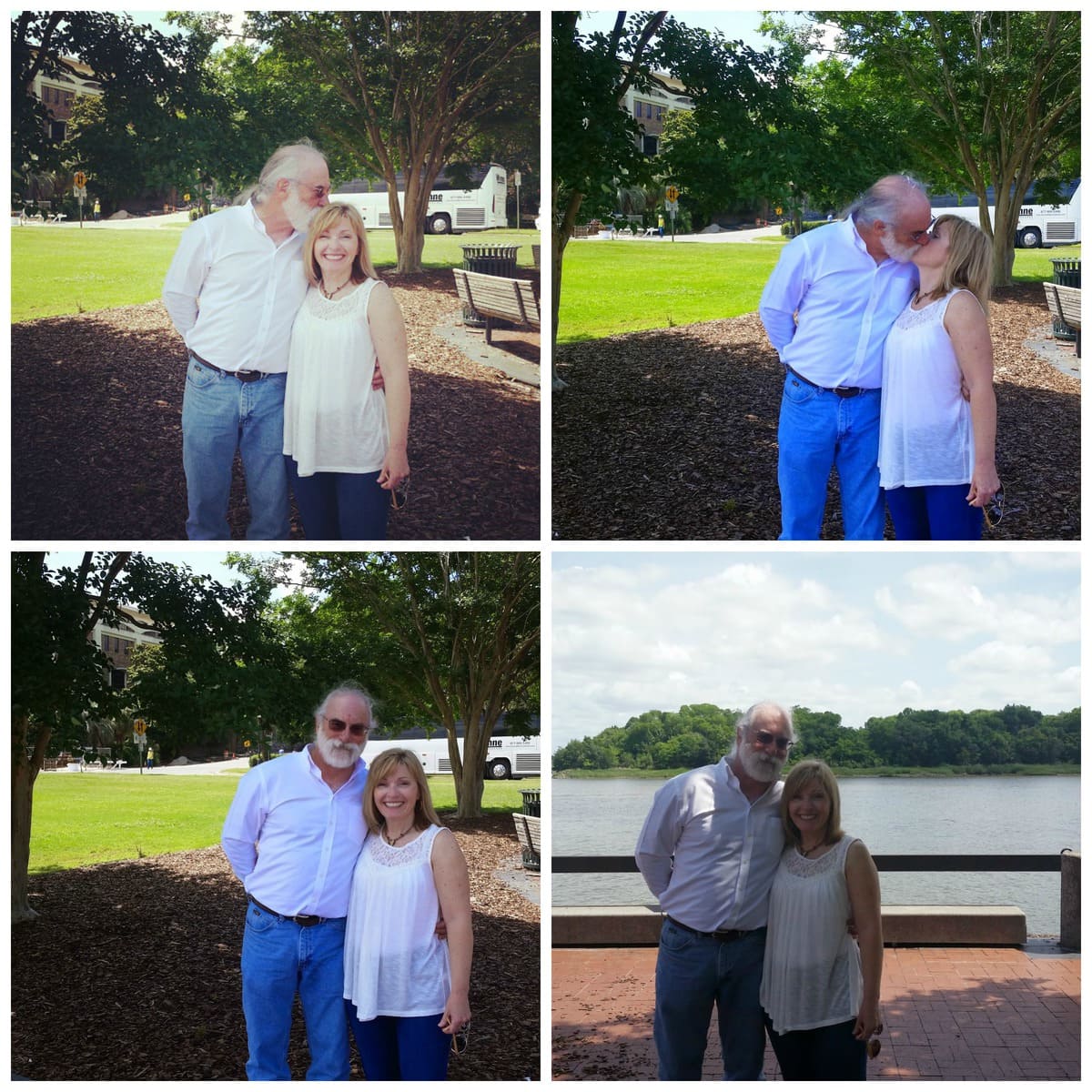 How to Have Your Wedding & Elopement In a Savannah Square
The City of Savannah's regulations require you to reserve a square for an "exclusive event," which means that other people cannot enjoy the square or watch you while you are being married. If it is just the two of you, you do not need a permit as long as you stay out of people's way and are okay with the occasional tourist onlooker. If you have a handful of guests (16 or fewer) and your ceremony is on a weekday, you can likely also use one of the larger unpopulated squares if you are respectful of other people, you keep the pathways clear, and your ceremony is short and standing-only.
If you are planning a ceremony with guests, you need to reserve your square or park with the City of Savannah via the Leisure Services Bureau. The cost ranges from $300-$600, depending on when your wedding is and whether you are a Savannah resident. We obtain the resident rate for all of our Intimate Destination Wedding clients.
Here are links to a map of the squares and information about each square's history.
Stay tuned for Part Two with photos from Columbia, Troup, Whitefield, Crawford and Lafayette squares!