Last week, I found myself watching The View while I was waiting for my car to be serviced… and my ears perked up when they started talking about wedding vows!
The wedding vow conversation started with catty gossip about how Jessica Simpson flubbed the vows she wrote for her ceremony, but quickly turned to Jenny McCarthy, who is planning a wedding to Donnie Wahlberg. It seems that Jenny and Donnie cannot decide whether it's worth it to personalize their upcoming wedding vows.
Sherri Shepherd gushed that she loved personalized vows because they were "romantic." Guest co-host Sunny Hostin said, "I just did the traditional. You don't really remember what you said 20 years later anyway except 'I Do.'"
What??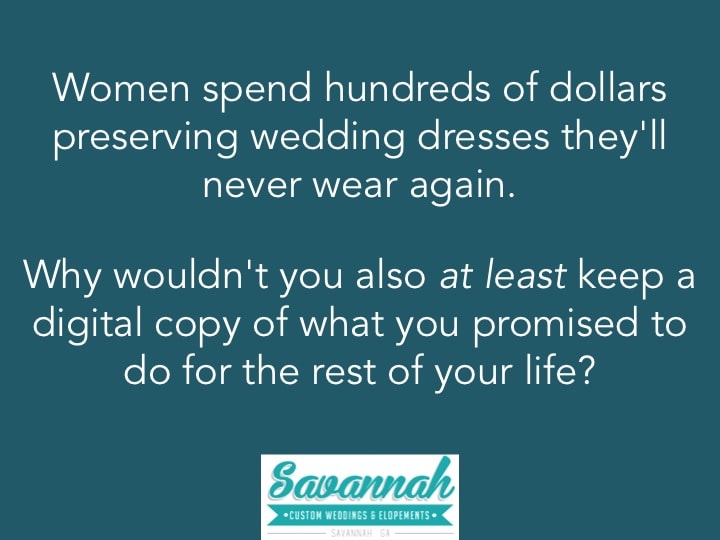 There are many ways for a couple to express their love to each other during their marriage ceremony. Writing unique, lengthy vows is not for everyone and it's perfectly okay to use something pre-written that reflects the relationship you have with your partner. But both Sherri's and Sunny's arguments are lousy reasons to choose or not choose personalized vows for your wedding ceremony.
In my opinion, here are just two reasons to personalize your wedding vows.
1. You should remember- and revisit– what you commit to on your wedding day to keep your marriage working.
First, Sunny's argument that you won't remember what you say on your wedding day is invalid because every married couple should have a copy of their vows from the ceremony.
Women spend hundreds of dollars preserving wedding dresses they'll never wear again. Why wouldn't you also at least keep a digital copy of what you promised to do for the rest of your life?
We all know that when you decide to marry, you accept your spouse for better or worse. But when things are actually at their worst, it can be hard to make good on that promise even though we're well-meaning human beings. Pulling out your vows and reminding yourself of the words you said, and the sense of that optimism you felt that day you said them, can go a long way to helping you become the partner you know you're capable of being. Likewise, it can be a reminder how important it is to celebrate the good times when they occur.
2. Who you marry and what you vow for your marriage is not only the most important decision you'll make for your family, but also for your career- especially for women.
When I was a practicing career coach, I had many issues with Sheryl Sandberg's book, Lean In: Women, Work and the Will to Lead, on women and the workplace. I find much of her advice dated and targeted toward women who want to be second in command, which is not where I think women should aim to be. But there are nuggets of wisdom in the book, including a chapter that lays out clear arguments that who you choose to marry and how you decide to structure your marriage is one of the most important decisions you'll ever make for your career.
Here are just two stats from the book on this issue.
Of 28 women who have served as CEOs of Fortune 500 companies, 26 were married and many said they could not have succeeded without the support of their husbands helping at home.
ln a 2007 study, 60 percent of well-educated professional women who had left the paid workforce cited their husbands' lack of participation at home as a significant factor in their decisions.
Choosing to marry someone is not a professional transaction, but it does no one good to ignore that how you feel about your job, career, and livelihood will impact your future marriage.
Traditional vows were written during a time when women's ambitions weren't perceived to be as important as men's. We now live in a time where women's dreams are, and they vary and change and it's amazing. Don't you want your partner to vow to support your ambitions from day one?
Your marriage is about so much more than your romantic wedding day and you can position it for success through the power of words. So please, spend as much time thinking about your vows as you do about all the other items on your wedding planning checklist! In 20 years, the words you say before "I Do," will actually matter.
Until next time,