UPDATE:
Please check our contact page for our current COVID policies. This is a recap of how we handled COVID-19 in 2020 to keep our clients safe.
---
Original Post on May 18, 2020
Hey y'all-
It's been a bit over ten weeks since our last wedding of more than 10 guests, when COVID-19 began its progression across our country. We are very grateful to be healthy and safe. Beyond that, it is difficult to recap the devastating effects COVID-19 has had on our business and our team personally. I have decided the best way, in classic Tracy fashion, is to do it by the numbers.
Since early March 2020….
We rescheduled 83 couples who were affected from March to June (not everyone has chosen a new date yet). It has been a bit of a roller coaster while we evaluated every update from our federal, state, county and local governments to advise our existing clients and decide what to do with the information that came to us, which was sometimes conflicting and vague. For example, Georgia's judiciary, which is responsible for marriage licenses, is not subject to the governor's orders because of the separation of powers, and each of the 159 counties was allowed to make their own orders.
We lost a lot of money, but were able to get a Paycheck Protection Loan, even if it was a too late to save the Savannah Cozy Chapel. Our elopement and intimate wedding packages have been very successful in part because I am a good businesswomen, and that includes making financial projections. As it became clearer that COVID-19 would have a longer term financial impact on us as potential clients limited travel for the next year, I began crunching numbers and decided that it did not make sense for me to keep the Savannah Cozy Chapel open if we could not socially distance inside. I married over 600 couples there since 2016 and it was a sad decision.
I applied for a Paycheck Protection Program Loan in early April and was approved 28 days later, after I decided that the chapel had to close. Our local newspaper, the Savannah Morning News, followed my journey and I was on a special segment produced by Stephanie Ruhle at NBC News. It was the right decision. Luckly, many members of our team were helped by the Pandemic Unemployment Insurance, but the financial impact of losing an entire season will be felt a long time, no matter how good I am at planning.
The absence of our couples and our work was more emotionally devastating than I expected. Being part of the most important day of your lives is a privilege and it is an energy that fulfills me. I often felt like my air was being taken from me in April. While some businesses were able to be super productive during this time… I found myself dealing with sadness that came in waves, often triggered by the most unexpected thing and unable to move forward on projects. Also, while there are many things that I have loved about having my son home, it is hard to not have the space that I am used to. I may be a mom, but I am also an only child.
---
But as we came to mid-May, it was time to begin reopening our business and serving small gatherings again for new clients.
Over the late spring, we found increased demand for outdoor elopements and after reviewing sources we trust, we believe we can meet it… safely. One of the factors that made me decide this was an interview with a Professor of Immunology who I have been following through this, Erin Bromage, who has detailed the science on how difficult it is to transmit COVID-19 in outside settings. In one of his latest interviews, he said "I think outdoor weddings are going to be everything this summer."
We hope that you trust us and our experience working with hundreds of couples in the Savannah community to be the people to help you get married during the pandemic. To aide our reopening, we have created the following guidelines we will ask our new clients to acknowledge at booking.
---
The 7 Savannah Custom Weddings & Elopements COVID-19 Safety Principles
1. Social Distancing: To comply with recommended safety guidelines, your officiant and photographer will stand 6 feet away from you while you are together. We ask that you are aware of where you stand during your wedding day to keep this space. (There are no social distancing requirements between the couple, of course.)
Here are examples of social distancing with your officiant. This first photo is of Pamela & Ben by It's Megan Jones Photography in Forsyth Park.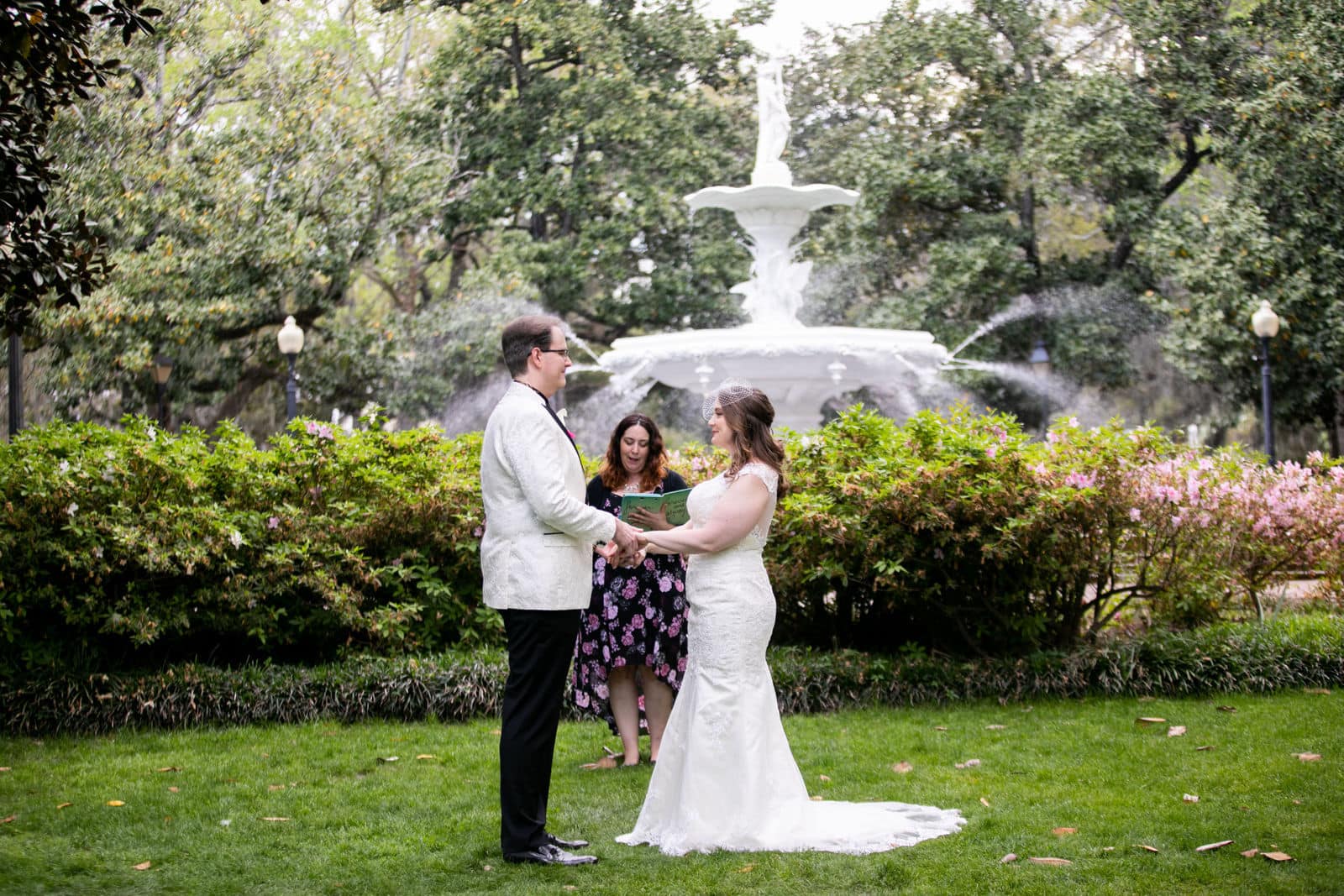 The second photo is of Heather & John with Partner Officiant Tara Kelly by
Bronston Photography
at the Wormsloe Historic Site.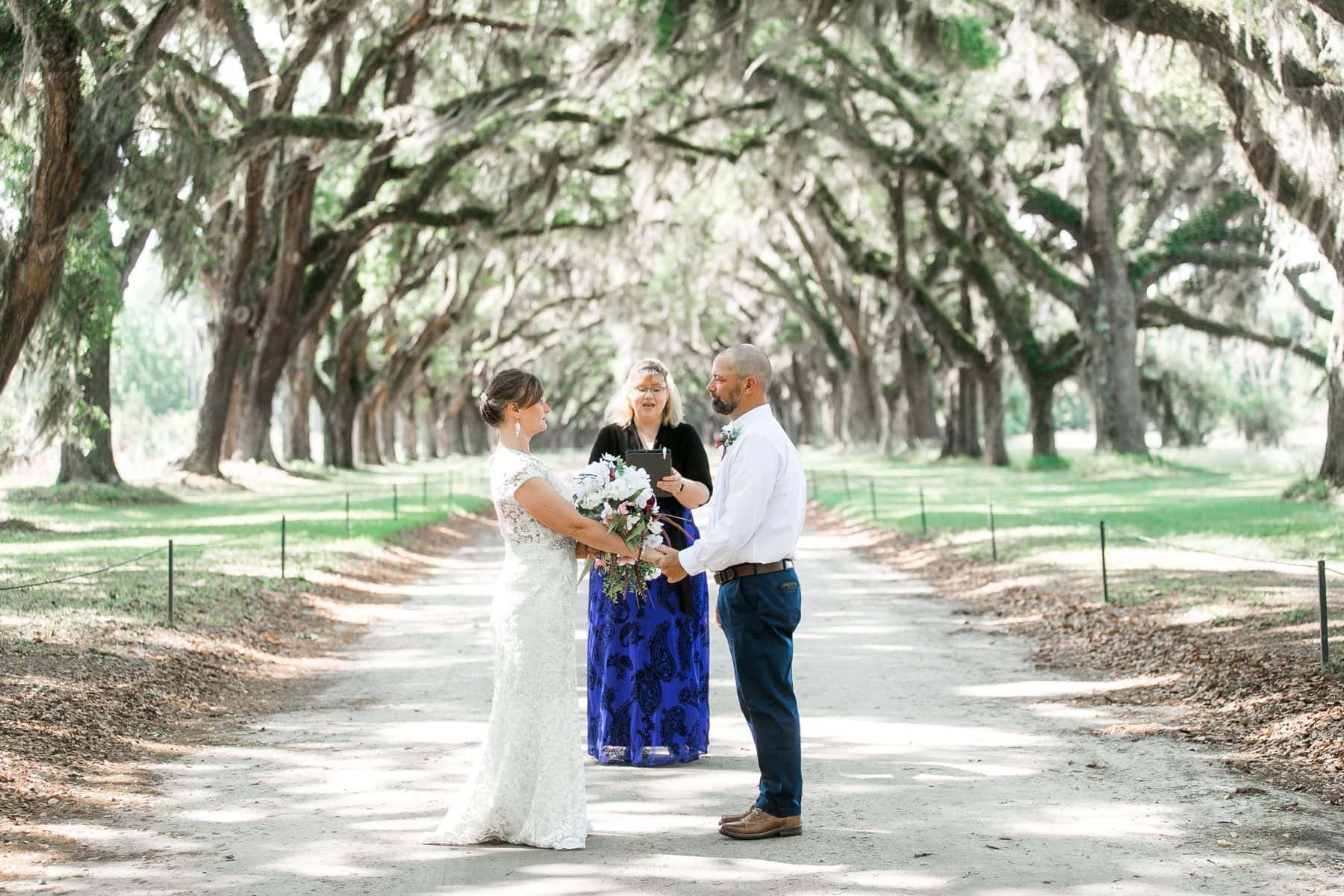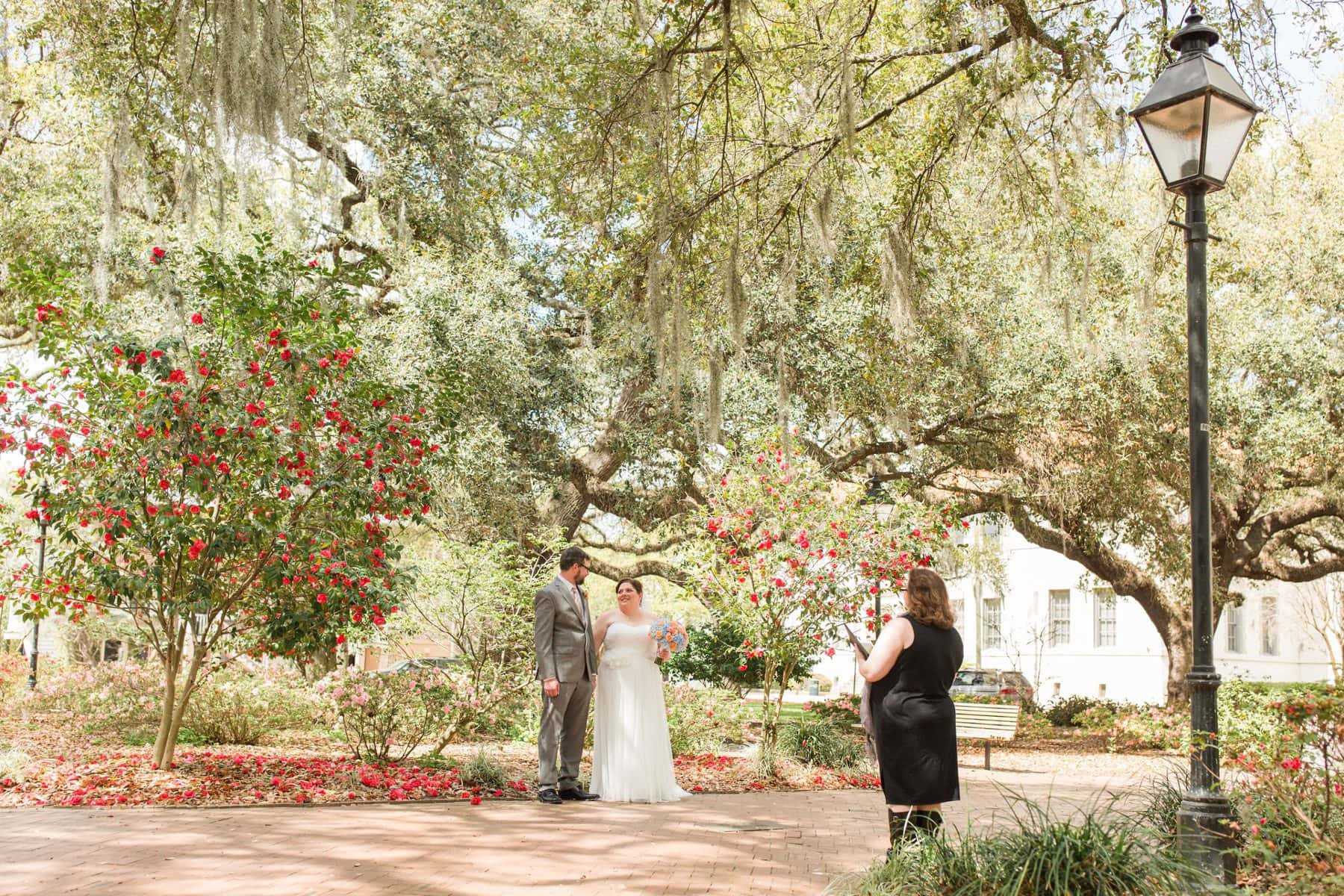 2. Physical Touch: While hugs and handshakes are usually a big part of weddings, we will be unable to physically touch you at this time. I hope you like curtsies. 🙂
3. Guest Limits
: In addition to performing weddings outside, we are stricter about guest limits. For our most up to date guest restrictions, check
our contact page
.
4. Marriage Licenses:
The Georgia Courts have changed their policies for marriage licenses and require online applications and appointments. We cannot help clients with that process and
you must contact the court directly
.
5. Ceremony Location: Because Georgia opened its tourism industry before other states, certain locations are very crowded with day trippers and you may not be able to have your ceremony at your preferred square or park if crowds prevent us from effective social distancing. Specifically, we are not performing ceremonies in Whitefield Square and we are avoiding the Fountain at Forsyth Park on the weekends. Your officiant and photographer will have final say on the square, based on real time conditions. All of our squares have Spanish moss and natural beauty.
If you choose the Savannah Elopement Experience where we visit more than one square, we are happy to do posed photos in any location as we can control the environment more easily.
6. Experience: While it is easy for us to do weddings outside in the open air, it is not as easy for every Savannah or Tybee business to open. However, there are still restaurants that serve delicious food that have opened, as well as walking tours and other safe activities. Couples who are flexible will still have a great experience.
7. Changing Conditions: COVID-19 and its progression across the US is a changing situation. While we do not anticipate guidelines in Georgia becoming more restrictive, we cannot guarantee it. If you book and Georgia changes its orders to restrict gathering sizes, we will waive your rescheduling fees to move your event to a different date.
We hope this helps you as you make your plans until the pandemic is over. Thanks for all of your support during this difficult time.
Until next time,