A few years ago, I wrote this post for a wedding publication with ceremony planning ideas for brides who struggle with anxiety. The publication that ran it did not do much to promote it, and I have decided to re-run it here with some small edits so I can easily provide a link to the information to clients. I was an anxious bride myself and used many of these tips!
---
Couples who hire me to officiate their Savannah weddings often tell me up front that they are looking for ceremonies and vows that are "short and sweet." When I first began my work, I wondered if brides thought I charged by the word!
After getting to know my couples, I realized that many brides – and grooms – seek "short and sweet" ceremonies because they are uncomfortable being the center of attention. Some are inexperienced at having everyone's eyes on them and that makes them nervous; others have been under treatment for clinical anxiety and the walk down the aisle is an idea that keeps them up at night.
Keeping your ceremony short is one strategy for dealing with jitters, but if you're truly anxious, even five minutes can seem like a lifetime. Instead, I encourage my clients to plan their ceremonies with their anxiety in mind. Here are tips that some of my clients have used to help them have a wonderful, stress-free day.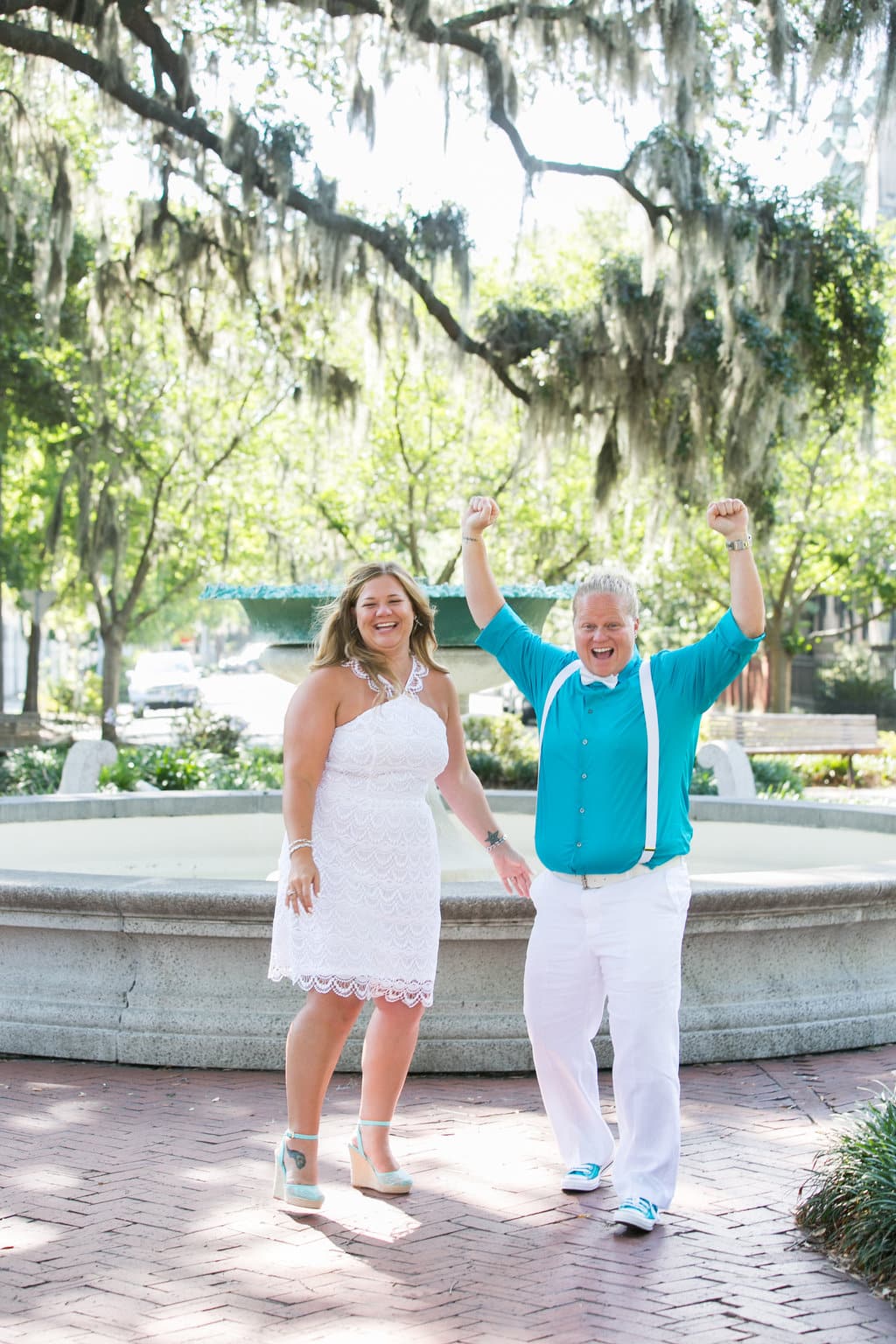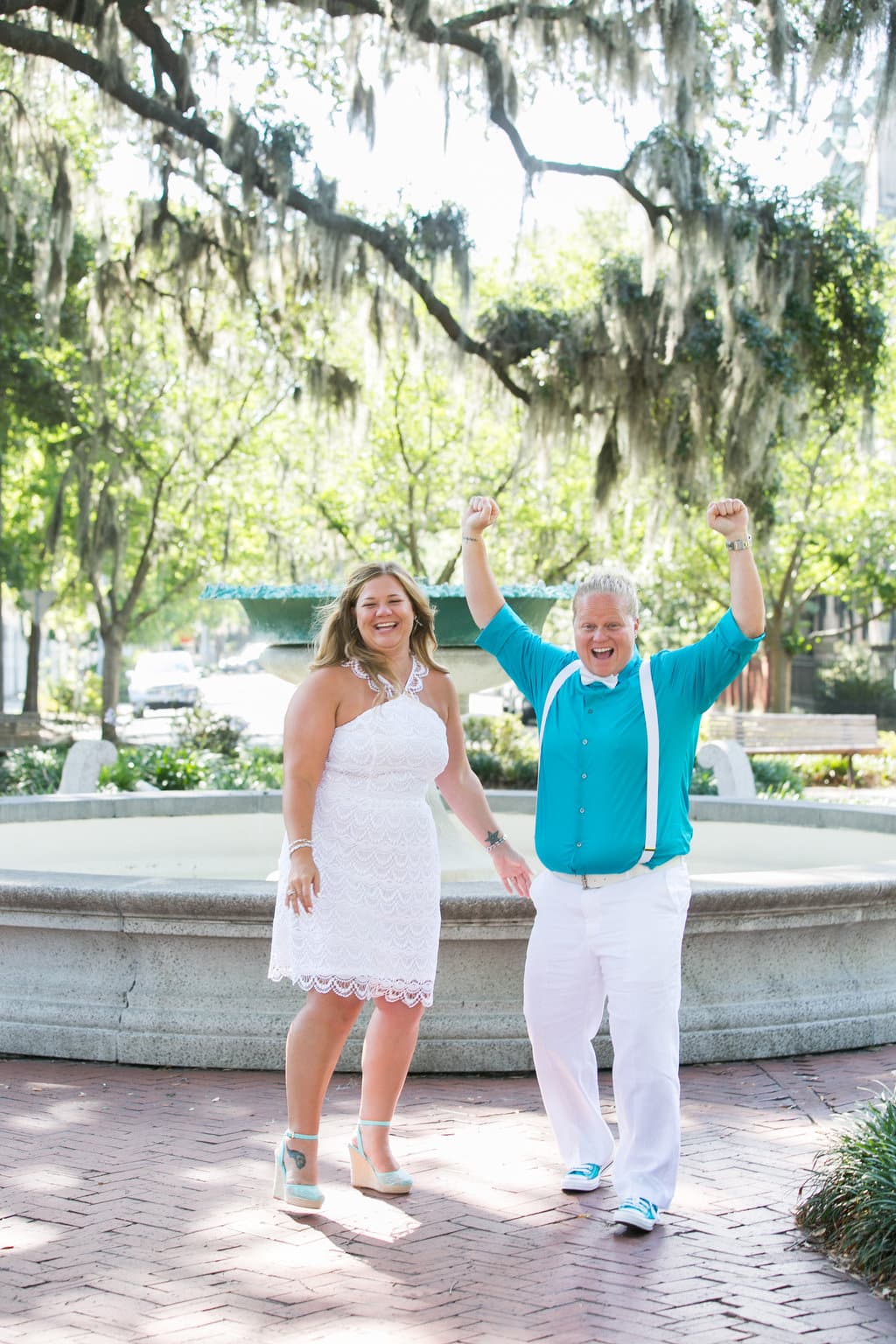 #1. Practice.
You do not need to have a formal rehearsal to get comfortable with your wedding ceremony and the flow of it before your big day. Get the script from your wedding officiant and practice at home with your fiancé. Understand what it feels like to stand with them. Learn whether holding hands will make you feel more comfortable or if you want to hold your bouquet instead. You'll likely find that standing in this together isn't as scary as you think.
#2. Have a private "first look."
Many couples decide to have a private "first look" between the bride and groom rather than having the groom see the bride for the first time she walks down the aisle. You will feel so many different emotions the first time you see each other; making it a private moment can help eliminate the anxiety.
My colleague, wedding photographer Megan Jones of It's Megan Jones Photography, agrees based on the weddings and receptions she has shot. "A wedding day can be a hectic time taken over by family, so insist on a private moment with your fiancé with your photographer. When I am asked to photograph a private first look, I have seen the calming effect of it throughout the whole day."
My couple, Jeff and Jennifer, decided to have a private first look and walk into the ceremony together. Look how calm and relaxed they look.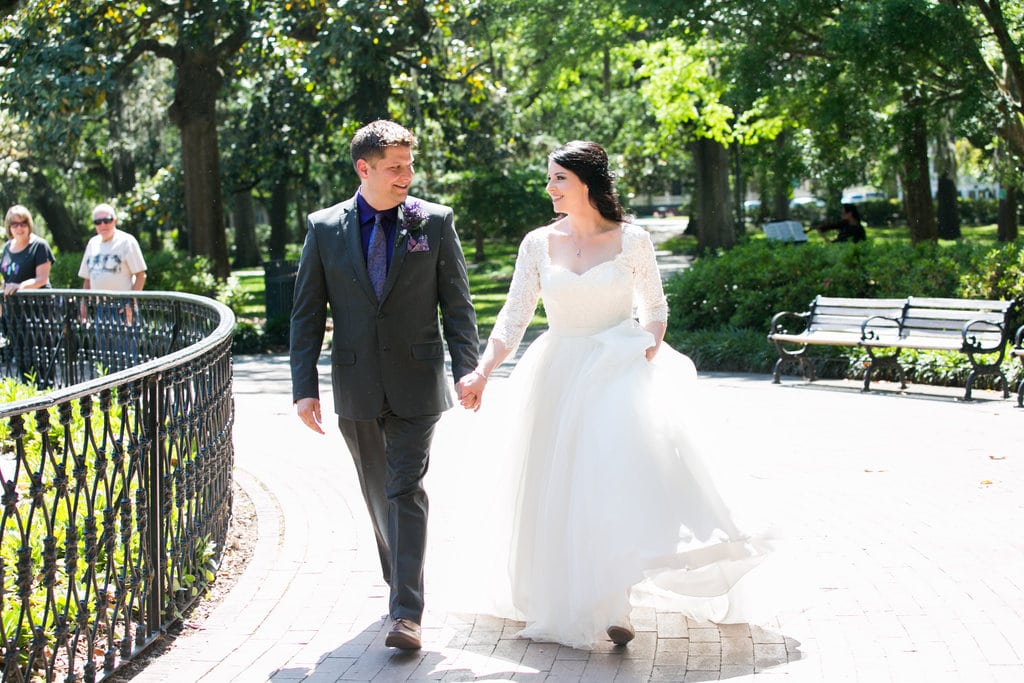 It will still be special even if it is not in front of everyone. Look at Jeff's expression as he saw Jennifer approach!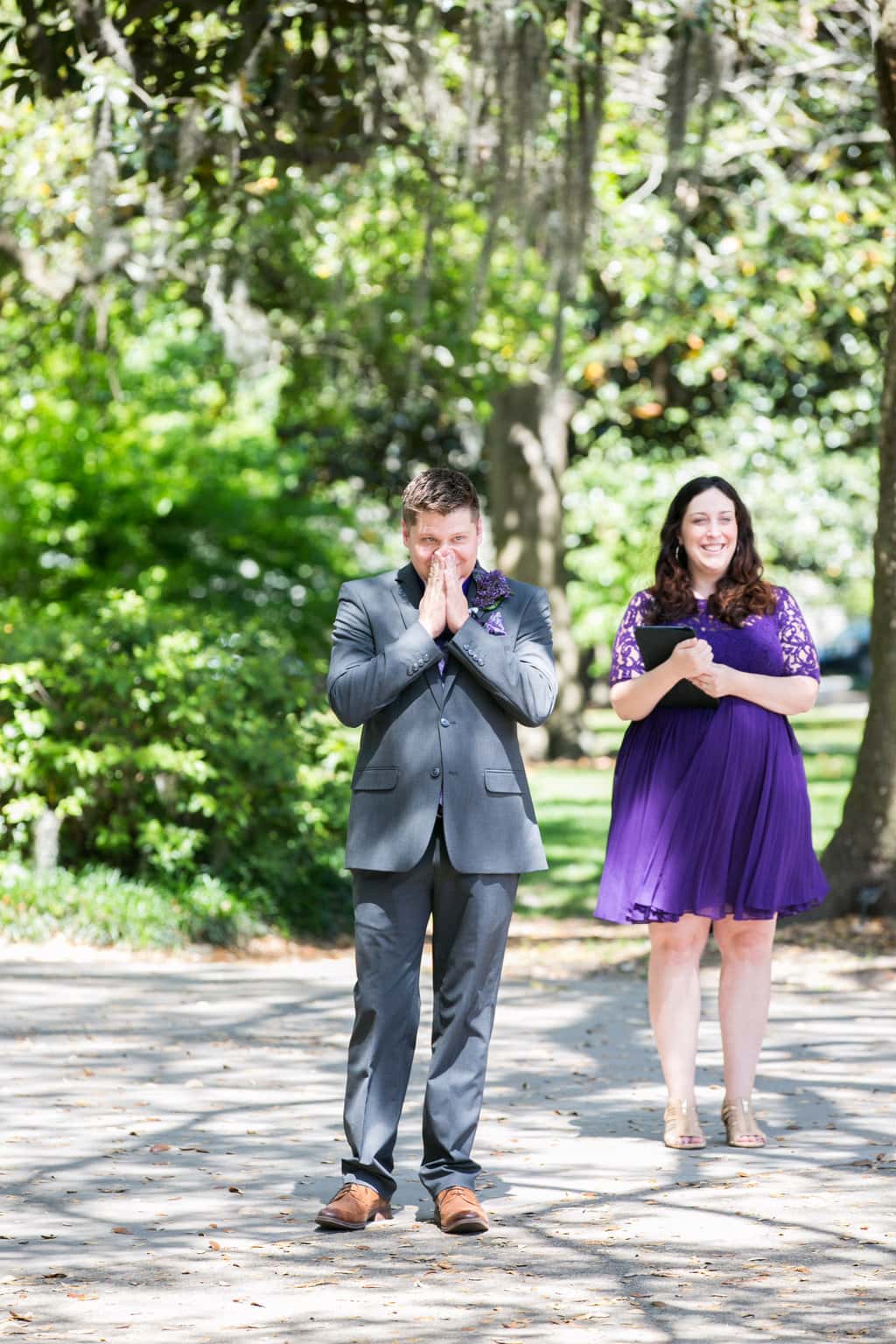 #3. Skip the procession or change it.
Yes, I said it. You don't have to walk down the aisle and have everyone's eyes on you if you don't want to. Depending on your venue, you could have cocktails before your ceremony and mingle with guests without an entrance. When you are ready to begin, you can quietly take your place with your fiancé and officiant and have your coordinator or musician give cues so guests know that you are starting.
You might also feel strength in numbers. I walked into my wedding laughing and surrounded by amazing women who had been an essential part of my journey as a single lady. It felt empowering and instilled a sense of confidence that carried me throughout the ceremony.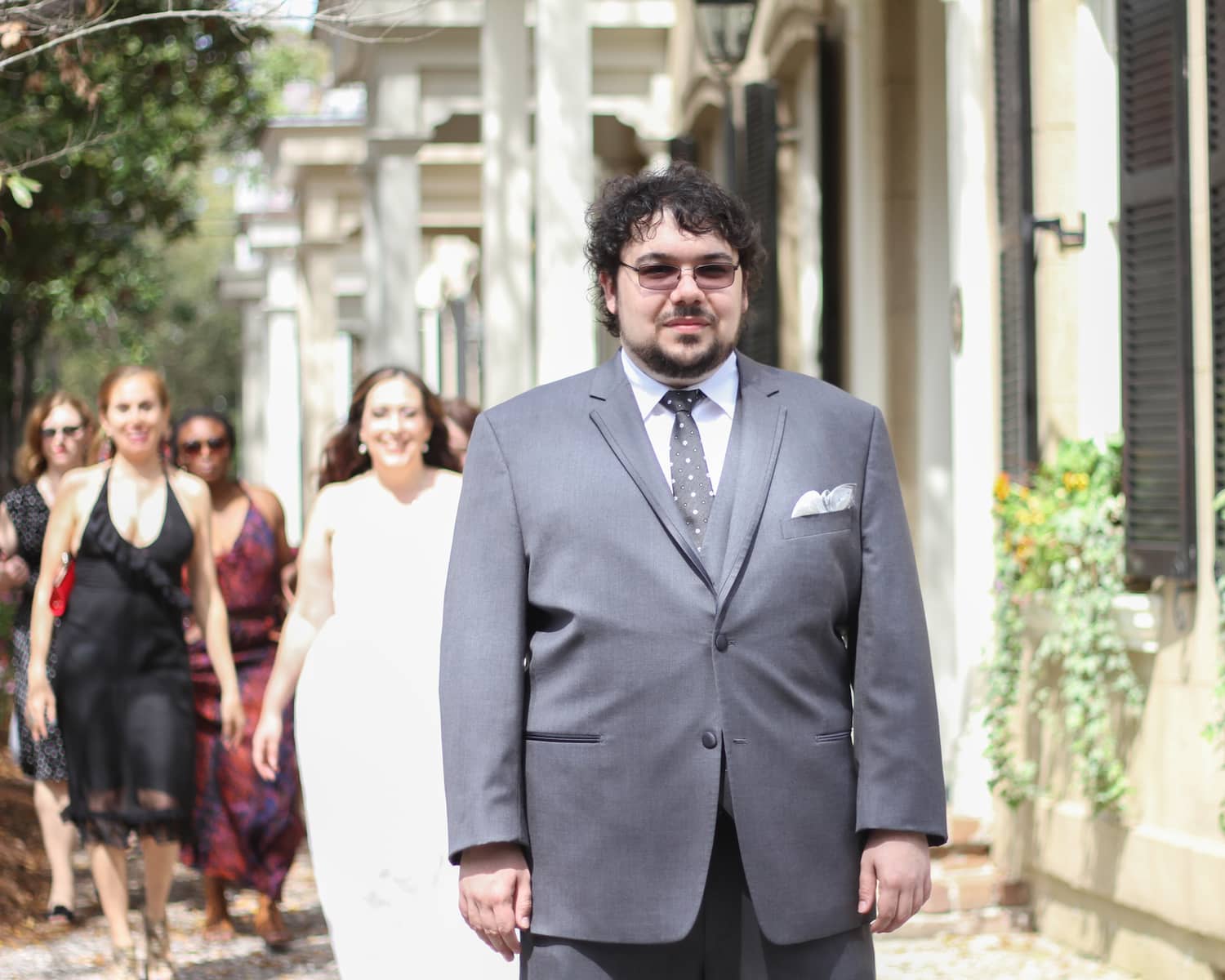 If you want to skip the procession, but are concerned about missing a special moment with mom or dad, you can make sure to schedule private moments with your parents. In all the weddings I have performed, fathers always seems to be the most anxious of all and uniquely nervous about messing up the job of walking the bride down the aisle. I suspect many would be happy to be relieved of their duty as long as they know you haven't forgot about them.
#4. Have your officiant say your personalized vows for you.
Couples often think about wedding vows as black and white – you can have customized wedding vows that you read yourselves, or the traditional vows that talk about sickness and death. That is not the case! Ceremonies and vows come in many shades of grey.
If you would like to have personalized vows but are too nervous to read them yourself, work with your officiant so she can read them and you can say "I do." I do this all the time! You do not have to have a cookie-cutter ceremony just because you do not want to speak.
#5. Skip the reception rituals or enlist some help.
The entrance, the first dance, the throwing of the bouquet can all be triggers for the anxious bride. Once again, you don't have to do any of these or can change them as you see fit. If you want to have a first dance but don't want the spotlight in you, tell some special friends and your bridal party what your song is beforehand and let them know that you want them to join in as soon as they see the two of you hit the dance floor. Everyone else will get up and dance, too, and give you a more private moment.
#6. Hire vendors that make you feel comfortable.
If you suffer from anxiety, the rapport you have with the people who will make your wedding special will be very important. If a vendor is going to question every decision and make you feel guilty for breaking tradition, you are probably not a match, no matter how well regarded they are in the wedding industry.
Also, don't be afraid to ask for what you want and tell your vendors about your anxiety. Vendors will appreciate your honesty and be grateful. You'll get better service because they'll communicate with you more carefully and provide more targeted ideas. If you are nervous about being assertive in person, communicate through email.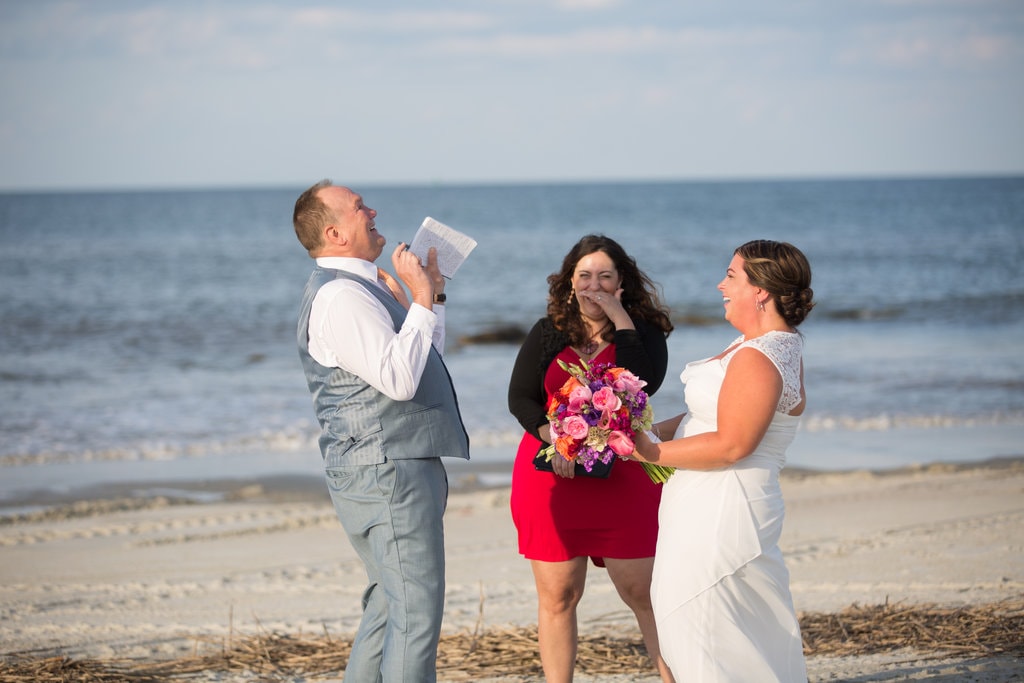 #7. Choose your officiant wisely.
Your officiant will set the tone for the ceremony, the time of the day when most people will have their attention directly on you. She is there to provide a safe and warm experience for you to both express your love and feel your emotions. Make sure that the officiant you hire makes you feel that she can do that for you and respect all the needs you might have.
You do not have to have a boring and impersonal wedding just because you suffer from anxiety or hate attention. Some creative thinking can help you plan a day that is authentic, meaningful, full of joy, AND relaxed!
'Til next time!