Welcome to this week's Link Love post!
Link Love is simply three links about weddings, wedding vows, ceremonies, or Savannah, GA that caught my eye this week and I want to share with y'all. I aim to share stories, tips, and information that will interest you and help you plan your wedding or elopement.
Here are the links for the week of July 4, 2014.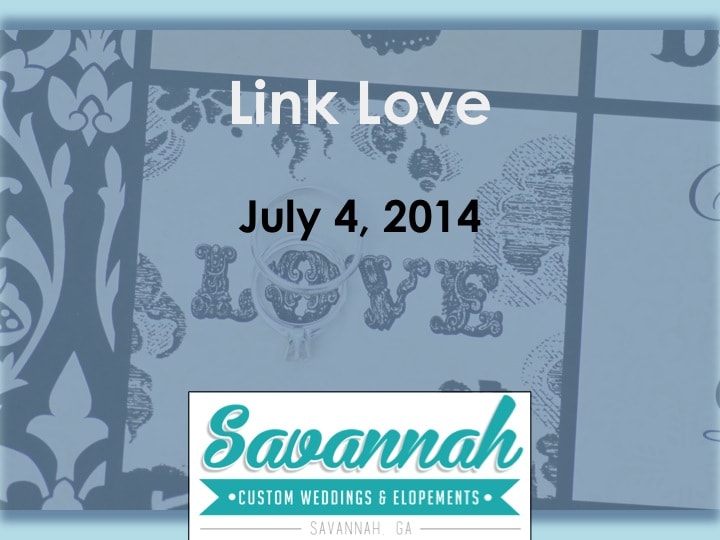 1. These Groomsmen Made Guests Go Crazy with a Choreographed Backstreet Boys Dance (Huff Post Weddings)
This Los Angeles based groom and his wedding party surprised his bride with a choreographed dance to the Backstreet Boys "I Want It That Way" and other songs (if you can hear them past the screaming). I'm a huge boy band fan so I love it! I did stop at reading there were 9 groomsmen!?! That must have taken some practice- hopefully the bachelor party was not one continuous rehearsal. 
2. U.S. Presbyterian Church Votes to Allow Same-Sex Marriage Ceremonies (Gawker)
In late June, the largest Presbyterian denomination in the U.S. voted to allow the clergy to perform same-sex marriage ceremonies in the states where gay marriage is recognized. This is a big move at the same time that state constitutional amendments that ban gay marriage are being thrown out in federal courts across the nation (Kentucky this week, Indiana and Utah last week).
If you want to keep up with the challenge to Georgia's constitutional amendment that bans gay marriage, follow The Lambda Legal Fund's progress. They filed suit on April 22, 2104. I'll be honored to do my part as a wedding officiant when marriage equality becomes official in our great state!
3. KATIE COURIC AND JOHN MOLNER – Making Headlines With Their Vows (New York Times)
Katie Couric was the keynote speaker at a conference I attended in 2012 and she made me a fan by being eloquent, funny, and strong (her show did not reel me in though and I am not shocked it was cancelled). I love this whole article about her non-traditional wedding ceremony that was focused on exactly what was important to her and her husband even though they had the financial resources to have a mega-ceremony. She also let her husband do most of the planning- even picking her dress.
According to Katie,  "I've had such a full plate, and it's going to be a small, intimate wedding, so I don't feel that much pressure, and luckily I have a great fiancé who's very decisive and also involved in the planning. We just want it to be an incredibly special time for our families and friends."
She does look gorgeous!
'Til next time, y'all!