Welcome to my latest Link Love post!
Link Love is simply links about weddings, wedding vows, ceremonies, or Savannah, GA that caught my eye recently and I want to share with y'all. I aim to share stories, tips, and information that will interest you and help you plan your wedding or elopement!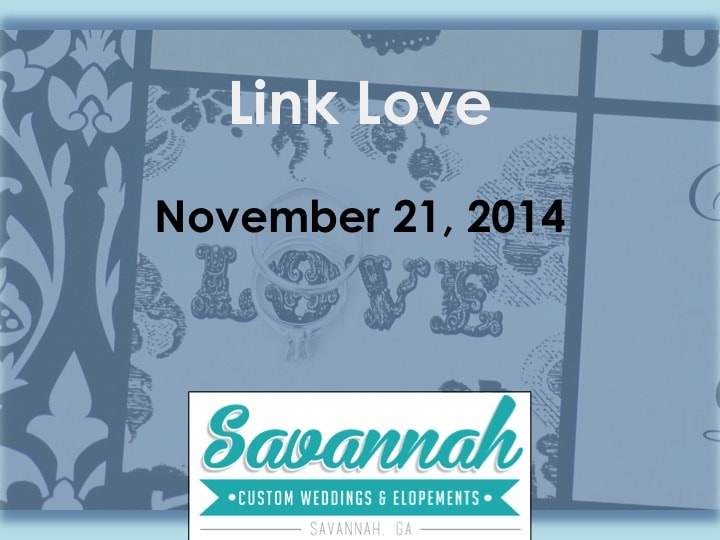 Fascinating survey data on what people think these days about changing your last name after a marriage. The trend shows that more women are electing to change their name compared to 20 years ago.
Personally, I never thought I'd change my last name before I got married though I did contemplate it about a week before our wedding and did some research. For me, it was simply impractical. I have published books under my name and there are too many women on Google with my first name and my husband's last. It would have set my career back years, ultimately hurting how I contribute my family.
Data from the Huffington Post's survey:
Taking on the husband's name may be the norm in America — it's estimated that only 8 percent of women keep their own name, down from the practice's peak at 23 percent in the '90s.
Internationally, sixty percent of the women polled legally changed their surname to their husband's name, 11 percent of women kept their maiden name and only 8 percent opted to hyphenate or otherwise combine their maiden name with their husband's name. (The remaining 23 percent of women have never married.)
72 percent believe that children should take the father's name. Only 1 percent of people thought that children should take the mother's last name.
One of my most requested wedding ceremonies involves the sand ceremony. It is a very visual manifestation of two individual entities becoming one. I believe any unity ritual can be a great addition to a marriage ceremony and the idea of honey and beginning with sweetness is beautiful. Honey and bees also have many mythological roots in sacred femininity and fertility.
Til next time, y'all!