I think pop-culture, and in particular television shows, can be an important part of any relationship. Watching television shows together can be an incredible bonding experience and the portrayal of great relationships can provide us examples for our own unions. Sometimes pop culture references can also help you focus on a theme- one of my favorite wedding ceremonies that I wrote and performed took quotes from the movie The Wedding Crashers as the couple met on a yacht.
If you've visited my Ceremony Samples page, you know that my husband and I used the television show Friday Nights Lights as an inspiration for our own vows. To us, nothing epitomized the relationship we wanted for ourselves more than the marriage of Eric and Tami Taylor. If we had been familiar with the show Parks & Recreation before our wedding, we would have also included references from that show. Few things have made us happier than watching that show on Netflix and immersing ourselves in the great stories about love and friendship among the oddballs of Pawnee. I won't spend time explaining the set-up, plot and characters of the show, but advise that if you've never watched it, go do that right now.
(My advice: start with season 2, episode one where Leslie Knope marries the gay penguins.  No, that is not my opinion because I am a wedding officiant!)
Tonight is the series finale of Parks & Recreation and we are very sad. My husband and I started our day with waffles at The Blue Door in Savannah (which features lots of Leslie Knope & Ron Swanson quotes about breakfast food on its chalkboard). Now, we're about to order in calzones from our favorite pizza place to honor Ben. The finale not only inspired my food choices, but prompted me to re-watch episodes last night that focused on love and relationships so I could write some Parks & Recreation inspired wedding vows for couples who love the show as much as I do.
My goal was to put something together that applied to a diverse group of couples who may not be as quirky as Andy and April, or as earnest as Ben and Leslie, but were touched by the principles behind what they said during the show. These vows are longer than what I would usually recommend for a ceremony (5 promises or less are usually best), but couples who like this theme should feel free to pick and choose to construct their own Parks and Recreations inspired wedding vows. Many of the promises can also be broken up into separate vows.
---
XXX, you are the best person ever and I am the luckiest man/woman in the galaxy to have found you and spend the rest of my life with you.
I love you more than [insert nerdy pursuit] and I can't wait to make and grow our [insert your equivalent of a unity quilt] together.
I look forward to spending my life shouting from the rooftops how awesome you are, helping you, supporting you, and doing whatever it takes to make you happy.
When you're scared, I promise to do my best to karate chop your challenges away and tell you how much I love you.
I promise to protect you from danger, even when it's because we jumped into something stupid together.
And when times are tough for me and I feel like I hate everything in the world, I promise not to hate you.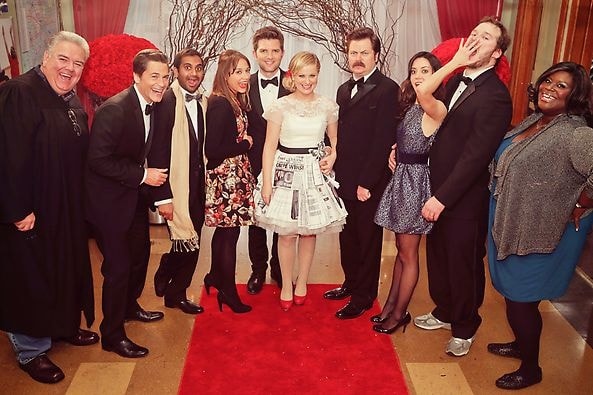 I promise to help you spread your wings and fly, and find your own path as an individual in this crazy world.
I promise to support you in creating your perfect idea of being my wife/husband and loving whatever you invent.
I can't wait to see how you'll surprise me each and every day.
You are everything I need, including your cute butt.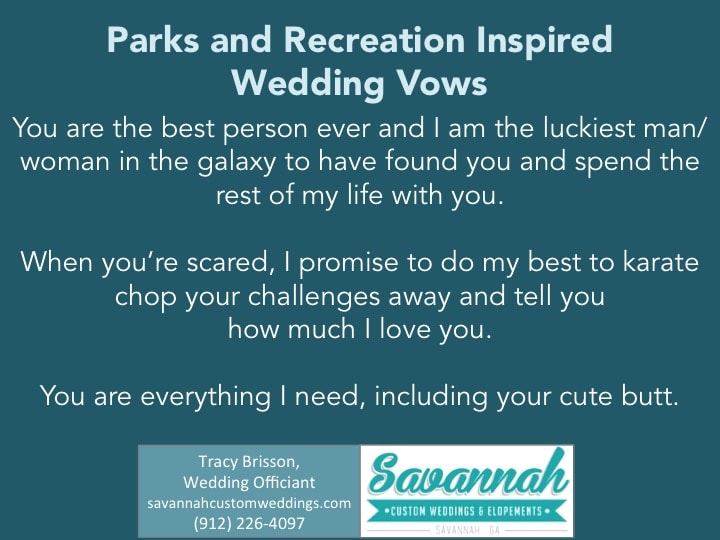 XXX, will you take me as your wife/husband so we can shout everyday 'OMG, we're married!'?
OR
XXX, will you take me as your husband/wife so I can remind you how much I like you and I love you every day from now until eternity?
---
Yay! Off to watch the finale and take to Twitter and try not to cry too hard when it ends. When I watched the Leslie & Ben wedding last night, I forgot that Jerry was their wedding officiant. It looks like we have even more in common that I even thought.
@tracybrisson It's a dream job, Tracy. lol 🙂

— Jim O'Heir (@JimOHeir) January 21, 2015