It has been a (very) long time coming, but I have finally put together a unity ritual guide for my clients who are considering adding a ritual to their Savannah wedding or elopement ceremony. As your officiant, I have experience with creating and performing many different rituals for unique wedding ceremonies and love to help clients pick the perfect one for them.
When some people hear the word "ritual" in regards to a wedding ceremony, they may picture one of two things- (1) something overtly religious that you may see in a church, or (2) something very new-age. And that is not true at all! A unity ritual is a fun way to physically join your love together as part of the ceremony, and in many cases, create a keepsake that you can take with you to be part of your home as a newly married couple.
Here is an overview of our most popular rituals that I perform. However, there are always new rituals to be created, and ways to personalize the standard ones, so if you want to talk more about your ideas, let me know.
All pictures are by It's Megan Jones Photography unless otherwise noted.
---
The Sand Ceremony
The Sand Ceremony is the most commonly requested unity ritual, at least for my couples. It involves joining separate containers of sand together in an act of unity. It is popular for a few reasons. One, it is fun and colorful! Second, we are a coastal community and the idea of sand and nature appeals to some people who choose to be married in Savannah or Tybee Island. Third, the symbolism of the sand ceremony speaks to many of the clients who choose to work with me and how they think of marriage. The sand is beautiful on its own, and does not 'need' the other sand to exist… but they are even more beautiful, unique and strong when they are combined together. I have a sand ceremony script I use on my Ceremony Example page.
I encourage my clients to purchase their sand ceremonies online, either from Amazon or Etsy, unless you know a local crafter in your community who makes them. While you can buy a basic sand ceremony kit at a chain craft store, the choice is greater online and you can also have them personalized. You can also buy sand in every color you can imagine on Amazon.
As you can see from these pictures, there are many sand ceremony kit designs.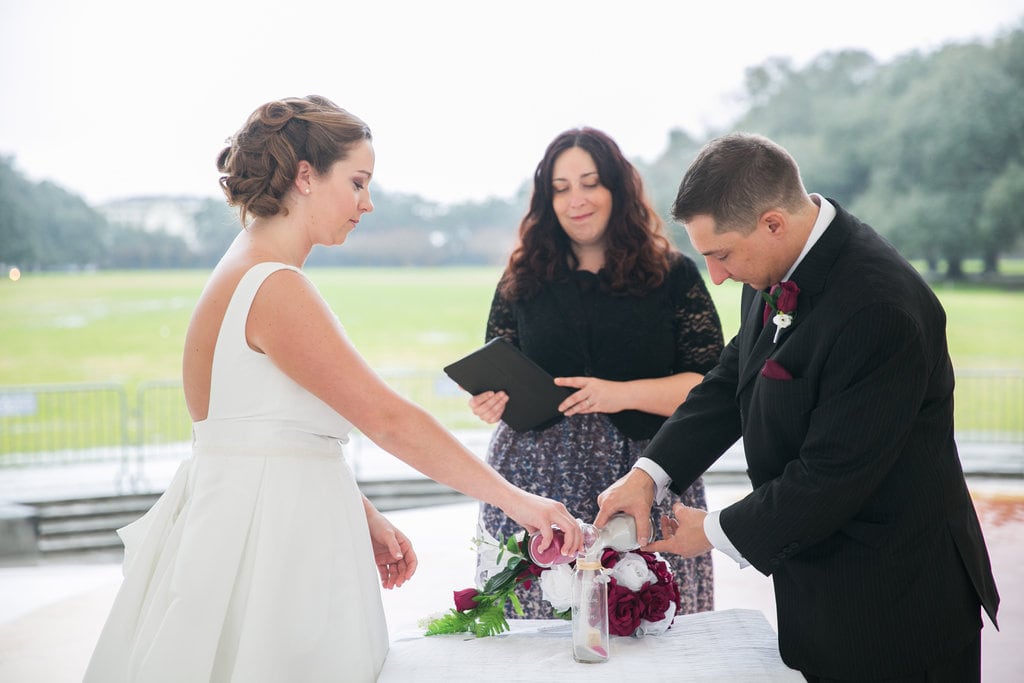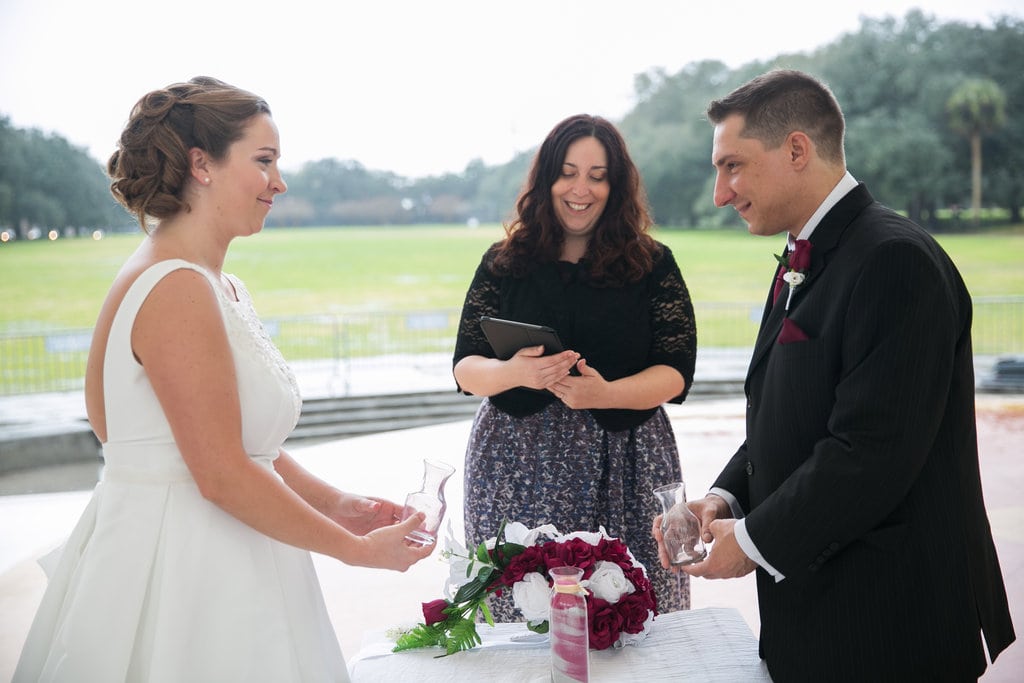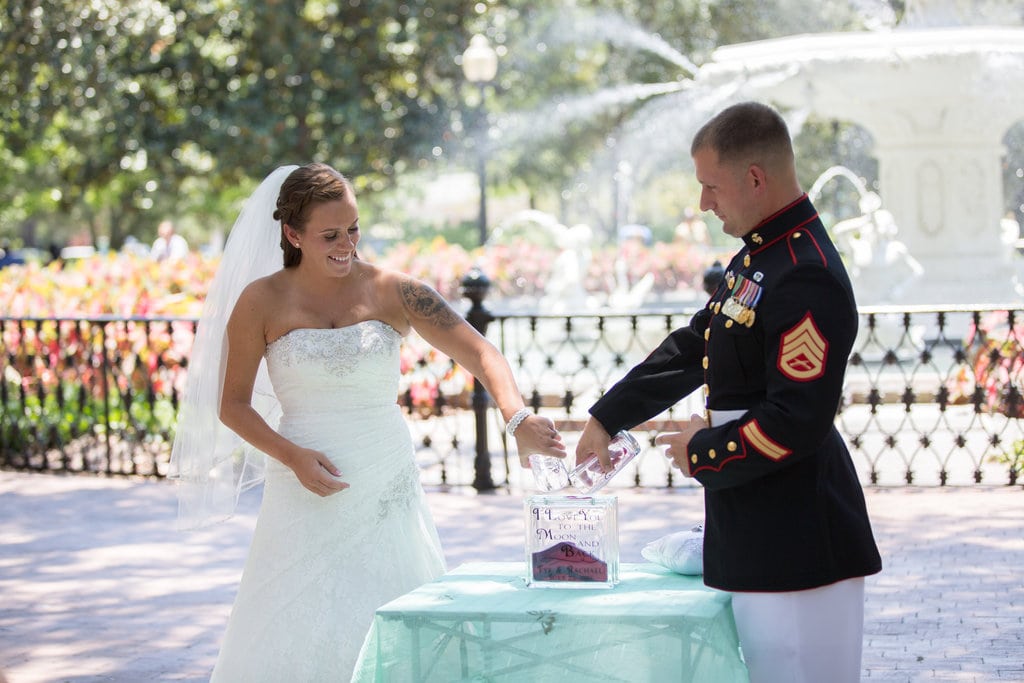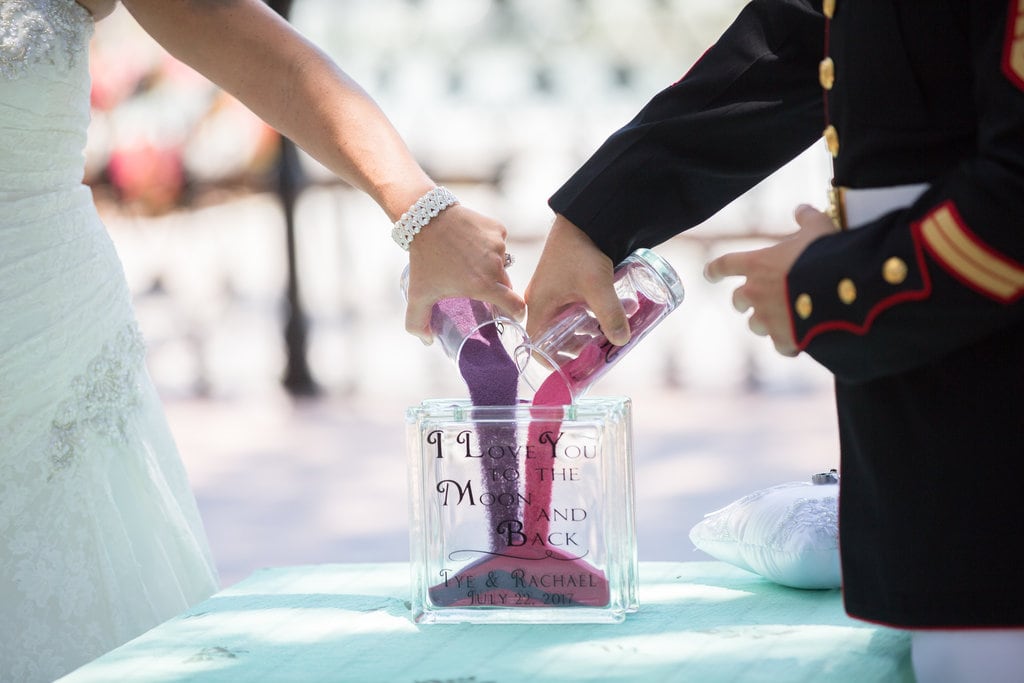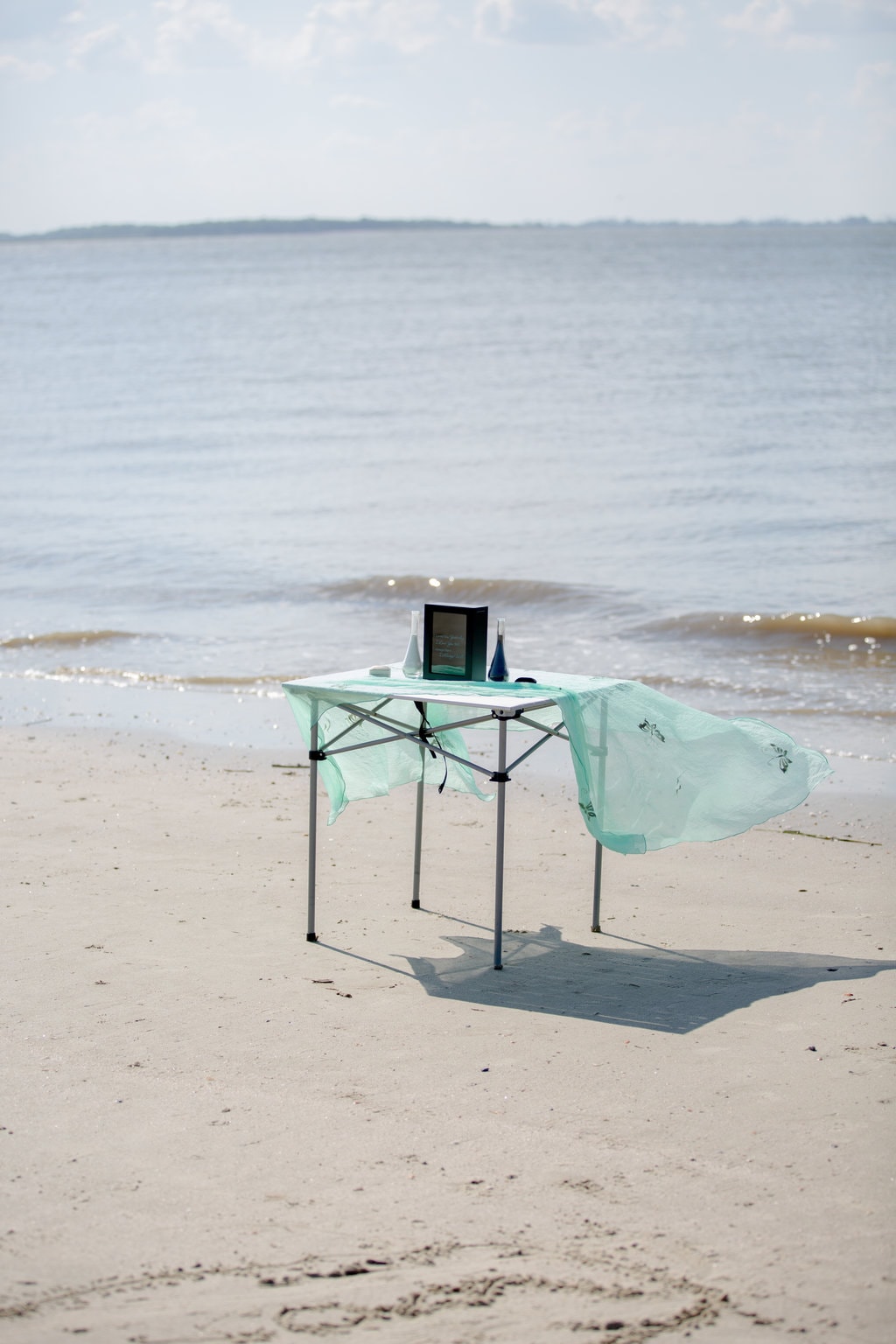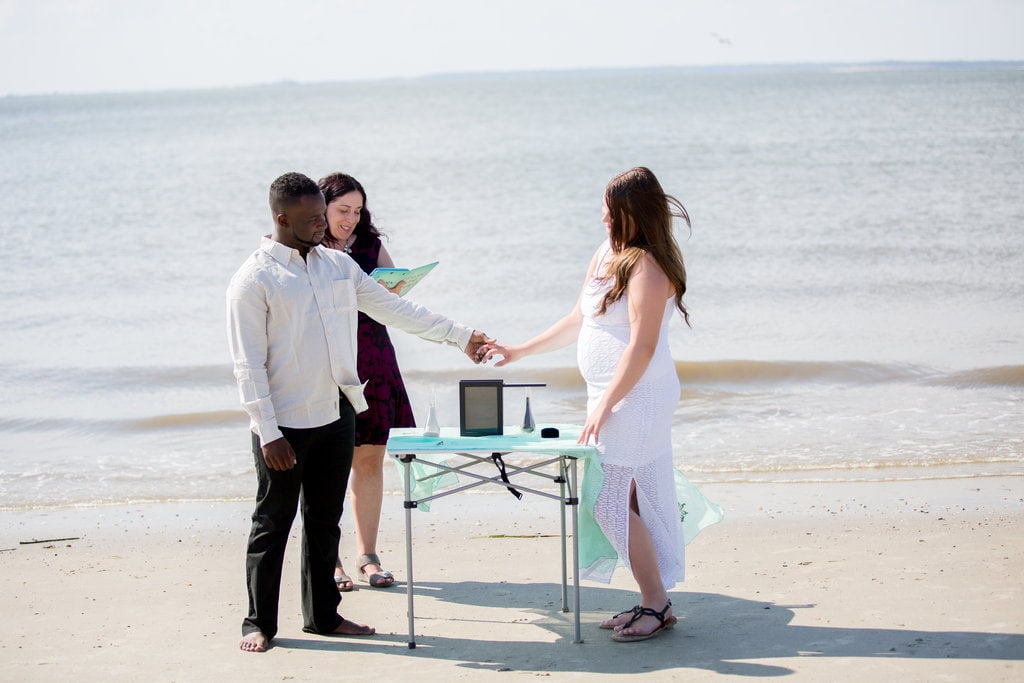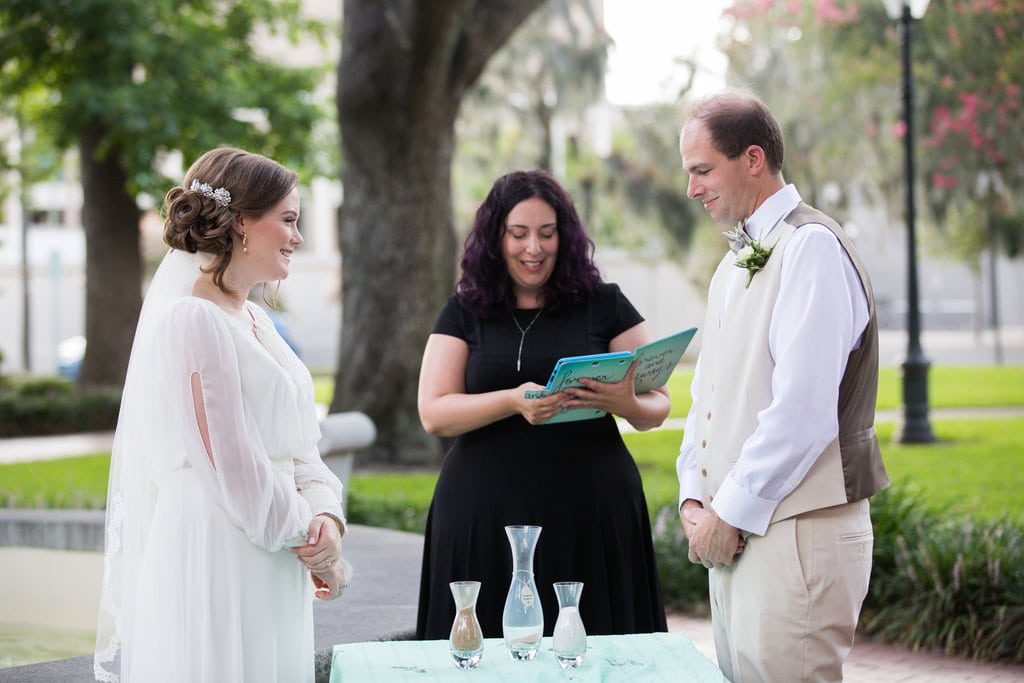 I love how Angela and Douglas poured their bright sand to make a unique pattern.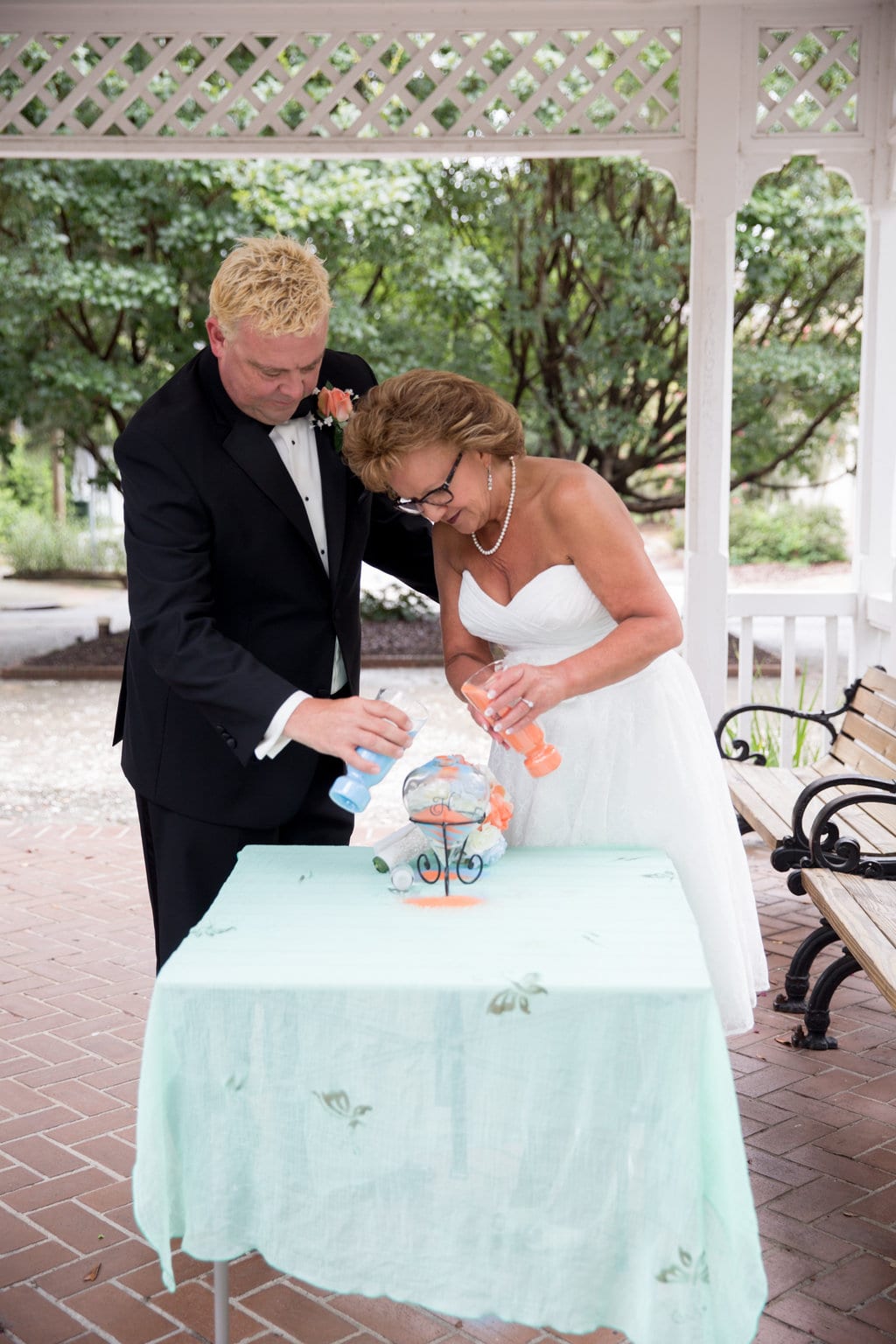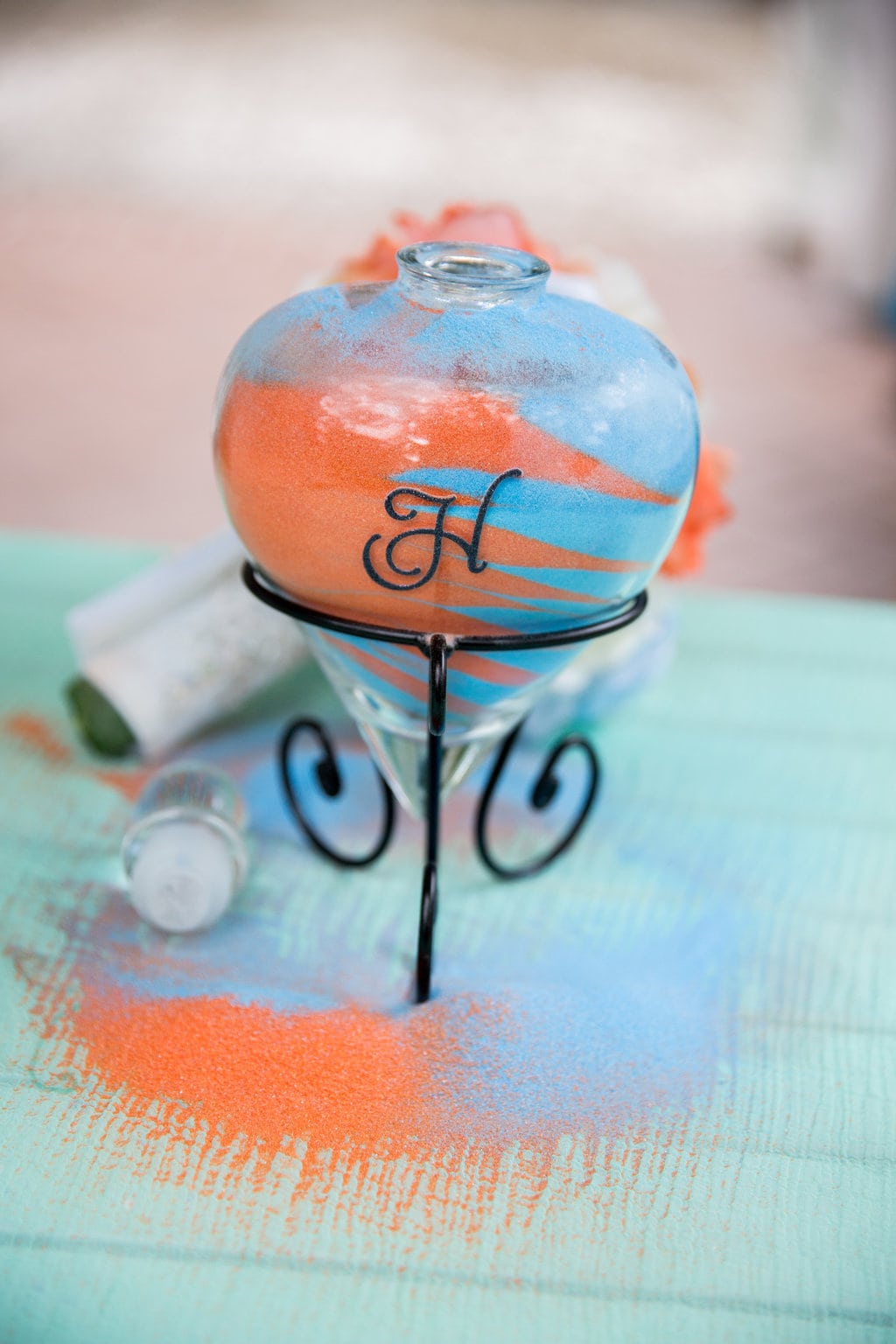 Jessica and Brian's sand ceremony set kept with their Steampunk wedding theme.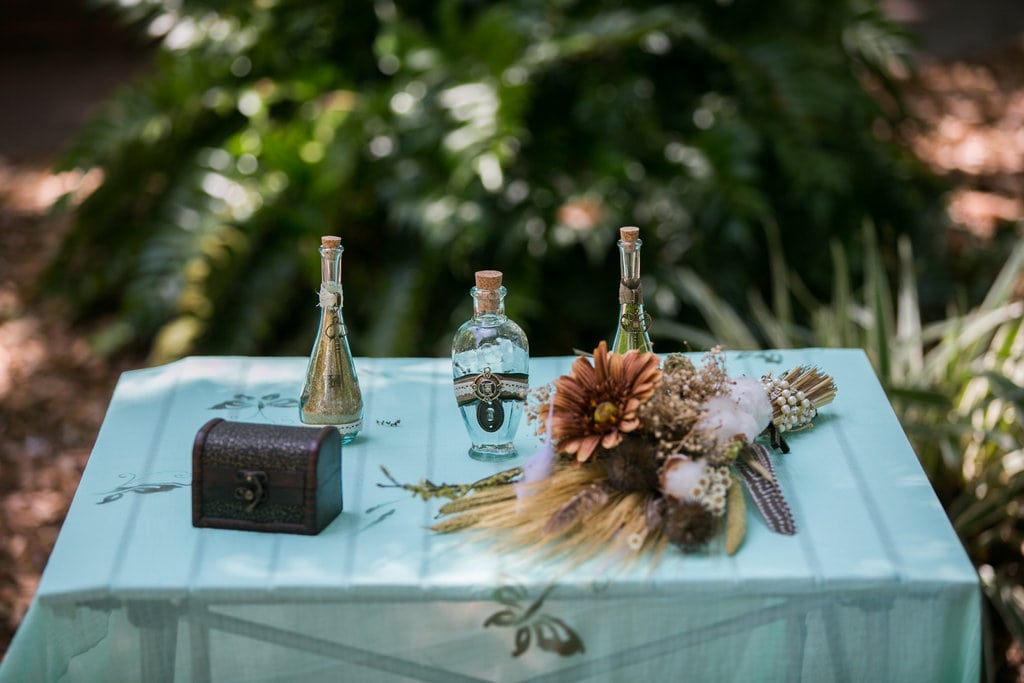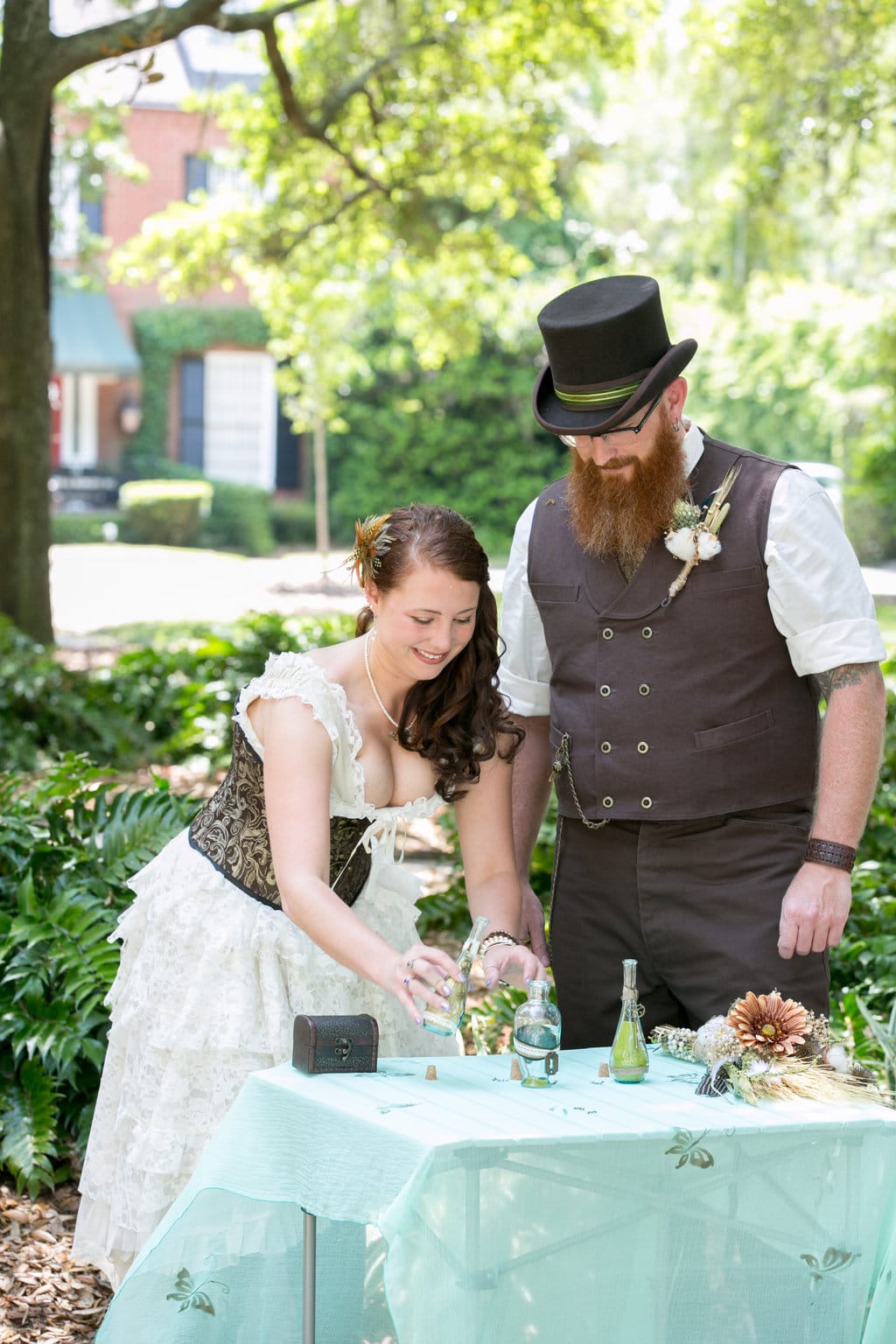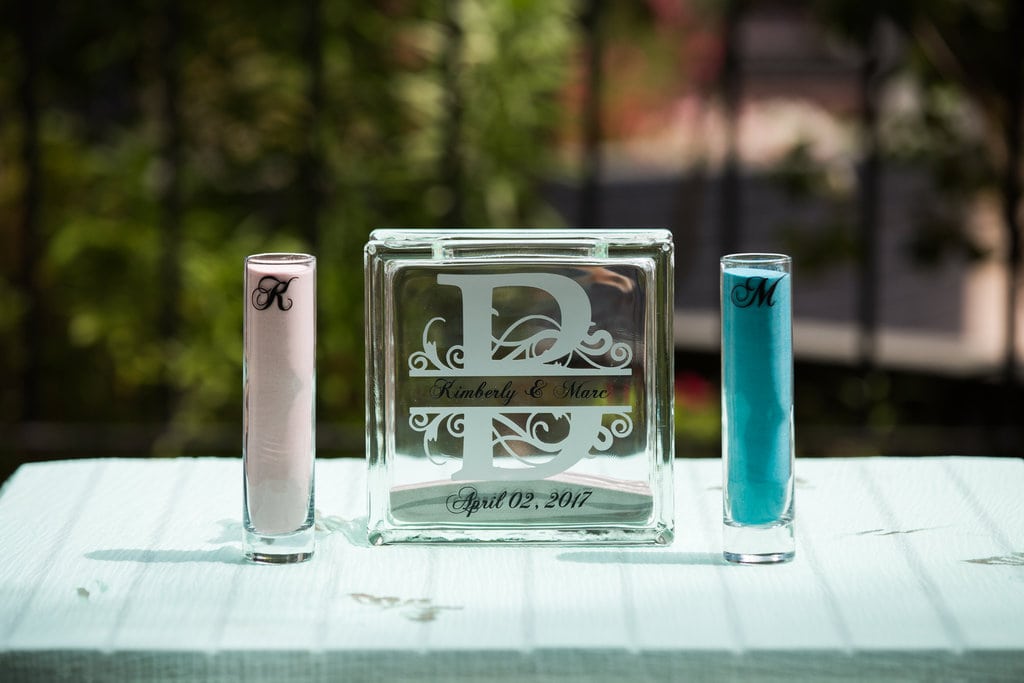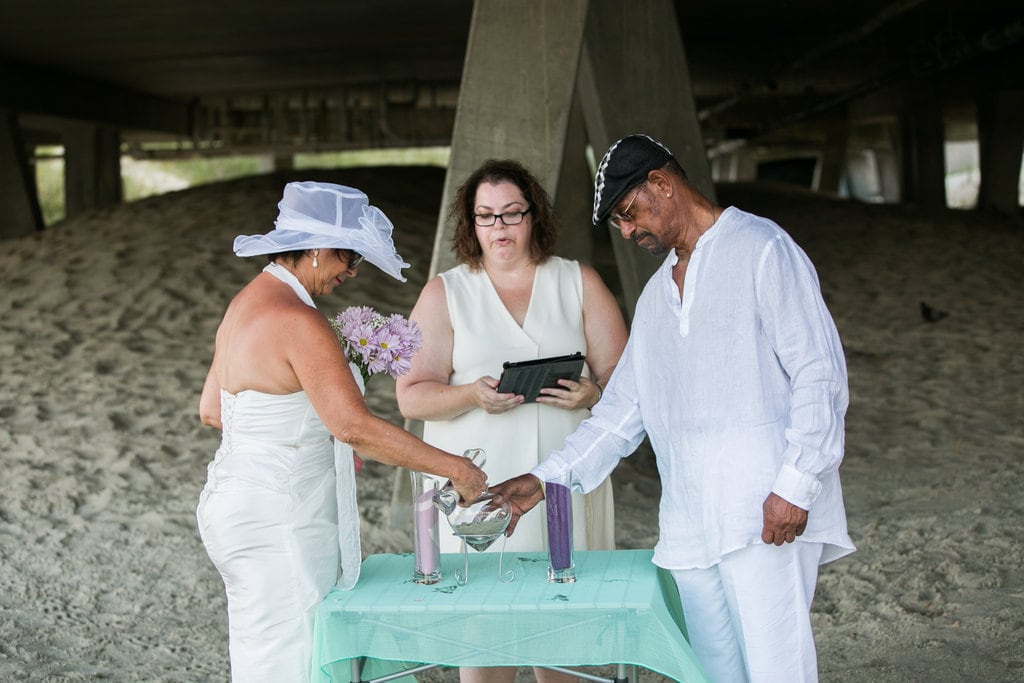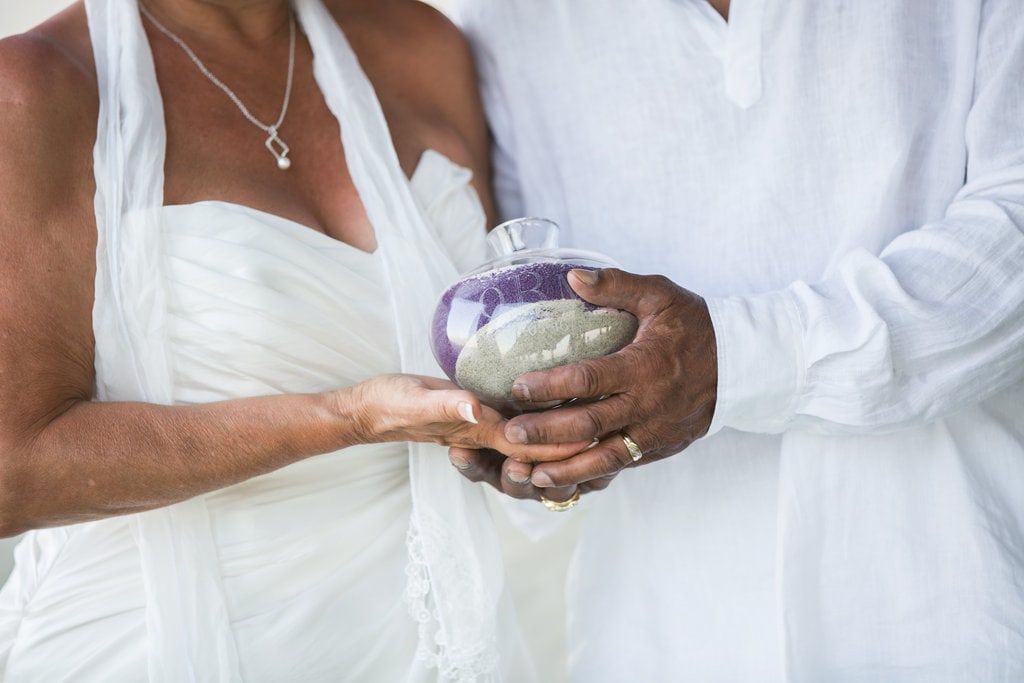 The Sand Ceremony is also a great way to involve children and symbolize the blending of a family.
Carmen & Natalie's son was super excited to participate!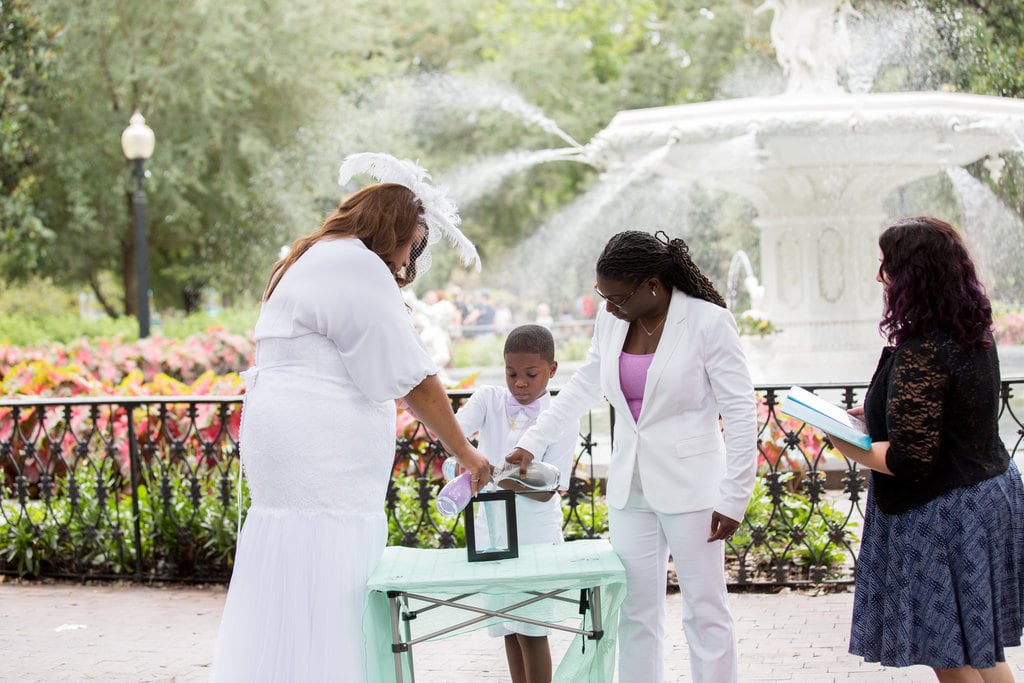 Laure-Jo & Luke involved all four of their children in their sand ceremony.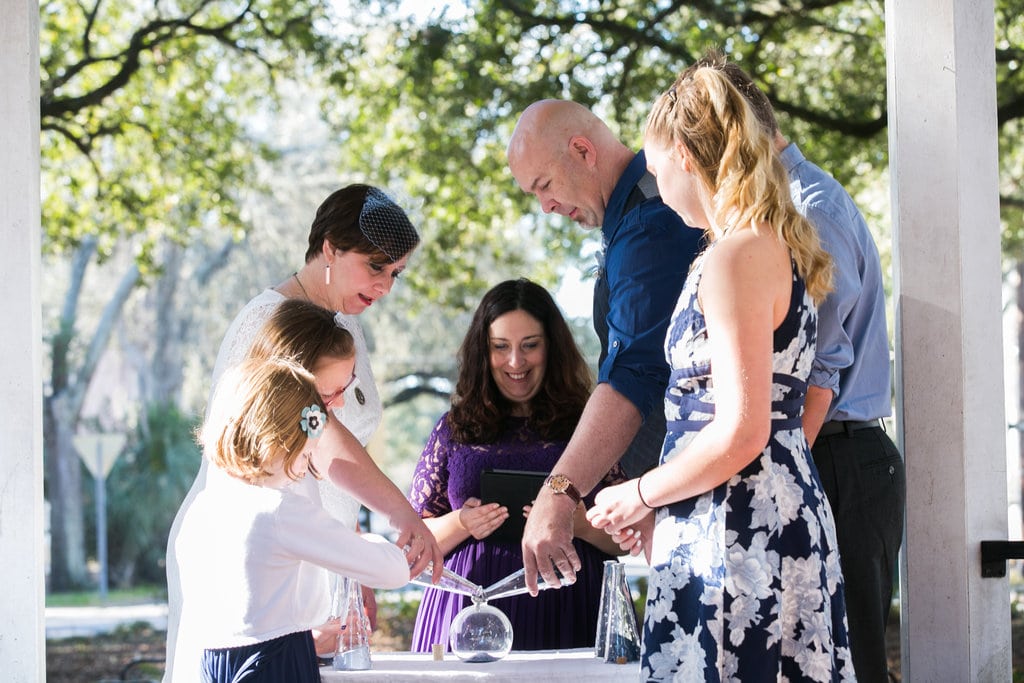 Finally, one of my recent couples, Stephanie and Todd, chose a Unity in Glass Ritual which is similar in intent to a sand ceremony. Stephanie and Todd poured glass crystals into a common container and then sent it to the Unity in Glass team to create a work of art. Here is their finished piece.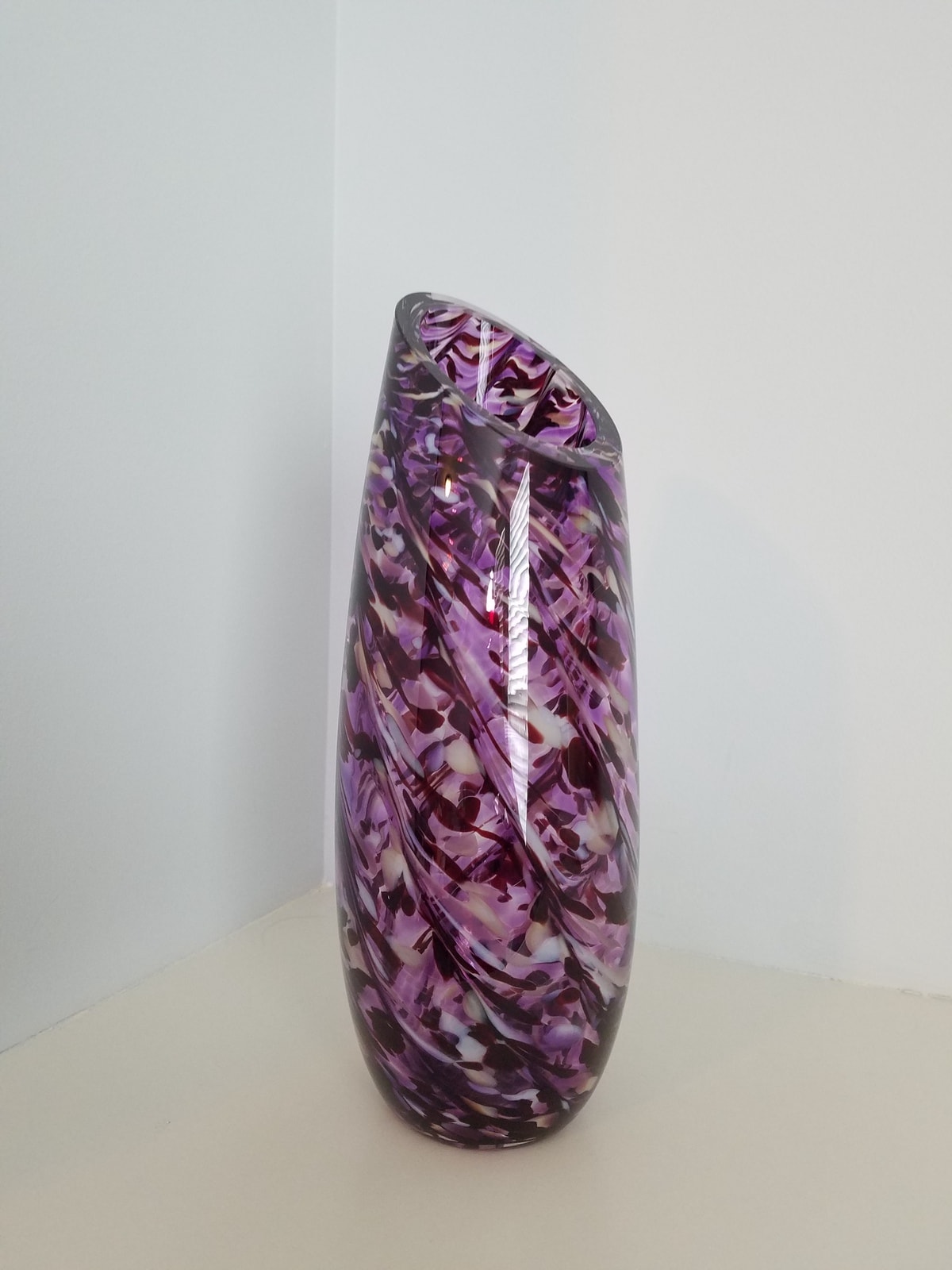 ---
Handfasting Ritual
The second most popular unity ritual we perform is the handfasting ritual. It is the origin of "tying the knot" and it has Pagan and Celtic roots (though there are other versions). During a handfasting, the couple gives consent to have their hands tied and a reading is performed. Couples have used all sorts of cords for their handfasting, many handmade or having familial significance.
(While I don't have a picture, I also once did a handfasting with the Lasso of Truth, dressed as Wonder Woman, for a Haloween wedding!)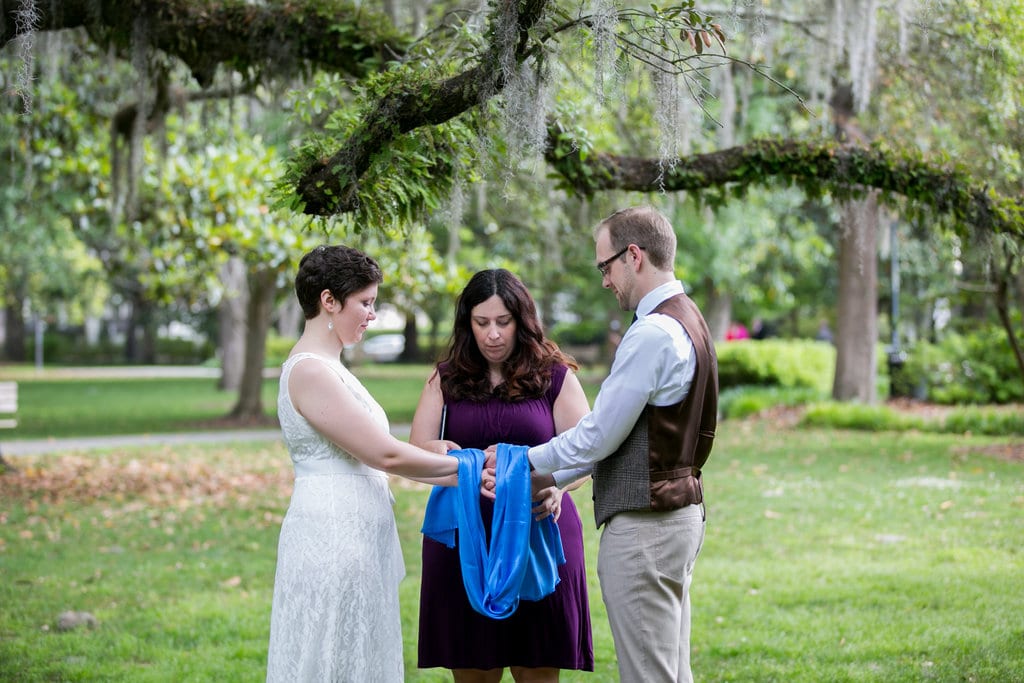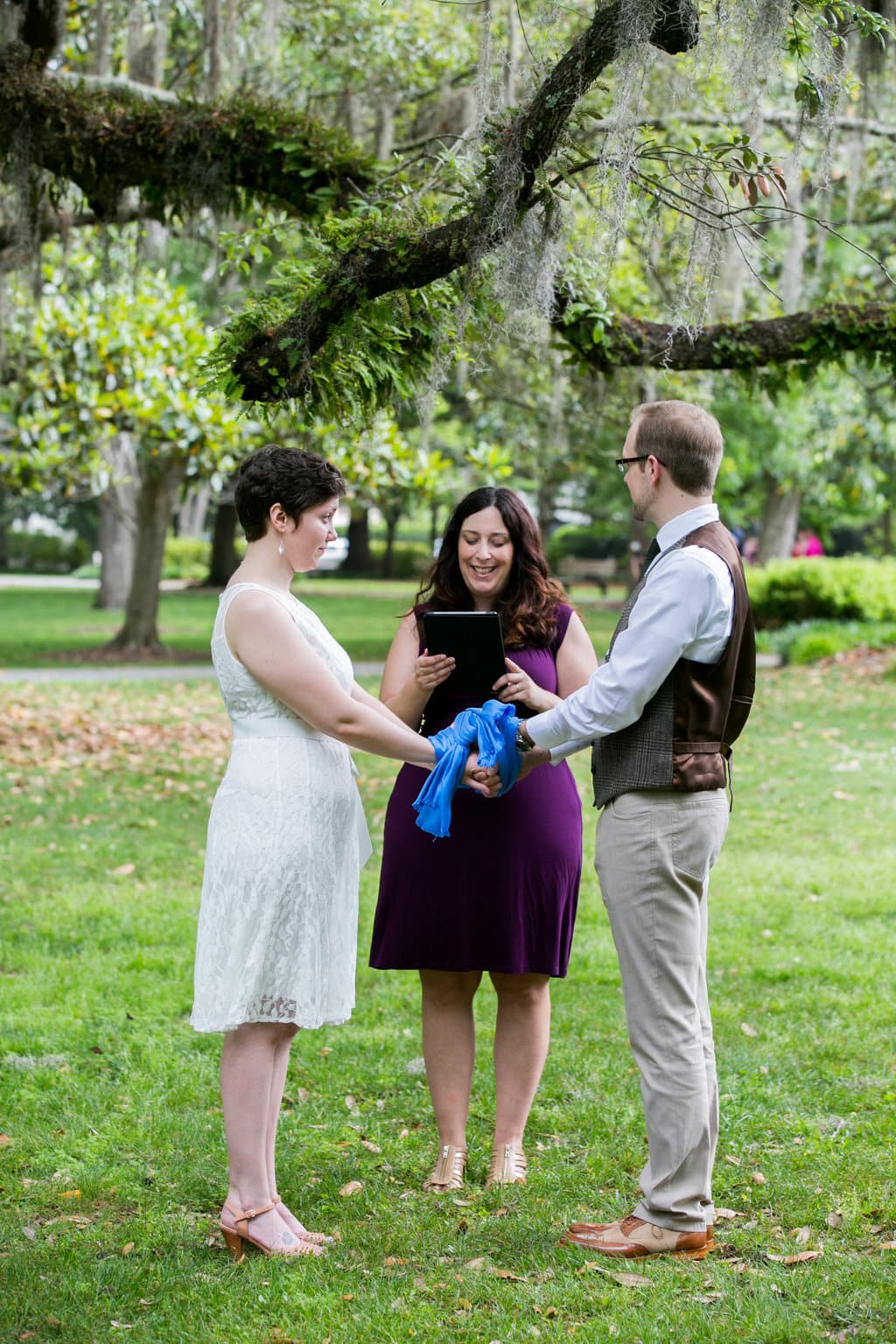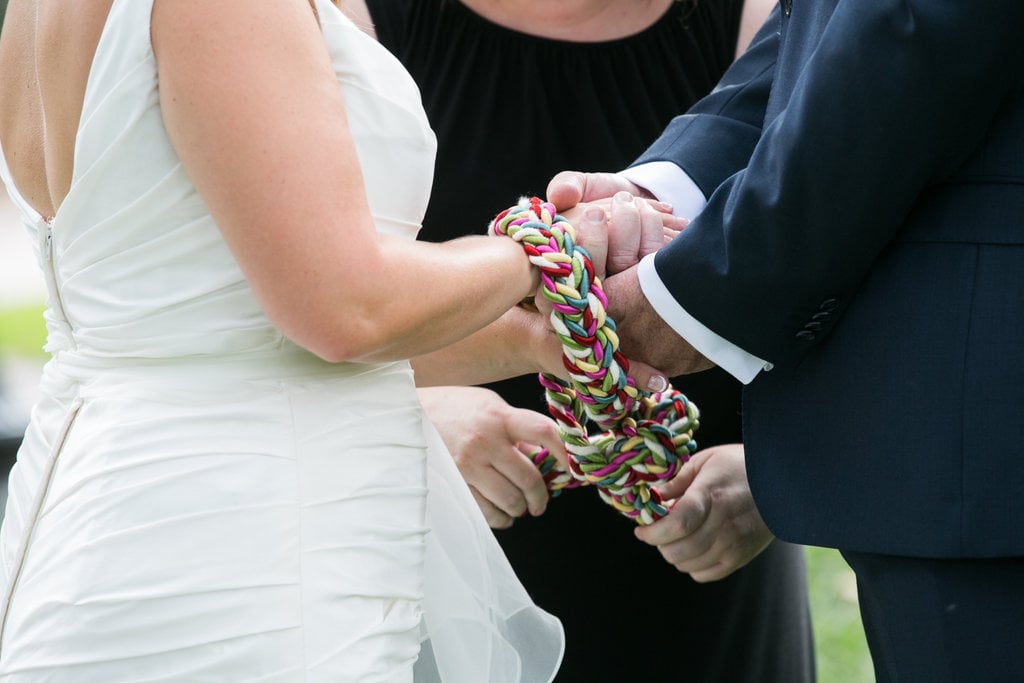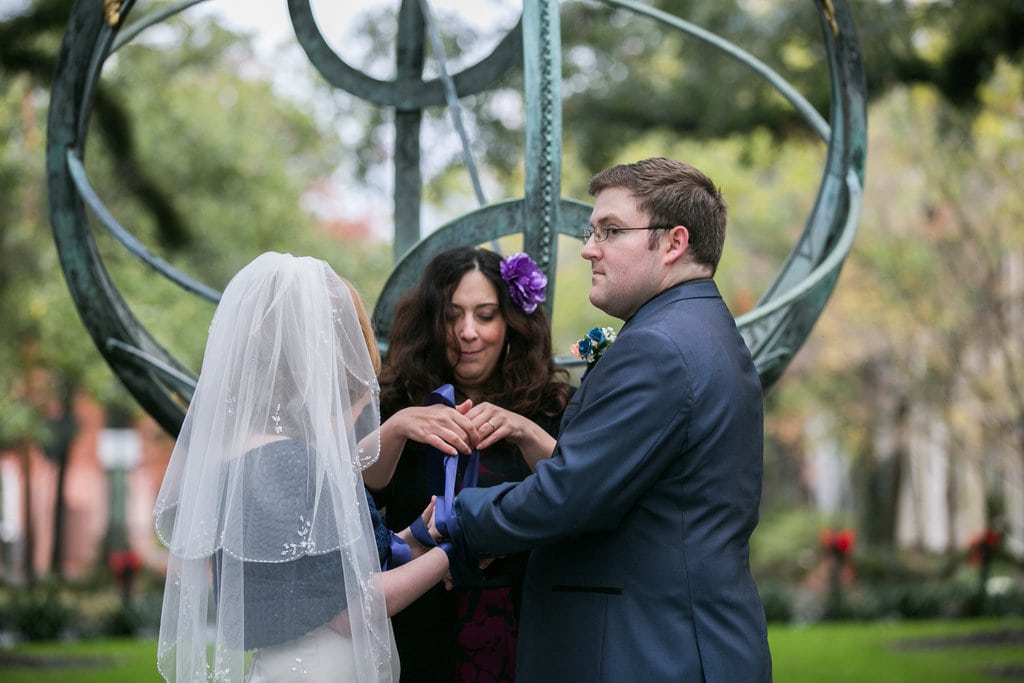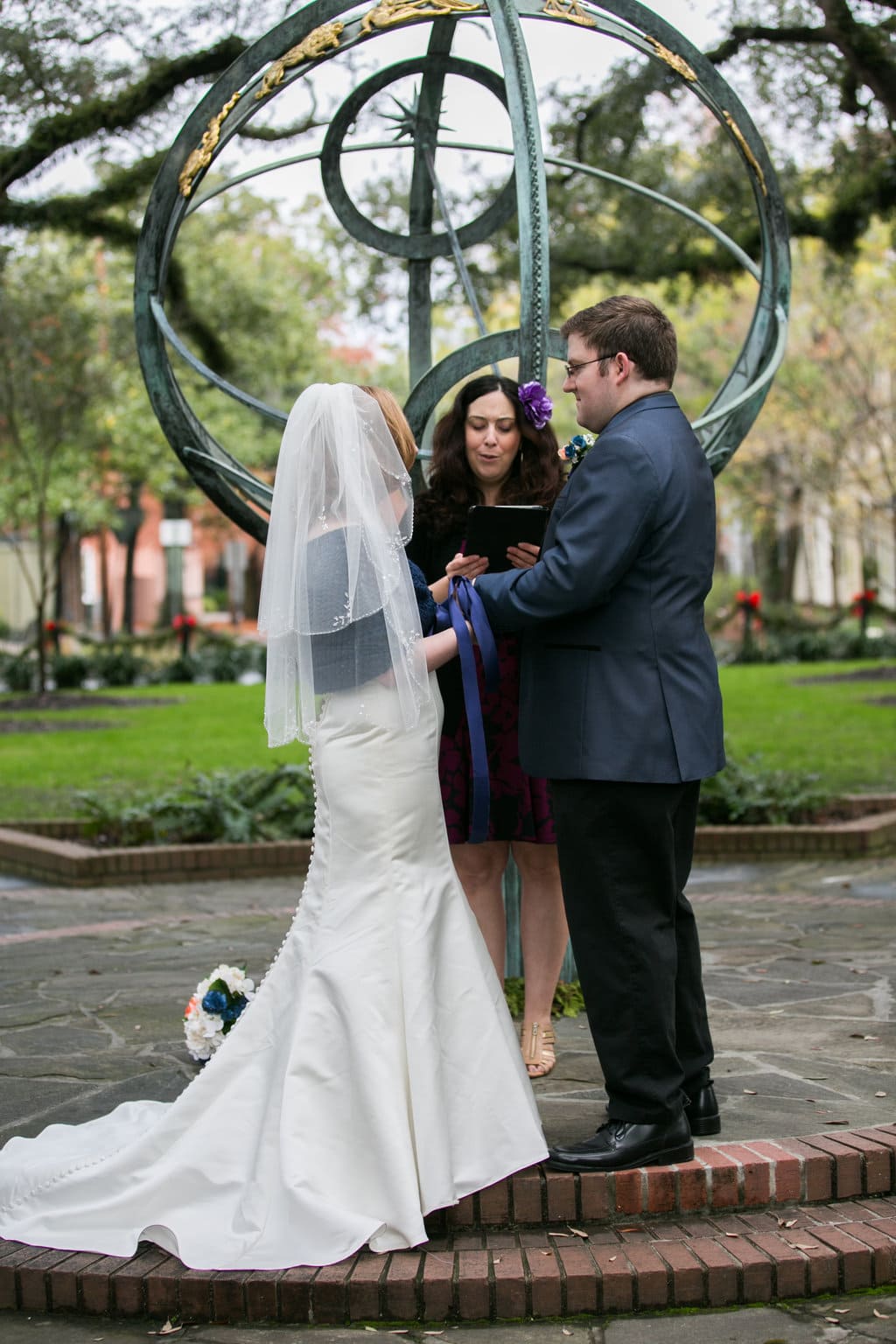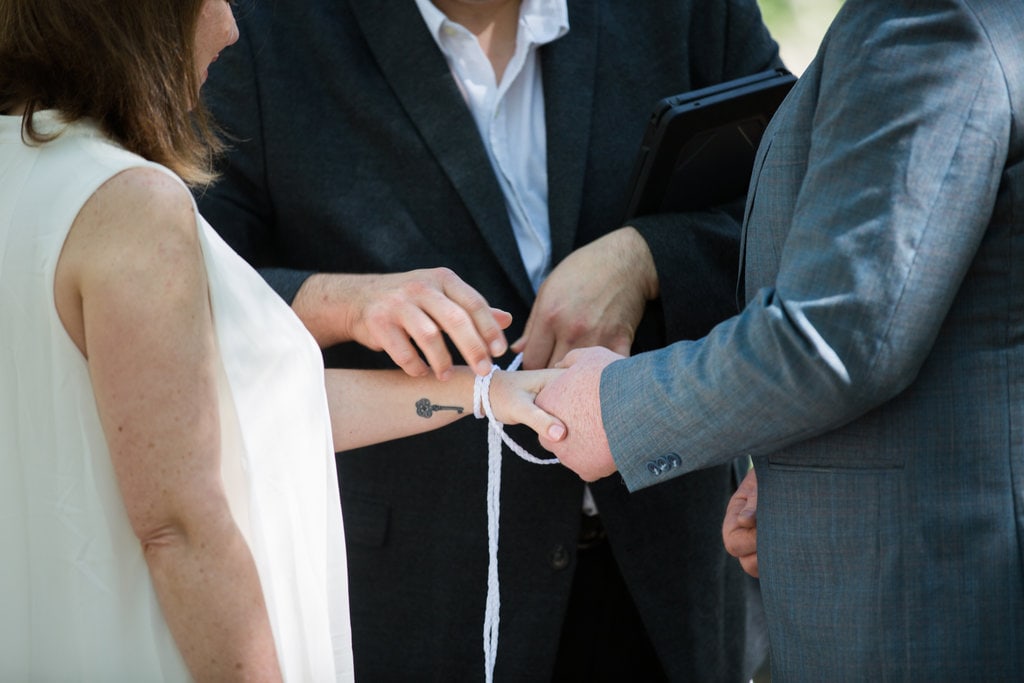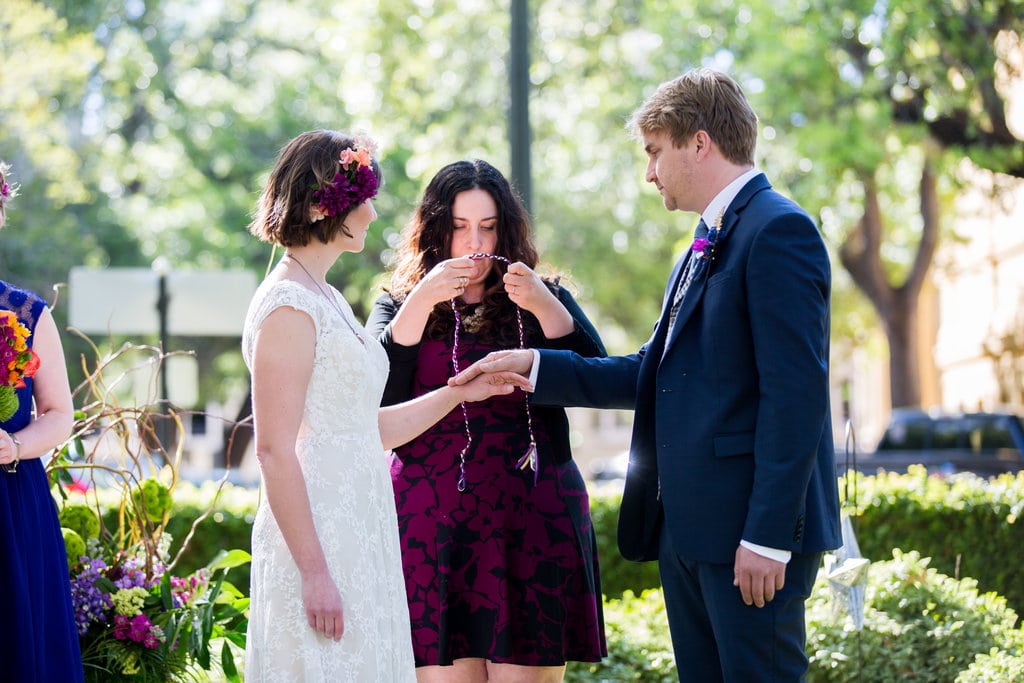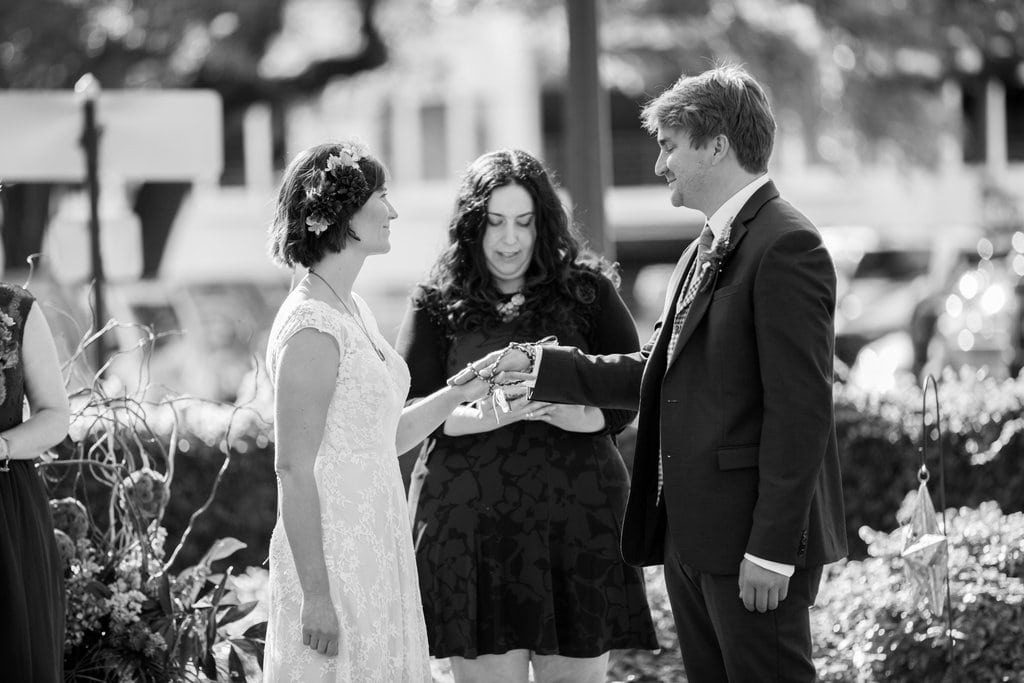 ---
The Fisherman's Knot Tying Ritual
The Fisherman's Knot ritual also involves some tying, but the couple themselves tie the knot, a "true lover's knot." The knot represents the strongest bond possible, one that does not break and even becomes stronger under pressure.
I love this ritual and its symbolism, but of all of them, it is one that the couple should practice in advance because tying the knot may not be easy, especially if you are nervous!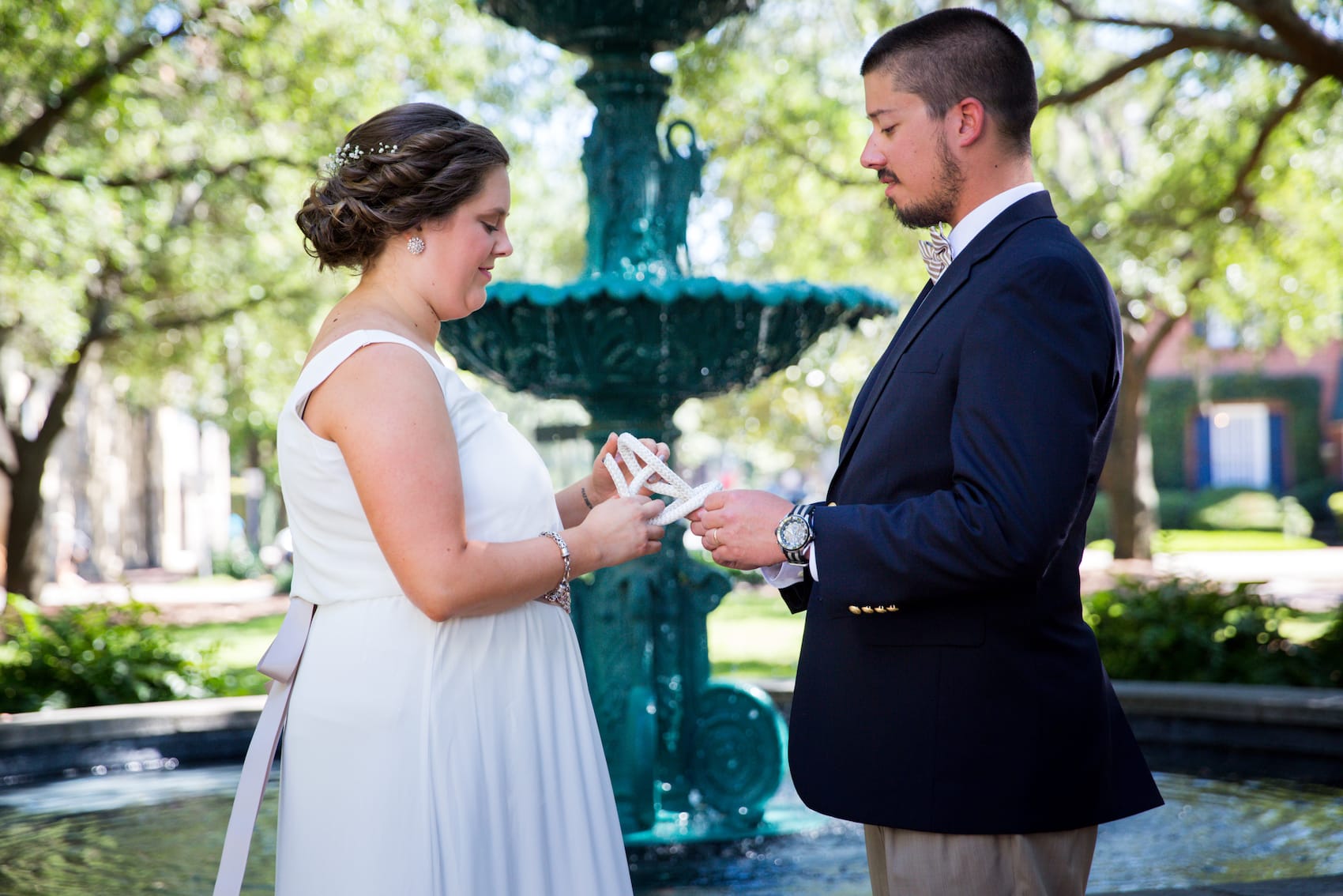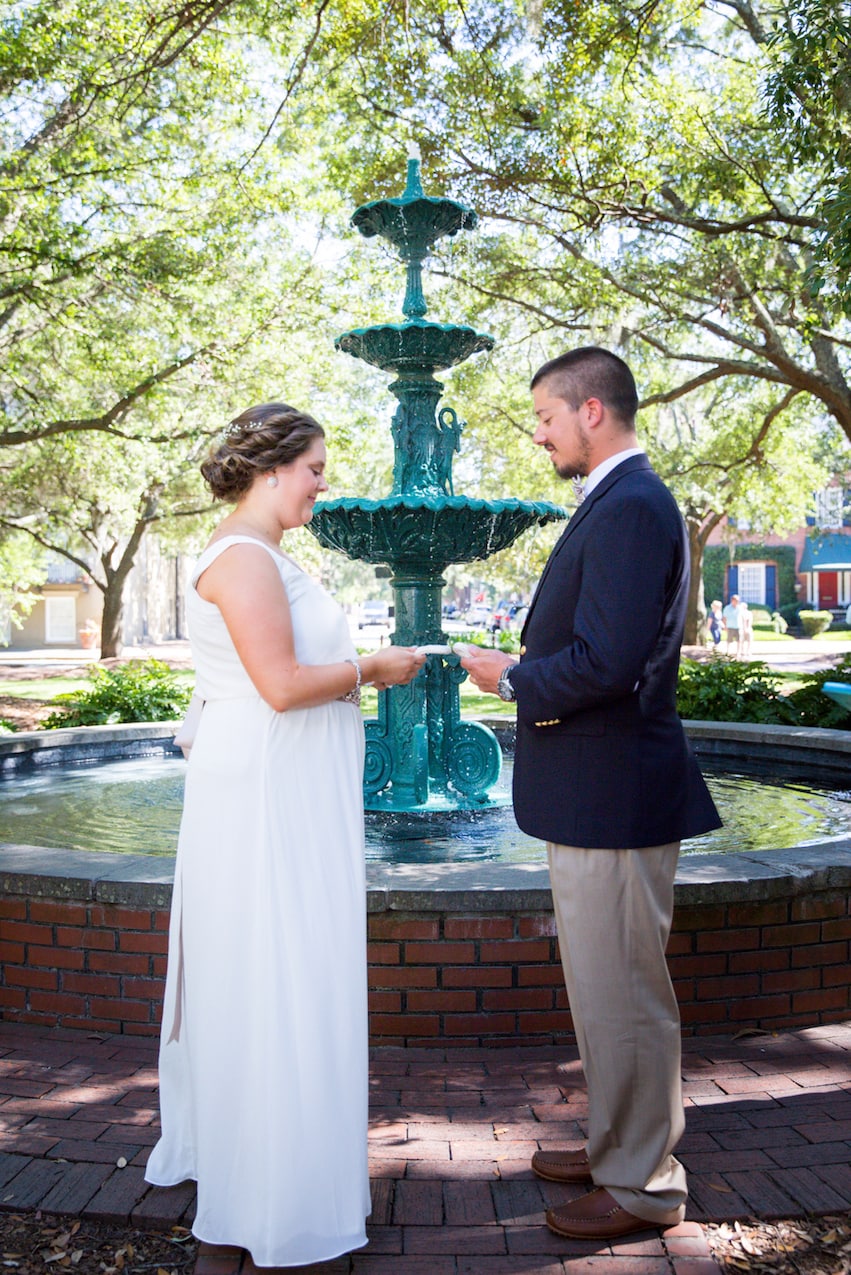 ---
Wine Ceremonies
Wine ceremonies are fun! There are lots of variations from simply toasting to your future, to combining white and red wines and drinking from the same cup and everything in between. I have also conducted a ceremony with beer, for a couple who were beer aficionados and even got engaged at their favorite brewery. You could also substitute other liquor for a toasting ritual.
Chiquinn and Antoine combined white and red wines, and then passed a common glass that they had personalized.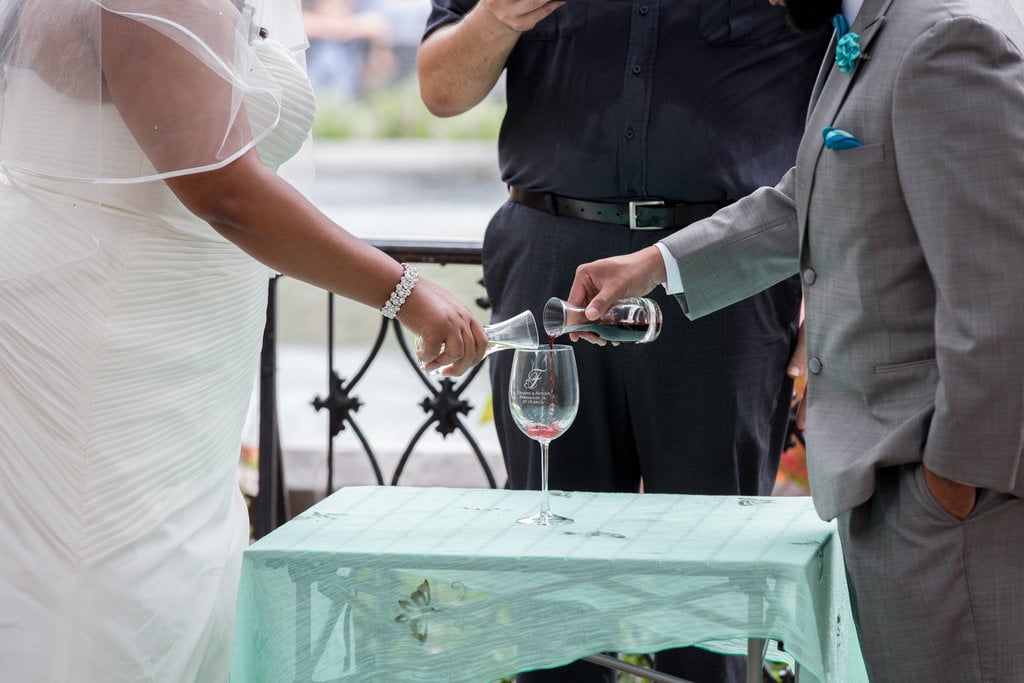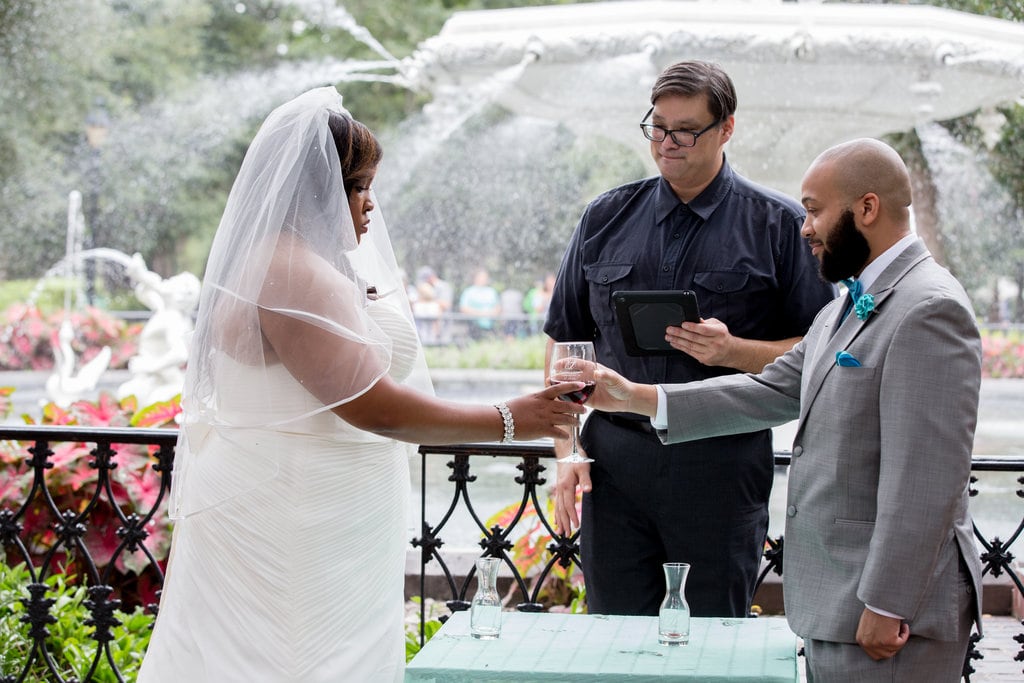 Stephanie and Paul used one wine and drank from the same cup. Jess & Bob mixed red and white prior to the ceremony and drank from separate cups to be able to toast to each other.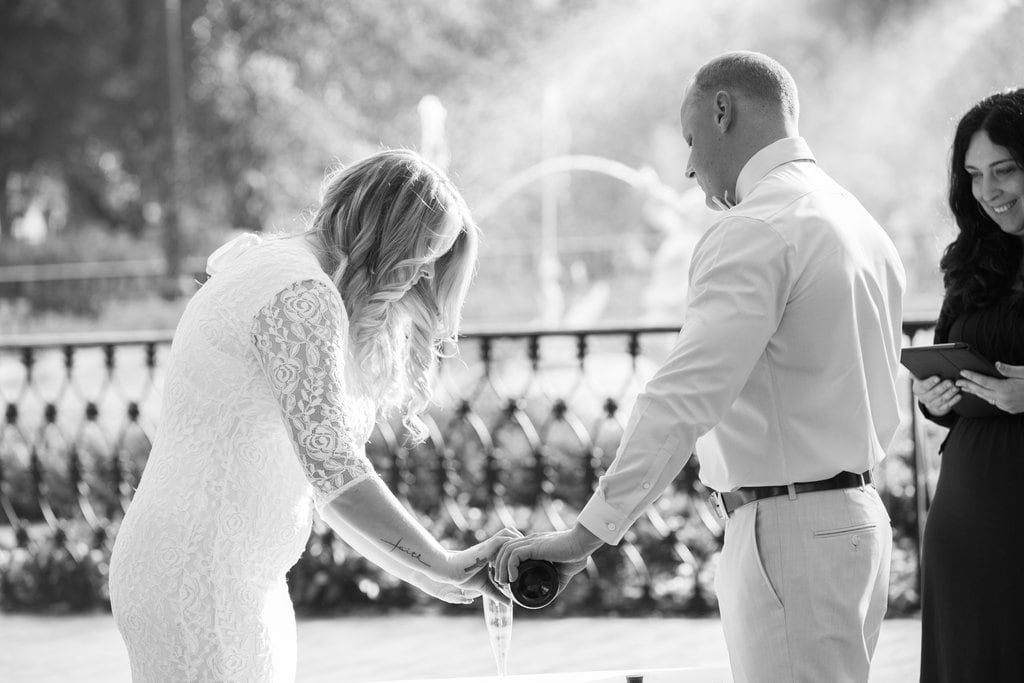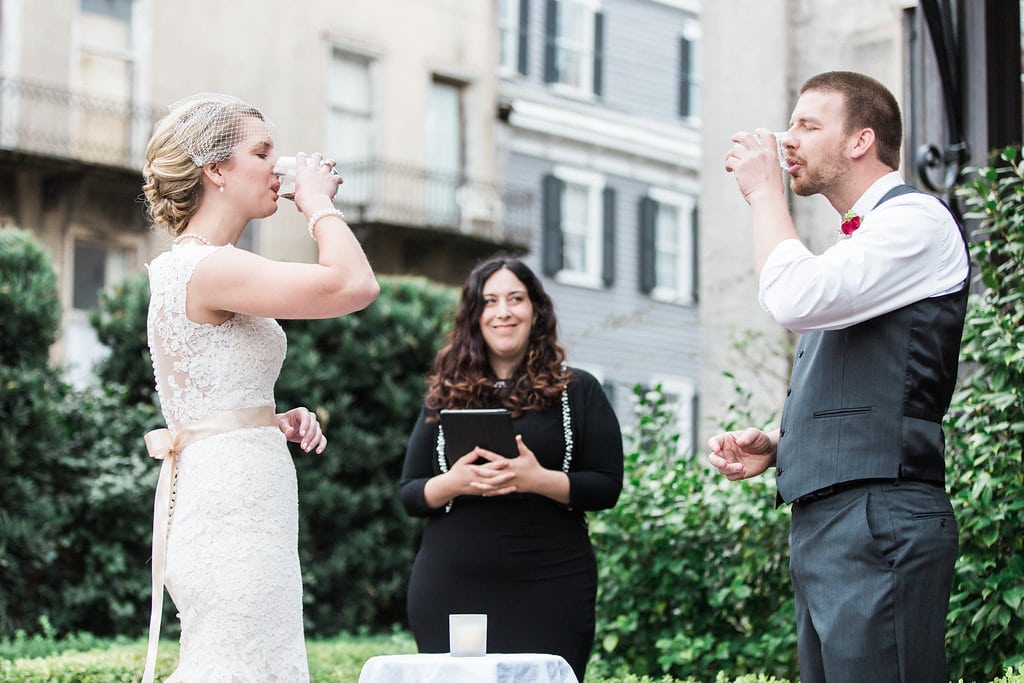 ---
Love Letter Box Ritual
With the Love Letter Box ritual, the couple writes love letters to each other to read on a future anniversary. They store the letters in a beautiful box and lock it together. The boxes can be found on Etsy and Amazon and usually also include space for a bottle of wine and two glasses for relaxing when you do sit down to read those heartfelt letters.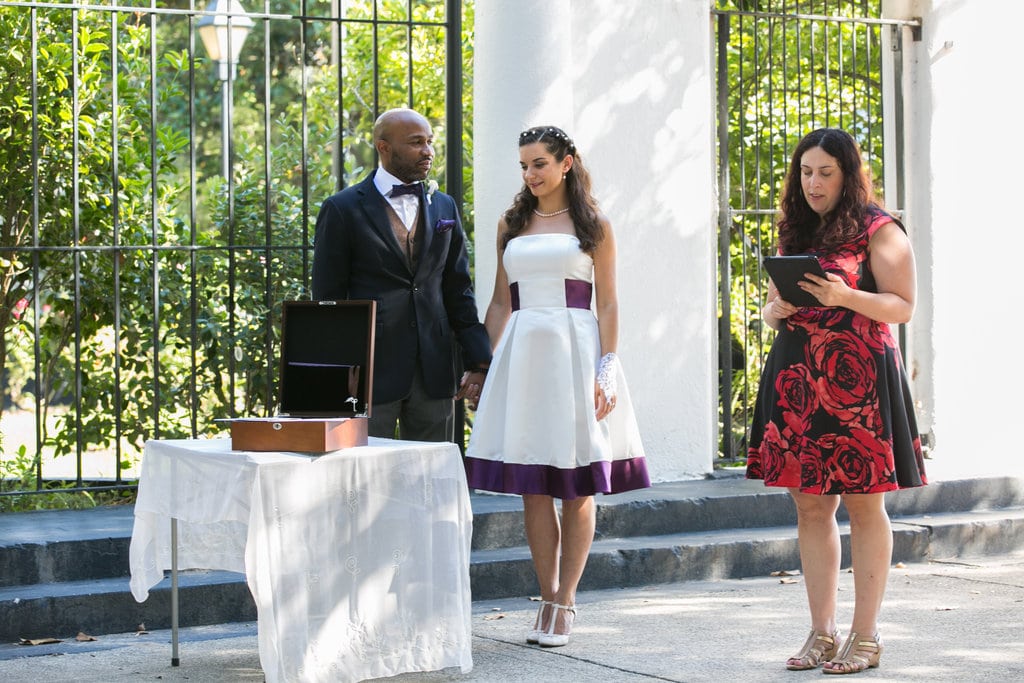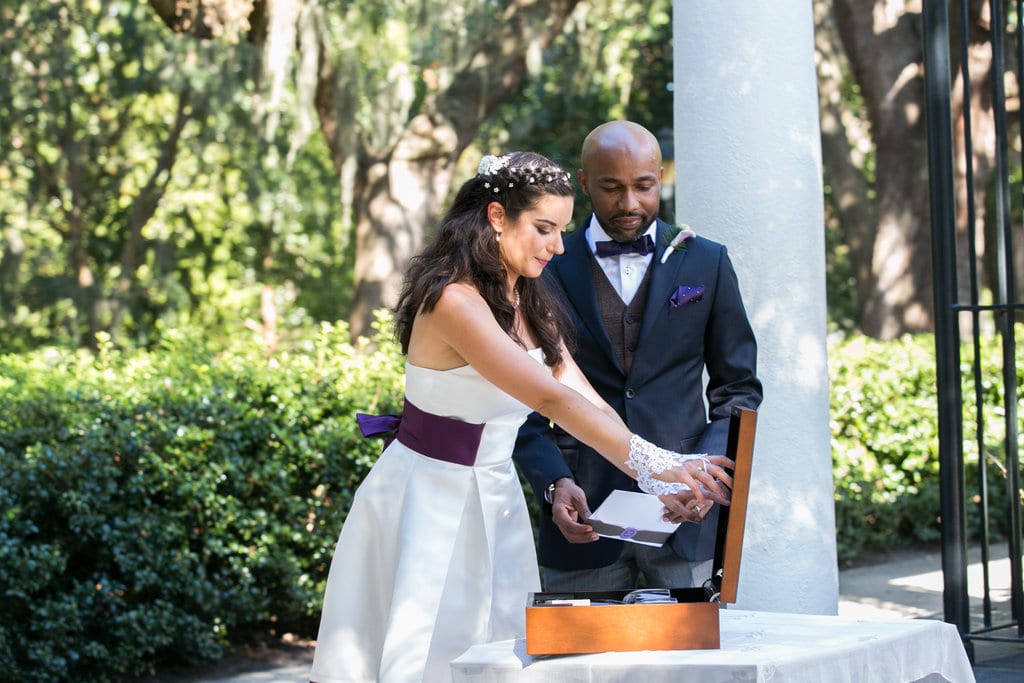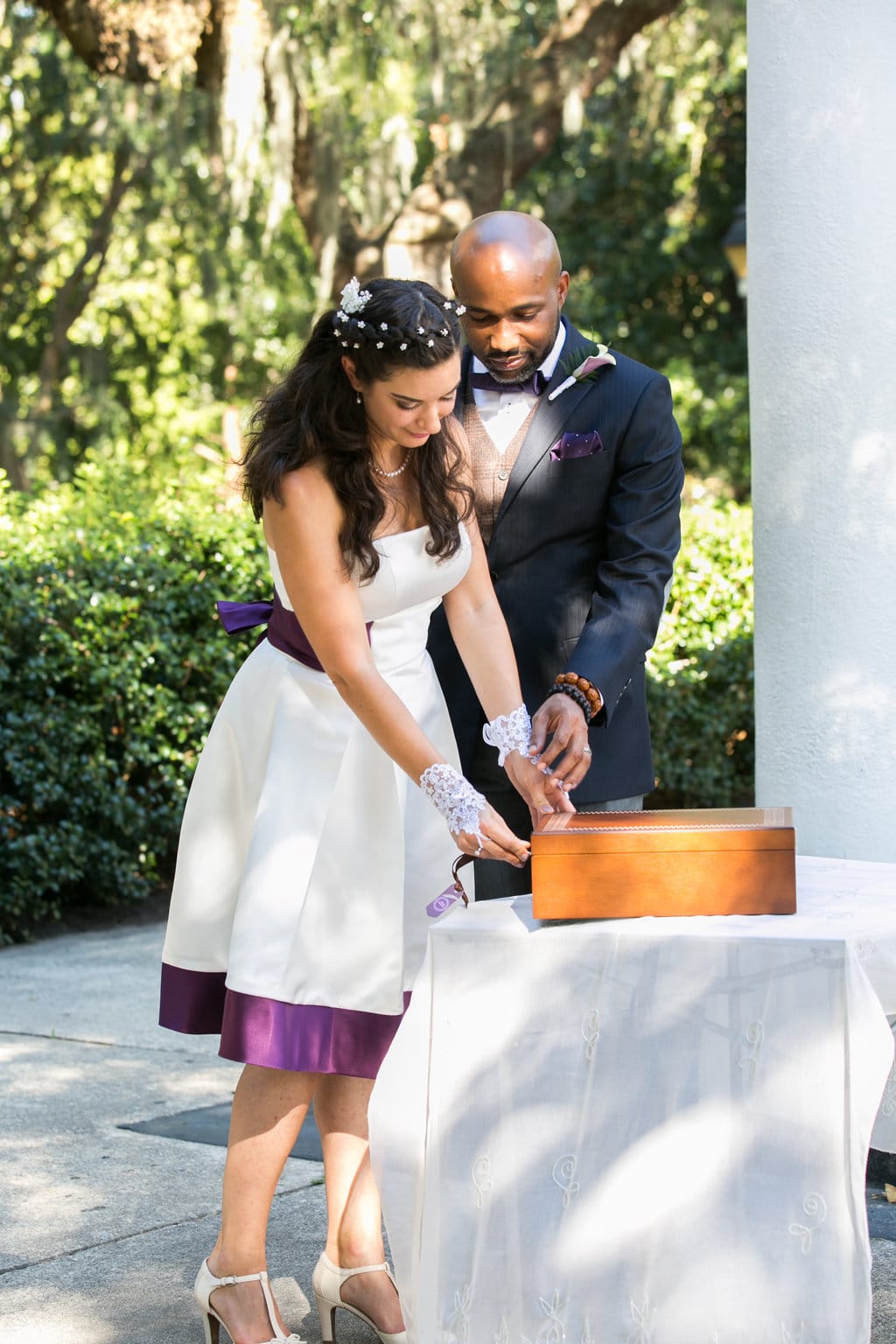 ---
Unity Canvas Painting Ritual
The Unity Canvas Painting Ritual is a fun ritual you can include when you are blending a family. Together, everyone contributes their unique creativity via paint and a canvas. The canvas can be blank, or you include an image, to start. Here is some of the text I read while Amanda, Robert, and their daughter Cimone painted on their heart.
"… this blank canvas symbolizes the start of your new journey together, the new family that you are now forming and are dedicated to build together.
Your canvas represents the passion, love and tenderness at the core of your family, and which will be the building block of your new life as one."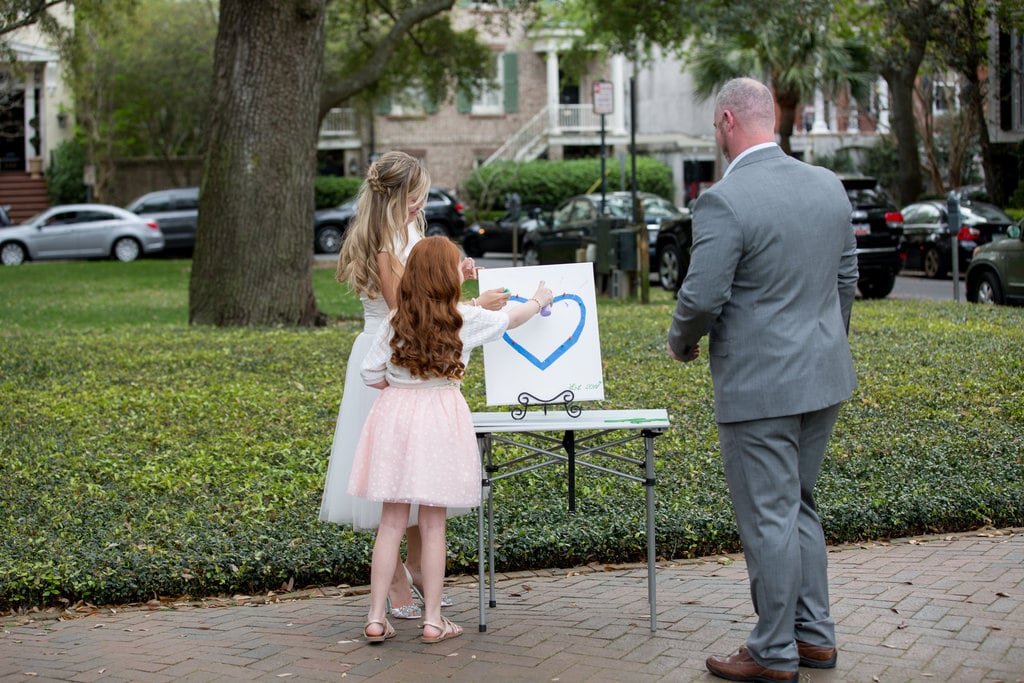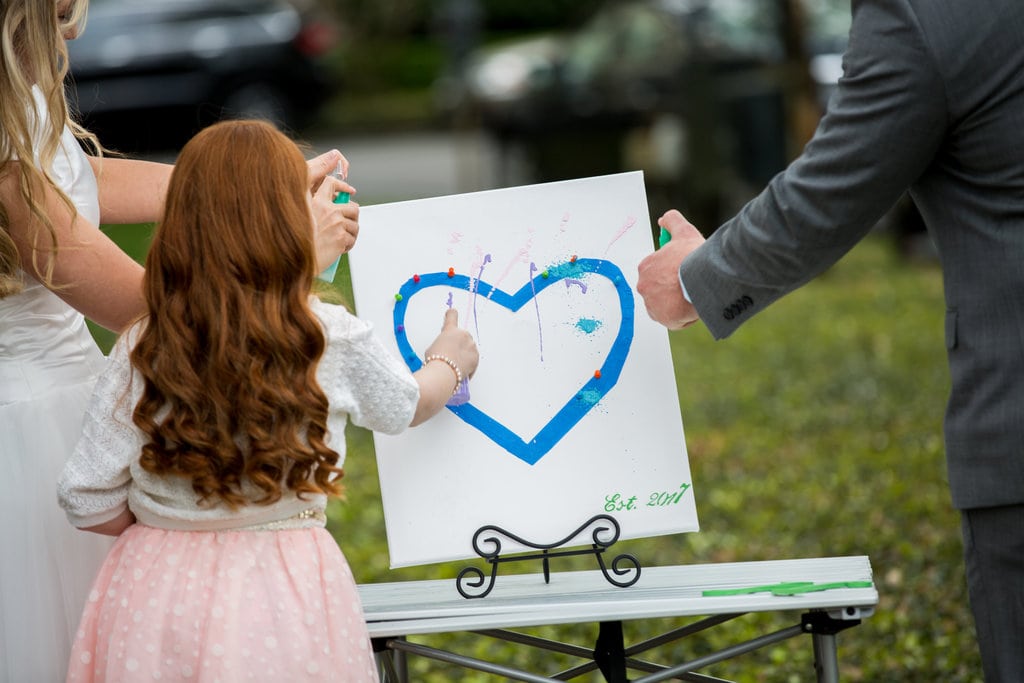 ---
Candle Lighting Ritual
I don't have many candle lightings requested, mostly because our ceremonies are outside. Many people also think they are only for church ceremonies, but a candle lighting can represent more. Here is what I read during this candle lighting with Renee & Vanadis at the Savannah Cozy Chapel.
"This candle you are about to light is a candle of marriage.

Its fire is magical because it represents the light of two people in love.

This candle before you is a candle of commitment because it takes two people working together to keep it aflame.

This candle is also a candle of Unity because both must come together, giving a spark of themselves, to create the new light.

As you light this candle today, may the brightness of the flame shine throughout your lives.
May it give you courage and reassurance in darkness; warmth and safety in the cold; and strength and joy in your bodies, minds, and spirits.

May your union be forever blessed."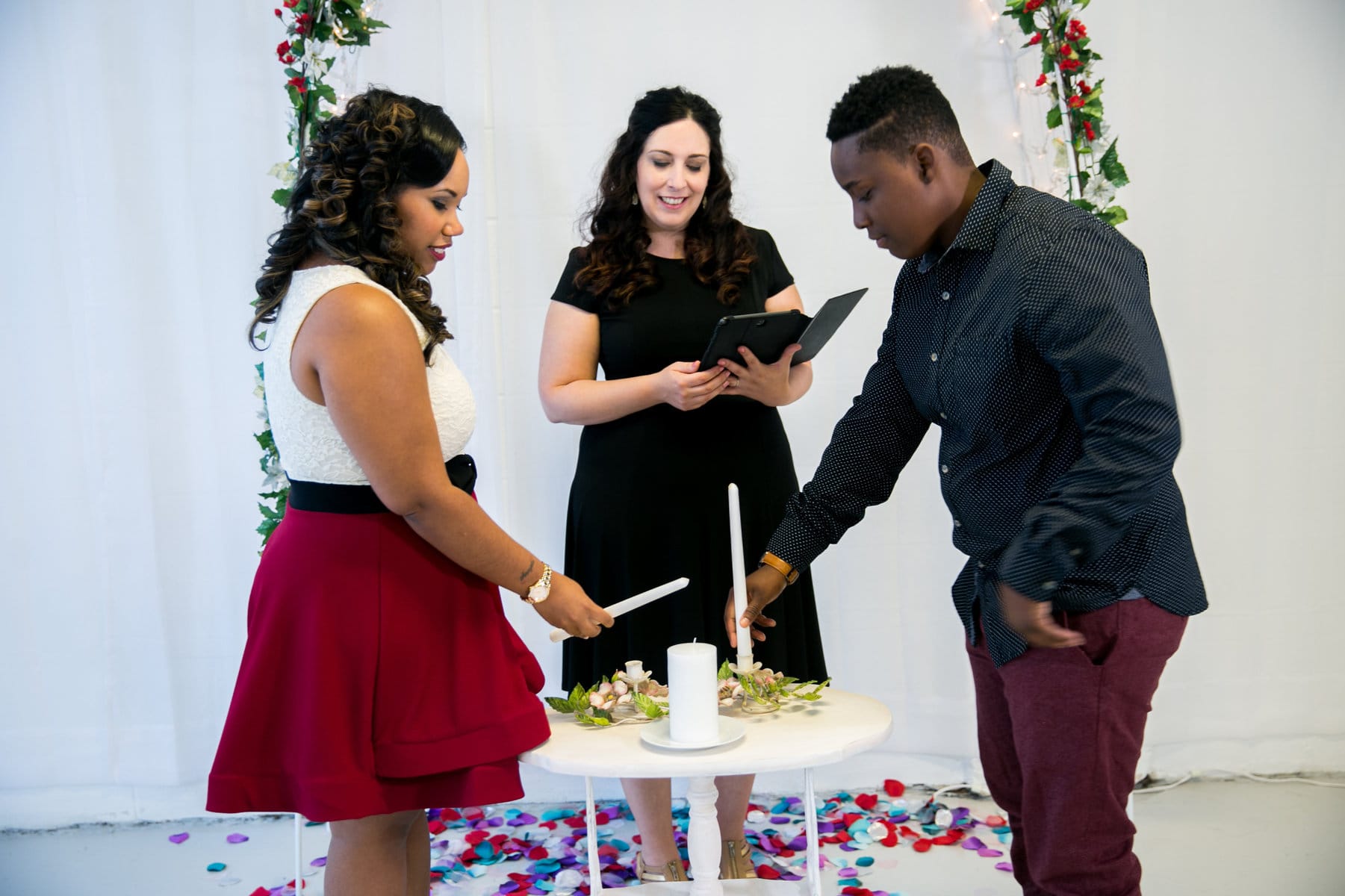 ---
Affirmation of the Community Ritual
The Affirmation of the Community comes from many denominations, as well as the Quaker tradition where individual guests give a dedicated wish to the newly married couple. With a large number of guests, that can overwhelm a ceremony. In a simple Affirmation of the Community ritual, I speak to the guests about the importance of their presence in the couple's lives and then ask them to give their communal blessing to the couple for their marriage.
People choose the Affirmation of the Community for a variety of reasons. It is a very positive and spiritual ritual and is appropriate for all situations. For Whitney and Kim, every person in the room on their wedding day had seen them through to that moment, when not everyone in their world was supportive of their love. It was extremely important to them to include everyone who had been with them on their journey.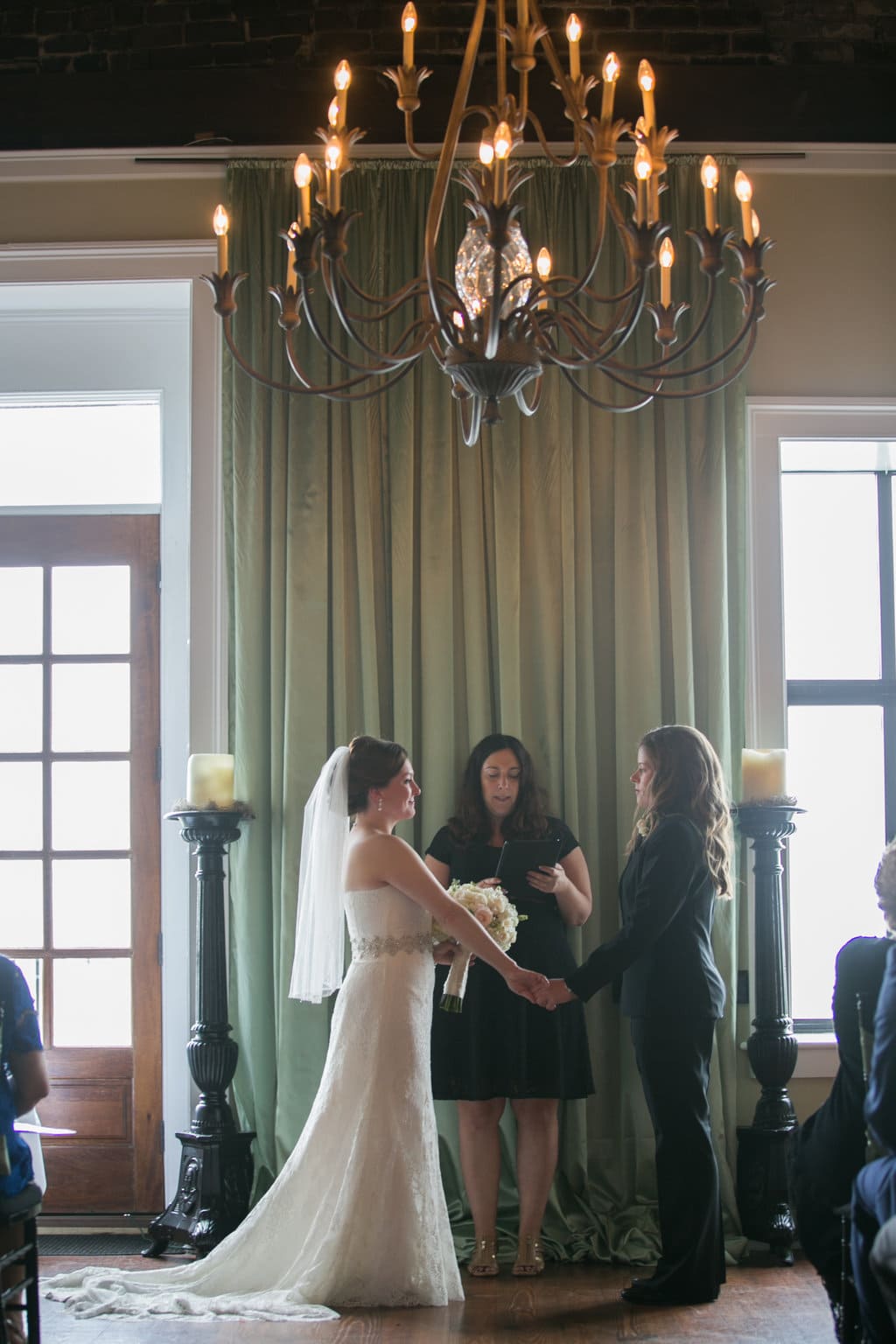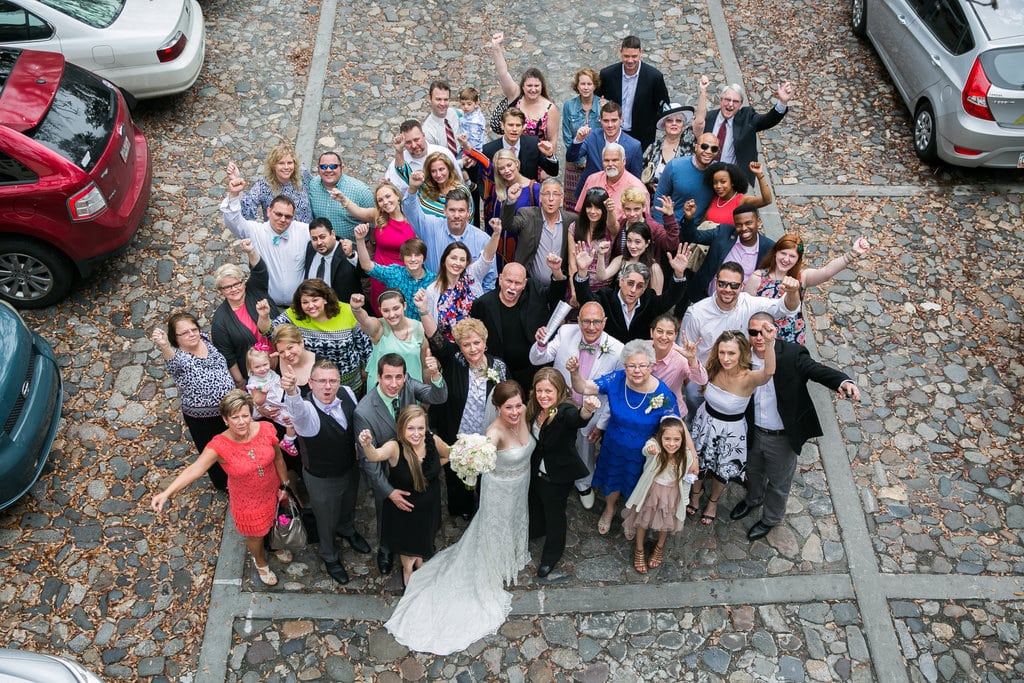 Willam and Danielle met when they were in high school and were surrounded by people who had seen them through multiple stages of life, including graduate school, law school, job changes, and relocations. They wanted a ritual that included EVERYONE who was part of their story.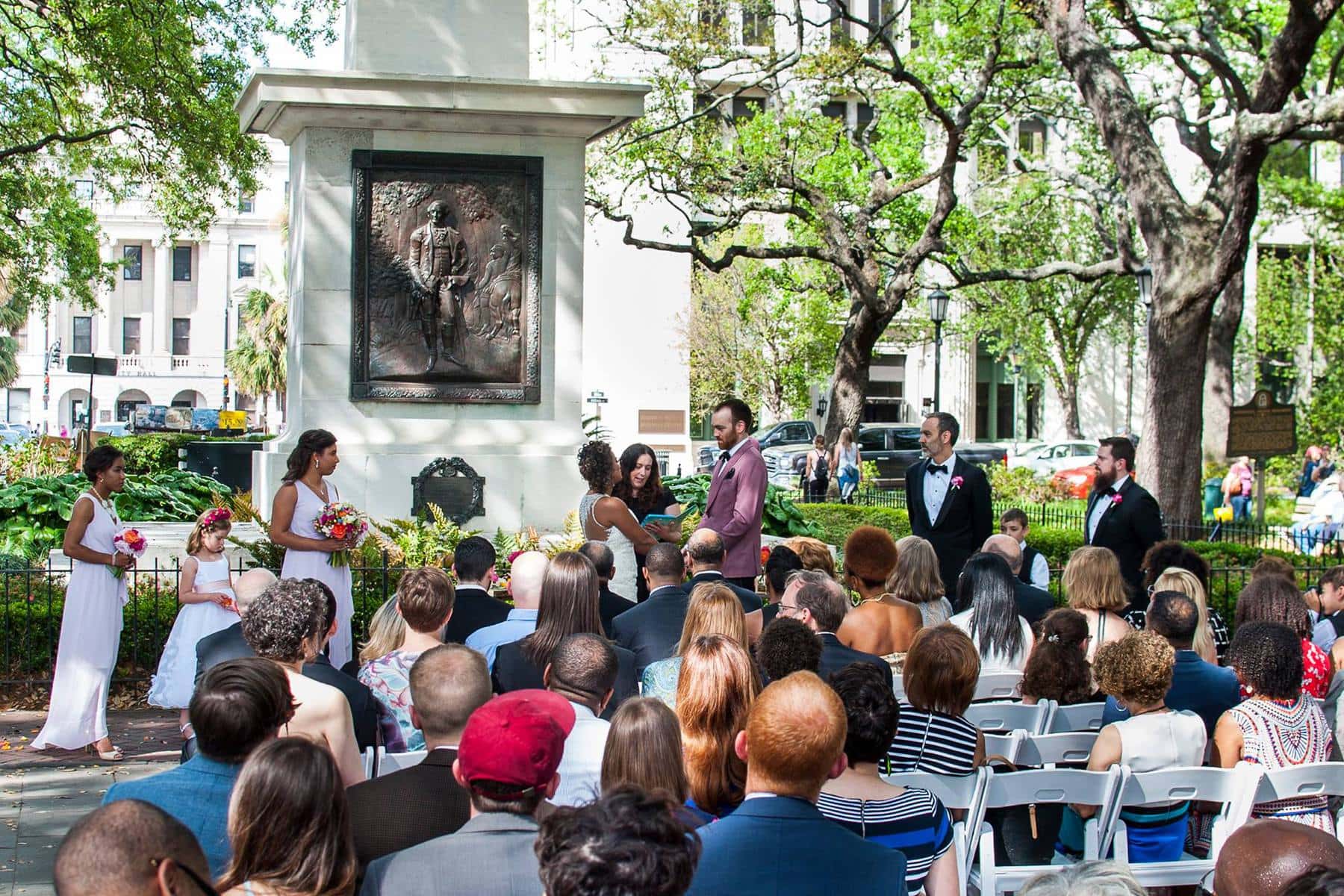 ---
Breaking of the Glass
The Breaking of the Glass is primarily a Jewish wedding ritual. Glass is fragile, like all human relationships, so it is a reminder to protect what is important. Breaking the glass is also an irrevocable act, which committing to marriage should be.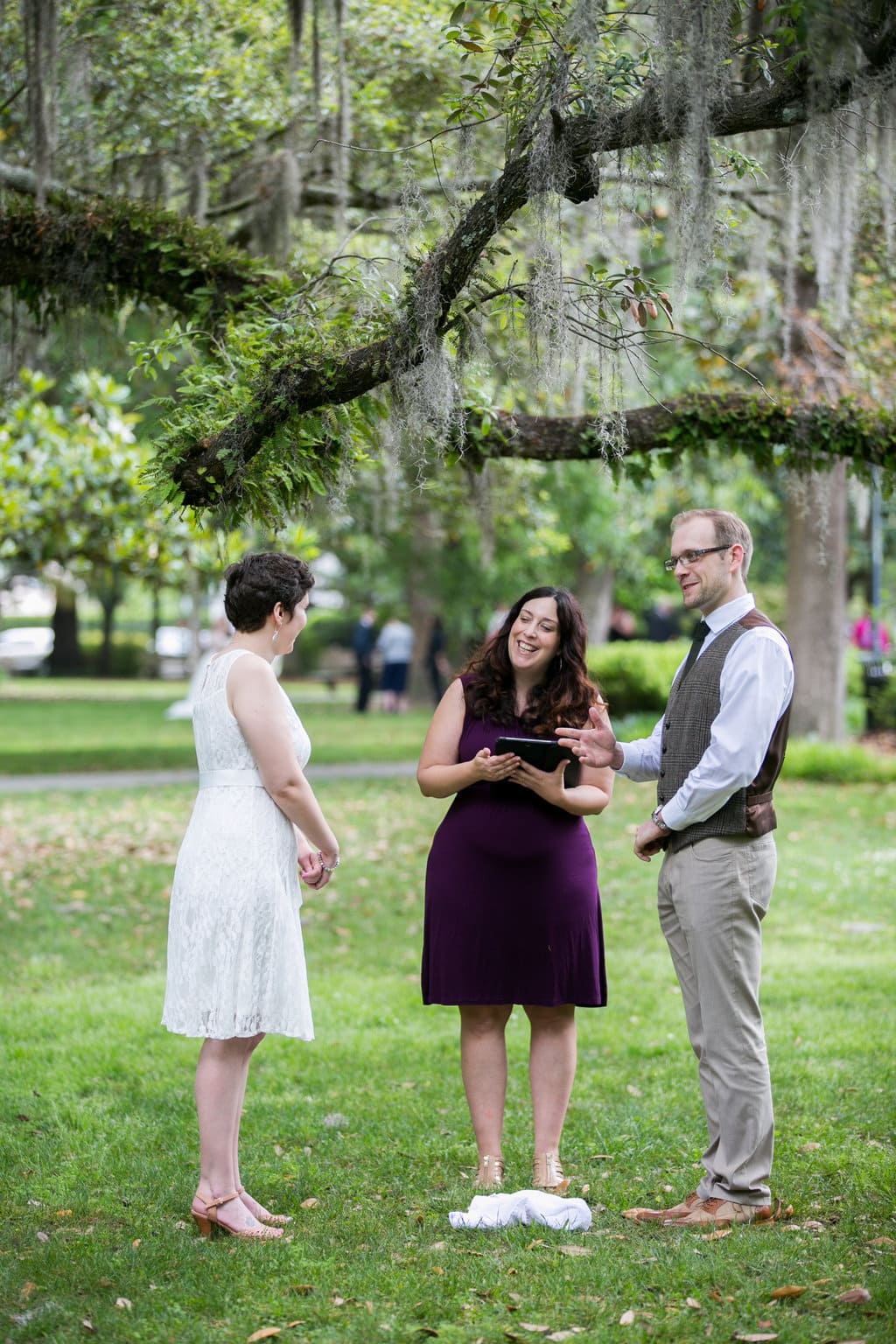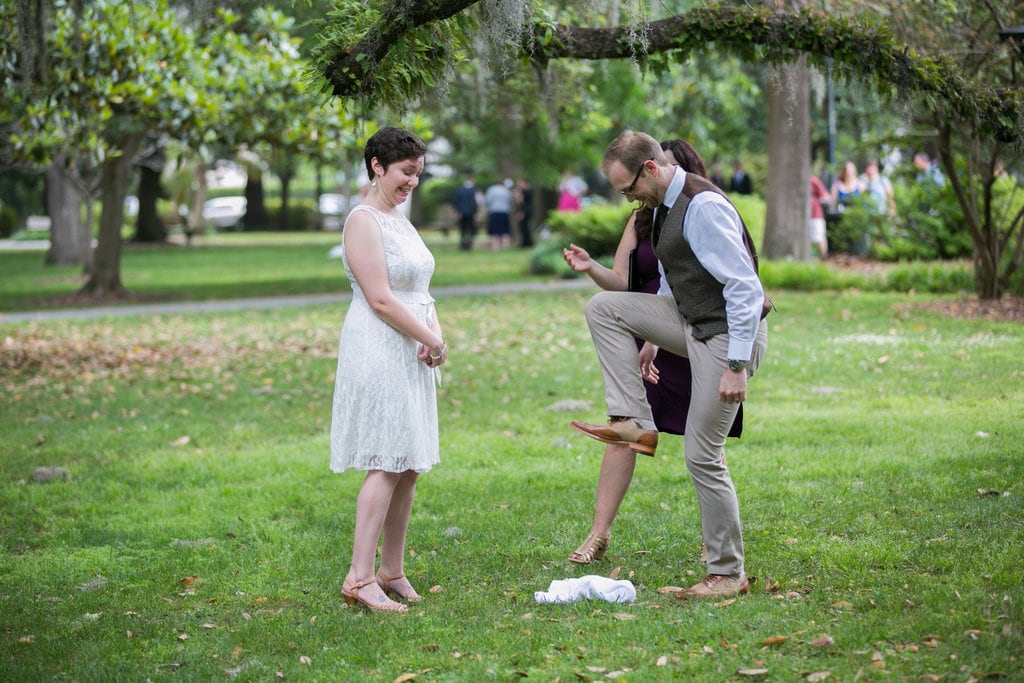 It is more traditional for the groom to break the glass, but many people use a more modern interpretation and break the glass as a couple as Alyssa and Gary did.
---
Jumping the Broom Ritual
The Jumping the Broom has roots that are long and storied. While there are European cultures that also perform it, it is primarily associated with the African-American community today. As Danielle Young summarizes,
"Jumping the broom was a part of African culture that survived during American slavery. Once Blacks could have weddings with rings that were recognizable by anyone as a symbol of marriage, the broom ceremony wasn't required. During this time, jumping the broom fell out of practice from the stigma it carried, and in some cases still carries, among African Americans who wanted nothing to do with anything associated with that era. However, because of Alex Haley's book "Roots," the jumping the broom tradition saw a resurgence."
Sometimes, the couple sweeps with the broom before jumping, to ward off negative energy before they jump into married life. Often, the broom is made and laid down by an important family member.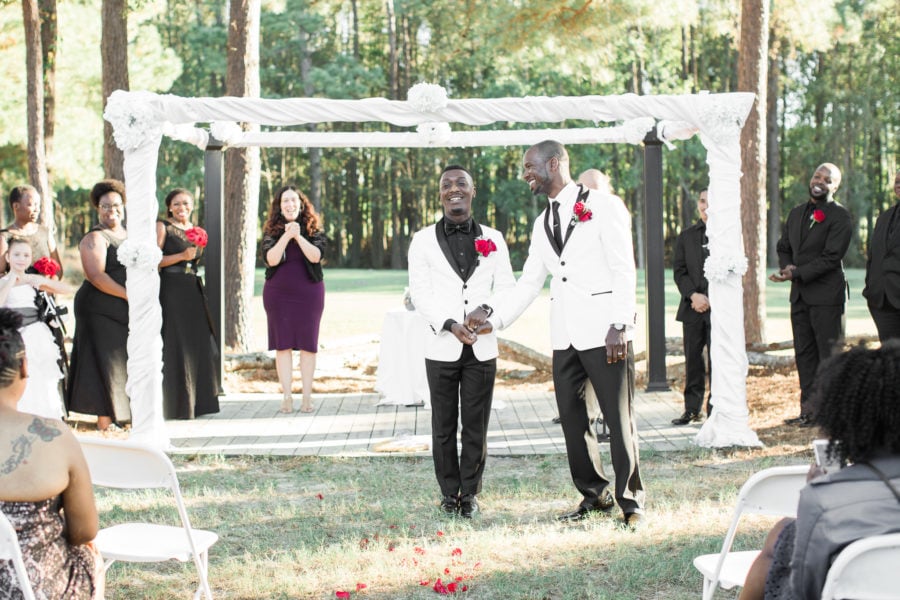 ---
Finally, there are a number of other rituals I have performed, but do not have pictures of, such as planting seeds together, unveilings, the cord of three strands, the red string of fate, and others. If I get pictures, or perform new rituals, I will update this blog post! And if you have a ritual from your culture that you would like to use or adapt, please let me know.
A final note: Rituals are included in my custom ceremony packages. They are not included as part of the Tracy's Choice or Popup Elopement Package without an upgrade. You can view all my ceremony packages here.
Thanks for reading!