It's not a common question you expect to hear from a wedding officiant, but I'll go ahead and pose it: should you get legally married before your wedding?
For many couples, the answer is yes.
In November 2014, I introduced a new officiating package called the Simple Signing Service where I perform the absolute minimum requirements mandated by the state of Georgia to sign a marriage license and declare a couple legally married. I've performed dozens of these services (sometimes three in one day!), almost all at Savannah Coffee Roasters, a local coffee shop close to the Chatham County Courthouse.
The truth is that I added my Simple Signing Service to my offerings quite reluctantly.
When I launched this website, I immediately received requests from people who just wanted their marriage license signed with no formalities. One of my responsibilities as an officiant is to spiritually, emotionally and ethically facilitate a couple's journey into marriage. I like to remind people that you don't need a formal wedding to have an incredible marriage… but on the flip-side, having NO ceremony… well, I wasn't sure how comfortable I felt about that, either! Legal marriage is a big deal, wedding or not, and I did not feel quite at peace about working with couples who did not feel that a ritual was necessary.
I politely declined these requests as that was not my vision of "officiating,"… but it became harder to continue to say "No, I don't do that" to people who had a need and wanted me to help them with it.
I decided the only way to explore my feelings and doubts was to offer the Simple Signing Service as an experiment. I discovered that I LOVED it, and that every service made me a better officiant for the next couple who hired me whether they were booking something simple or complex.
Who Decides to Use a Signing Service?
Many friends ask me about the types of couples who hire me to do a Simple Signing Service. Everyone assumes quick marriages are triggered by birth control failures, but that has only happened once (and they were happy about it, if surprised!). I've simply met wonderful, diverse people. Some have engaged in a Signing Service because that is all they can literally afford. I've felt privileged to offer a meaningful experience that fits their budget. I've also performed an emergency signing service to include a sick family member before they passed. As hard as that situation was, I was grateful to be a part of the sanctity of it, formal rituals or not.
The majority of couples choose the Simple Signing Service because an unexpected life change has occurred and the legal benefits of marriage are necessary right now. More than half of couples in this situation intend to have a formal wedding at a later date or even already have one planned. The more I work with couples like these, the more I believe that legally executing a marriage certificate before a formal wedding is a great idea for almost everyone.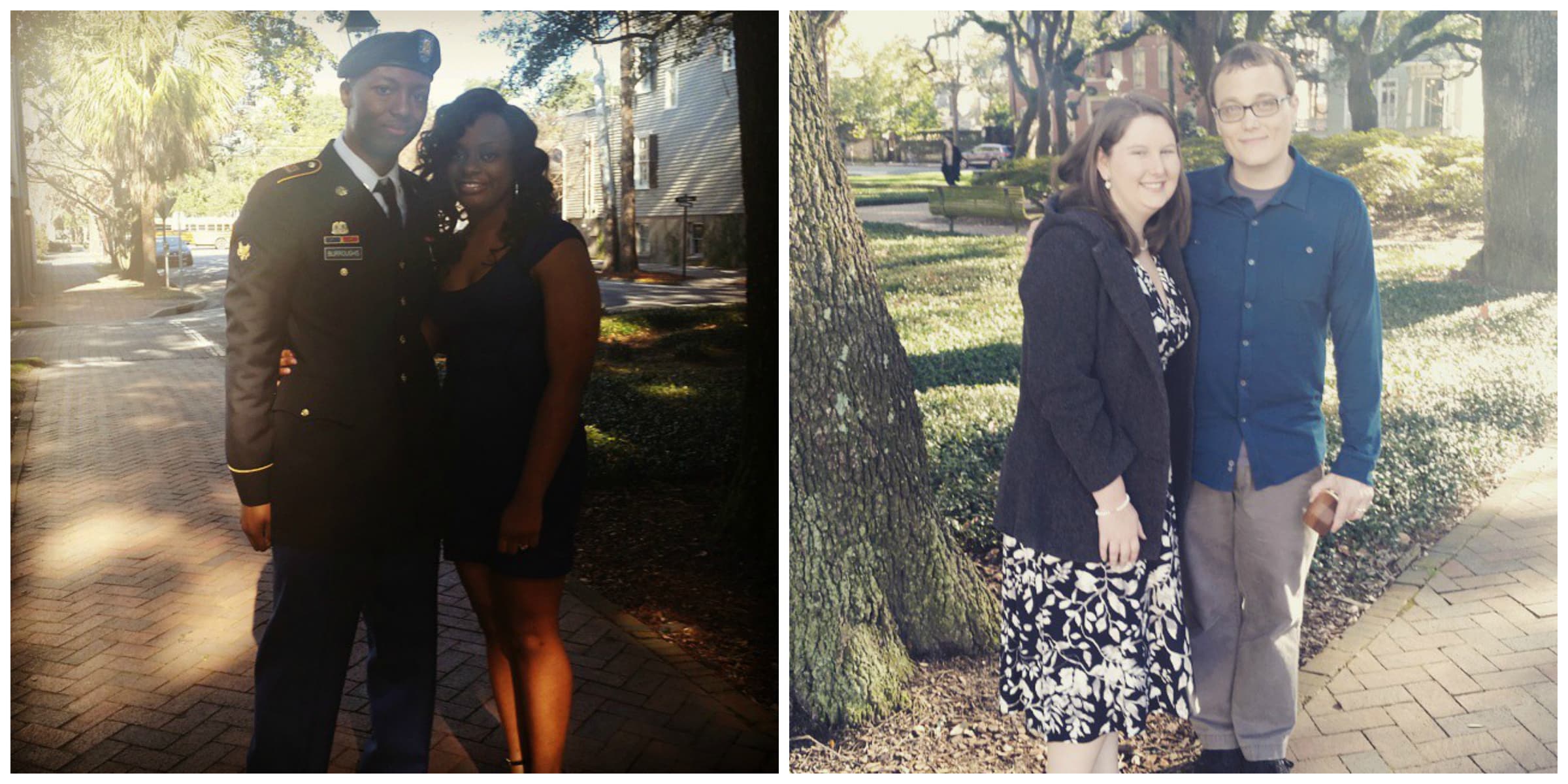 Ironically, taking advantage of marriage's financial incentives can help you save for the fantastic wedding you desire. Here are some examples from my own life on the financial benefits of marriage.
Car insurance. After we got married, my husband and I immediately received a significant reduction in car insurance. Our provider deemed us "less risky" now that we were married and not just living together. The annual reduction in our premium was just about the cost of my wedding dress.
Health insurance: If you are self-employed, you are likely paying high premiums for health insurance, even if you take advantage of the health exchanges provided by the Affordable Care Act (Obamacare). When my husband and I married, I was able to join his plan as a family member. The annual savings we experienced were more than twice the cost of the catering our wedding reception for 50 people.
Taxes: We also expect to save money when we file our taxes jointly this year. Tax benefits- and penalties- can amount to thousands of dollars when couples change their marital status so be sure to do your research.
I was only engaged for a short period of time before my wedding, but often think about all the money I could have saved in just that time if we had signed our marriage certificate earlier.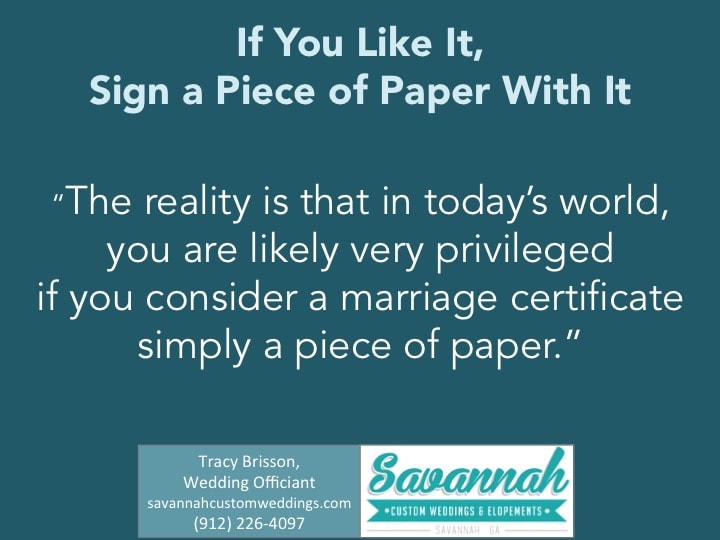 My husband and I watch the television show Blackish and an episode focused on the parents' upcoming wedding vow renewal ceremony. As they were planning the ceremony, the legality of their marriage came into question based on who performed it (lesson: always hire an ordained officiant!). To Rainbow, the wife, it was no big deal if their initial marriage was invalid: "It's just a piece of paper." Her husband Andre's response nailed it: "It's just a piece of paper if you have it, but it's a big deal if you don't. Like money!" The reality is that in today's world. you are likely very privileged if you consider a marriage certificate simply a piece of paper.
Food for thought: Understanding the commitment needed to have a successful marriage is essential, no matter where you are in life. You need love, an open heart, a clear mind and the ability to recognize the solemnity and importance of your life change. I learned you might not need the traditional wedding rituals to facilitate your journey to a happy marriage in every situation.