Hey y'all!
Though we've been open in our new space since June, I still don't have professional photos of the Savannah Cozy Chapel, my modern location for non-denominational and secular elopements and small weddings. I am finally going to do that this month and I am holding a model call to find 1-3 couples who would be willing to be photographed as part of a photoshoot. You'll get free photos in return. See details below the picture.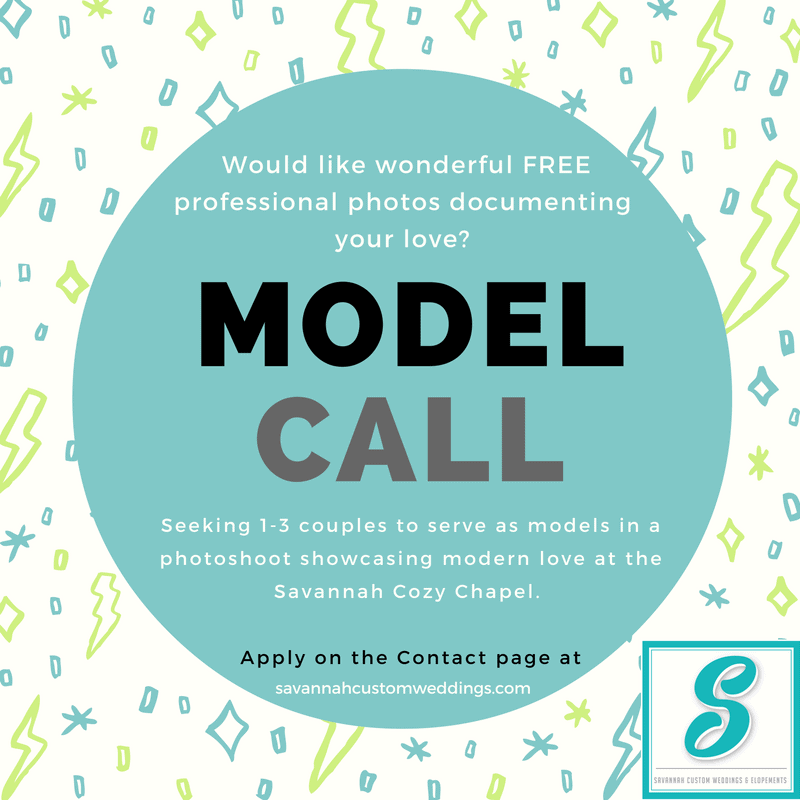 When and where is this photo shoot?
It will take place one afternoon for 2 hours between 1PM and 5PM on November 21st, 22nd or 23rd at the Savannah Cozy Chapel at 2421 Waters Avenue between Maupas Avenue and 41st Streets. We'll choose the date best depending on the couples' availability.
Why participate in this photo shoot?
You will get a free digital gallery of yourselves that you can share and print as you'd like. The gallery will be several hundreds of dollars worth of professional photography work.
What are the requirements?
The couple(s) chosen must be able to take direction from the photographer and be comfortable showing affection to each other, smiling, and being serious when asked. The photographer will choose all poses and you'll be asked to pose in multiple locations within the chapel and its outside gardens and sometimes hold props. You'll also sign a model release that will allow us to use your pictures in online advertisements for the chapel.
Who should apply?
Are you a couple in love? If the answer is yes, the answer is you. The Chapel serves diverse couples and we are looking for models who reflect that. Couples of all sizes and ages should submit. If you have tattoos, alternative hair colors, bring it on. I am also interested in featuring at least one same-sex couple.
You do not need to be married to apply, but you must be in love and be comfortable showing that on camera. Past clients welcome and encouraged to apply.
What should I wear?
My goal is to portray how modern and fun the space is. For women, think classic white, flowy elopement dresses or colorful options. For men, suits or a business casual look would be best. Women are also free to wear something traditionally more masculine if that is your jam. Clothes must  fit you well.
Your outfits must be approved in advance by me and the photographer. We'll ask you to send you us a picture.
I will pay for a makeup and hair artist for women participating. You'll have that done at the Chapel prior to the shoot.
How can I apply?
Please submit a contact form on my website to tell me you are interested in being considered. Tell me a little about your love story and provide a link to an Instagram picture of yourselves. I'll follow-up with next steps.
Thanks!