Hey y'all!
I can't believe 2017 is behind us. It was a FANTASTIC year to elope or have a wedding in Savannah, GA! Here is part one of a year-in-review for weddings and elopements in Savannah, covering January through June of 2017. I've included highlights from the wedding ceremonies we officiated, as well as some professional and personal milestones. With so many couples, I can only include so many highlights and these are just a few that I remembered among many wonderful couples I worked with in 2017.
First here, is a quick review of ALL of 2017. In 2017 …
We married 351 couples across 54 locations.
We married 73 couples in Forsyth Park, compared to 55 in 2016.
Whitefield Square (19) and Orleans Square (18) came ahead of Tybee Island (13) for other favorite locations. Some of the increase in popularity for Whitefield Square was caused by a rainy summer. The next favorites were Lafayette Square (12) and Pulaski Square (8).
We performed 155 ceremonies in a downtown square or park in 2017 compared to 121 in 2016.
For traditional venues, including hotels and historic homes, our most popular location in 2017 was Red Gate Farms (5), followed by The Gingerbread House (3) and The Mackey House (3).
I'll include more summary statistics in part two, as well, but here are month by month reviews of January 2017 through June 2017!
---
January 2017 Review
January is generally a slow month for us in Savannah, but in 2017, we were hopping busy!
In early January, we married Amy & Dean from Asheville, NC. This is one of my favorite photos of the whole year. Because of tourist crowds, we don't always get to take many great pictures in Chippewa Square, the place where Forrest Gump was filmed.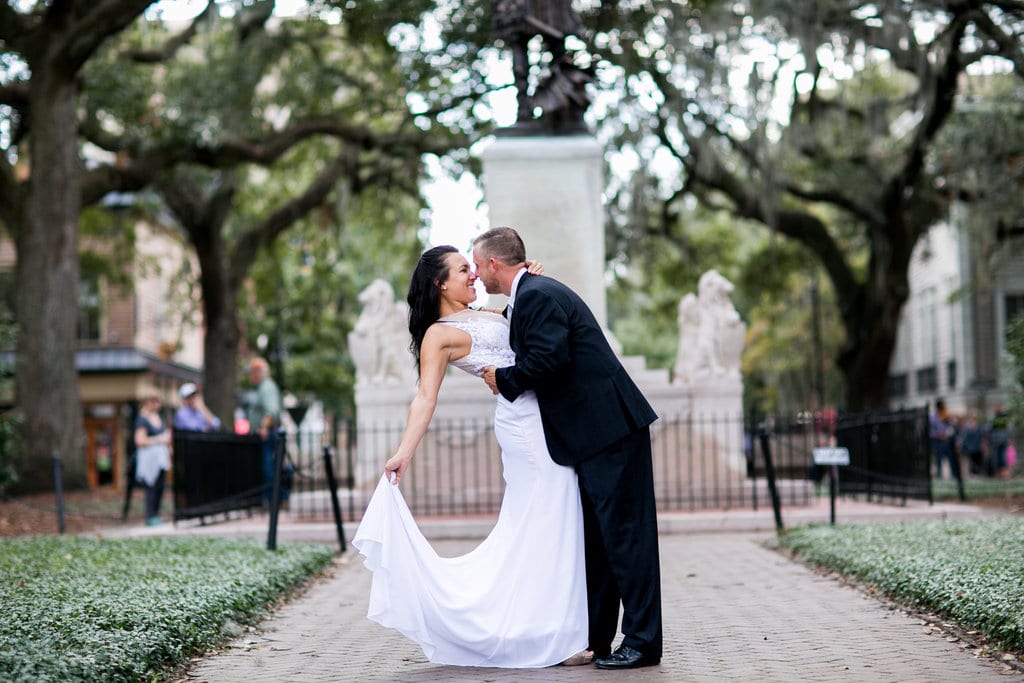 I married Candace & Kristianna at the Fountain at Forsyth Park on the coldest day of 2017 and I had to keep my jacket on! However, we all made sure our shoes were on point.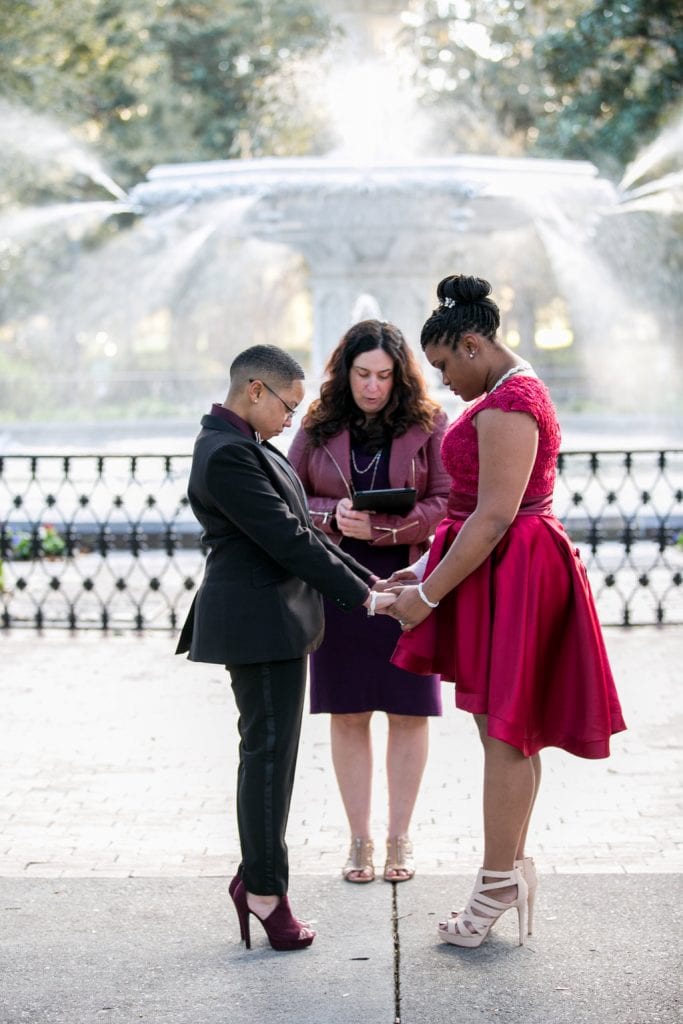 The Savannah Cozy Chapel was also hopping because of the weather! Here are two couples, Janet & James, and Nancy & Allen, who married after becoming widowed. Nancy & Allen met online on OurTime. I love second chance love stories like these!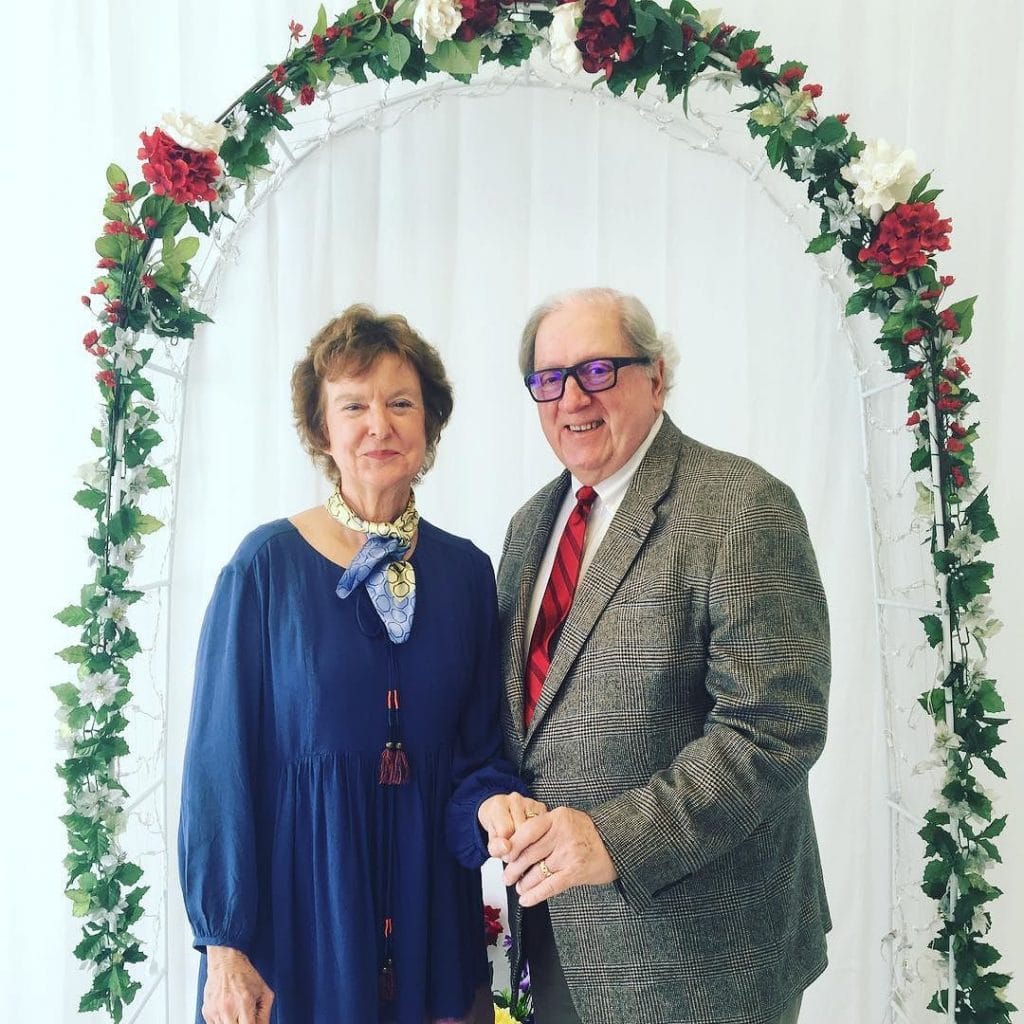 At the end of January, I also had the actor Jason Segel stroll through one of my elopements at Forsyth Park. This was the only celebrity I met this year, despite all the movies filmed here. In 2018, maybe someone else will come on through … or even hire me as their officiant!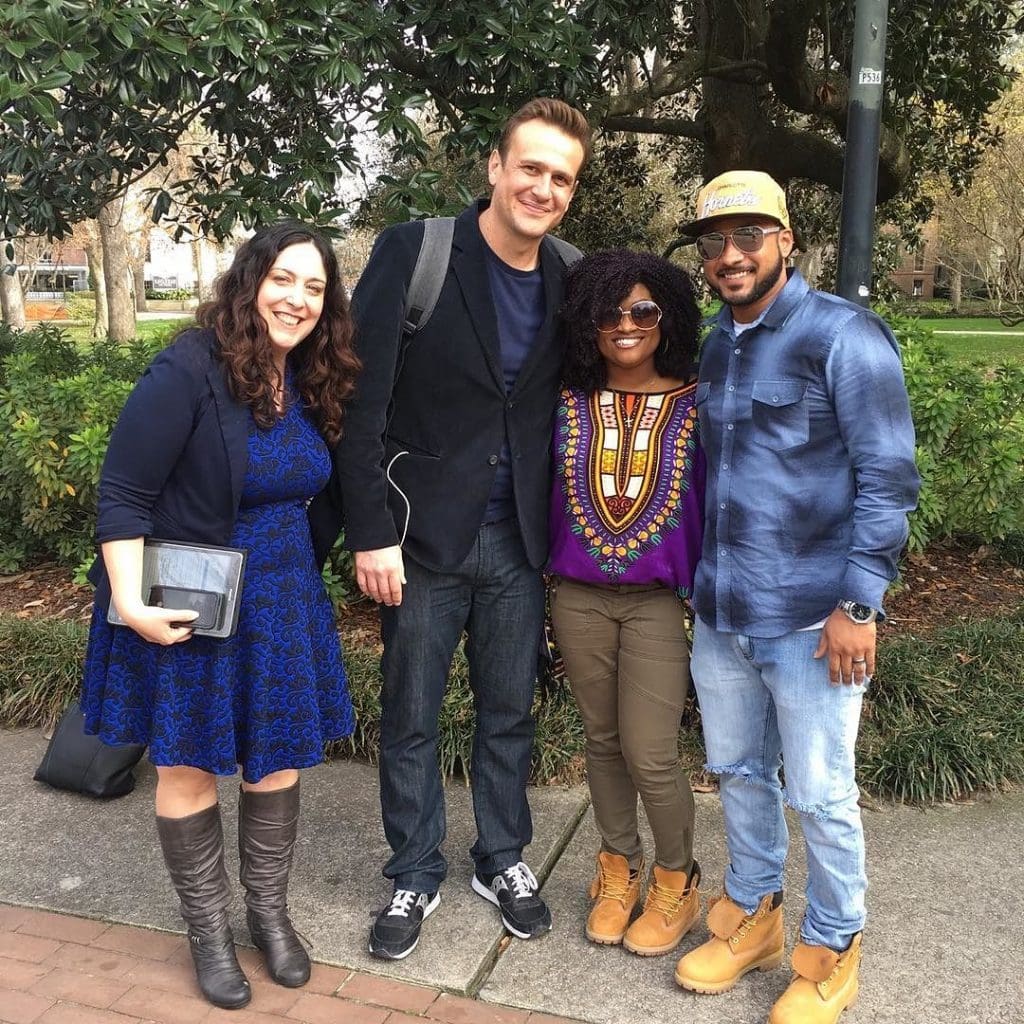 In January, I also won my second Couple's Choice Award from WeddingWire.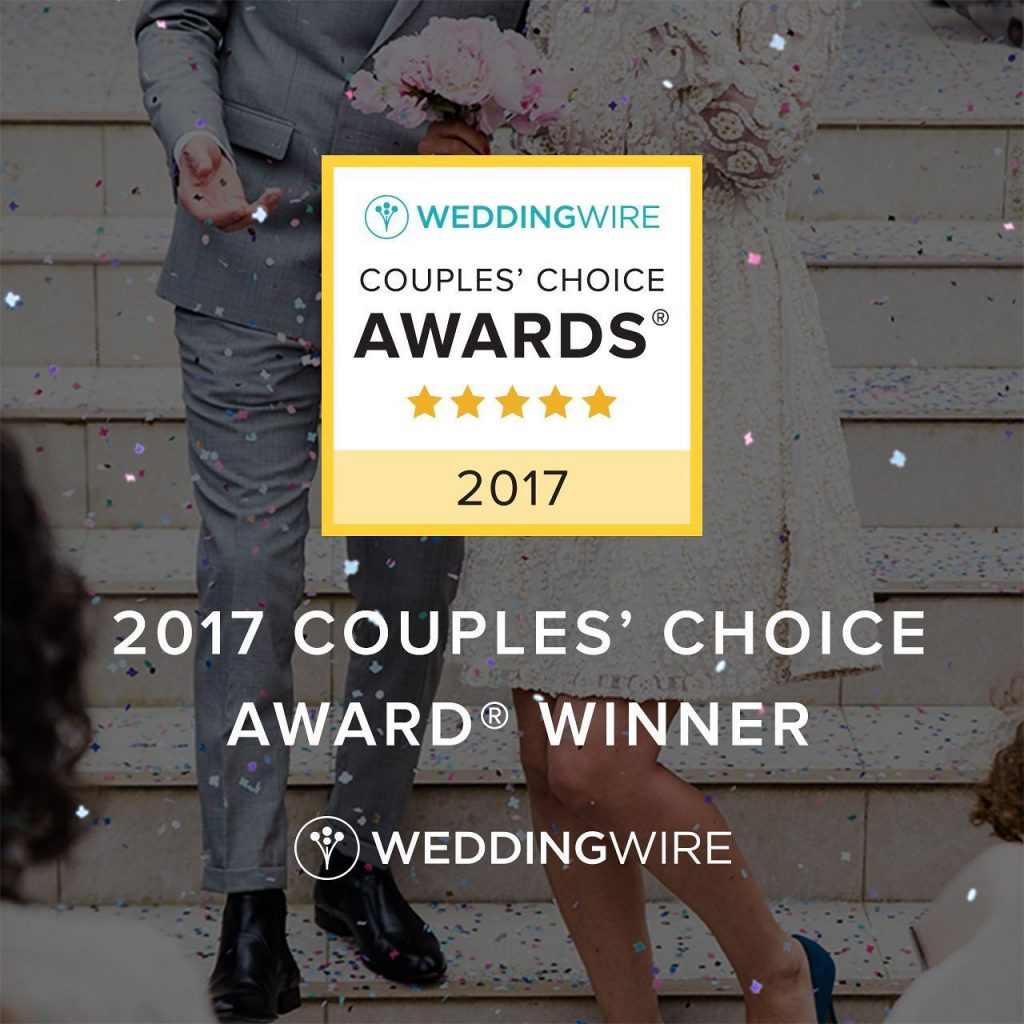 On a personal note ….
In January, I also helped organize the Women's March in Savannah and was the official permit holder. We marched from Wright Square to Forsyth Square and I marched with my husband, son, and friend Carmen while wearing my Captain Marvel jacket and Marvel Girls Fight! shirt. Making sure that women's perspectives are represented in this political environment, and being engaged in conversations that affect my son's future, are essential to my core beliefs and I was so happy to participate in this way.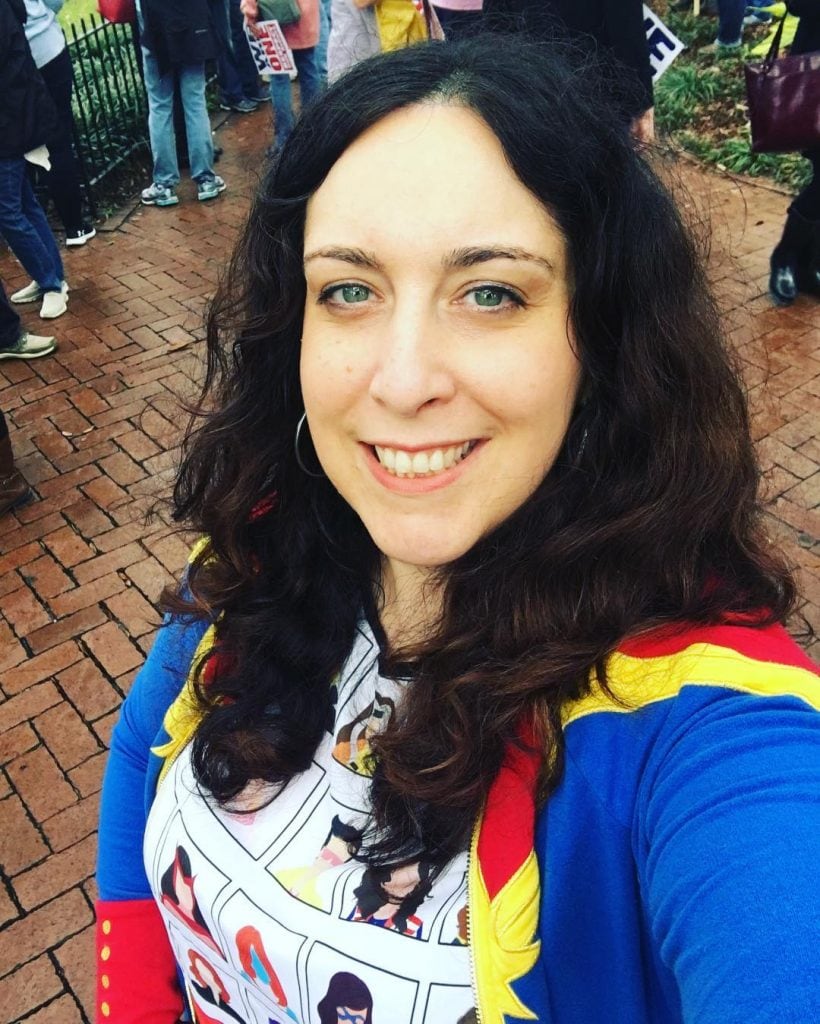 ---
February 2017 Review
I officiated my first wedding ceremony at The Whitman with Sarah & Chase. I highly recommend it for small, indoor, intimate weddings. Everyone there was so nice!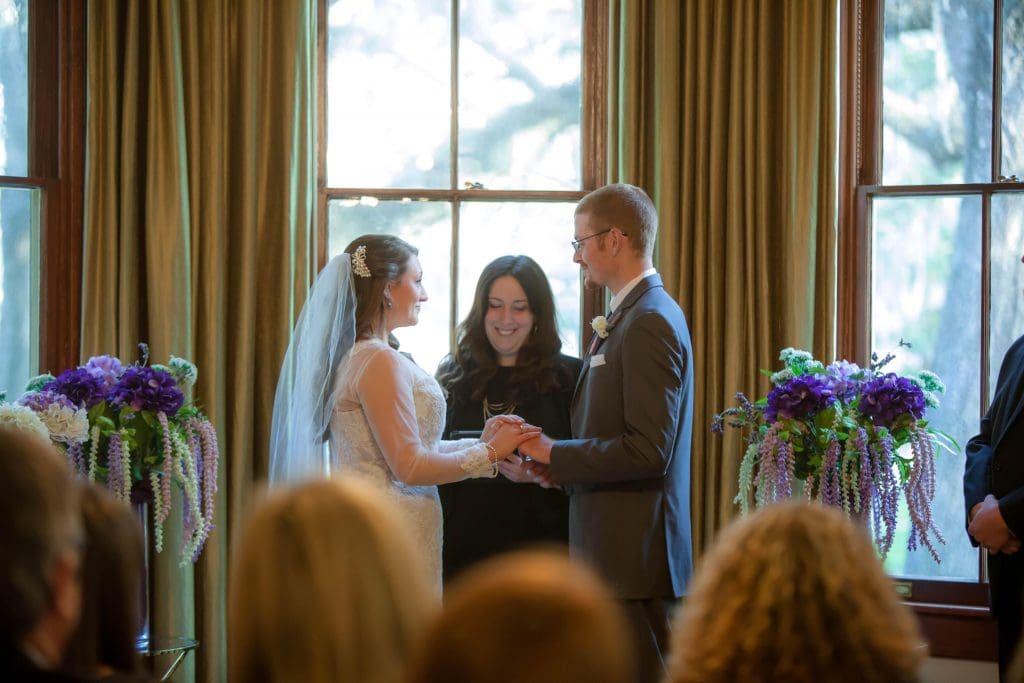 Late February has become one of my favorite times of year because we have had an early azalea season the last few years and I love the blooms. You can see those gorgeous flowers peeping out in this picture of Alison & Brian who visited us from Washington, DC.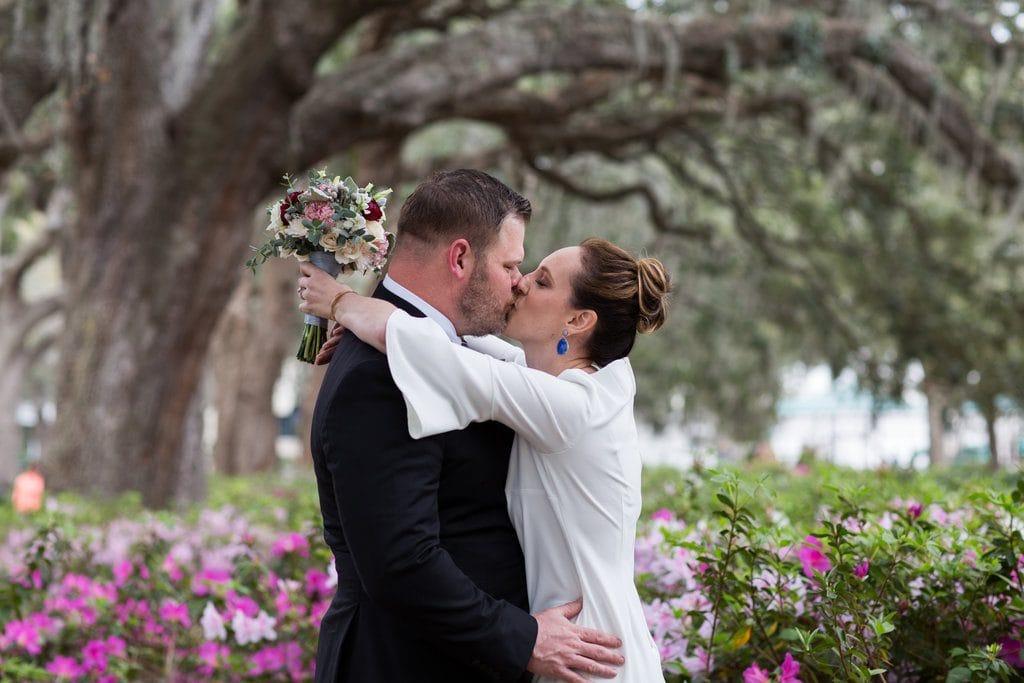 I also had the pleasure of working with Brandi & Matt on their late February wedding. Brandi rocked a pantsuit and together, they vowed to love each other, as well as "resist tyrants." Two feminists after my own heart!
Brandi's dad was diagnosed with cancer shortly before their wedding and unfortunately, she lost him not long after this. I am glad that she was able to share her day with him and that I was chosen to participate in it with them. It is a privilege I recognize and respect as an officiant.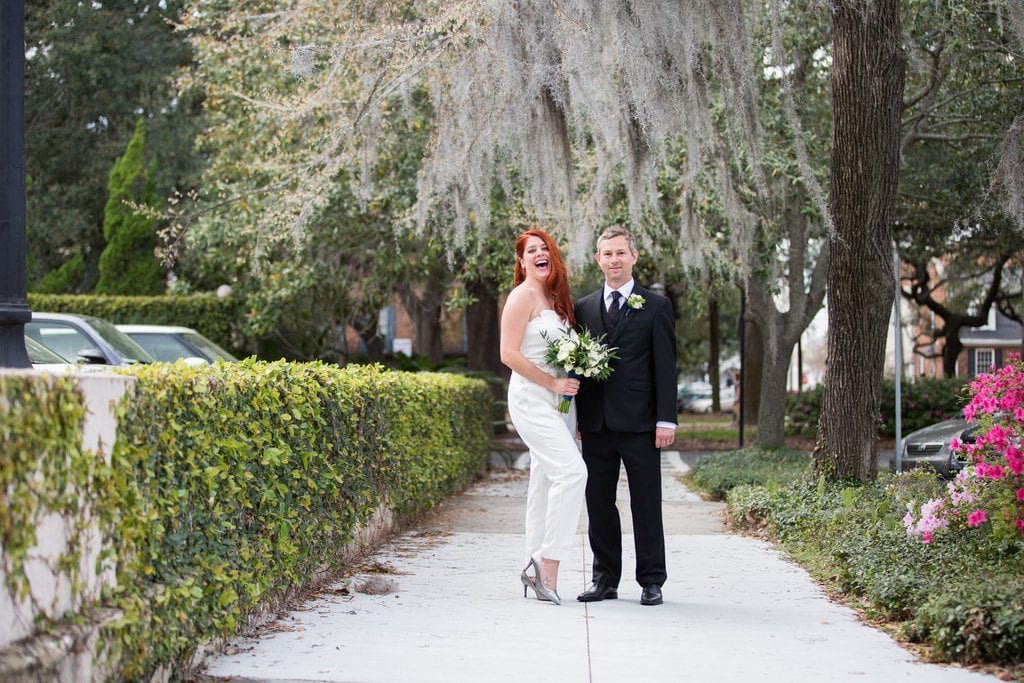 I also officiated the most fun, rainy day vow renewal with Adrian and Paula from Southern California. They choose a different city every year for their vow renewal and dressed the part for their Savannah southern ceremony. They caught me a little off-guard when they took a selfie during the ceremony, but it was so much fun!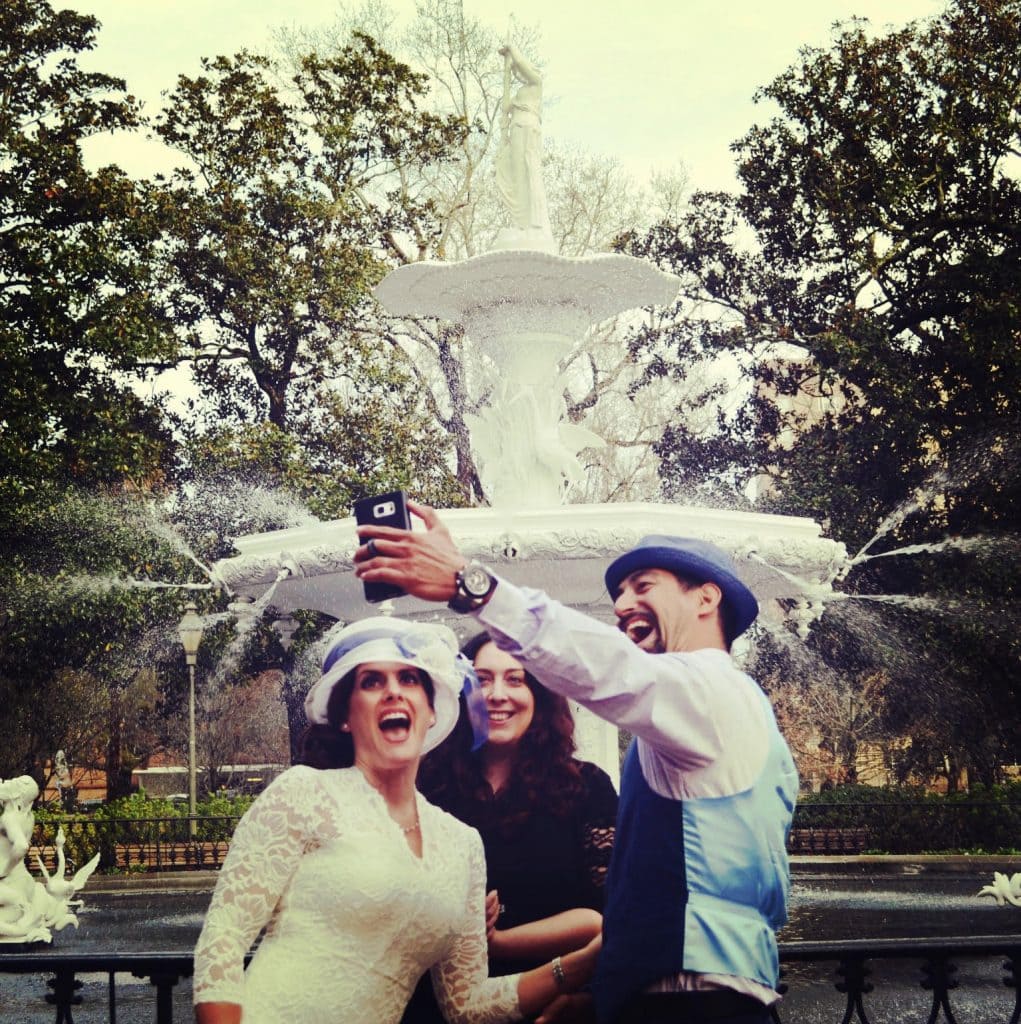 At the end of February, I hired Courtney Alacan as our marketing assistant to help manage all the photos I receive from ceremonies I perform, especially our signature Ceremony Plus Photos packages, and organize them so I can use them for blog posts, Instagram and Facebook posts, and other marketing and advertising. When she began, I had a backlog of over 10,000 photos to review. Yes, ten thousand!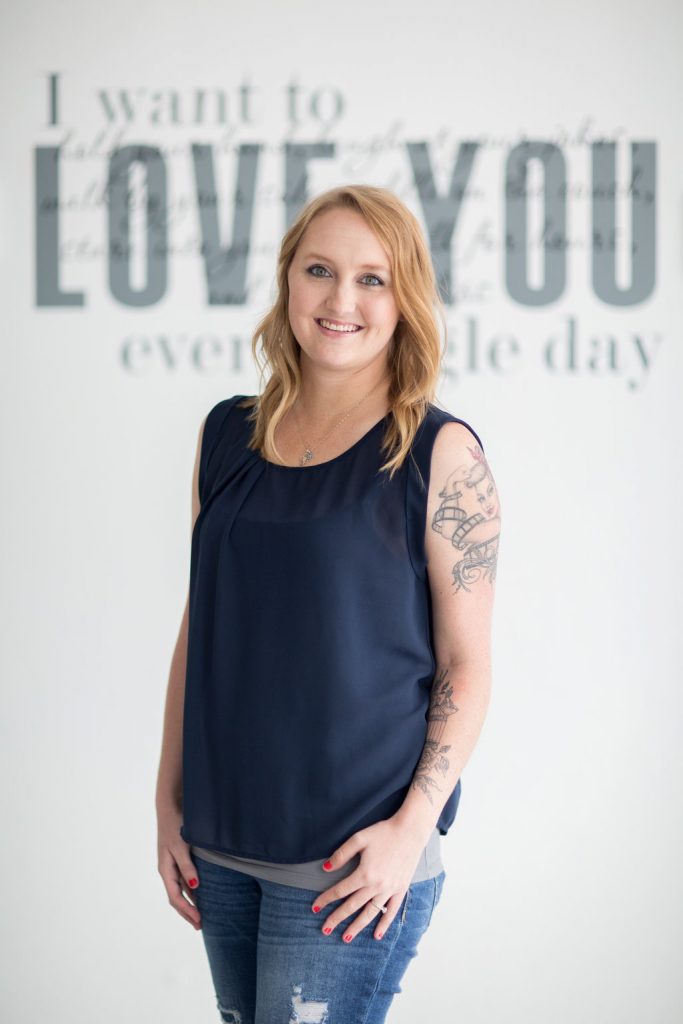 On a personal note…
In early February, I did a mommy and me shoot with Shannon Christopher who is an awesome photographer out on Tybee Island. I will treasure these photos forever. This was right before Alex began crawling. As other parents can tell you, everything changed after that!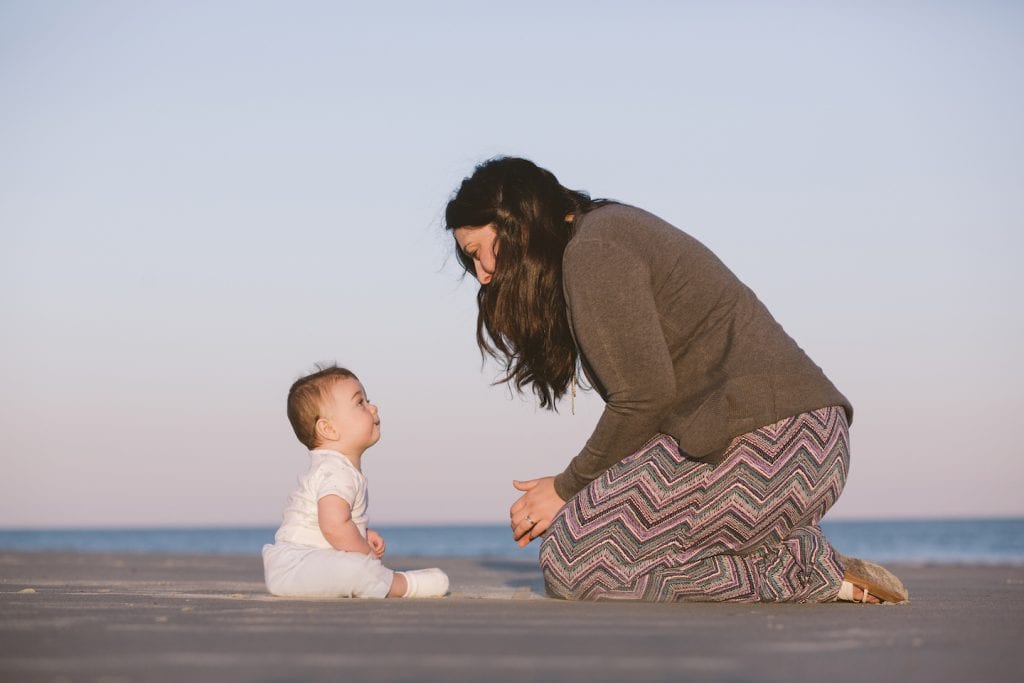 ---
March 2017 Review
March was a slower month for me, which was personally okay! One of our couples, Angela & Javier, booked us last minute and we had the perfect, private Forsyth Park Fountain elopement for them.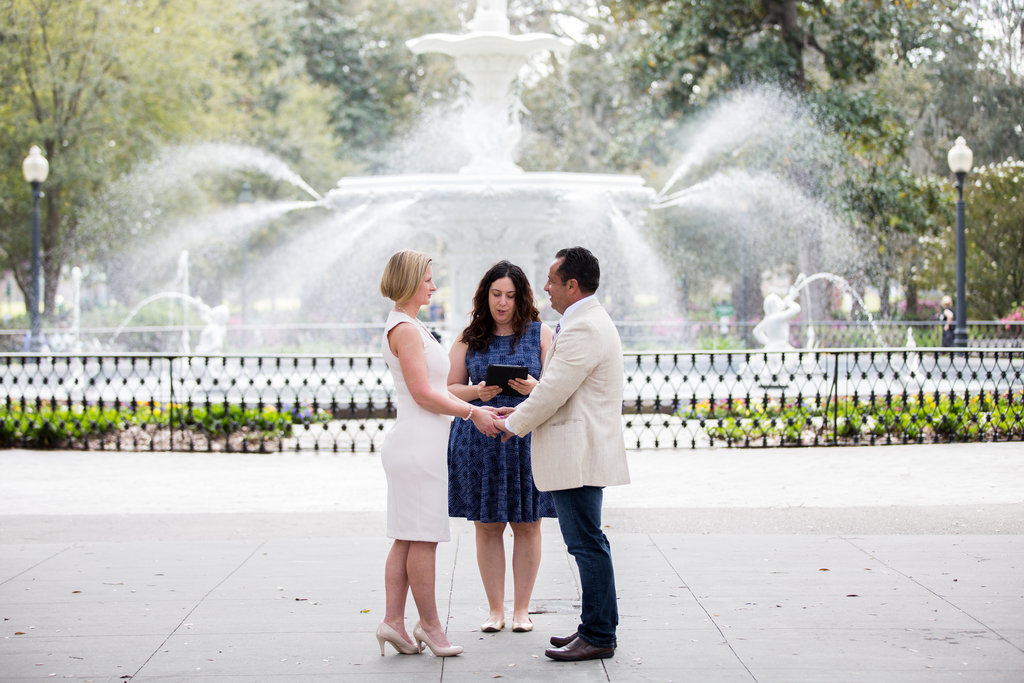 My two favorite weddings that month took place the weekend of St Patrick's Day weekend. Fallen & Jason were married on St. Patrick's Day in Daffin Park to avoid all the downtown craziness of the parade. They brought 10 of their friends in a limo and had a fantastic time. Two of their friends told me it was the best wedding they had ever attended!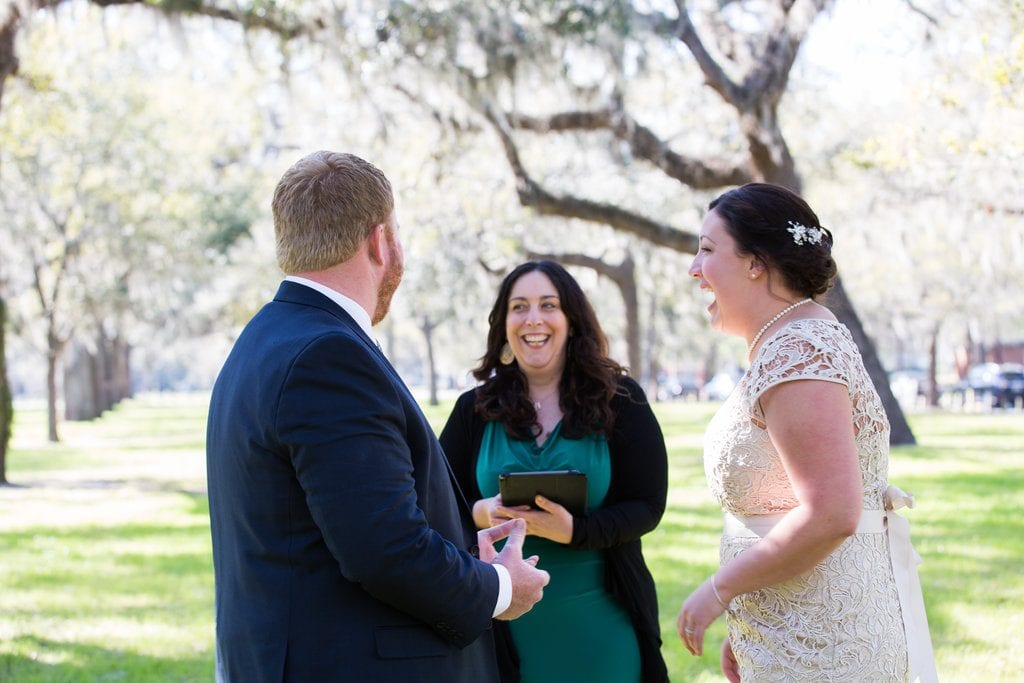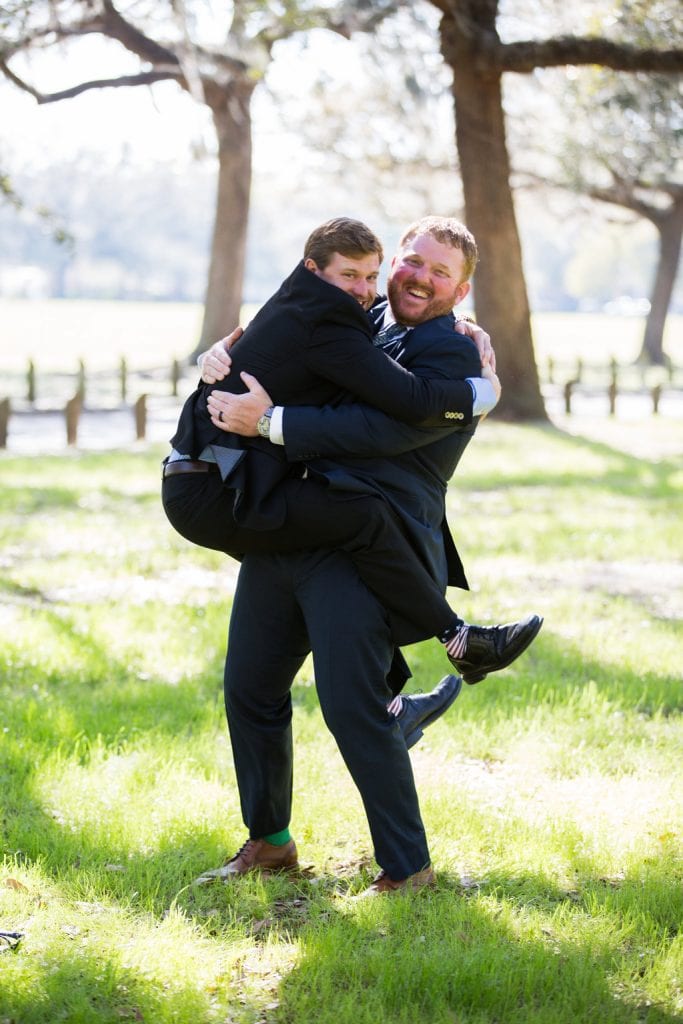 Amanda & Robert were married in Pulaski Square the day after St. Patrick's Day. They included a fun Canvas Unity Ritual for their family where they painted a canvas with Amanda's daughter as part of their ceremony and then took some fun pictures by themselves when the fountains were still green.
Since their wedding, Amanda has become my dog's groomer at WoofGang Bakery & Grooming. I can't recommend her enough! You can see how much she loves dogs from her Instagram.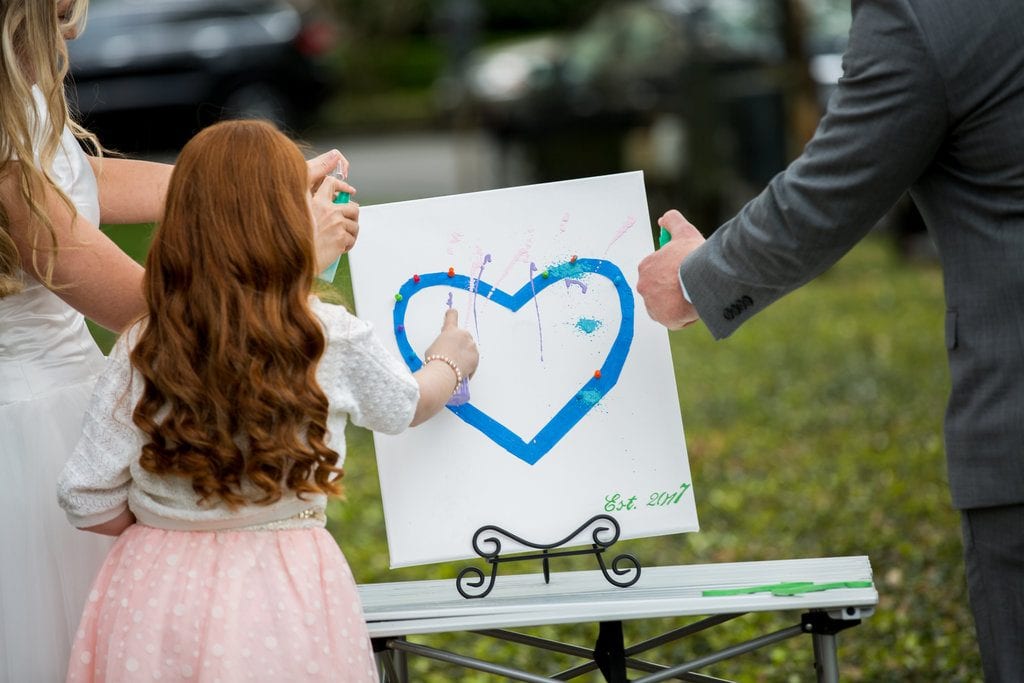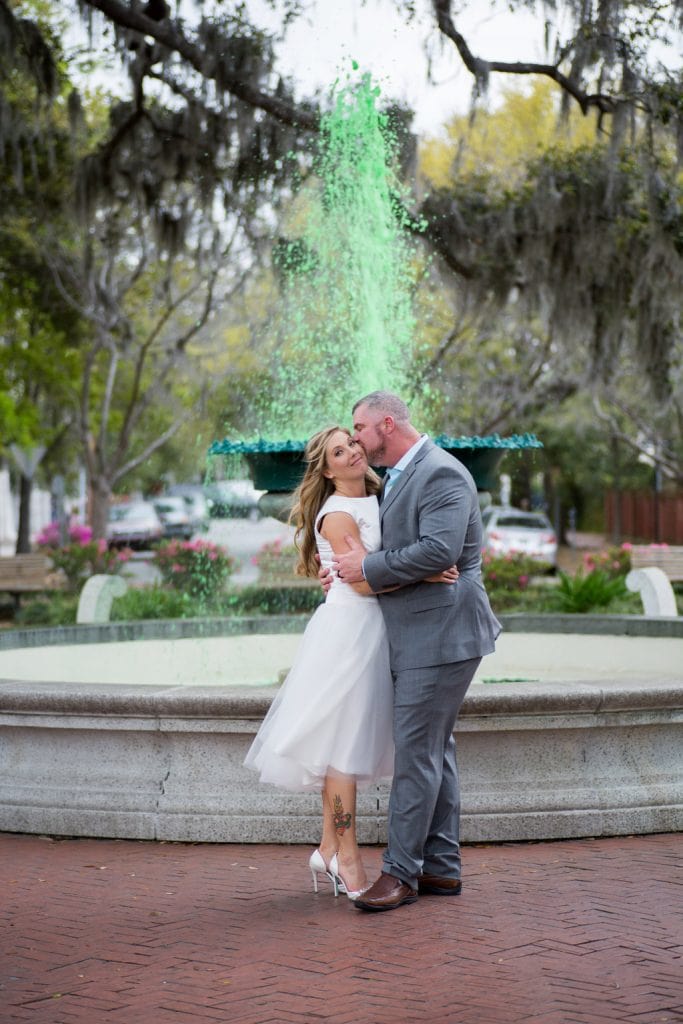 Alex and Shelby brought their fur family to their Simple Signing Service at the Savannah Cozy Chapel at the end of March. They live in Atlanta now, but decided to get married in Savannah, where they met. They were some happy puppies!
In March, we added Shannon Vaughn, our scheduling Manager and Client Concierge to our team. I cannot imagine how we worked without her! If you booked a package with us after March 2017, you know how awesome she is and probably say the same.
I celebrated my third wedding anniversary at the end of March and Alex had his eight month milestone session with Andrea Krey Photography at Forsyth Park. He looks grumpy in this picture, but if he ever decides to release an album, I think this should be the cover.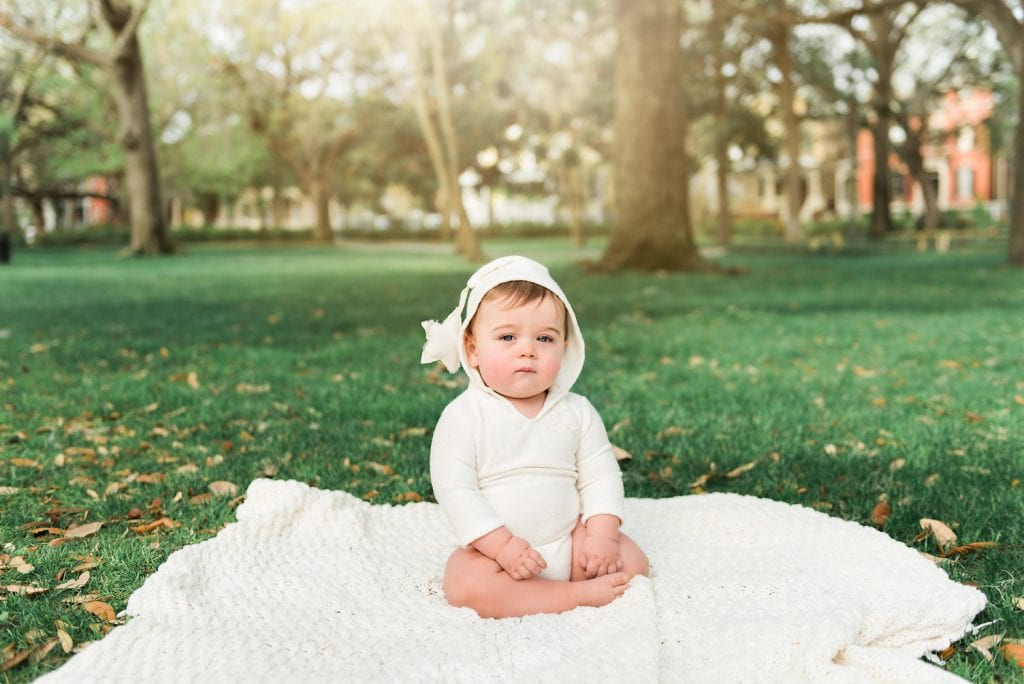 ---
April 2017 Review
April was one of the busiest months of the year and we married 43 couples! The first week of the year was particularly busy with elopements almost every day. We find April particularly busy every year as many educators from the North and Northeast decide to come down and elope during their spring break. As a former teacher, I think that is an excellent decision! Here are just some of the couples that eloped that first week (not everyone was a teacher).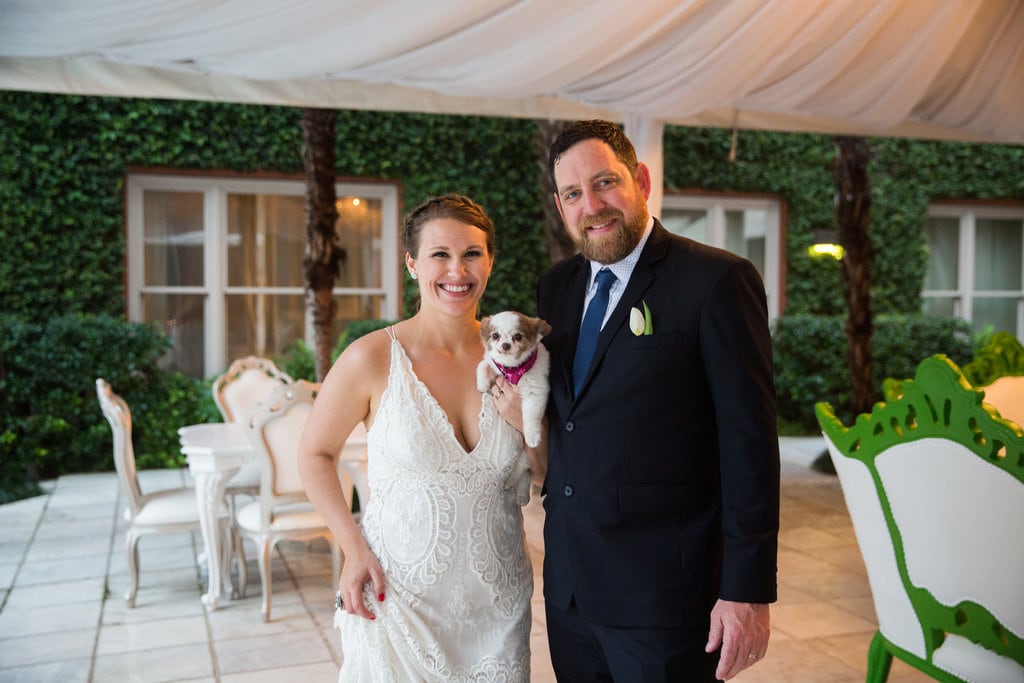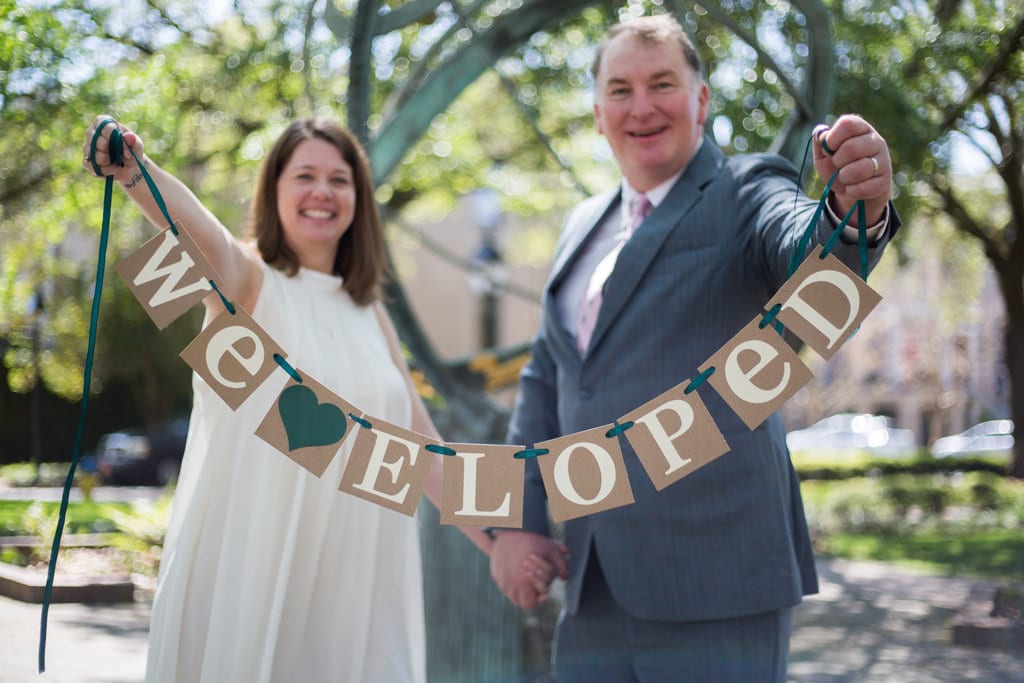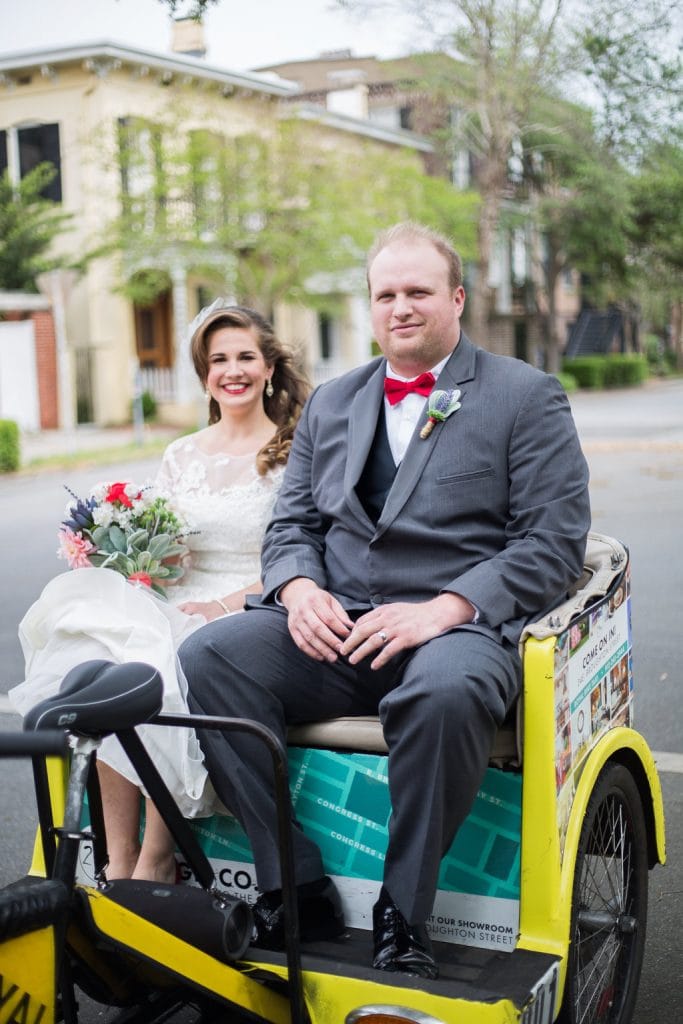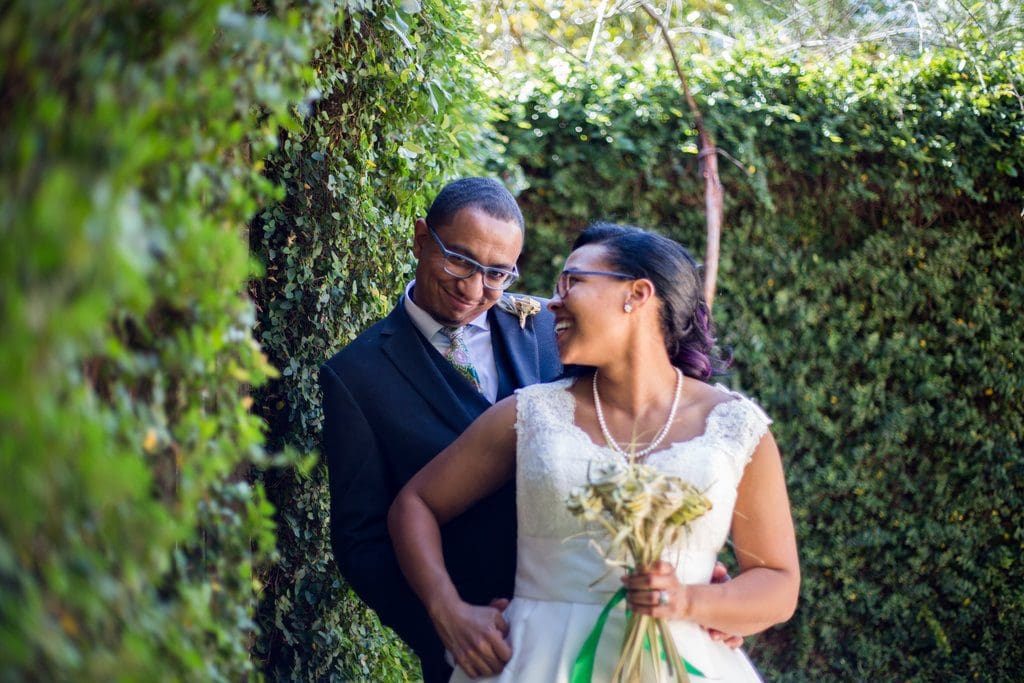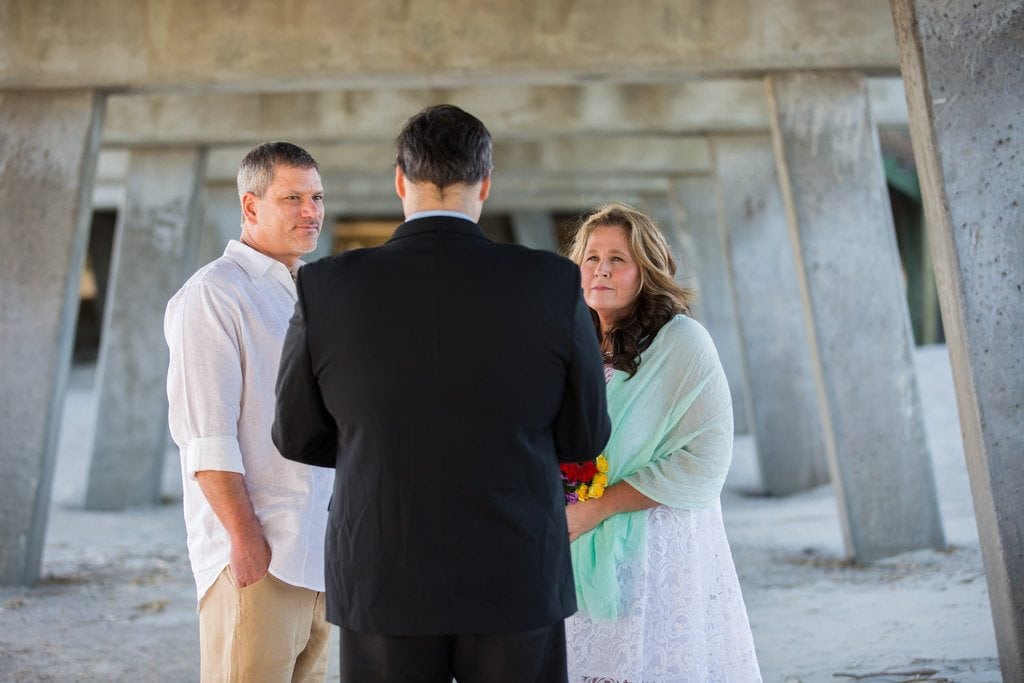 I also worked with two couples on their 80-200 guest ceremonies through my All In package, where we meet multiple times to plan all elements of your ceremony. The first, Shellie & Tanner, were married at the Richmond Hill City Center in a ceremony that reflected their relationship, and especially their goals for the future as a young couple. I loved working with them and getting to know so much about them!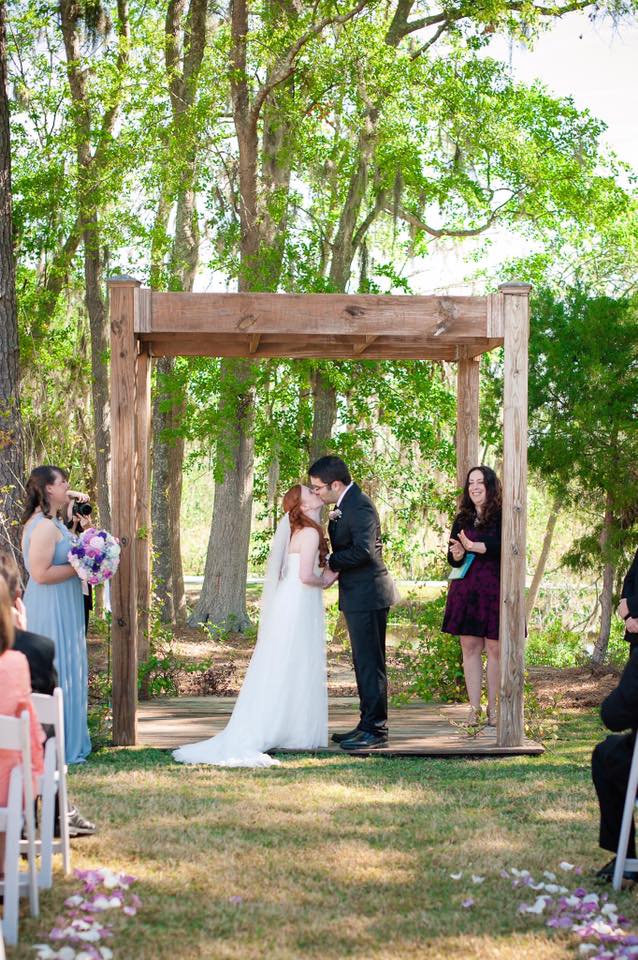 William and Danielle were planning a large wedding in Johnson Square and needed extra support in making sure that the ceremony reflected their story and incorporated their guests who represented so many eras of their lives together, from when they met in high school to when they graduated from law school and graduate school and established a relationship in Washington, DC. We used a custom Affirmation of the Community ritual as well as other elements to make it perfect for them for their sunny Saturday ceremony!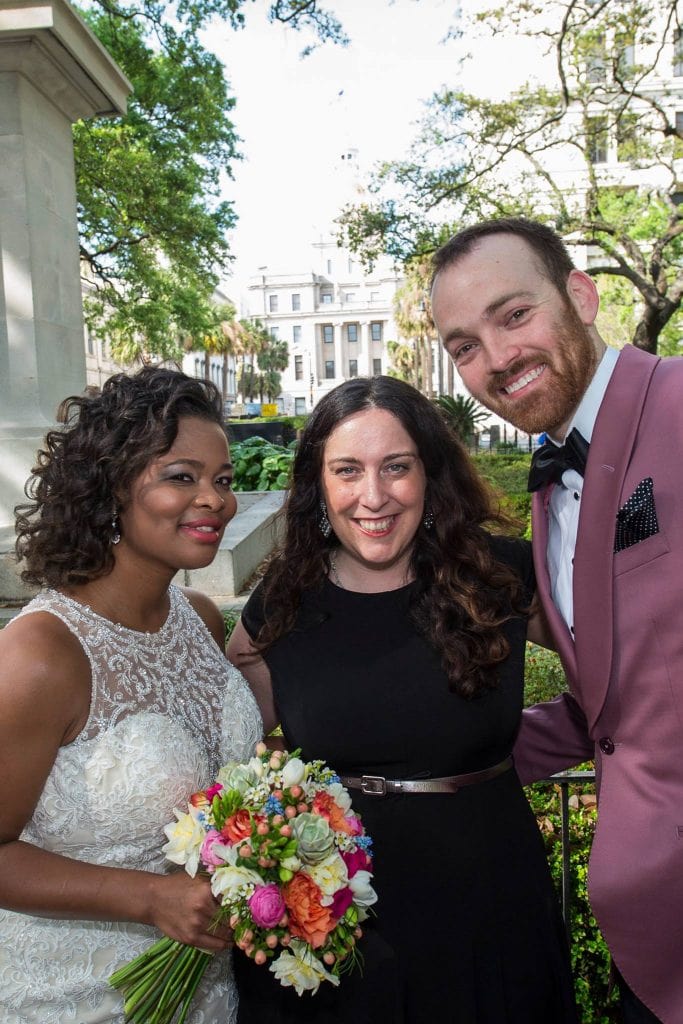 The third week also brought lots of weekday elopers and beautiful weather. Christopher and Durga traveled from Germany, one of my few international couples in 2017.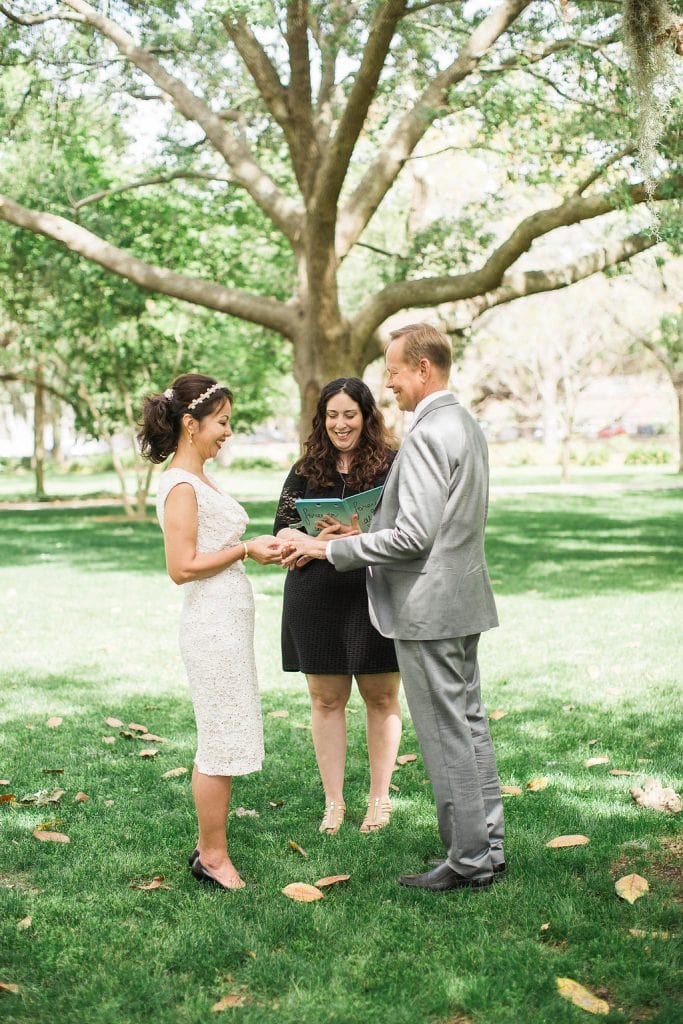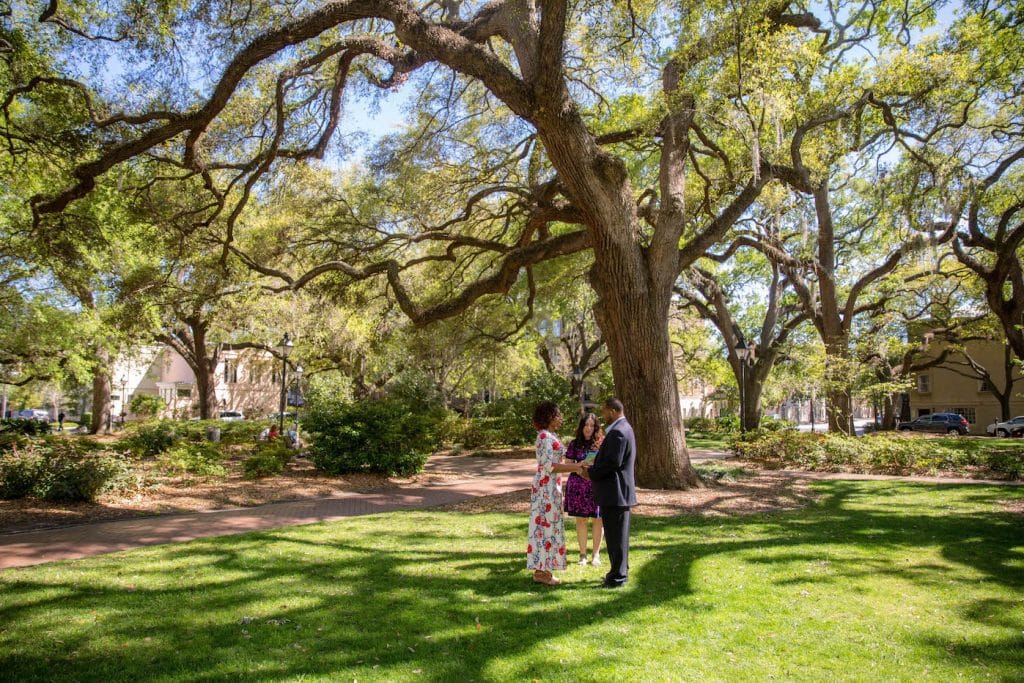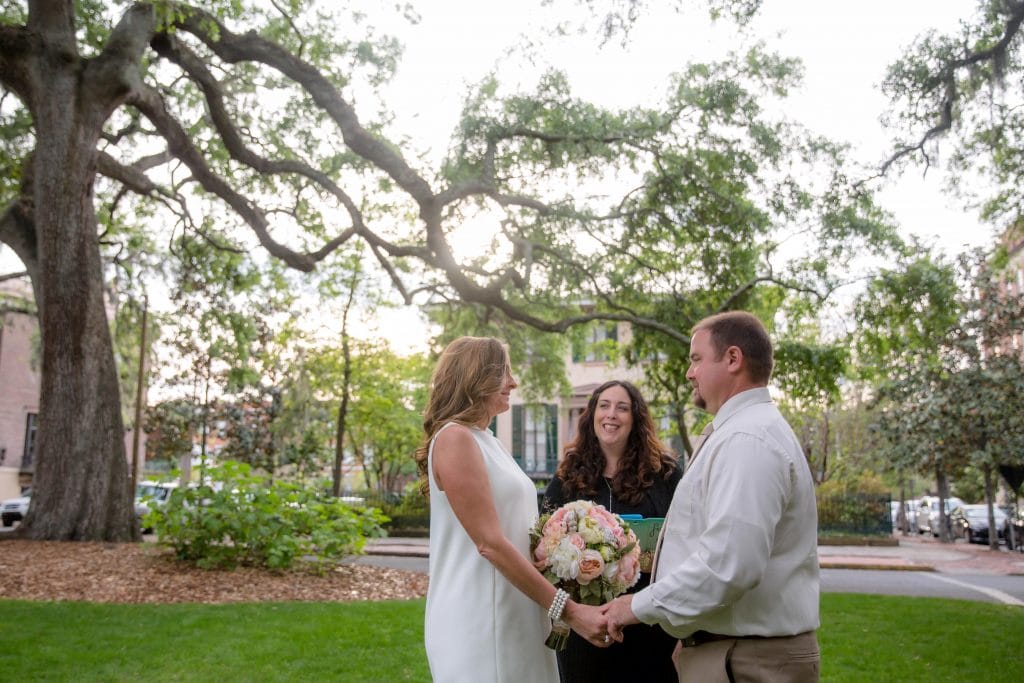 At the end of April, I married Doug and Karen in Orlean Square. They had been together 20+ years and in the state where they originally lived, were considered common-law married. However, they were not considered married in their new state, Washington, and decided to make it official-official, once and for all. They met while dancing and I loved including the Eskimo Love Song in their ceremony.
You are my husband, you are my wife.
My feet shall run because of you.
My feet dance because of you.
My heart shall beat because of you.
My eyes see because of you.
My mind thinks because of you.
And I shall love, because of you.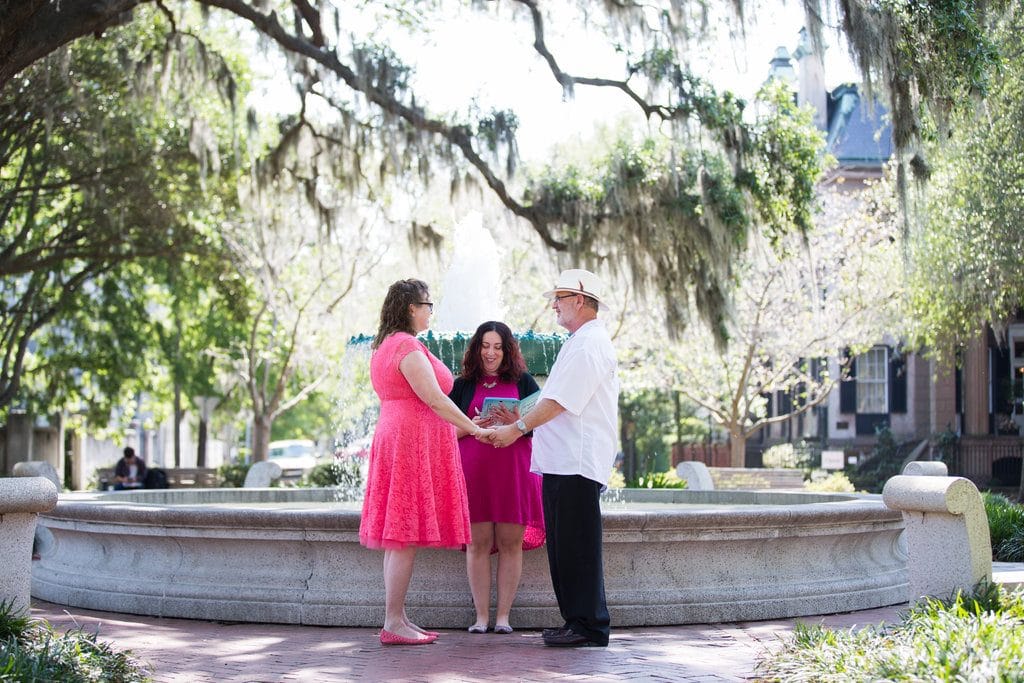 This year, whenever we had babies or toddlers at our Simple Signing Services at the Savannah Cozy Chapel, my ovaries hurt. Larri & Jessica were pretty awesome, but their daughter Jamie stole the show.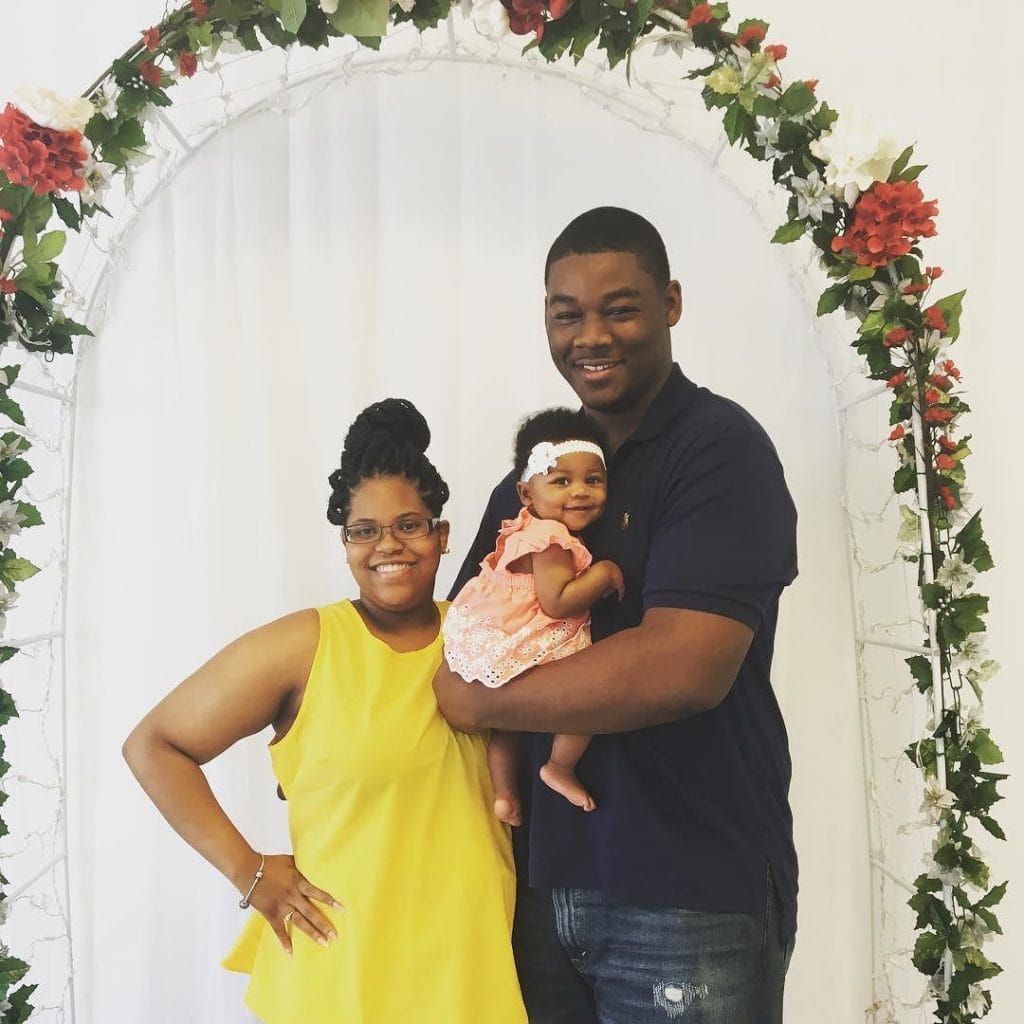 On a personal note ….
I threw my husband, Josh, a surprise birthday picnic with Savannah Picnic Company, in Troup Square, where we were married.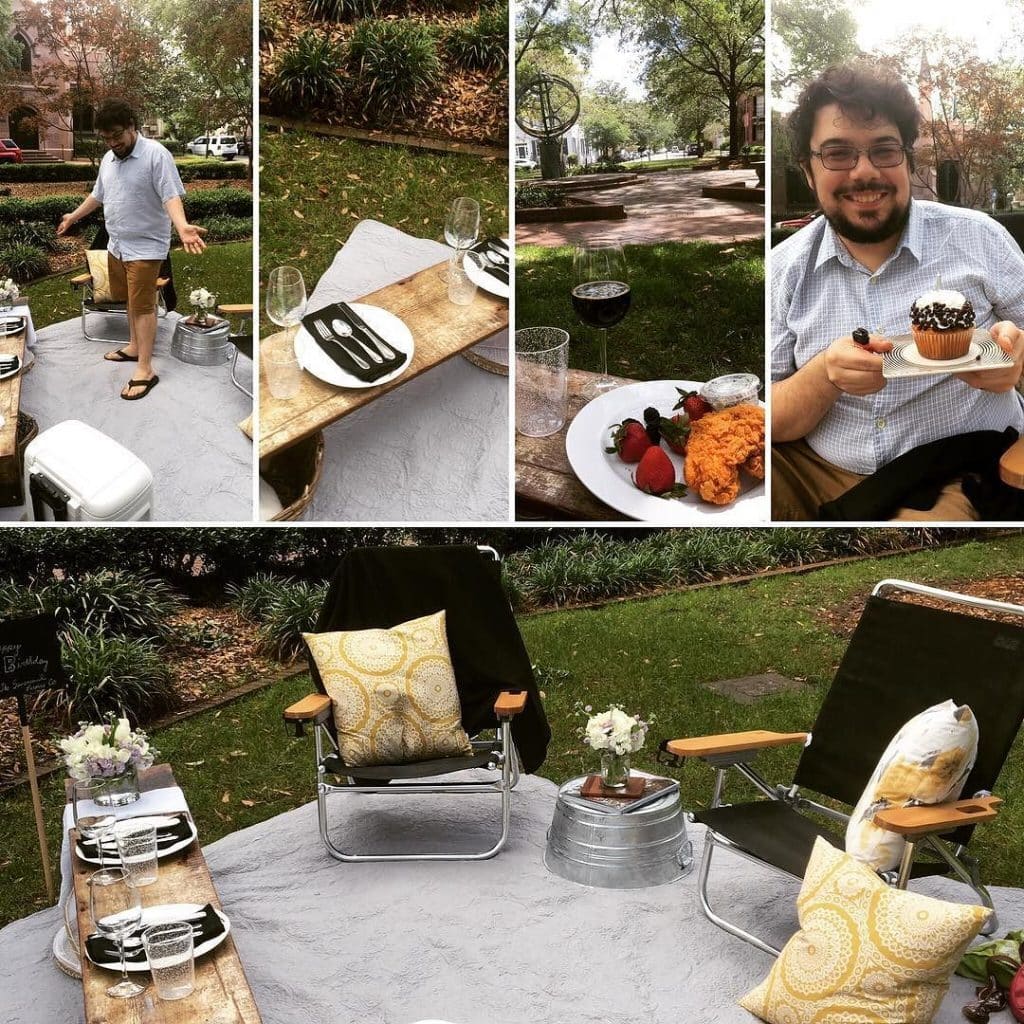 ---
May 2017 Review
May was also a busy month with another 43 couples! There were quite a few Saturdays in May where Chris, Buffy, and I all officiated ceremonies at exactly the same time. May also hosted many of my favorite ceremonies and couples all year, where people really allowed me to be creative and thoughtful in preparing ceremonies that reflected them and their relationship. It is no wonder that most of the reviews I received in 2017 were from couples I married in May because everything felt like synergy.
Shauna & Julian were a couple who booked me on the very first day of May for their last minute elopement in the gazebo at Crawford Square, close to where they lived. It was rainy, and lovely! I really appreciated their handwritten thank you card, too.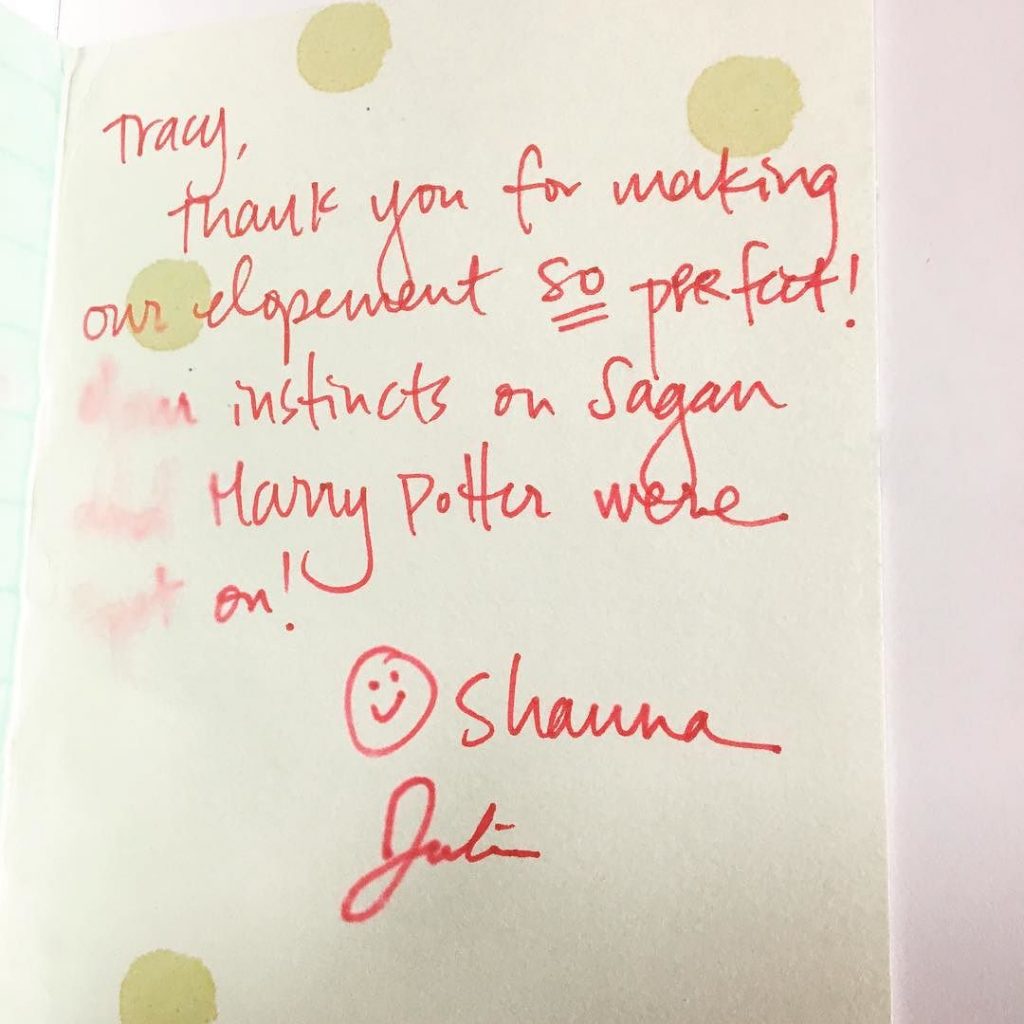 Aly & Kris from Iowa were married by Partner Officiant Chris in Pulaski Square. For the last two years, every couple who has been married on their wedding date in early May has had a glorious picture in the blooms in Pulaski. These particular flowers literally only last about a week each May! I also used a new reading, Vows, by Tony Kushner, for the first time in their ceremony and it has become a new favorite.
Conjunction, assemblage, congress, union:
Life isn't meant to be lived alone.
A life apart is a desperate fiction.
Life is an intermediate business:
a field of light bordered by love
a sea of desire stretched between shores.
Marriage is the strength of union.
Marriage is the harmonic blend.
Marriage is the elegant dialectic of counterpoint.
Marriage is the faultless, fragile logic of ecology:
A reasonable process of give and take
unfolding through cyclical and linear time.
A wedding is the conjoining of systems in which
Neither loses its single splendor and both are completely
transformed. As, for example,
The dawn is the wedding of the Night and the Day,
and is neither, and both,
and is, in itself, the most beautiful time,
abundant artless beauty,
free and careless magnificence.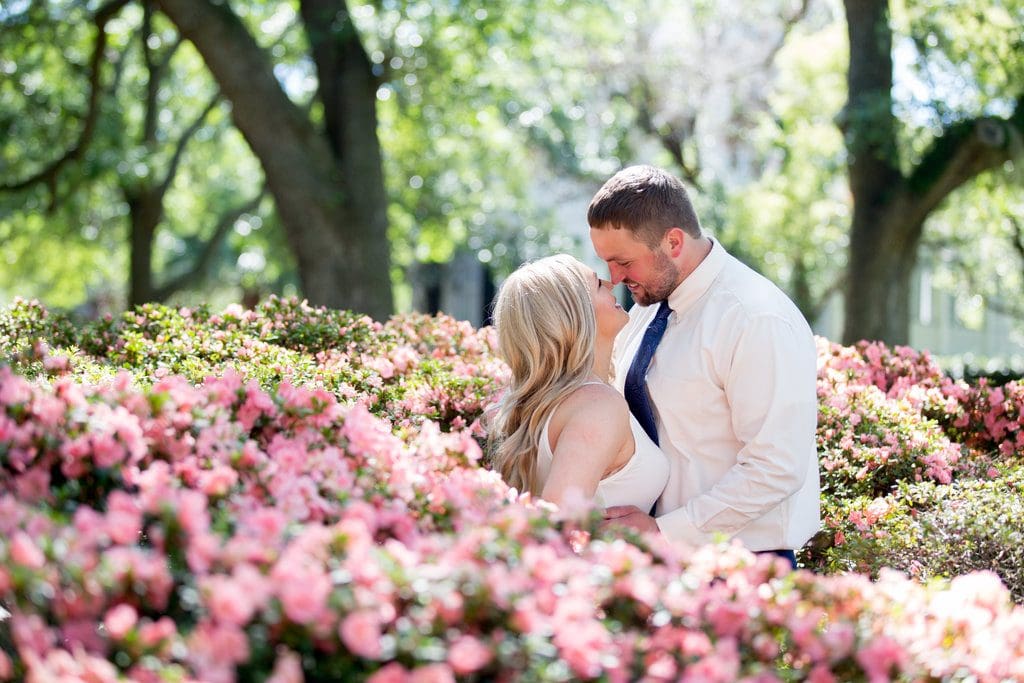 Fawn & Matt, big Star Wars fans, decided to get married on May Fourth (of course!) and move their wedding up a year. No problem! When it rained, these locals moved the ceremony from Troup Square to the basement of Moon River. I bought a star dress for their ceremony that many of my other nerdy couples have appreciated.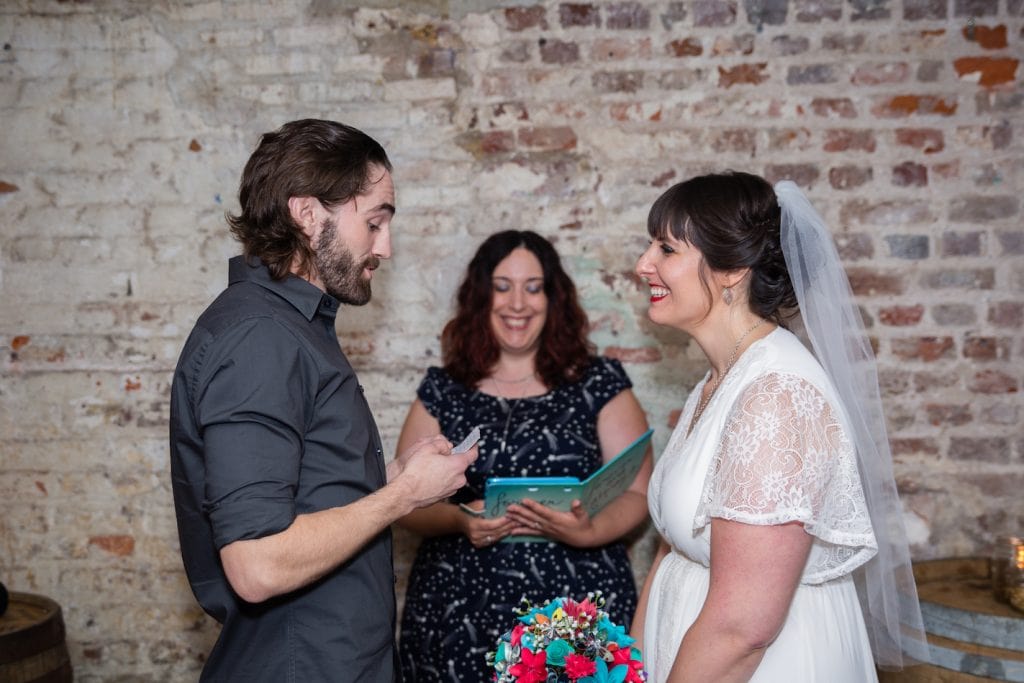 In mid-May, I married Jennifer & Keary from Florida in Lafayette Square. I marry a lot of couples in Lafayette Square, and a lot of older couples, but this was the first time I was surrounded by four generations of women on Jennifer's side, from her mother to granddaughter. It was some of the most powerful energy I have felt during a wedding ceremony in the three years I have been an officiant. When I see how the trees frame us in this picture, I get goosebumps remembering how it felt.
Sarah Grace & William were married in Lafayette Square, too (I think 20% of all my Lafayette Square ceremonies took place in May!), They performed the Fisherman's Knot ceremony, which became one of my favorite rituals in 2017. I love to pair it with a quote from William Shakespeare.
"My bounty is as boundless as the sea, my love as deep: the more I give to thee, the more I have, for both are infinite."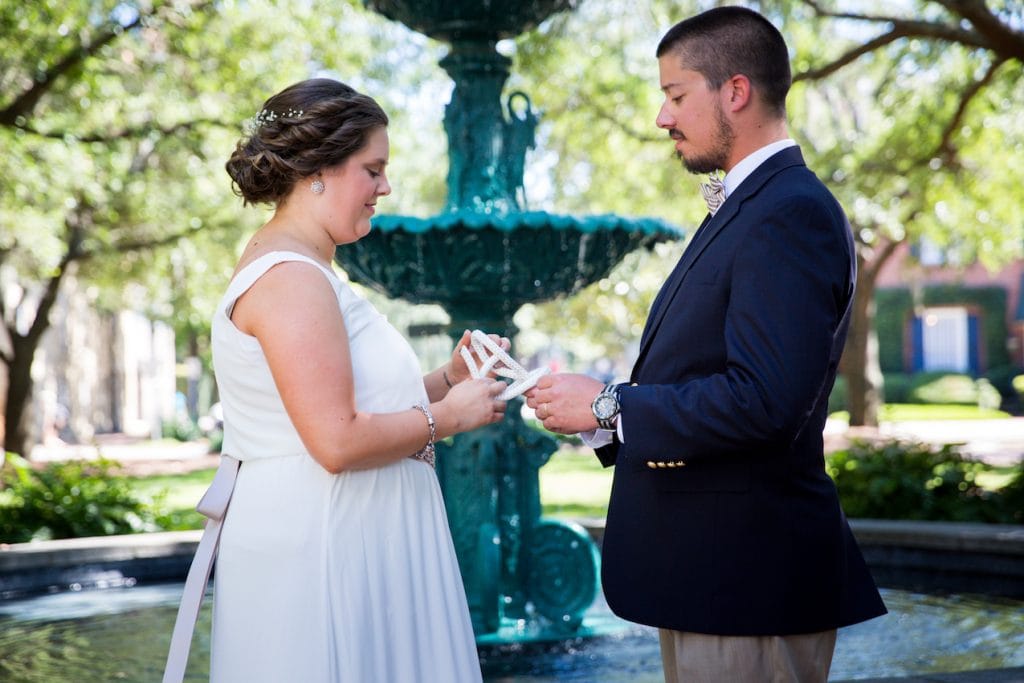 My most popular Instagram post for all of 2017 was of Amanda and Timothy from Ohio dismounting a pedicab, her in a tutu with a glass of champagne in her hand. I think it was so popular because it epitomized the tone of our Savannah Elopement Experience package- romantic, intimate, meaningful, authentic, joyful, simple and stress-free!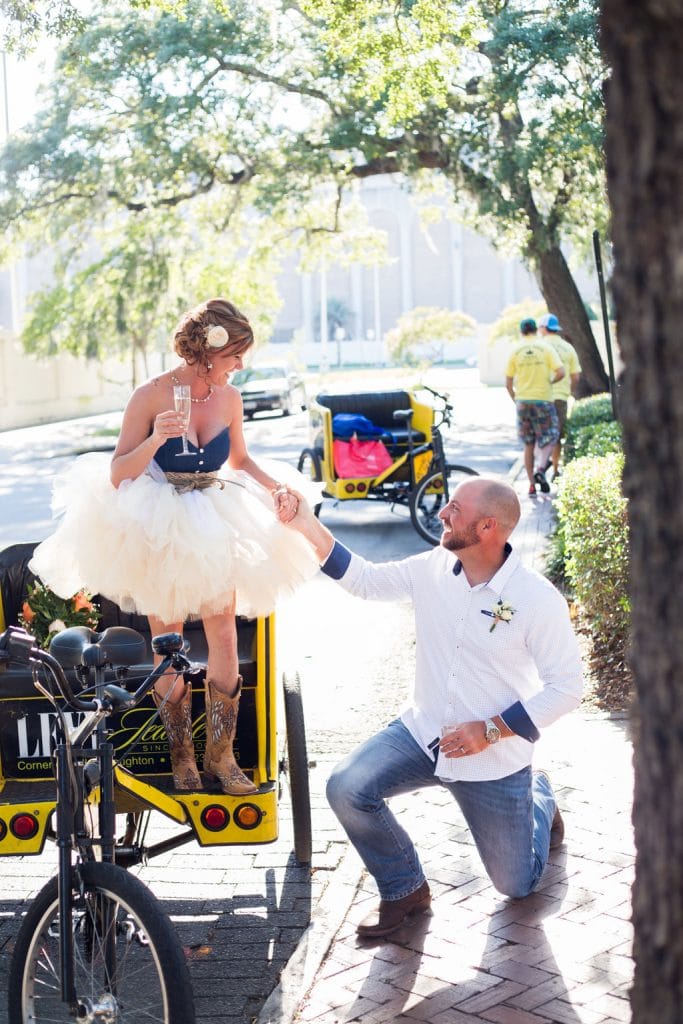 The end of May brought me Rubecca and Matthew who were so much fun and eloped in front of Rubecca's mom at the Fragrance Garden in Forsyth Park They lead extremely passionate and adventurous lives and allowed me to bring that into their ceremony. I love to talk about what a grand adventure marriage is so we were a good match!
We also debuted our new signs for our Savannah Elopement Experience, handmade by Caroline Galvez, in May.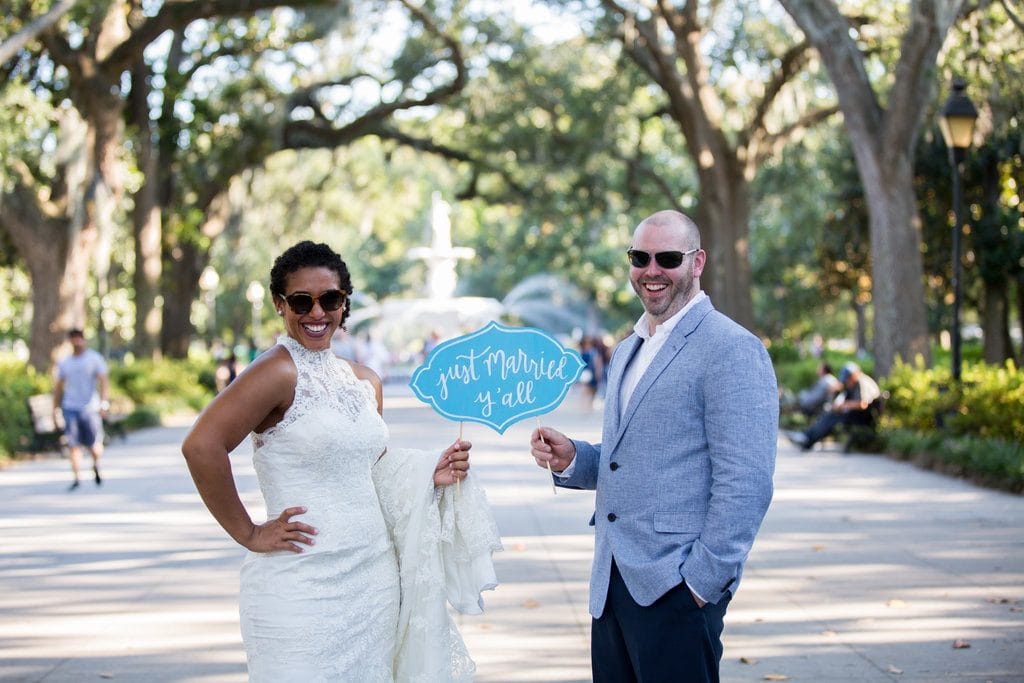 The last Sunday of May was a doubleheader! First, April and Steve from North Carolina married at Greenwich Park in Bonaventure Cemetery, surrounded by their families and their daughters, 2who played roles in making sure their parents got together. Everyone cried, including me and Megan, our photographer. They asked me to include the Mawage speech from The Princess Bride and it was so much fun. Dear future couples- please ask me for this again!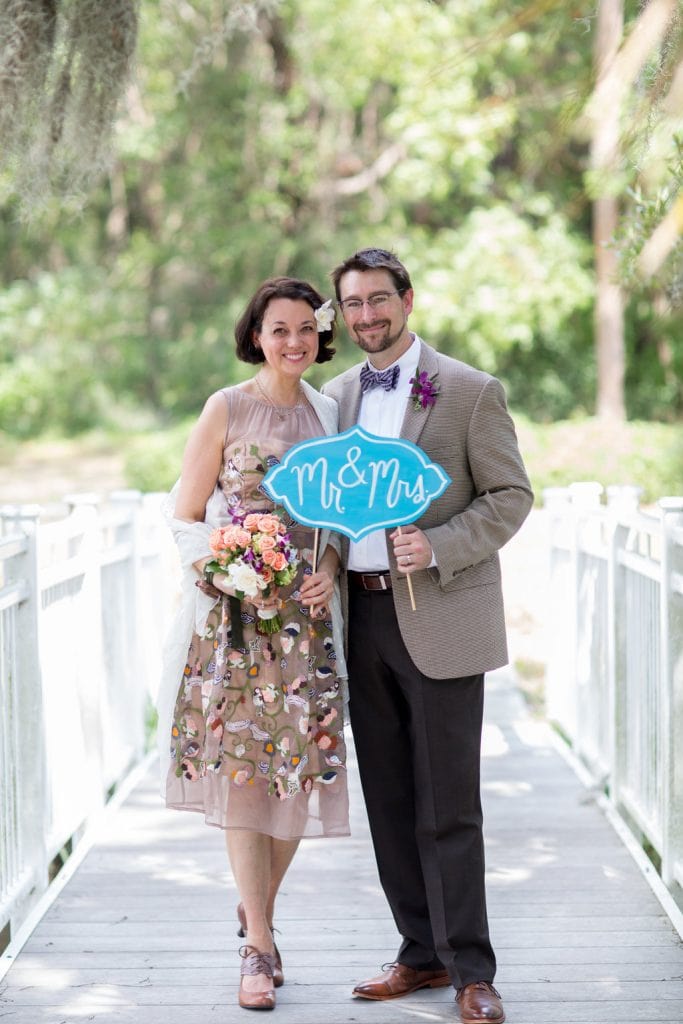 Our last couple were Elwood and Michelle from Tennessee who went to college together and reconnected on Facebook 25 years later. This reconnection story was one I heard over and over again in 2017. And yup, Elwood had lots of jokes the whole time!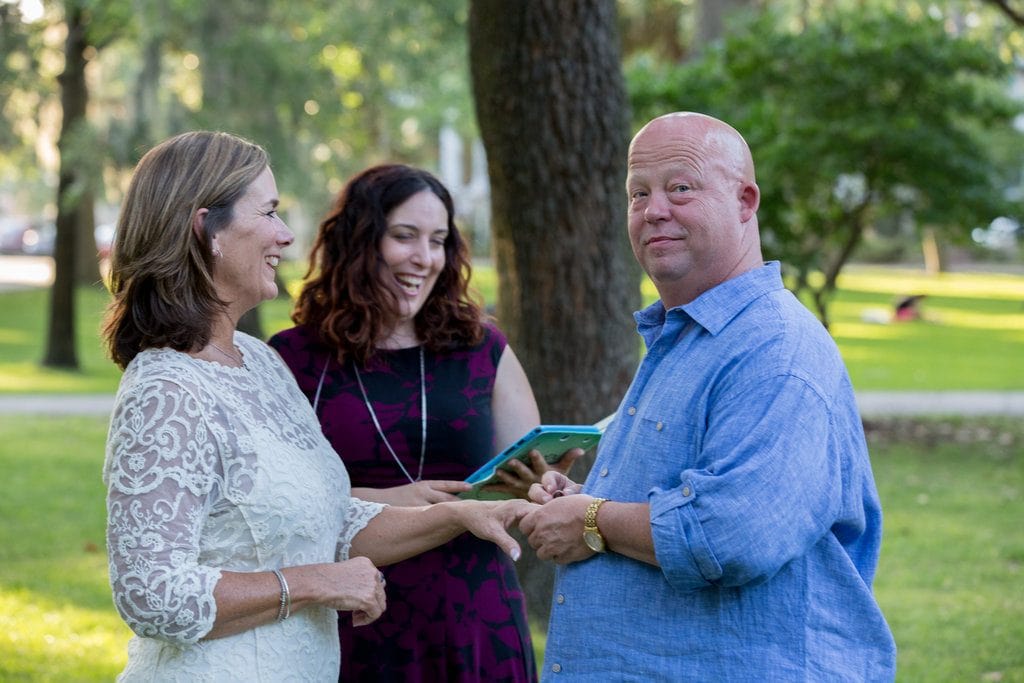 On a personal note…
Nothing to report as I was way too busy marrying all the people!
---
June 2017 Review
That first weekend of June was quite busy, with 8 couples before June 3rd. First up was Jessica and Eric. If you follow me on Instagram, you may be sick of this picture, but it is one of my all time favorites. It started pouring during their wedding, and I held a clear umbrella over their ceremony so they could say their personal vows and have the ceremony they wanted, as well as a proper first kiss. The officiant's number one job is to be a conduit for energy and protect a couple's moment, under any conditions!
Stephanie and Eric also had a stunning elopement that first weekend. I mean, that dress! Their pictures were featured in an editorial over at Best Elope Ideas.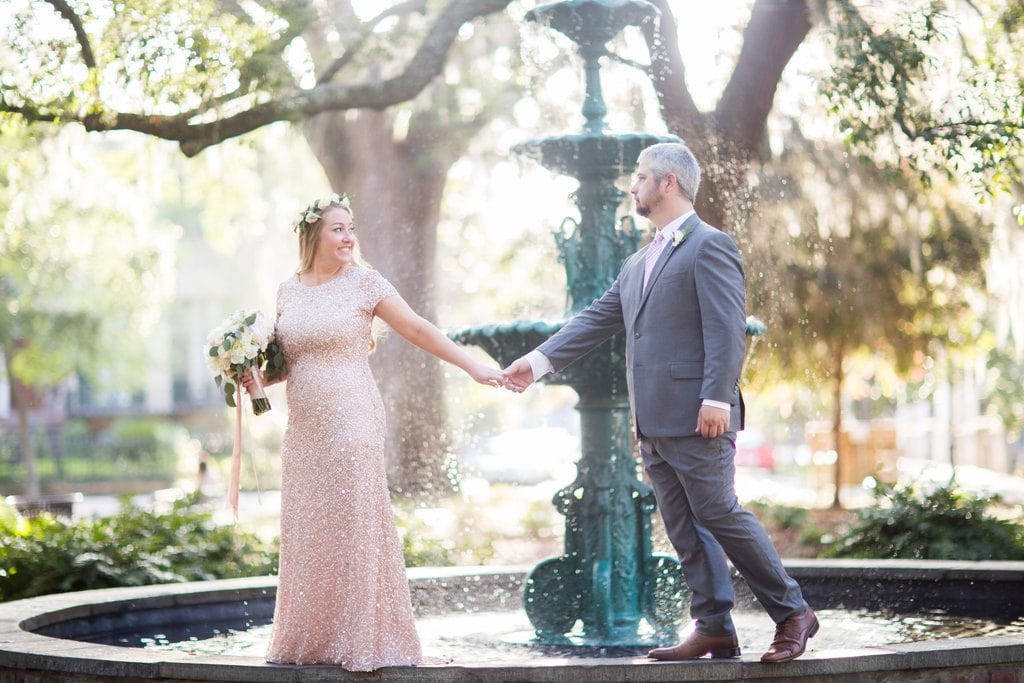 June 3rd was my birthday so I took it off to go see the Wonder Woman movie with my husband, and Buffy took over, with Tanna and Dustin from Ohio and their families in Forsyth Park. They used some quotes from Friends in their ceremony, declaring each their lobster.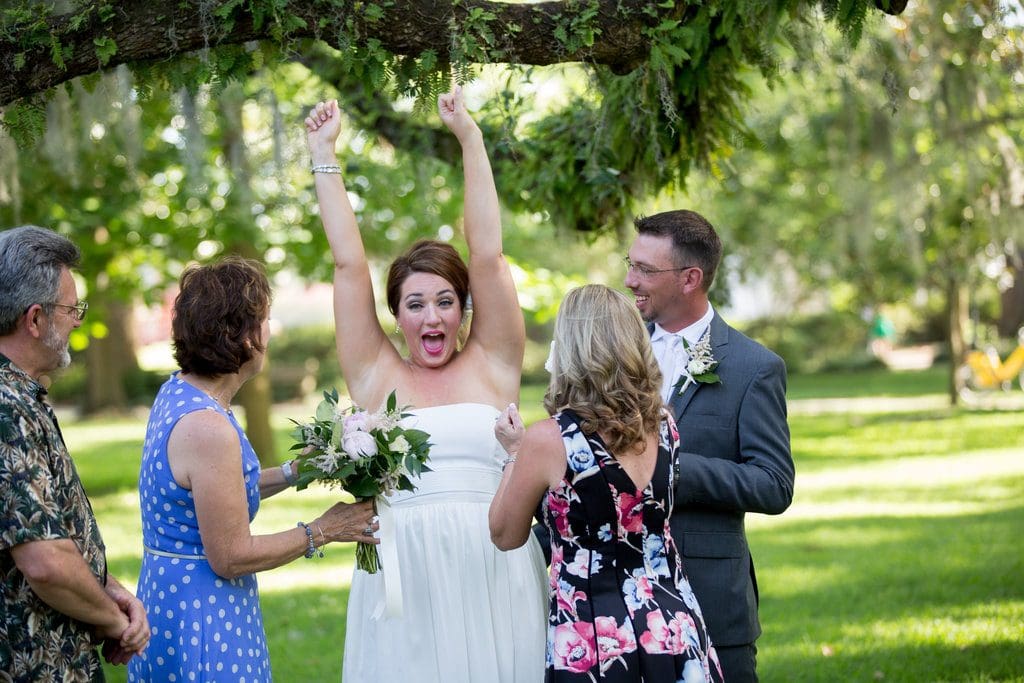 In mid-June, we had an extremely fun elopement with Sarah and Zach who spent their hour taking fun and sweet photos among Savannah's squares. No, they actually did not smash the cupcakes at each other!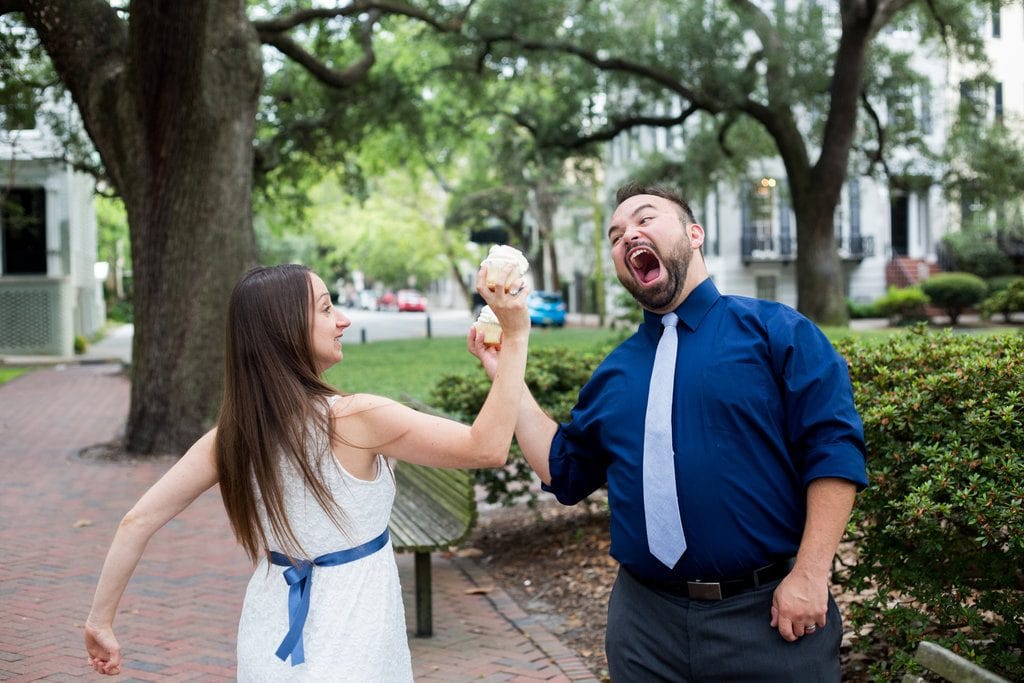 In one of the more gorgeous elopements we had in Forsyth Park, Hillary and Tyler from Tennessee made a decision to elope in Savannah on their way to attend a wedding. I love when a groom wears color, too.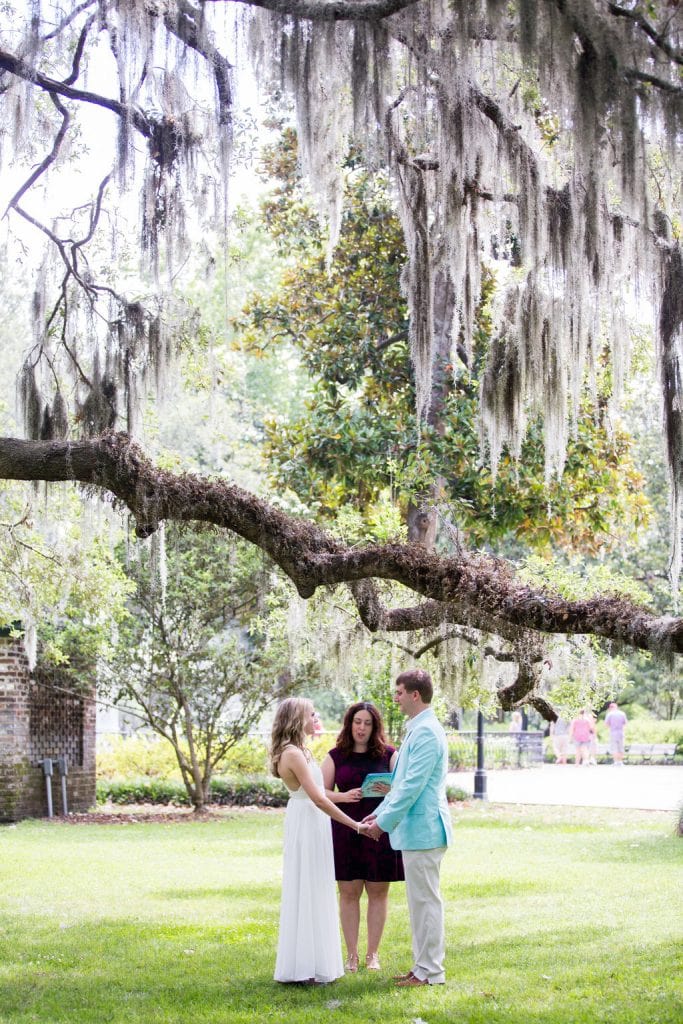 And at the end of June, I officiated Anastasia & Ryan's wedding at The Mansion at Forsyth Park. They used my Create Your Story package and I met with them in person about six months before their ceremony to capture their story and all the elements they wanted in their ceremony, including a tree planting ritual. Ryan is a spoken word artist and performed his vows as such. It was AMAZING!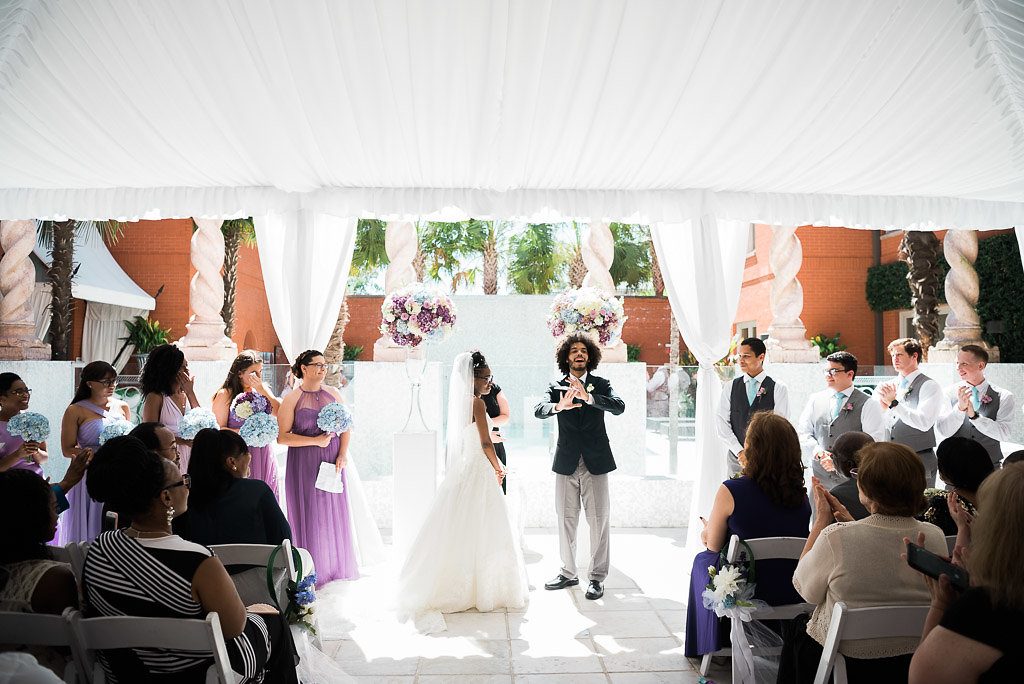 On a personal note…
I TOOK A VACATION! It was my first vacation since February 2016, before Alex was born. We went to Asheville, NC for a week and stayed in an AirBnB, explored, and drank good beer and food. It was very restorative, physically and mentally, even including walking around the Biltmore for hours wearing a 25 pound baby. I also met with a fellow officiant for lunch, one day, which was nice.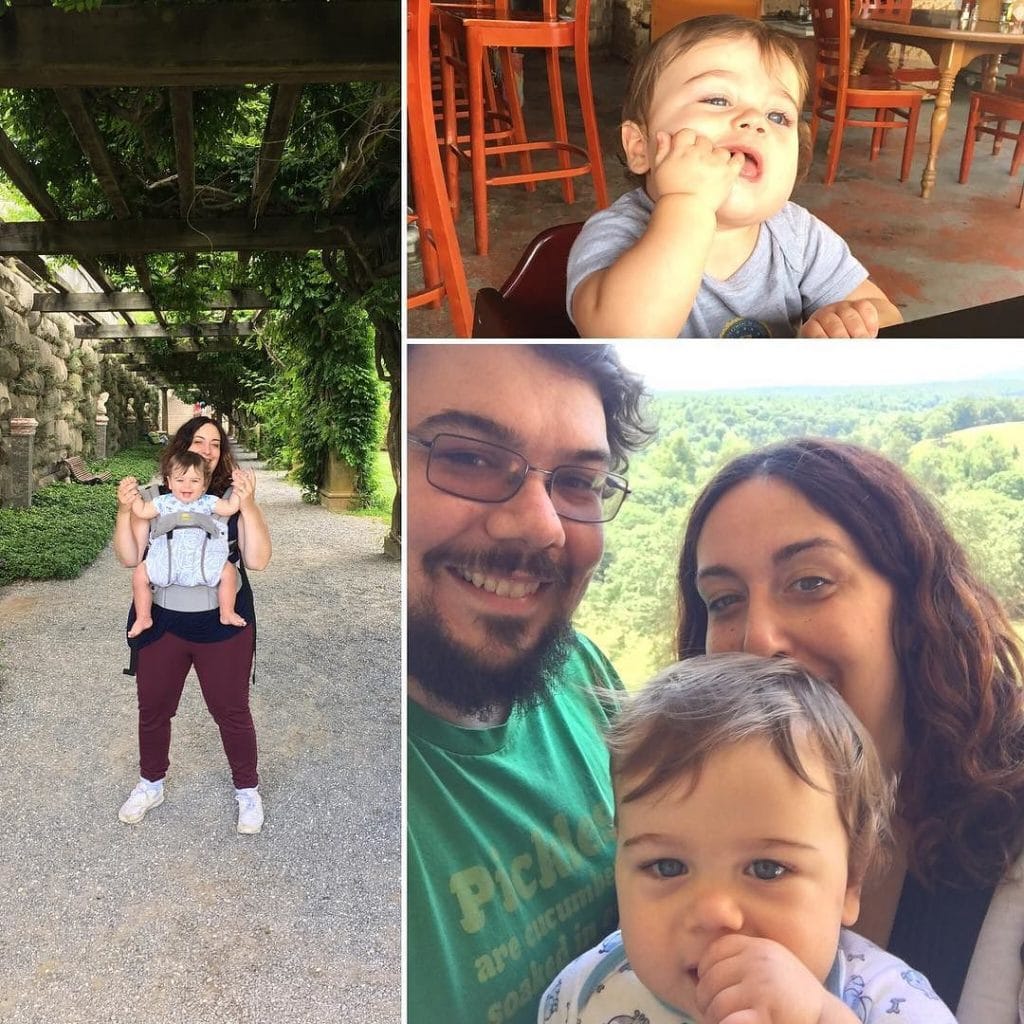 Alex and Josh also had a superhero themed Father's Day mini-shoot. This was a few weeks before he began walking.. I mean running.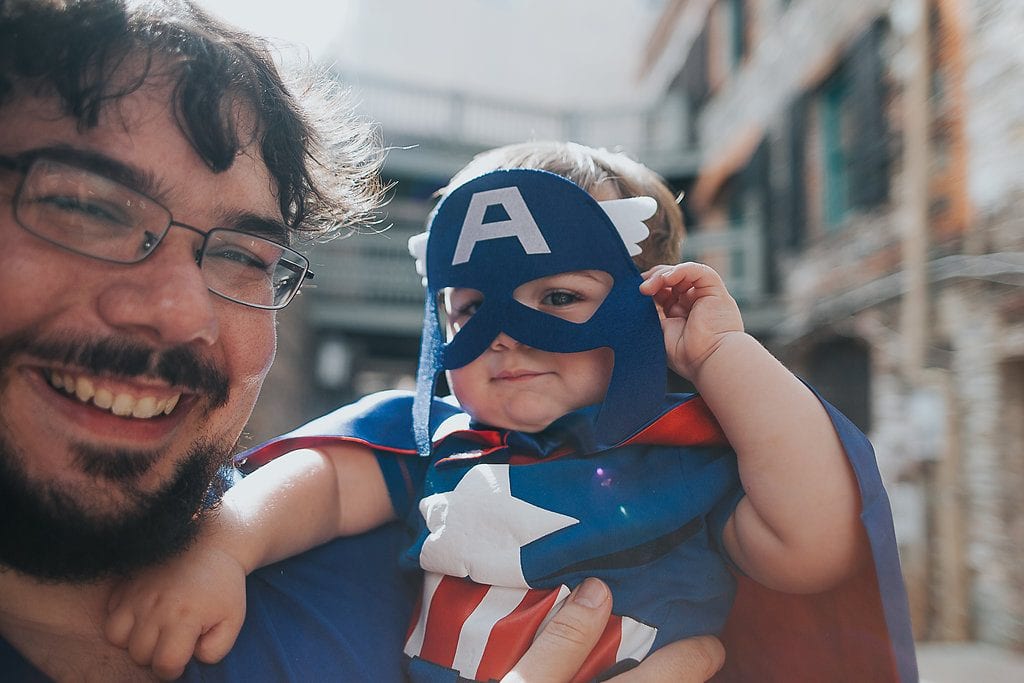 ---
And that was the first half of 2017 in a nutshell!
If you are looking at booking a 2018 ceremony or ceremony plus photos package, let us know so we can get you on the calendar ASAP. It is the second week of January, but we are almost 1/3 booked up for the year! We can also answer questions about locations featured in these pictures and anything else you need to know to plan your Savannah elopement or wedding, too.
The second half of 2017 in review… coming soon!