It's been a bit busy here, with booking 2018 weddings, but I am finally finishing Part 2 of our 2017 year-in-review! This post covers weddings and elopements that took place between July 2017 and December 2017, as well as professional and personal milestones. With so many couples, I can only include so many highlights, especially with our busy fall wedding season months, but I appreciated all the couples we worked with!
In Part One, I gave some overview stats about how many weddings we did and where they took place. Here are more statistics on 2017 wedding ceremonies and where destination wedding couples traveled from.
I prepared more ceremonies in 2017 (236) compared to 2016 (228). More people requested custom ceremonies, too. In 2017, I prepared 140 custom ceremonies compared to 122 in 2016. That is more than half a month of extra custom ceremonies!
Our officiants performed 24 sand ceremonies, 7 handfastings and 4 love letter box rituals. You can look at pictures of these rituals in our ritual guide.
As far as nerdy and geeky content, I said "You are only as strong as you are united, as weak as you are divided" (Harry Potter) 16 times, and also asked if you "liked and loved" your partner (Parks & Recreation), and quoted Game of Thrones, twice each.
Looking at the 111 couples who booked a Ceremony + Photo package with us, we had people visit us in Savannah from 25 states this year to be married with our team. Thanks for visiting us this year! As much as my job is in weddings, it is also a lot of tourism, too. Here is a handy map of where people visited from.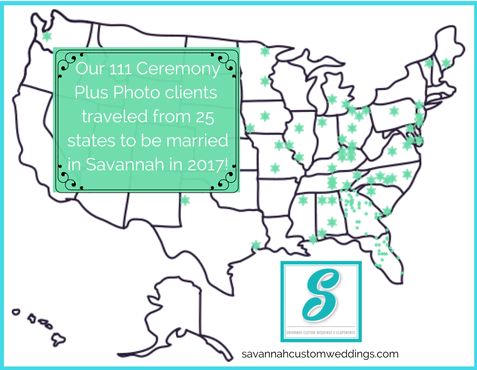 The couples who traveled the furthest were from Washington, Maine and Vermont. The closest were 4 local couples.
We were extremely popular with couples who live in Ohio (6).
Last year, we had a number of international couples, but zero this year. They do say international travel to the US is down nationwide.
And on to our month by month reviews of July 2017 through December 2017!
---
July 2017 Review
When I look back at July 2017, I could not believe how busy we were, for a month that is not traditionally associated with the Savannah wedding season. The first week of July brought us two lovely elopements with Sophie & Jeremy from Charlottesville, VA and Mallerie & Gregory from Moss Point, Mississippi.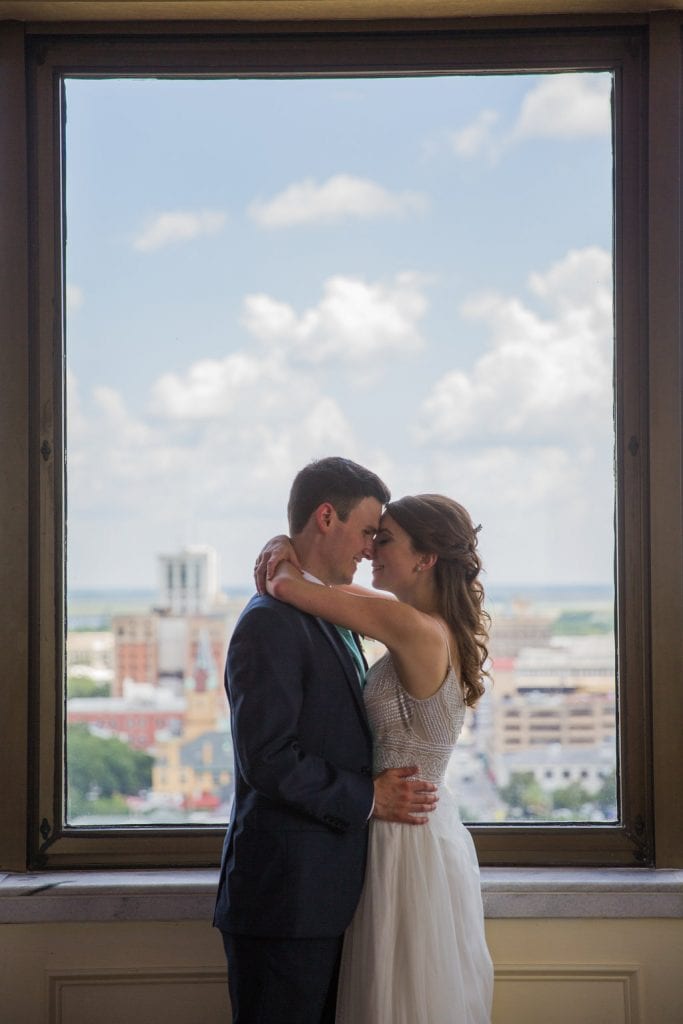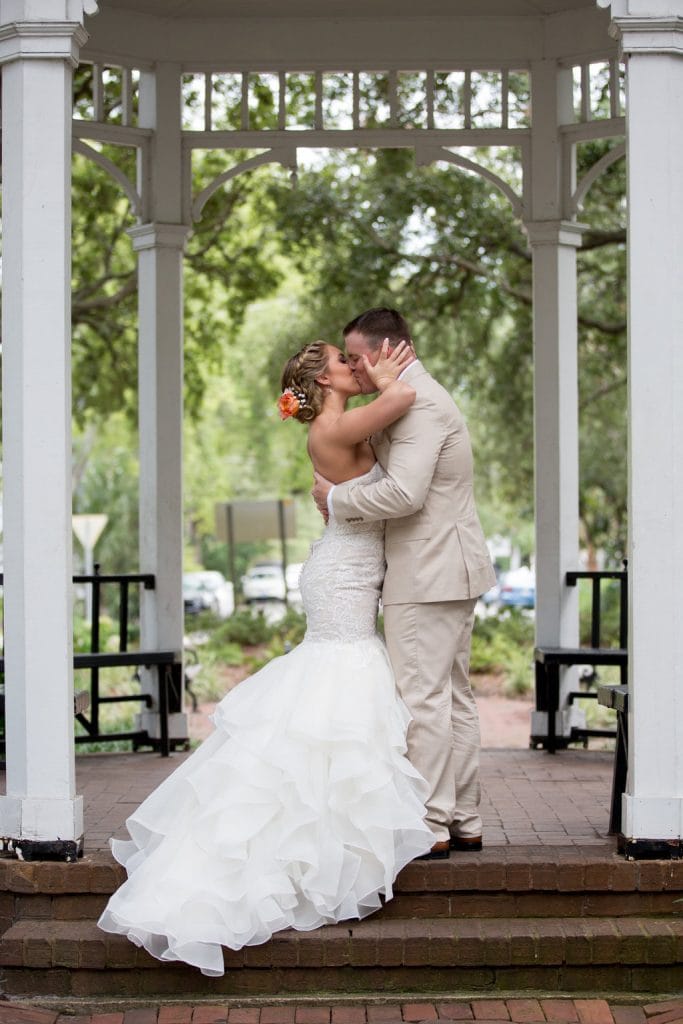 In mid-July, we delivered our first Intimate Destination Wedding package with Rachael and Tye in Forsyth Park. Based on inquiries and experience working with couples the previous three years, we realized that many couples wanted a package for up to 30 guests that included the officiant and photographer, as well as some light planning assistance. Rachael and Tye were not the first who booked, but the first event that took place and we think it turned out lovely. If you want to learn more about their vendors and plans, you can check out our Intimate Destination Wedding Guide.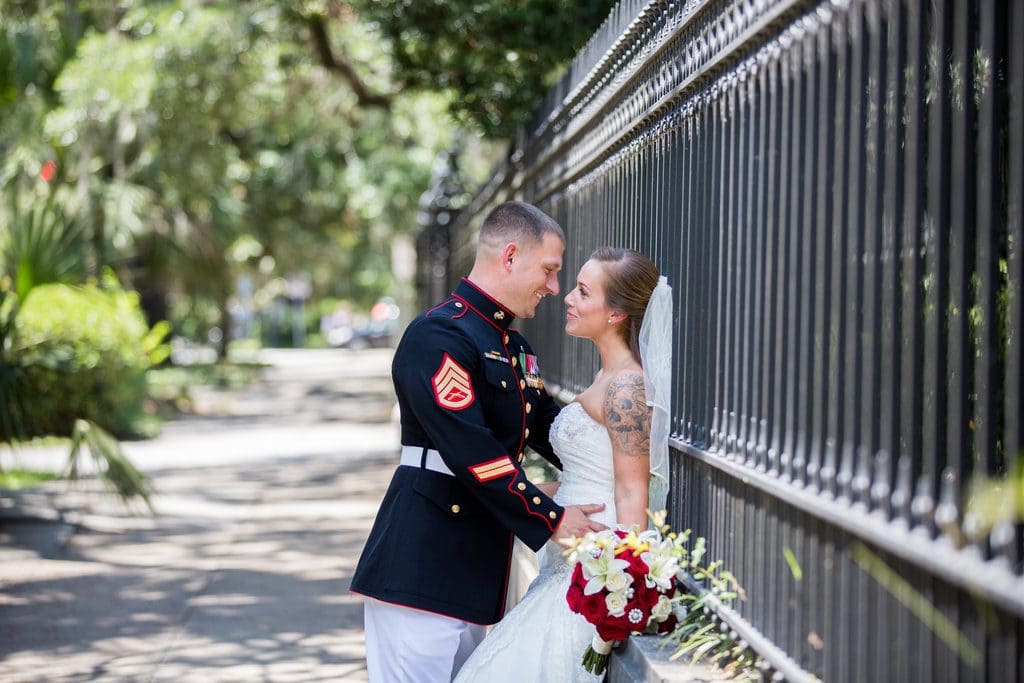 In mid-July, we married the lovely Carmen & Natalie at the Forsyth Park Fountain. Carmen was GORGEOUS and it felt like the Fountain was made for her to take pictures in front of! We were so proud when this picture was featured in HuffPost Wedding's Most Beautiful Weddings of July 2017 and they even featured it on their Instagram.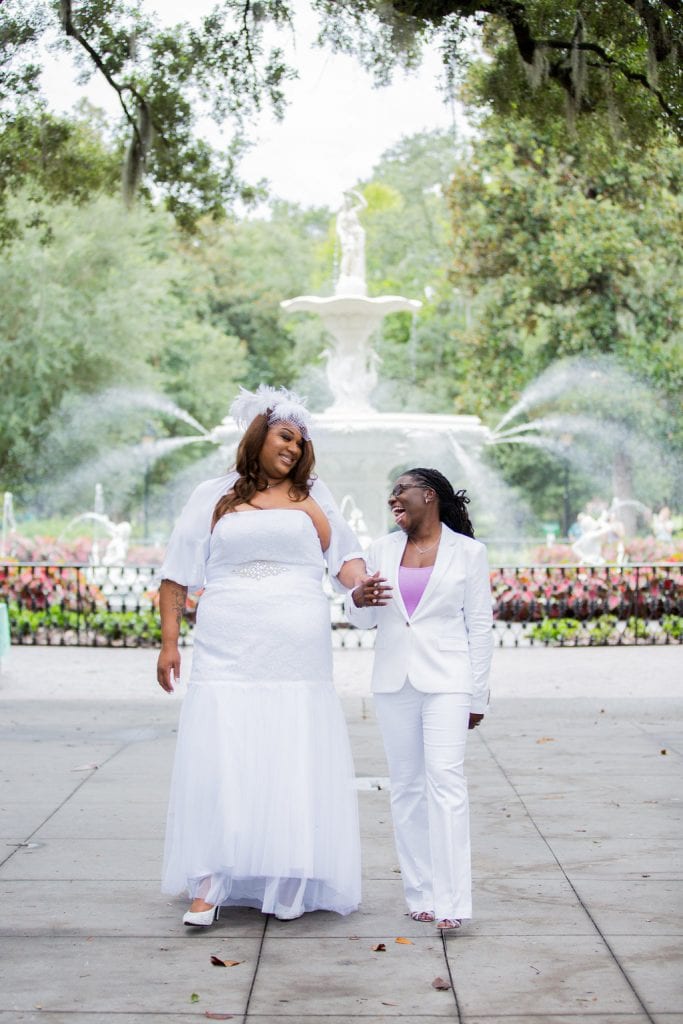 Samantha and Jordan were married in Orleans Square with their 5 children present, as well as other family members and more children! It was the first wedding we had where the kids outnumbered the adults and it was amazing. You can tell from this ceremony photo, that they are both a lot of fun and see their "perfectly imperfect" (a quote they asked me to use in their ceremony) life as a great adventure.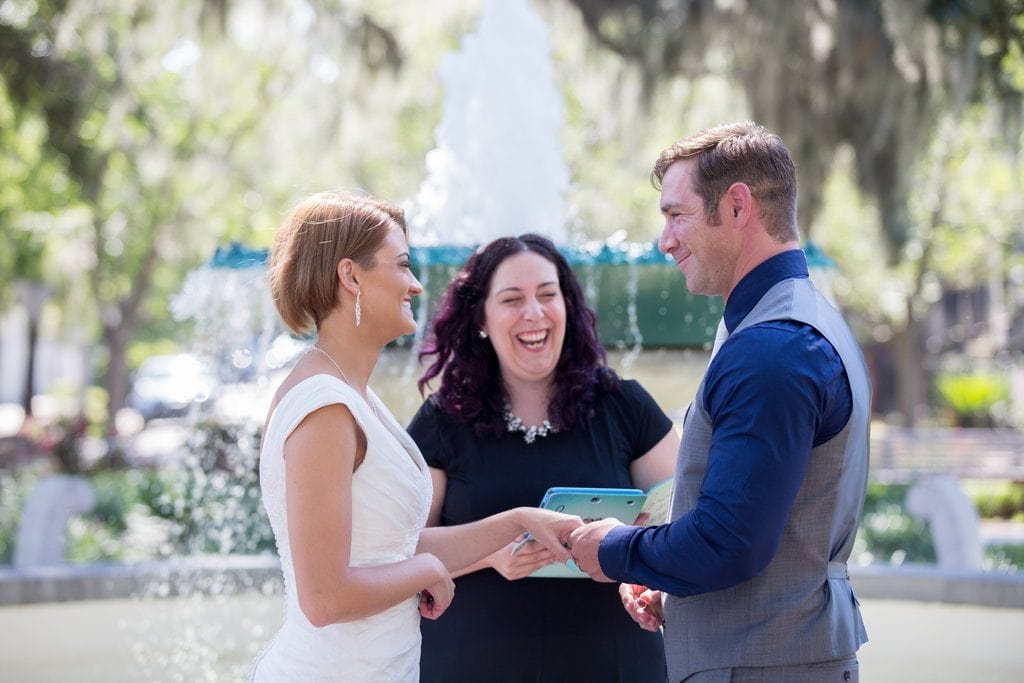 And at the end of July, we worked with one of the CUTEST couples of the year, Norma & Joseph, from the Washington, DC area. We had plans to be married in Orleans Square, but rain (and an Uber) drove us to Whitefield Square where we held their intimate ceremony with lots of laughs and joyful tears. They met working at IKEA, which also tickled me pink.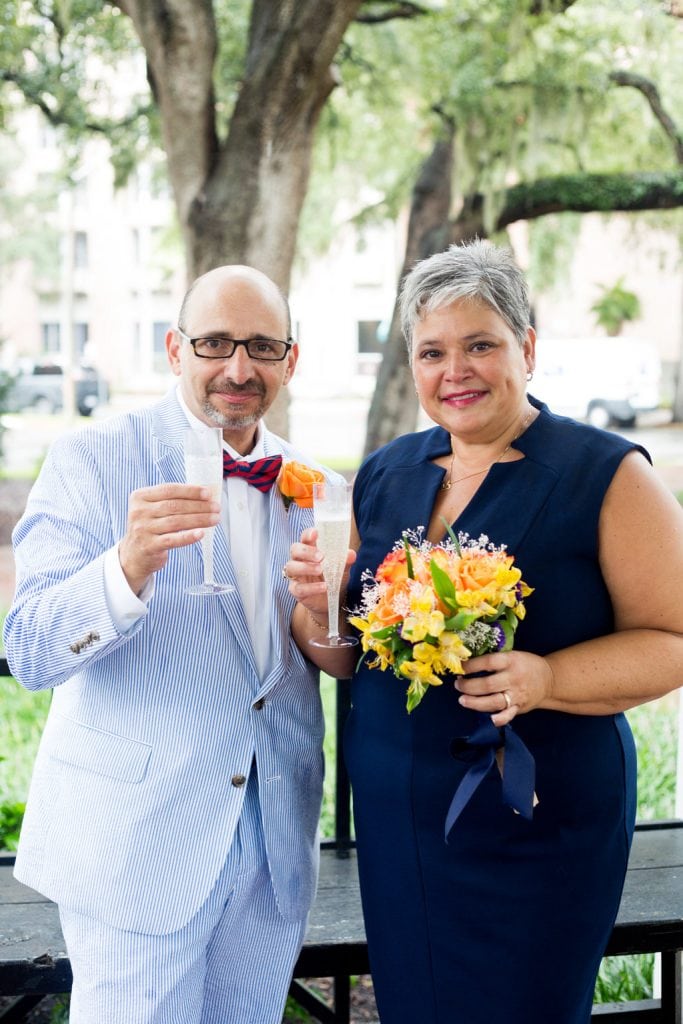 In July, I also published a long form piece about officiating weddings, titled "The Wondrous and Womanly Job of Officiating Weddings." My goal is to write a memoir about this time in my life someday and writing this was part of feeling that process out. I was really pleased when the online publication Athena Talks approached me to acquire the rights to republish it in their collection, helping it get a wider audience. If you read it, let me know what you think!
On a personal note ….
My son Alex turned one! He began walking two days before his first birthday and we have been chasing him ever since. This was the last milestone session we had with Andrea Krey photography. The cake was made by one of our favorites, The Cupcake Parlor.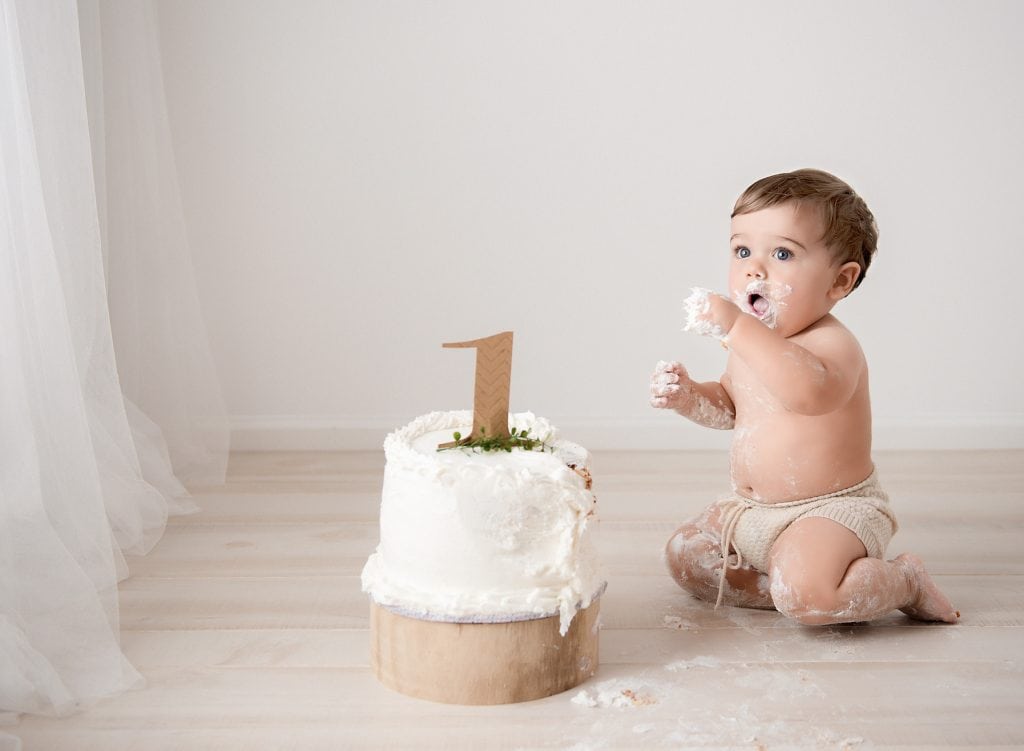 ---
August 2017 Review
I actually took August off from officiating weddings, though my partners officiated ceremonies I wrote from my office. August is generally a slow month for weddings so it felt like a good time to have wrist surgery that I had been delaying. I had a small, benign, ganglion cyst removed that was pushing on a nerve and making everyday tasks hard, like carrying my 26 pound child and even typing. After a few weeks of post-surgery recovery, I felt like I had a brand new body part!
I also attended WeddingWire World in August, a conference for wedding professionals. The main reason I attended was to meet other wedding officiants that I had become friends with on Facebook and spoke to all the time in groups. It was amazing to meet them in person!
While I was taking time off, our Partner Officiant Chris married Lee & Randall at their Intimate Destination Wedding in Greene Square and performed a 25th anniversary vow renewal for Christie & Jon at Forsyth Park, the location where Jon proposed 26 years before!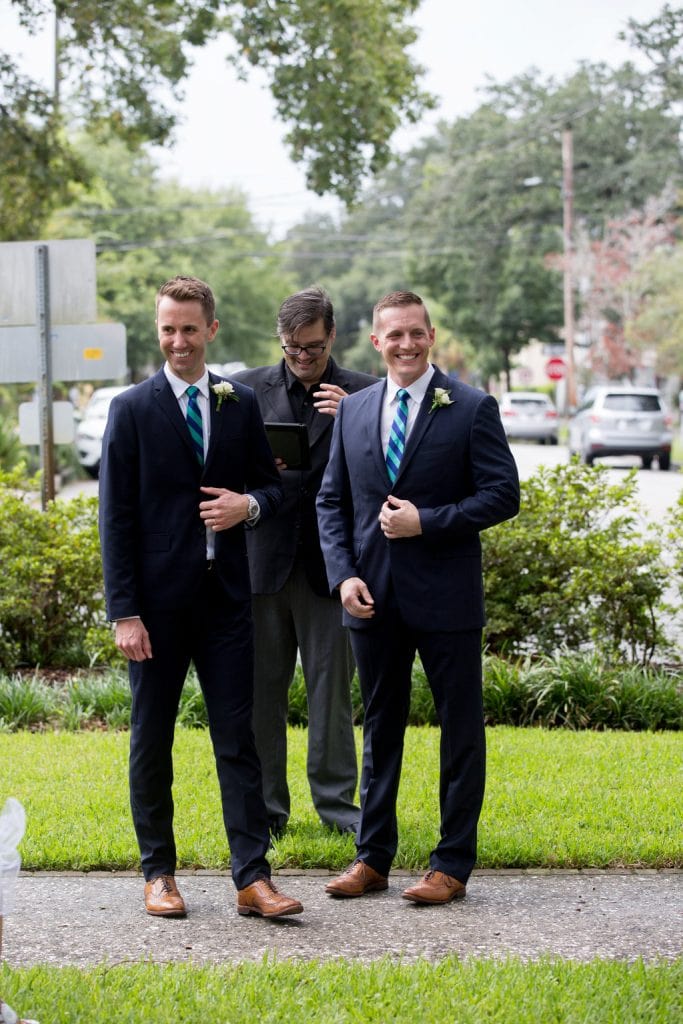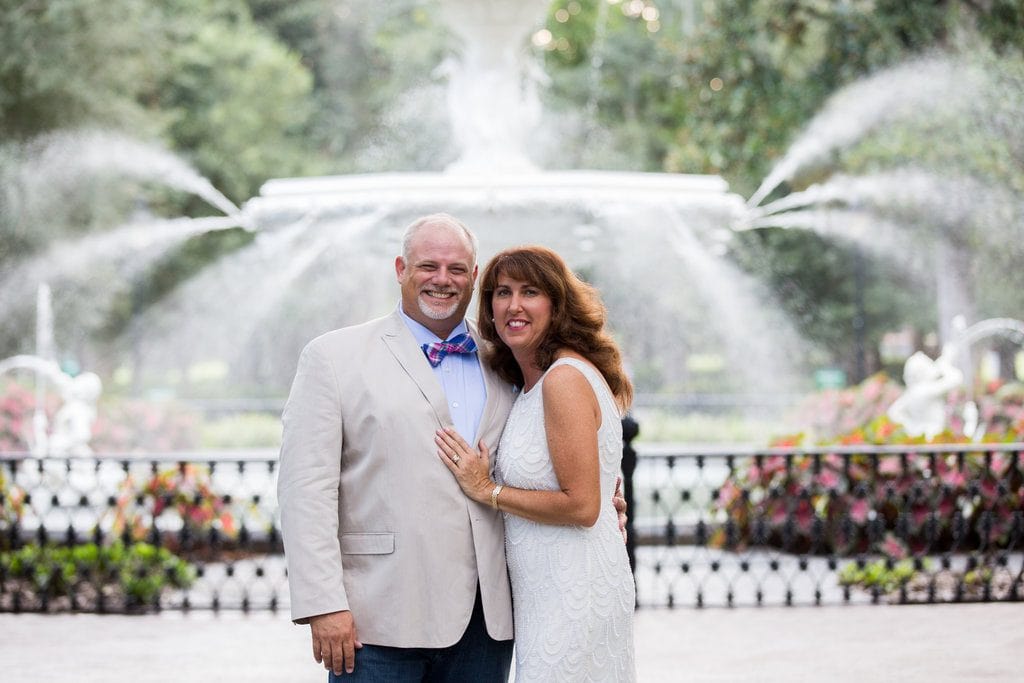 ---
September 2017 Review
The beginning of September was all about Hurricane Irma, which was projected to hit Savannah and Tybee Island directly. Fortunately, it did not, but we were still evacuated, which changed a lot of people's plans, including cancelling weddings. Fortunately, Michelle and Charles were able to drive up from Atlanta a few days early for their epic Savannah Elopement Experience. Both the lighting and weather were perfect, the day before the storm!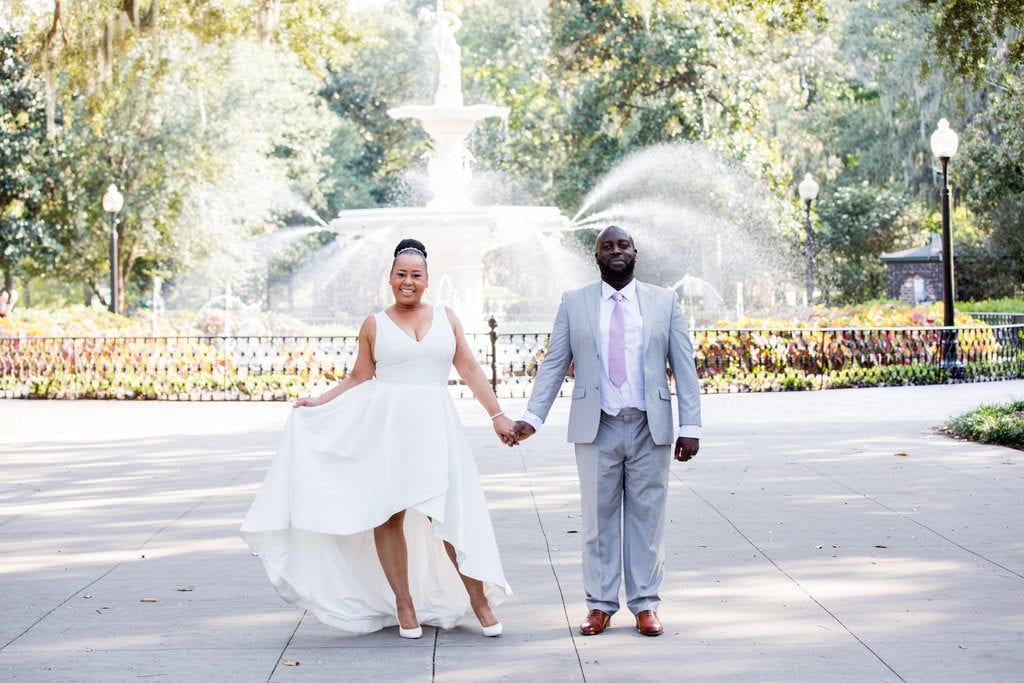 A few days after Irma passed our way, Megan and I were able to meet Marie and Geoffrey from Gainesville, FL who were married on Tybee Island before they went back to Florida for a celebration with their family. With so many folks still gone from the evacuation, we were some of the only people on the beach, despite the amazing weather!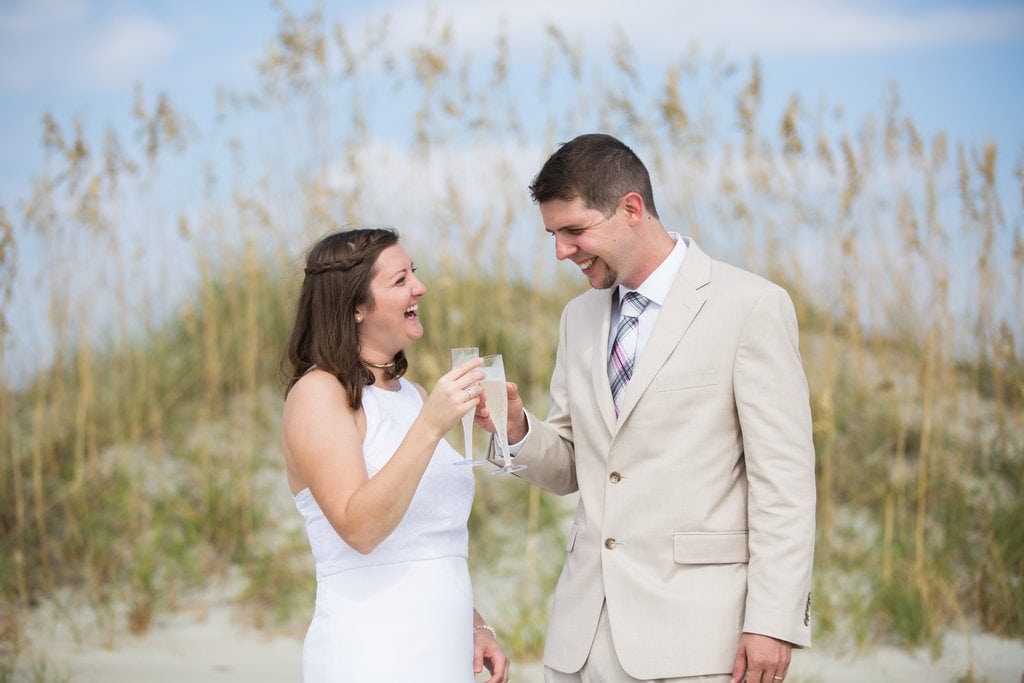 The end of September brought Lucia and Pratik's Intimate Destination Wedding in Whitefield Square, where they celebrated with their family. They met in medical school and everything about their ceremony was perfect, including where Pratik shared a special necklace with her, the Mangalsutra. If you want to learn more about their wedding, you can review a summary in our Intimate Destination Wedding Guide.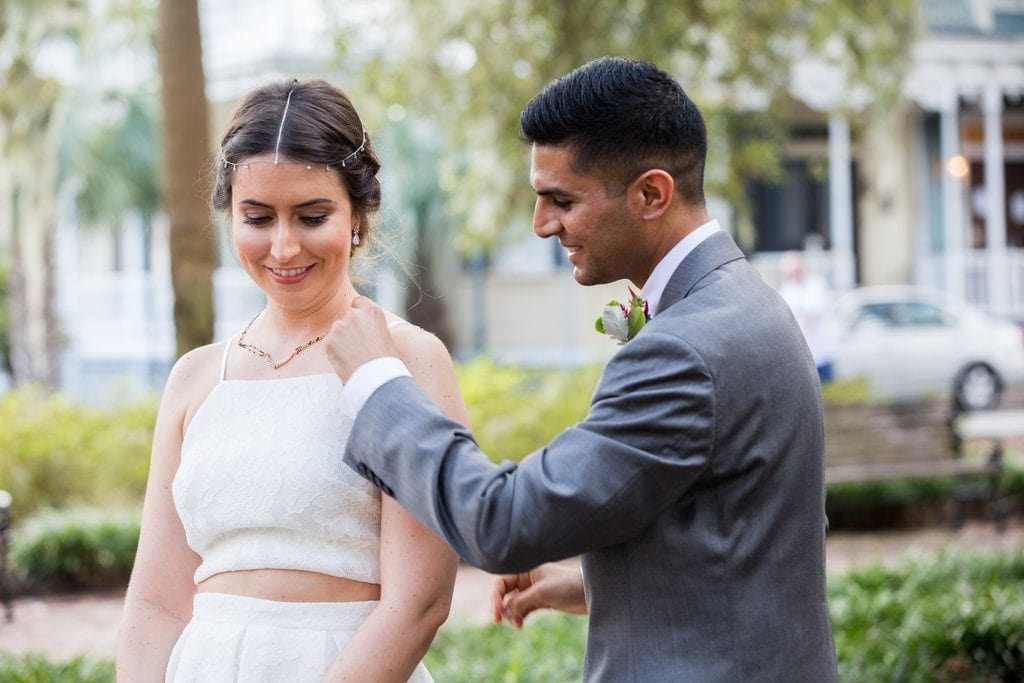 The last Savannah Elopement Experience of the month was the delightful Sierra & Adam from the Philadelphia, PA area. How amazing is Sierra's dress? She brought her delightful mom and aunts who wore great hats, too. I loved them all!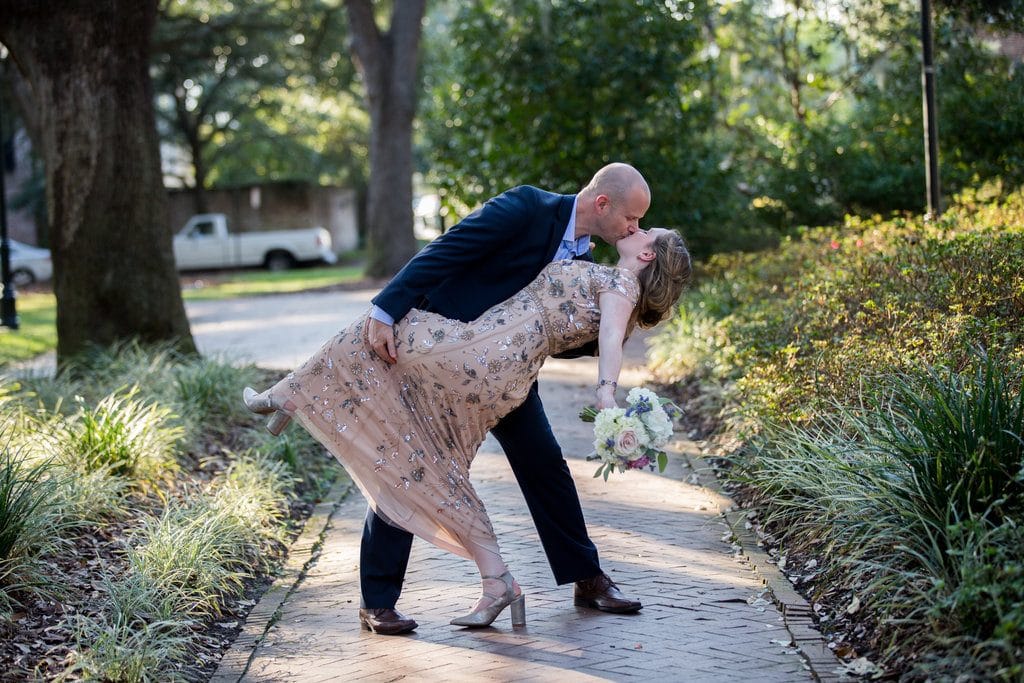 On a personal note ….
September was really focused on our family and Irma. When bad weather comes around, I become an amateur meteorologist and wish I was Storm from the X-Men.
---
October 2017 Review
October was an incredible month for elopements and weddings. We married 47 couples and almost all were custom ceremonies in one way or another. It is hard to just pick a few highlights!
Jason and Lenzie and Ohio were one of our first couples of the month. They were fun to work throughout the whole process. Their song was Heaven is a Place on Earth and I wrote their ceremony right after I watched the San Junipero episode of Black Mirror so I was mess. They were so delightful on their wedding day, too!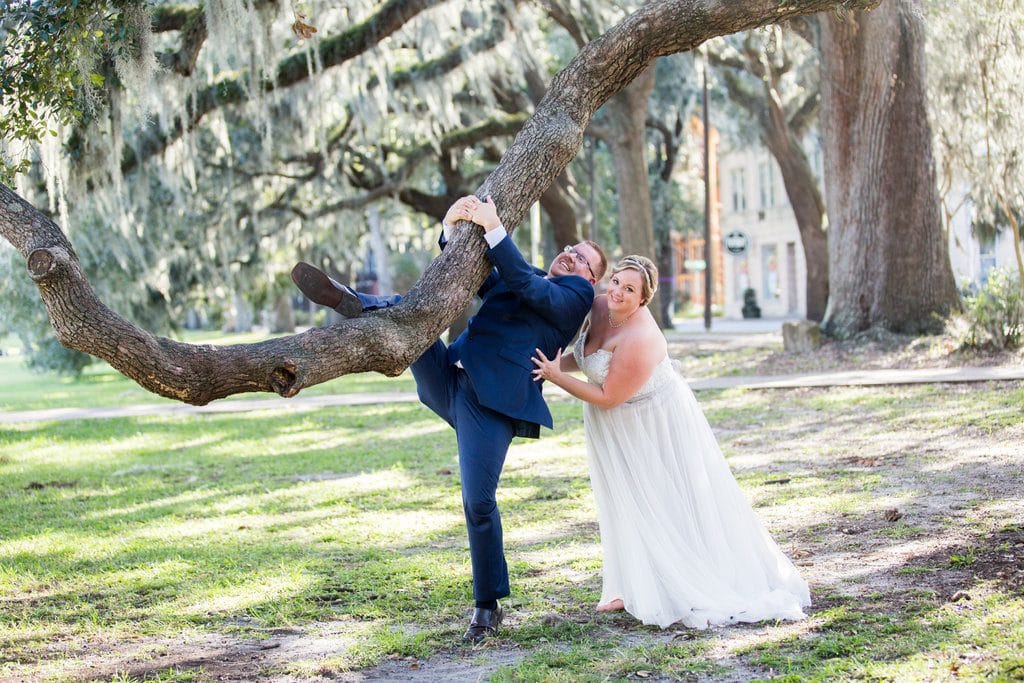 Amber and Matt from Illinois visited us for their Savannah Elopement Experience. It ended up raining on their wedding day, but it did not stop them from looking fabulous and having fun. Her gorgeous bouquet was designed by Kato Floral Designs and her hair and makeup was by Brooke Marie & Lindsey Wirht. All of her services were sent up by Shannon, our Client Concierge.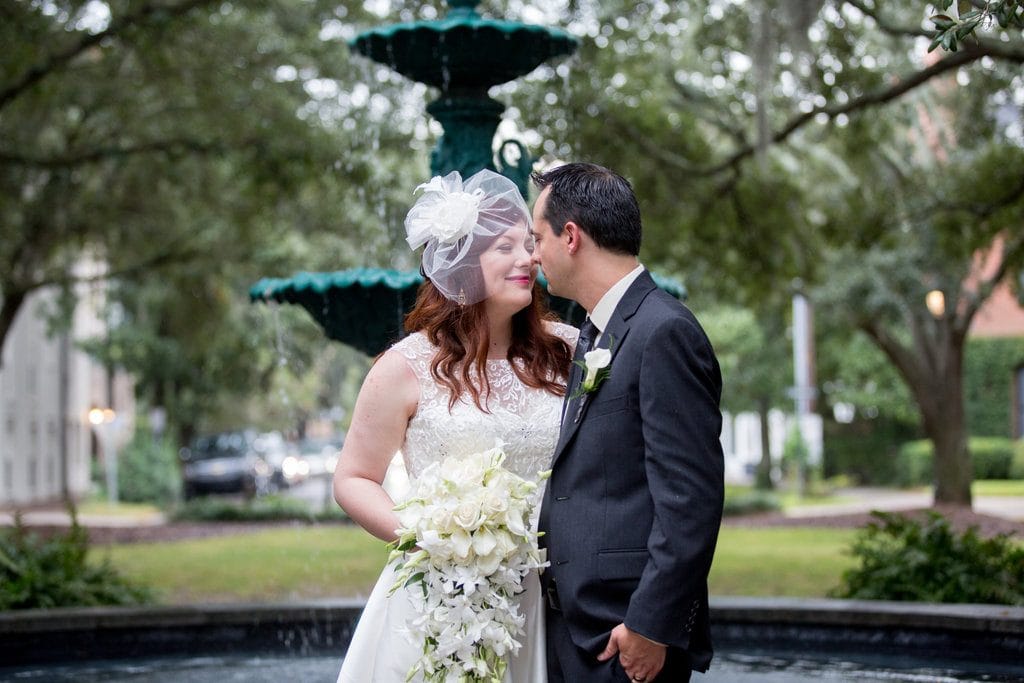 On October 13th, I had three weddings across the city, from the Wormsloe Historic Site (Tiffany & Cody) to Orleans Square (Emiley & Harrison) and finally to Forsyth Park (Hannah & Cody), all under different weather conditions!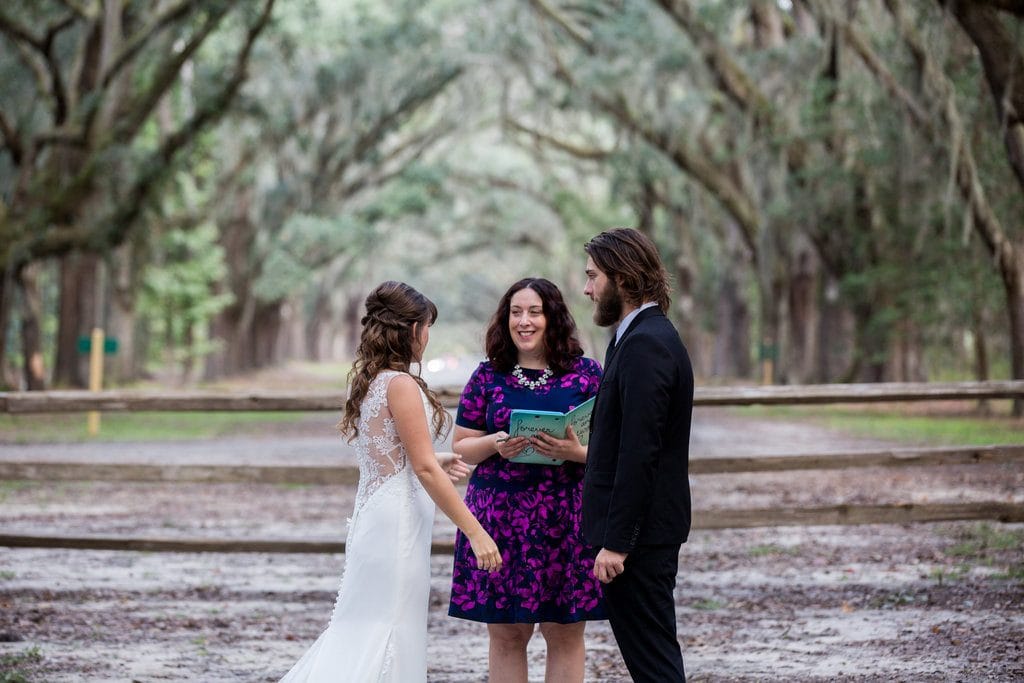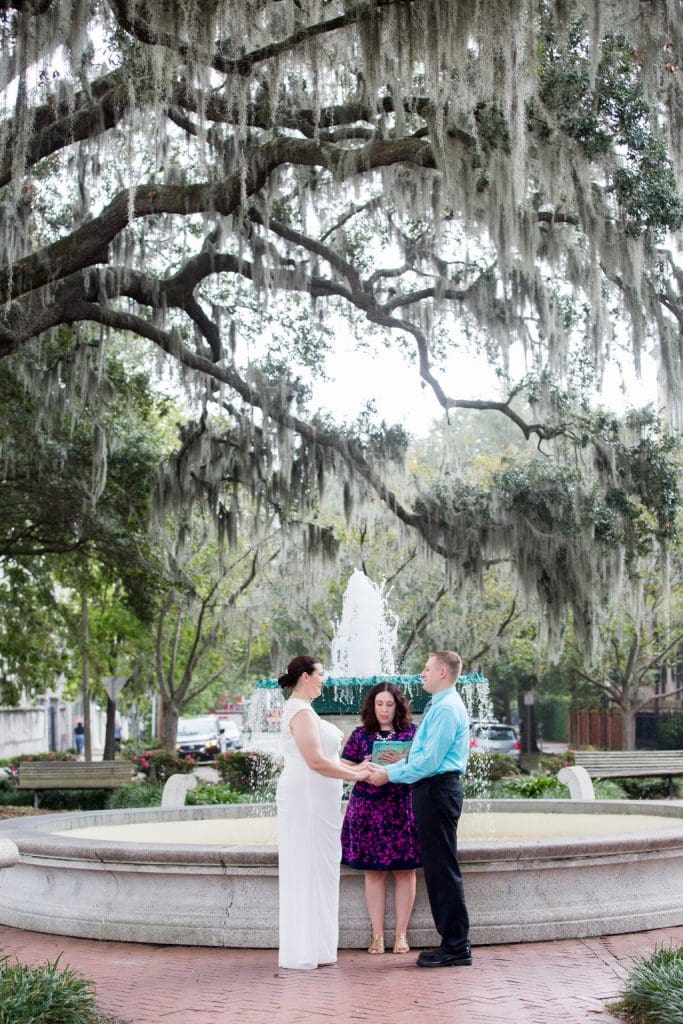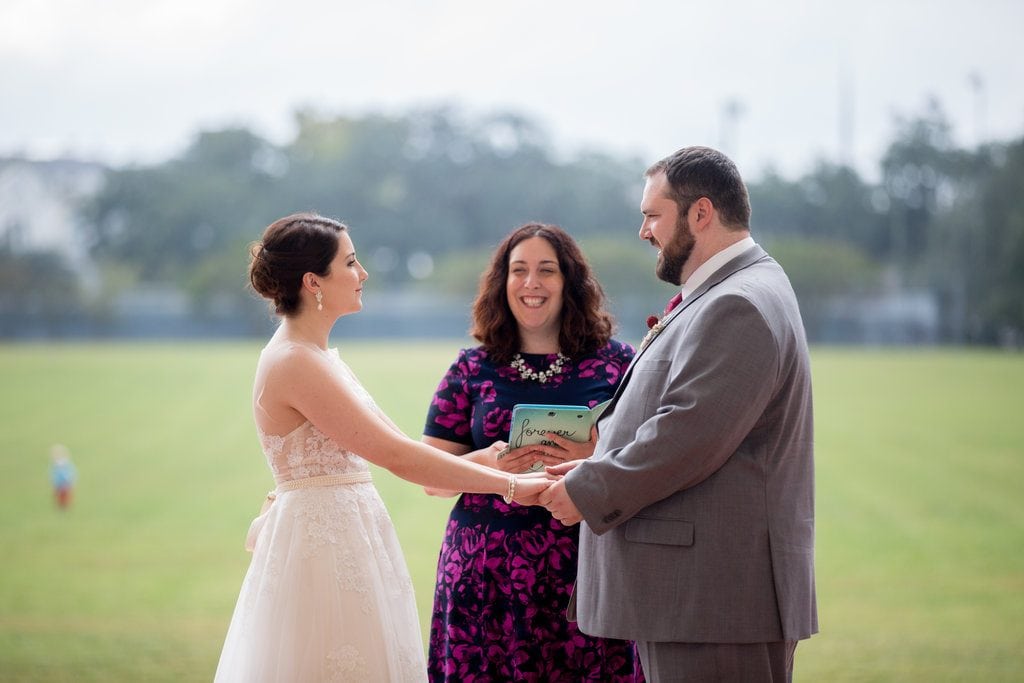 That weekend, I also married our 900th couple, Laura & Rhys from Maine, in a whimsical ceremony with Alice in Wonderland references. They were ridiculously in love.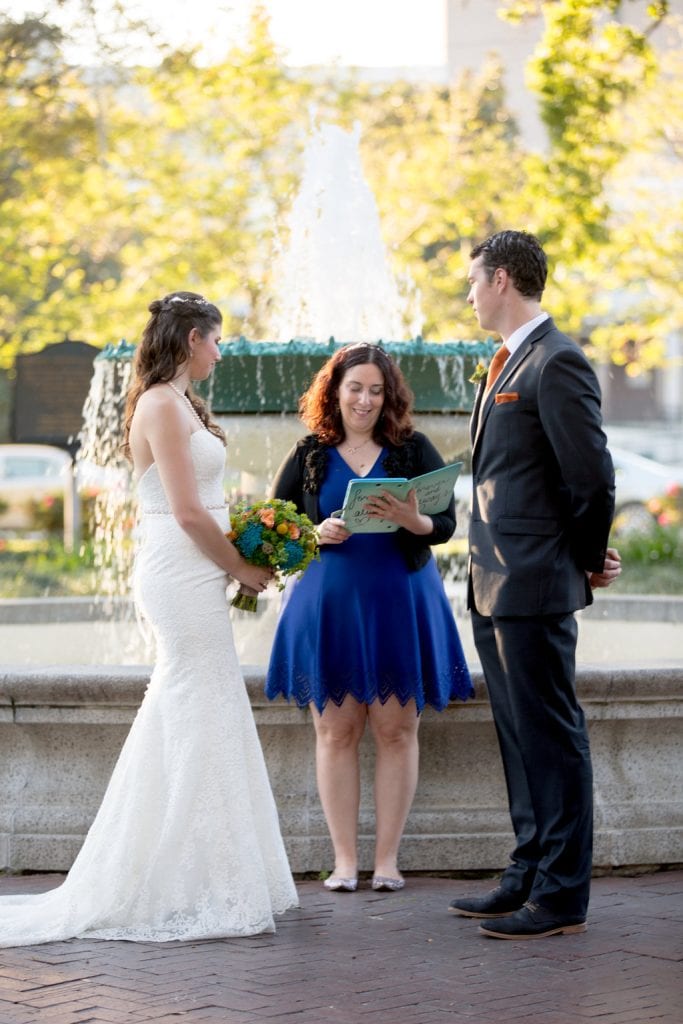 Mid-October also brought us back to Tybee to work with Samantha and Kristopher from Maryland. When I pronounced them married, Samantha threw her hand in the air. This is definitely one of my favorite wedding pictures of all of 2017!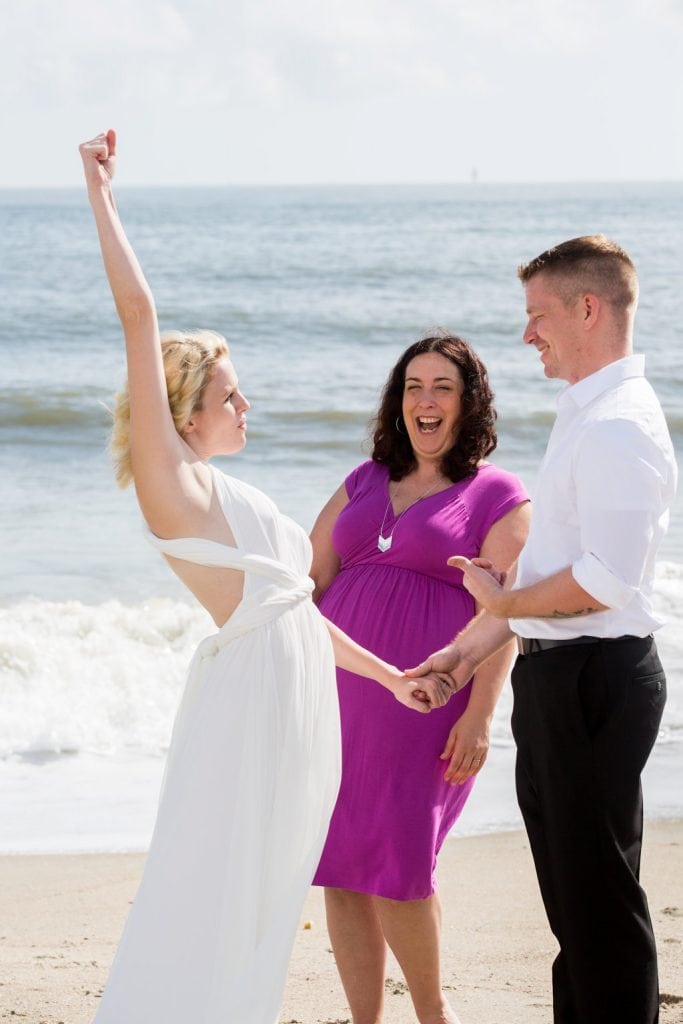 October 21st was the busiest day of the entire year. All of our officiants worked and all three of us officiated exactly at 5PM. We also worked for the first time with a new partner photographer, Ashly McCoy, Wedding Photographer. Here are pictures she took of the weddings for Zach & Julia in Whitefield Square and Tiffany & Dakota in Troup Square.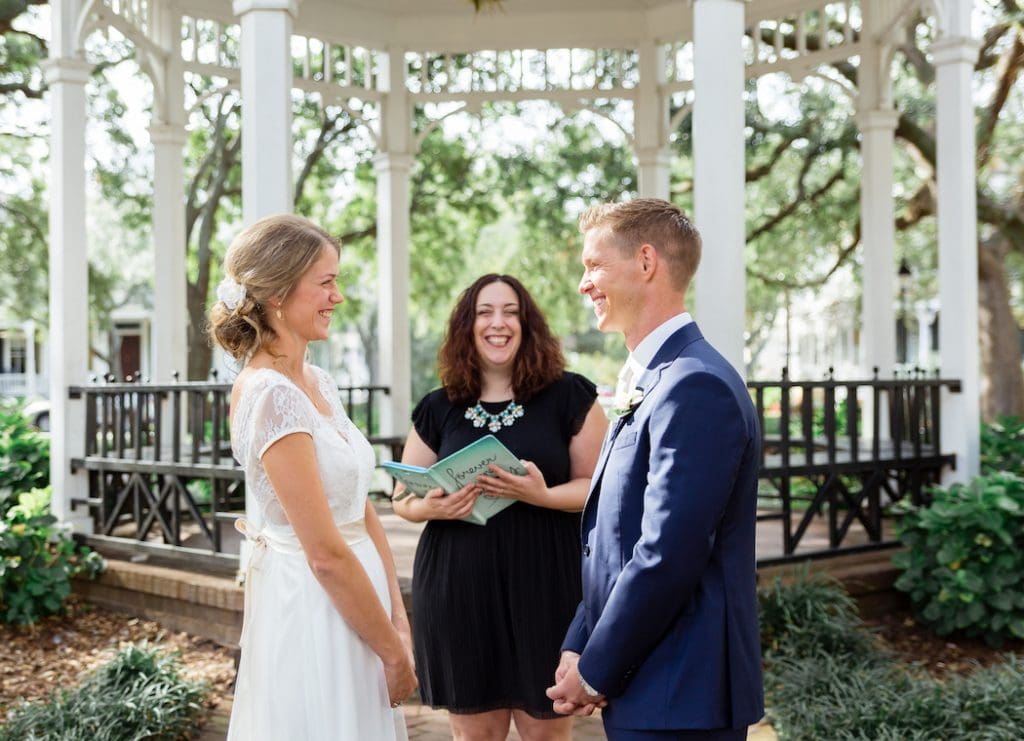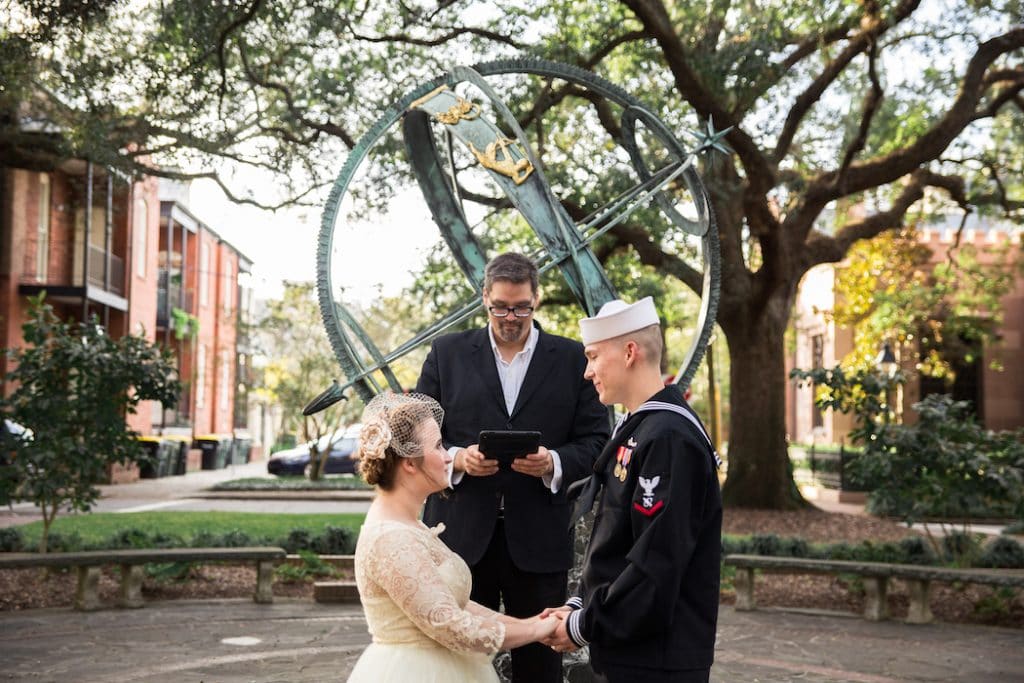 That weekend, I also married Jenny & Renee in the older part of Bonaventure Cemetery, overlooking the marsh, with Lyndi & Jason Photography. They included their puppy who was incredibly sweet!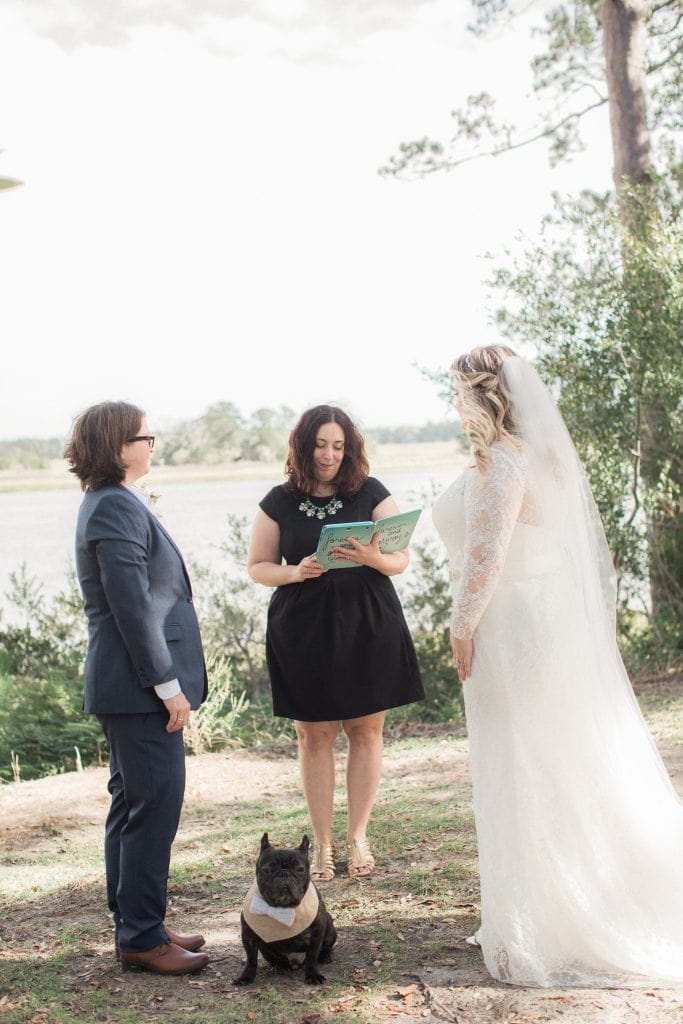 The end of October brought us another midwestern couple, Virginia & Robert, from Michigan. They told people that they were eloping, but not where, which I thought was brilliant! I also loved that Virginia wore a purple dress.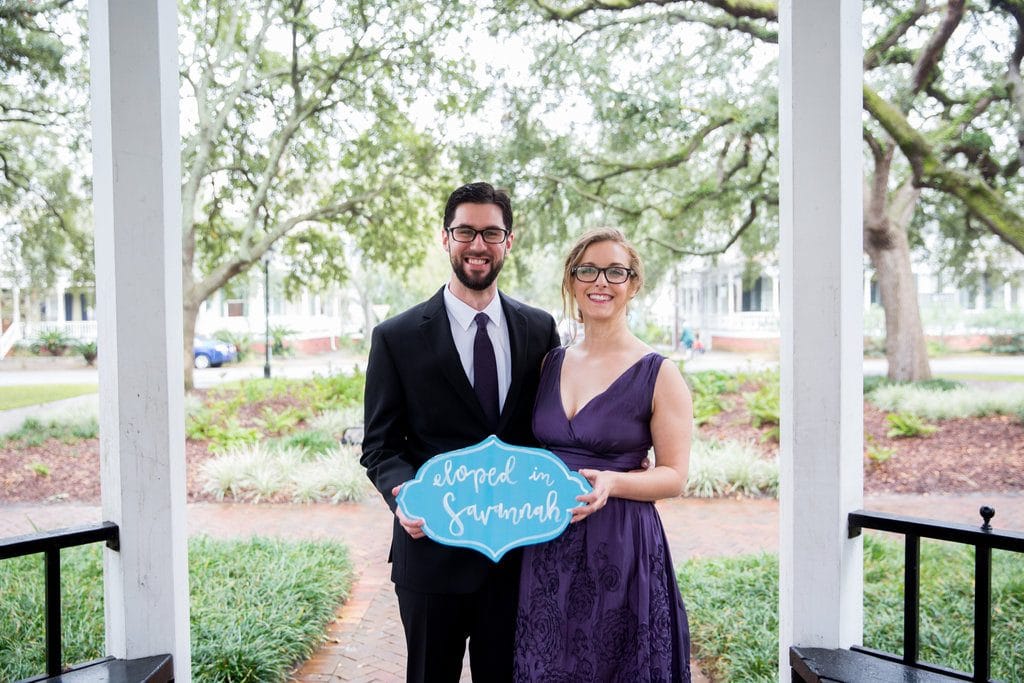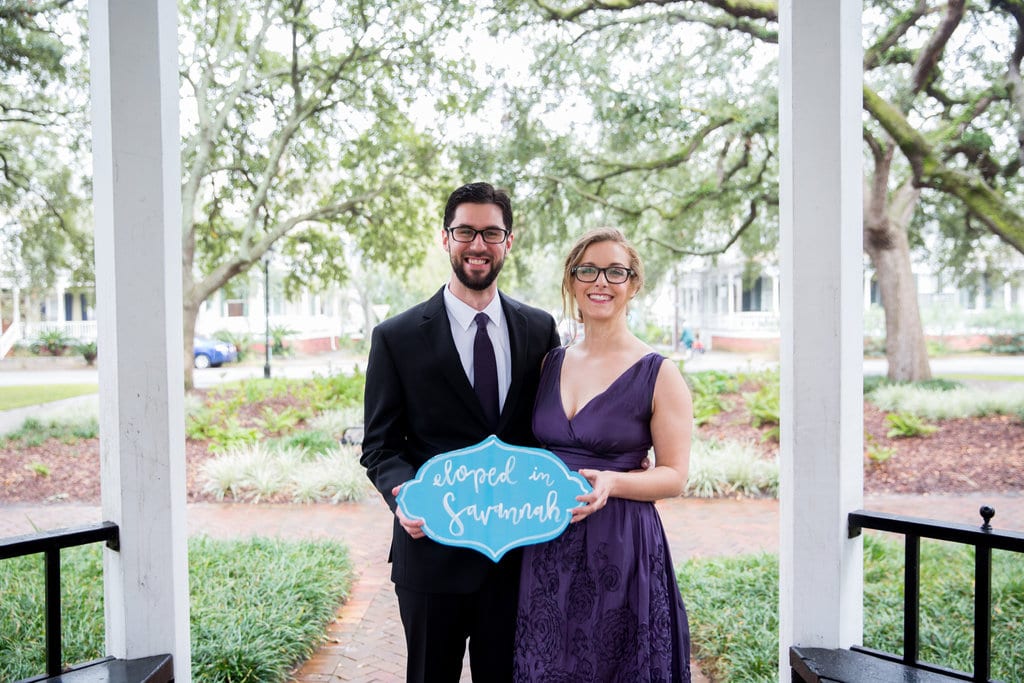 And finally, the last Sunday of October brought me back to the Wormsloe Historic Site with Kristy & Rob who had the perfect, intimate wedding with their family, planned by Savannah Wedding Dreams.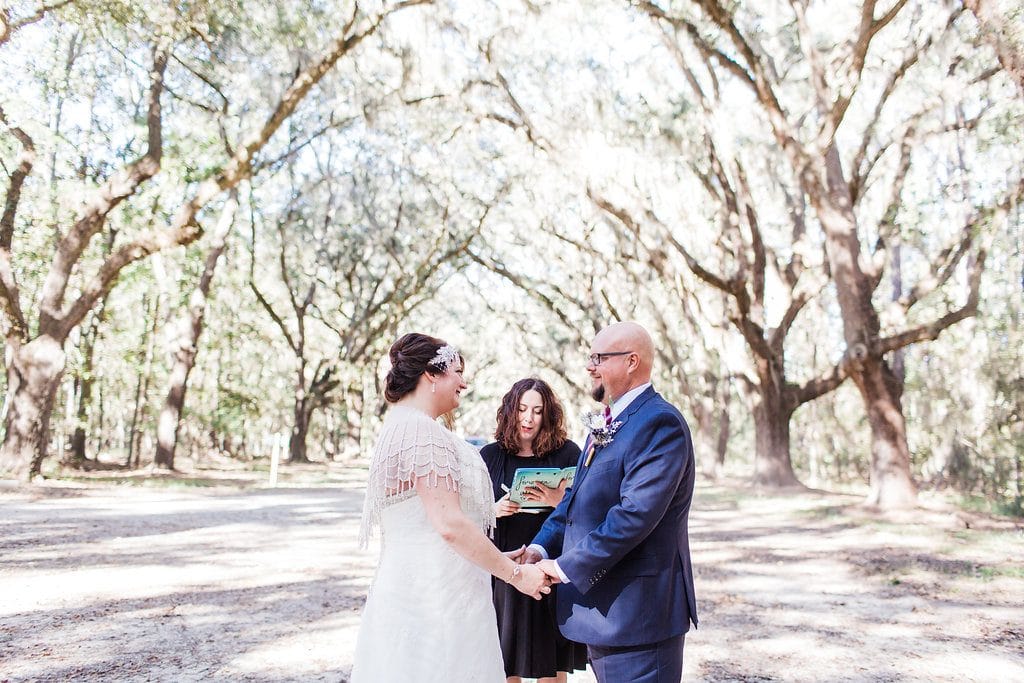 I was also inducted into the 100 Review Club for WeddingWire in October. This was a big deal because I have only been in business a few years, and I really appreciate all the amazing things my past clients have said about me. My clients make my job easy!

Also, random, but by the end of October, I was hired by my fourth female drill sergeant to plan and officiate their elopement or intimate wedding in 2017. I will not identify who they are to protect their privacy, but this really flattered me. There are not a lot of female drill sergeants and I appreciated that some of the most badass women in our country felt I was the person who would organize their wedding ceremony the best!
On a personal note ….
Alex started daycare, which theoretically allowed me to begin working full time again. In practice, that has not been the case as our entire family's immune systems acclimate to daycare germs. As of February 2018, this is still a work in progress.
Halloween brought the 7th anniversary of my first visit to Savannah as a tourist. While the vibrancy of the city immediately impacted me, I had no idea this would be my home the way it became. I am grateful that the risks I took paid off.
---
November 2017 Review
Nationally, November is a slow period for weddings, but not in Savannah, where the weather is still mild. My first wedding of the month was with Amber & Paige in Columbia Square. Their ceremony had lots of Harry Potter references!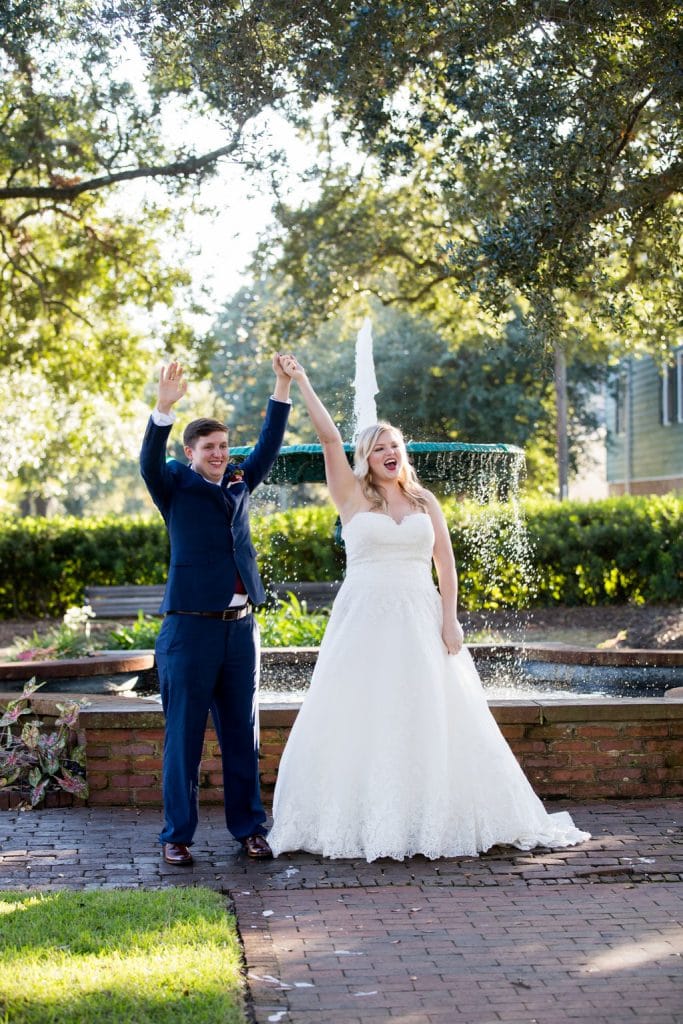 In mid November, we were revisited by Michael & Nicole for a vow renewal on the one year anniversary of their Savannah Elopement Experience! They brought their new addition to their family, Clementine, who was amazingly cute. We also burned a Carl Sagan candle. Their original wedding ceremony had quotes from Carl and their vow renewal featured his wife, Ann.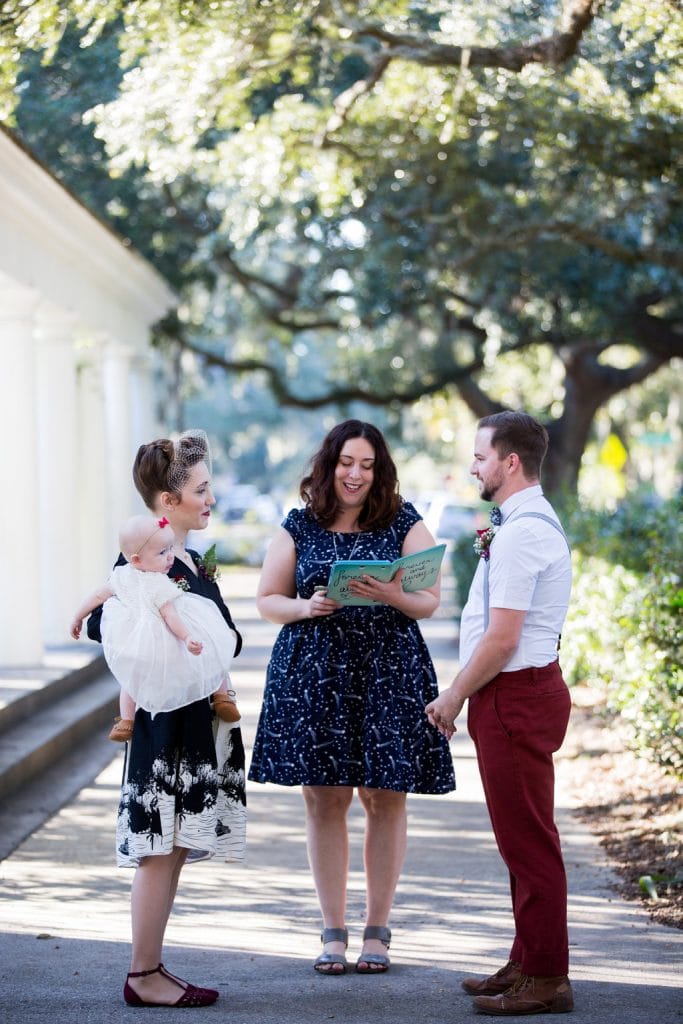 Linda & JD were married on a November Monday on the south side of Tybee Island in front of their family. They met in the film industry 19 years ago and finally decided it was time to make it official. Linda had two amazing dresses for the photos. They were the best, and had great lighting for their ceremony.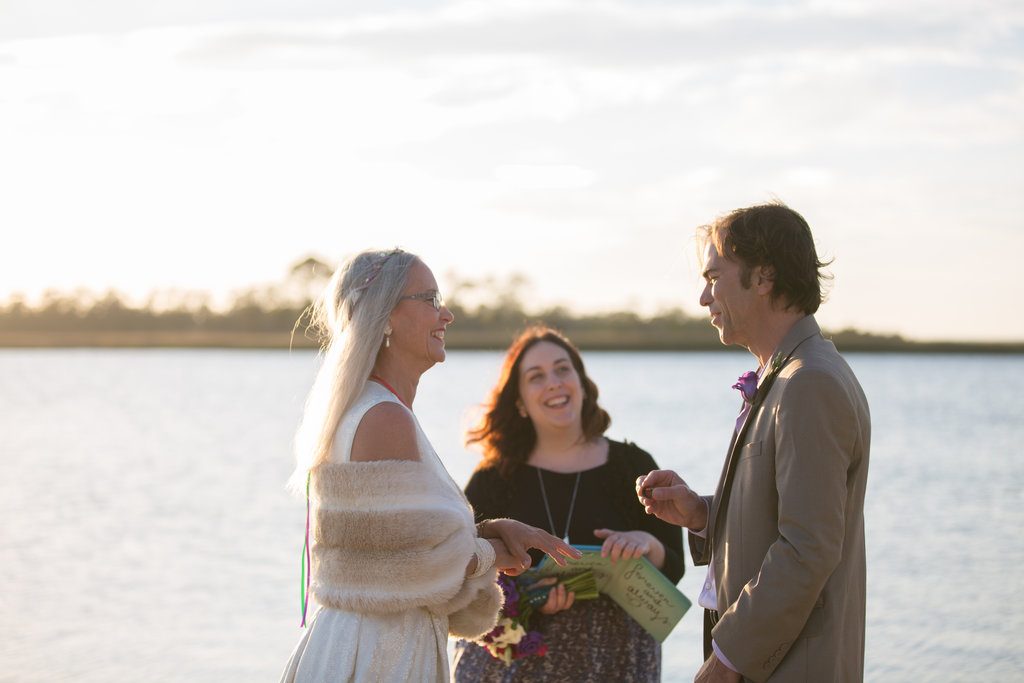 The last Saturday of November brought me two couples and the first was Bonni & Monika from Augusta, GA. They were so cute!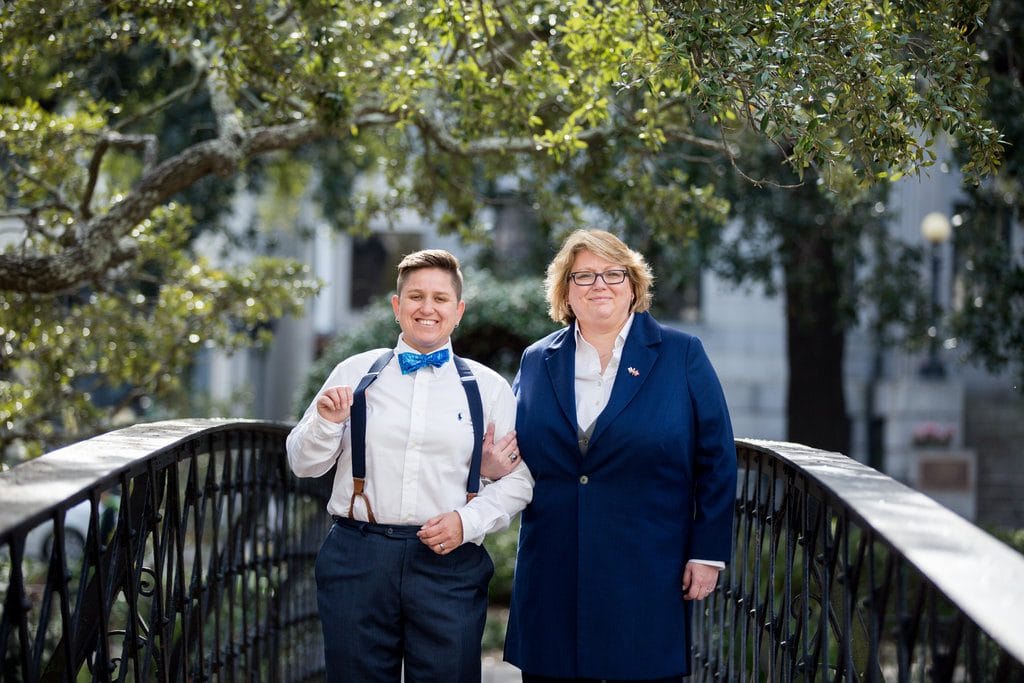 My second couple were Andrea & Paul who were married at the Coastal Botanical Gardens. They used my All In Package to create an extremely custom ceremony with readings, rituals, and personal vows that reflected their 30 year relationship as friends and then more. I actually Facebook lived their ceremony and you can view it on my Facebook business page.
In November, I found out that I won The Knot's Best of The Year award and that I was the only Savannah wedding officiant to have won. That made me extremely proud!
My two new Partner Officiants, April and Molly also started officiating in November. April's first ceremony was with Angela & Keith and their family. Molly officiated with Ashley & Joshua in an intimate elopement at the Wormsloe Historic Site.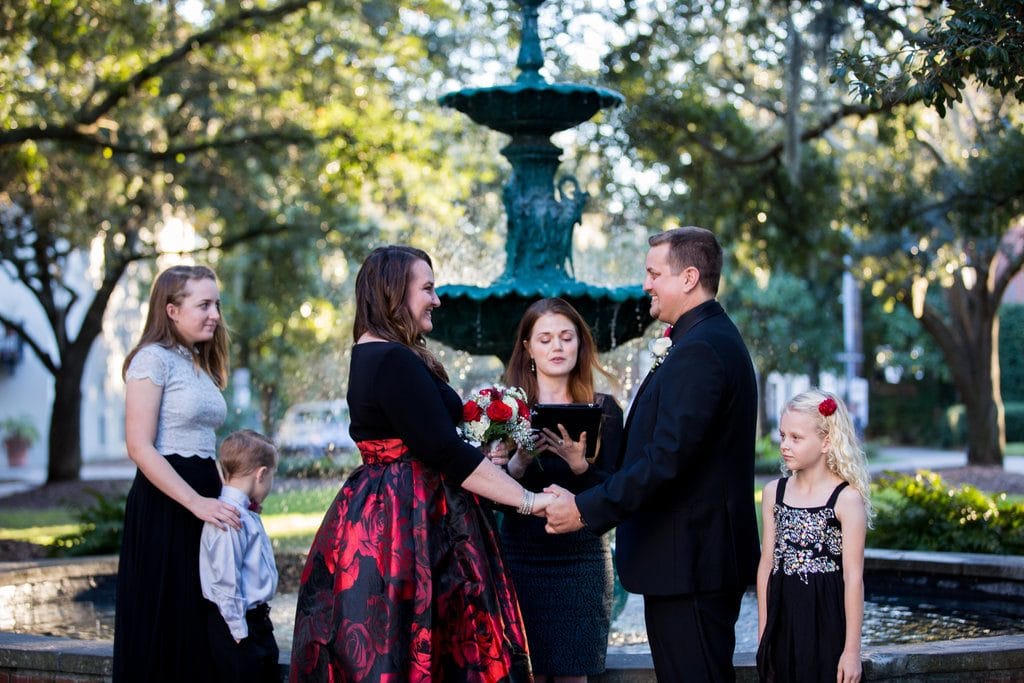 On a personal note ….
November flew by! I was happy to host Thanksgiving at my home with friends and watch Alex smear himself in sweet potatoes.
---
December 2017 Review
December was much slower! One of the first couples of the months was Jessica & Kevin from Tennessee who eloped at Bonaventure. They used a vintage table from Savannah Vintage Rentals for their sand ceremony. How gorgeous is that background!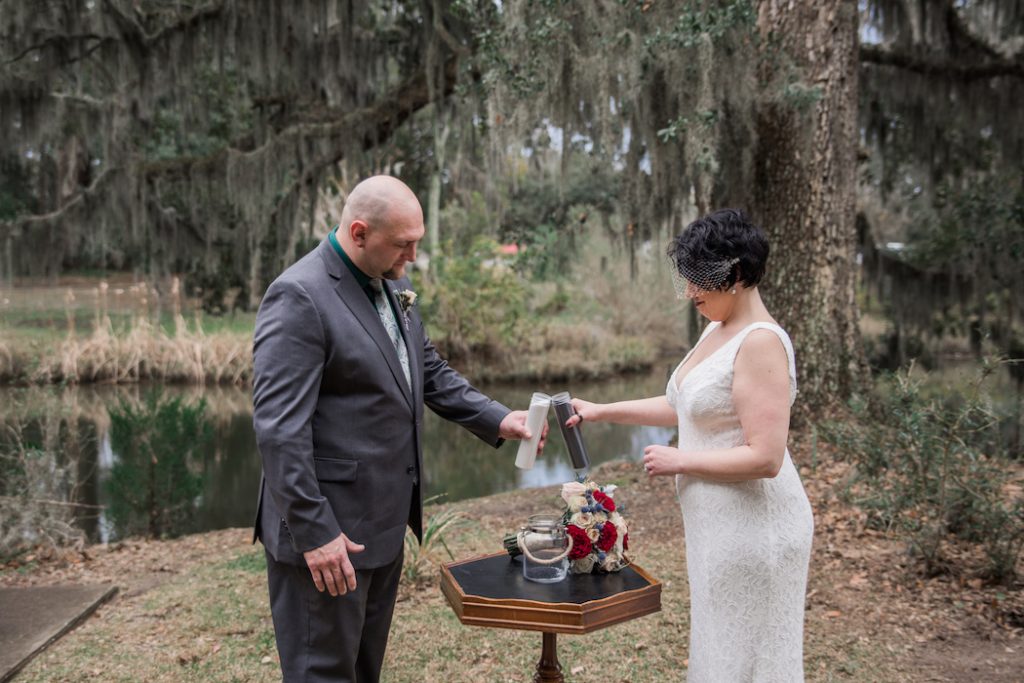 The last few weeks of a year always brings us Simple Signing Services at the Savannah Cozy Chapel, too. We introduced a new officiant, Lindsey, to exclusively help us with Signing Service, and she started that week. Here are a few pictures of the couples that were married at the end of December.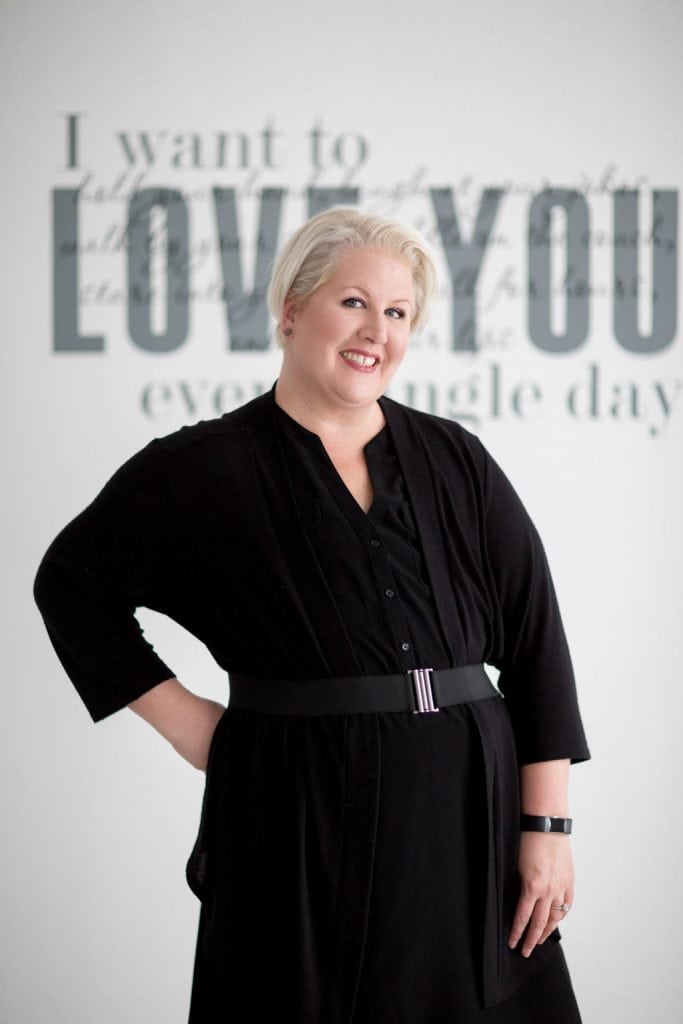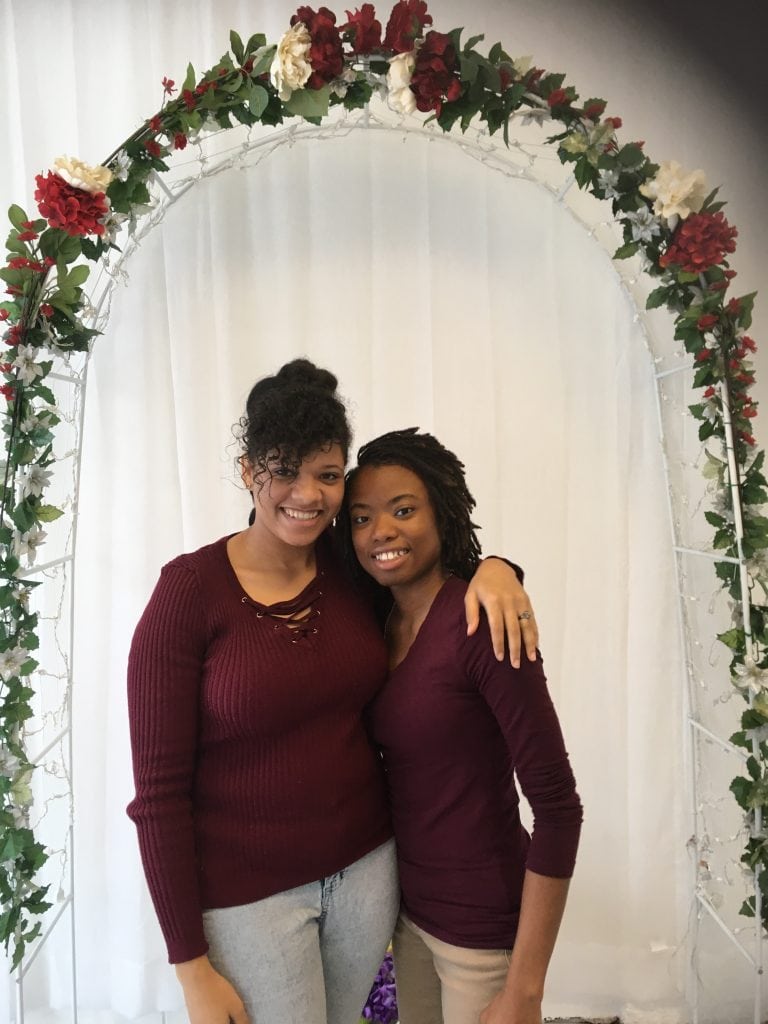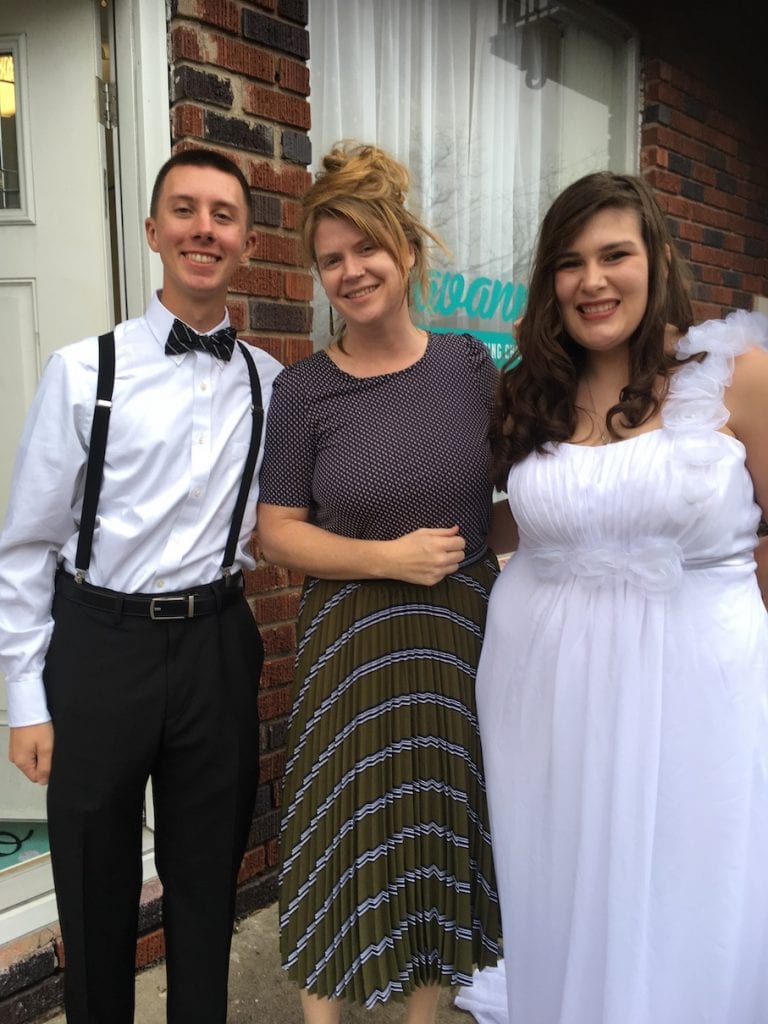 The last weekend of the year brought us a Popup Elopement with Sophia & Forrest. Forrest had just returned from deployment and could not stop taking about how beautiful his new wife was.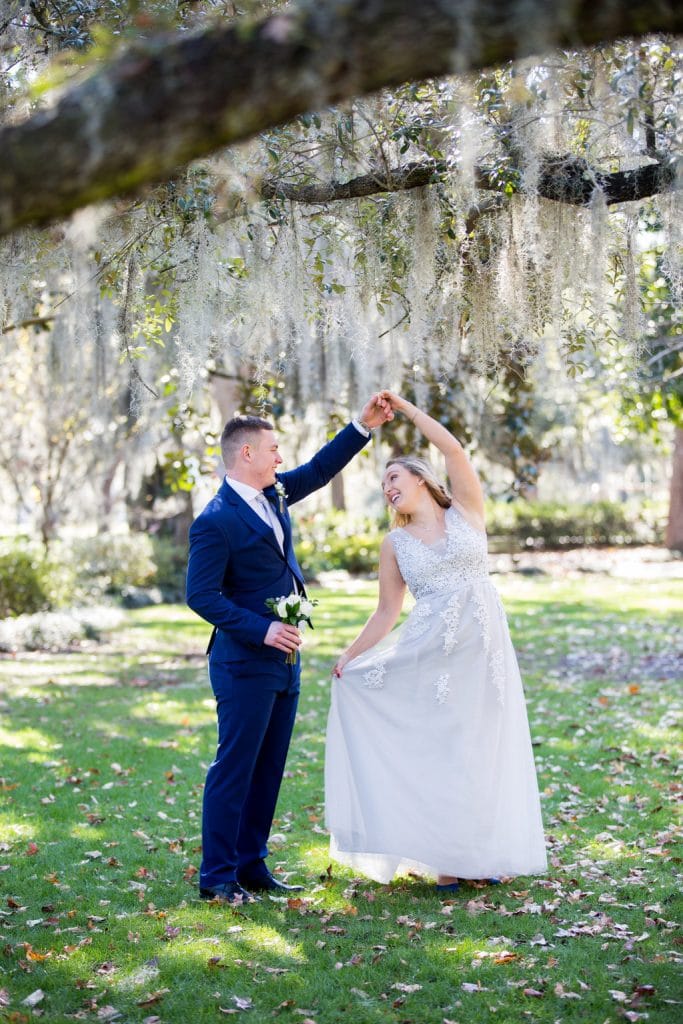 And finally, our last couple of the year was Patricia and John from Minnesota, almost at the Canadian border. As you can see from how I am dressed, it was a bit cold for Savannah, but probably not for them. John said he did not like to smile, but we got a little upturn of his lips for his bride.
On a personal note ….
Josh, Alex and I had some family photos with Esther Griffin Photography, also at the Fountain at Forsyth Park. Even after 70+ ceremonies in 2017 at that location, I couldn't resist using it for my own photos.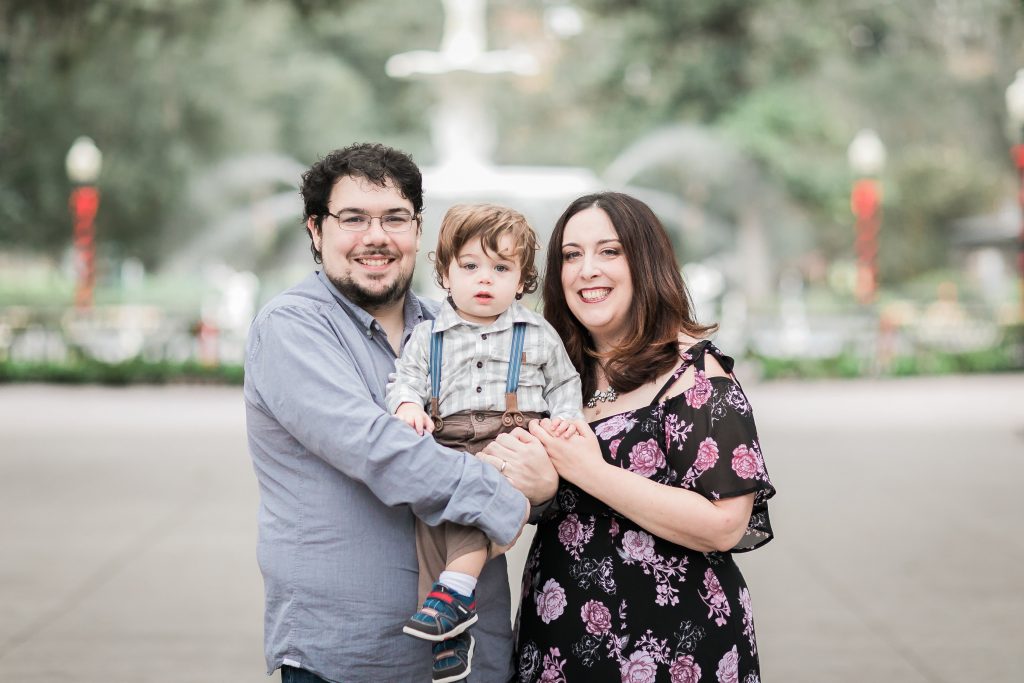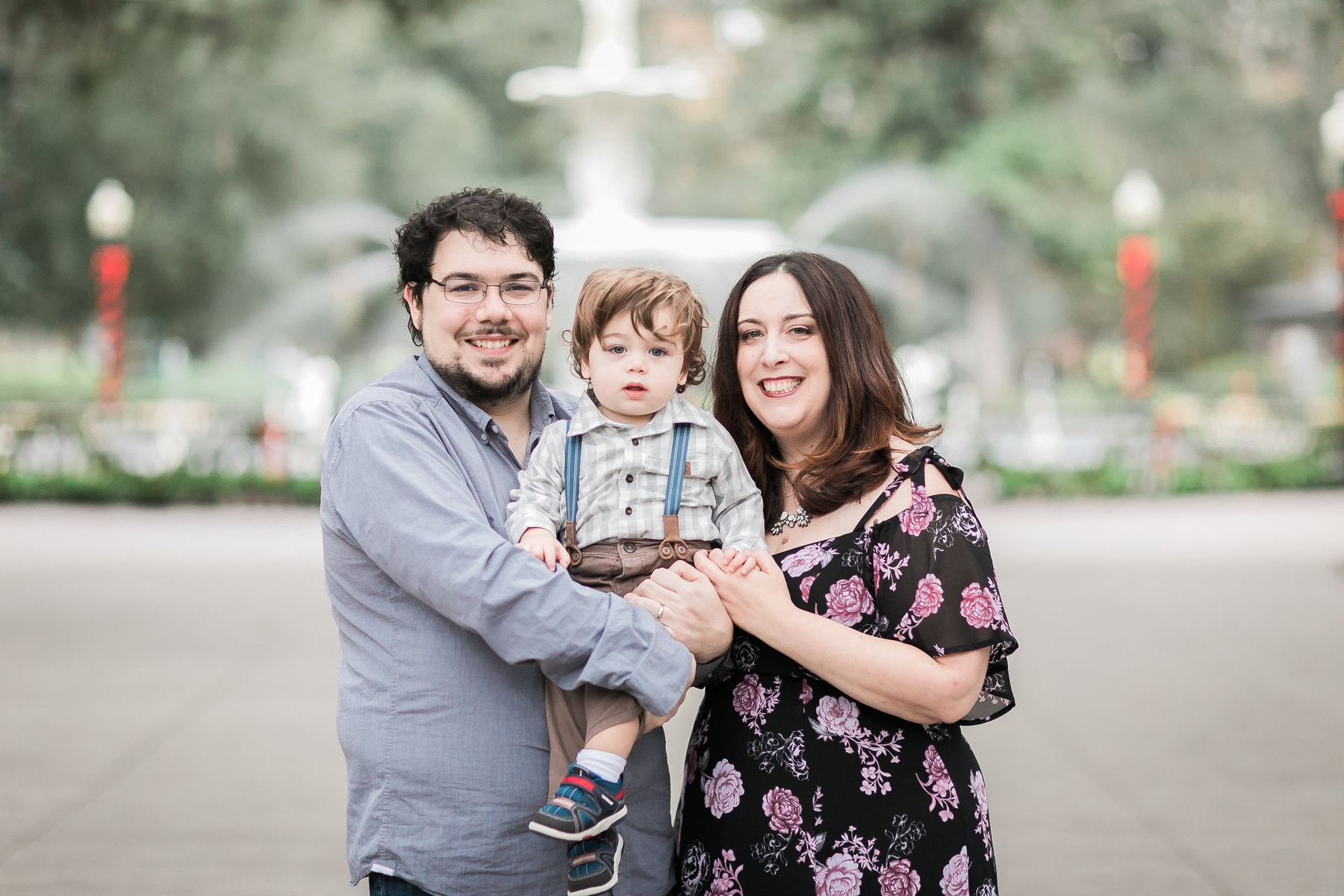 And that is a wrap on my 2017, which you can see was an amazing year for my business. I look forward to working with all of my 2018 couples and reporting on our adventures at this time next year!