Hi y'all! I hope everyone is staying warm this week, whether you live in the north and are dealing with the snow, or reside in the south and are experiencing crisp winds.
It's not quite yet wedding season, but January 2015 has been a busy month (10 weddings!). I've also been working with brides who have booked many weekends throughout 2015 and even 2016. February is a bit slower and because of that, I'll finally be taking my honeymoon during the first two weeks. I was married in March 2014 and we were finally ready to take advantage of some special time together during the last 60 days before our newlywed status expires. I'll be away from February 2-11, but ready to take your calls and emails on the 12th!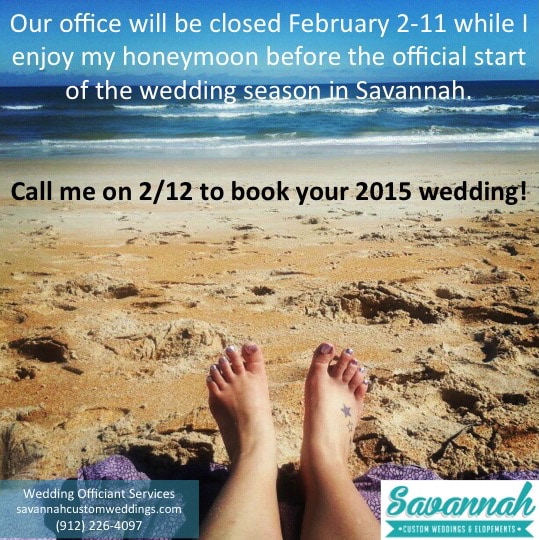 I am updating my general availability on the Savannah Elopement Experience page. A weekend is open until a 50% deposit is received to confirm the date, but I've also indicated weekends with inquiries and seem popular. Please don't hesitate to contact me about one of those weekends- it is just a sign that if you want the weekend, you should act fast and be ready to confirm a deposit.
I look forward to talking with more of you this spring!